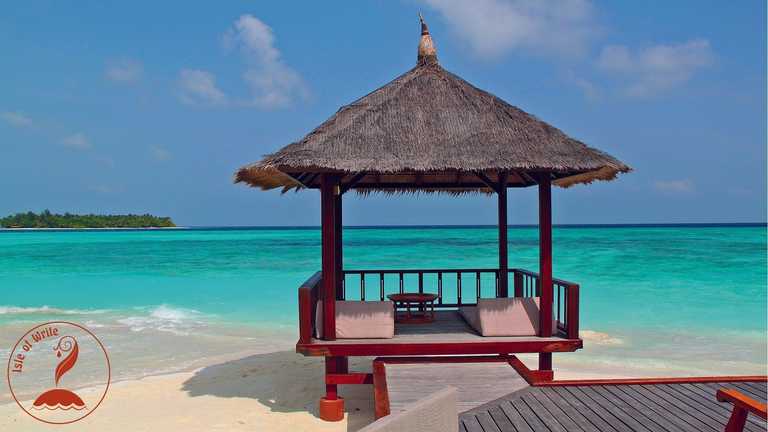 Message in a Bottle #31
Origin: Isle of Write
Sender: @jrhughes
Recipients: Steemit Creatives
---
---
The Isle Lives!
---
No, it probably hasn't seemed so, but the Isle is still afloat and dedicated to its mission of supporting Steemit Creatives particularly in the art and writing fields. Why have we been so quiet? Because I am a neurotic with too much on my plate. Long story short: Family stuff happened, work stuff happened, the price of SBD fell too low to pay for publishing our anthology just yet, and as I procrastinated giving bad news in the magical-thinking hope that news would improve before I had to, the days passed, piled up, and I more and more dreaded explaining my absence.
Then I reminded myself that Steemit is one of the greatest online communities I have ever belonged to. Ginabot assailed me with notifications that kind and patient Islanders were posting creative works with the isleofwrite tag. I put my big-girl pants on and here I am, pants and all, to apologize, update, and highlight some of the week's great posts.
I'm sorry to the folks whose posts have drifted past the Isle in my absence, and also to the generous authors whose work is to be featured in the upcoming anthologies. Our sincere hope was to release the first anthology a couple months back, but until we either snag a little whale love or the price of SBD goes back up some, it would be unwise to covert the Isle resources to USD. But watch for the update to follow which will share the completed contents of the Horror/Paranormal anthology!
---
---
Daily Bread Winner!
---
A little while back, one of the first and most generous Islanders to settle on our shores, @vitkolesnik, started a contest to reward quality content, which of course is right up our alley. The first winner of this contest is @nobyeni and it is a well-deserved win. Check out her most recent fiction piece, The Case of the Missing Hot Dog and watch for our profile of her fantastically eclectic blog!
---
---
Stuff we love!
---
New Islander @fromage delights with an original folk tale, The Spider and the Bear:
In the forest long ago there lived a spider. She was quick and nimble. Patient and clever. She had to be. Her prey could fly and she could not.
---
Isle veteran and Freewrite maven, @byn takes the reader on a roller coaster ride that ends in the most unlikely of places with A Modern Tale:
Suddenly his entire body felt like it was spinning like a top. He felt like he was going to vomit, or die. He alternated between screaming like a little girl and sobbing for his mother.
---
Man of many talents, @ahmadmanga shares his know-how and his unending patience with readers who want to take their posts beyond the Steemitverse in his tutorial series, The Process of Turning My Stories Into eBook:
Choosing the font type was very hard. I knew Arial is off limit, that font is a perfect example of Jack Of All Trades Master of None, and personally I feel it's not good choice, at least for my books.
---
Award-winning author @cheah is tearing through another of his nail-biting thrillers with The Mad Monk of Geylang:
White Light blasts through me, through the knife, through the ceiling and up into realms barely known. In my mind's eye, I see a warrior angel in gleaming white armour, wings spread wide, sword held high overhead.
---
Steemit Jack of all Trades and Master of Many, @raj808 entered the @sankofa Folk Tale contest with The Ballad of Morveren a poem inspired by--well, check it out to see:
Her feet beveled pearls,
shod in sparkling scales,
as gilt and gilded silk unfurls,
from gown of cinereal shale.
---
---
So many thanks to those who have stuck with us through this hiatus. I'm thrilled to be back in the saddle, and can't wait for the next update and future highlights!
Remember to post with the isleofwrite tag (it doesn't have to be the first tag in the list, just one of them) for a chance to be showcased as part of the Isle's weekly curation series! Otherwise, our beachcombers might miss it...
---
---
Do you believe as we do that Steemit Creatives deserve recognition for their hard work and talent? If so, please help us in our mission to reward this creativity both on and off Steemit. Upvote, resteem, follow! Are you looking to help a community dedicated to the respect and encouragement of Steemit creativity? Please consider a donation or delegation to Isle of Write. All of our account earnings go back into the Steemit Creative community.

---

If you'd like to wash up on our shore,
a click of the map brings you straight to our door!





art and flair courtesy of @PegasusPhysics