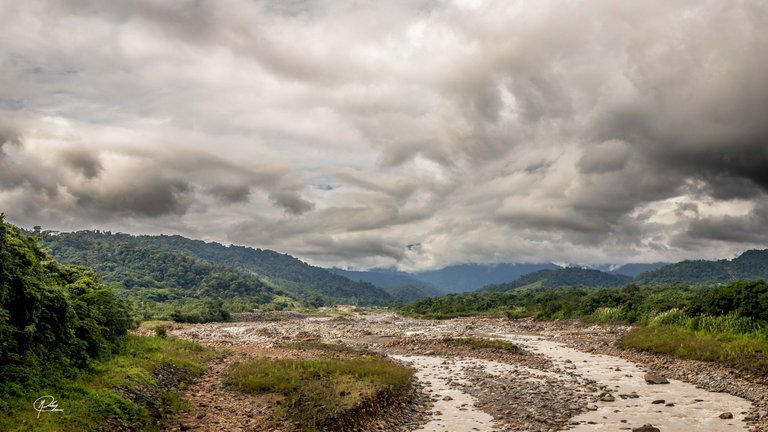 The Braulio Carrillo National Park is one of the closest protected areas to San José, capital of Costa Rica. Among its mountains is the main highway that connects the central valley with the Caribbean plains of the country.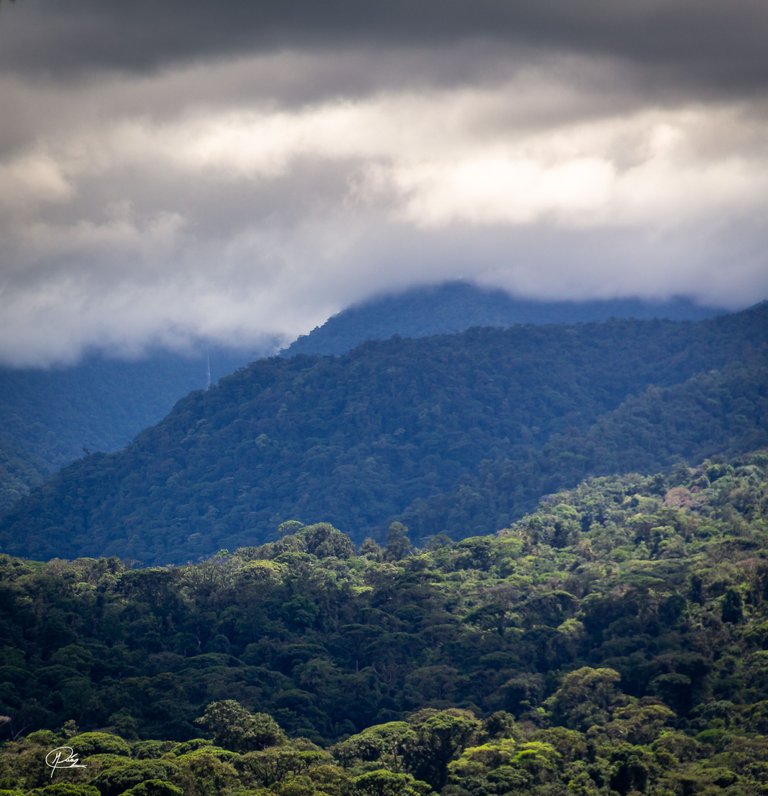 Before leaving the park and after crossing the great Sucio River, there is a small forest ranger station, Quebrada Gonzalez. This is a sector of the park that has two trails that penetrate into the tropical rain forest, a place that has passed practically unaltered.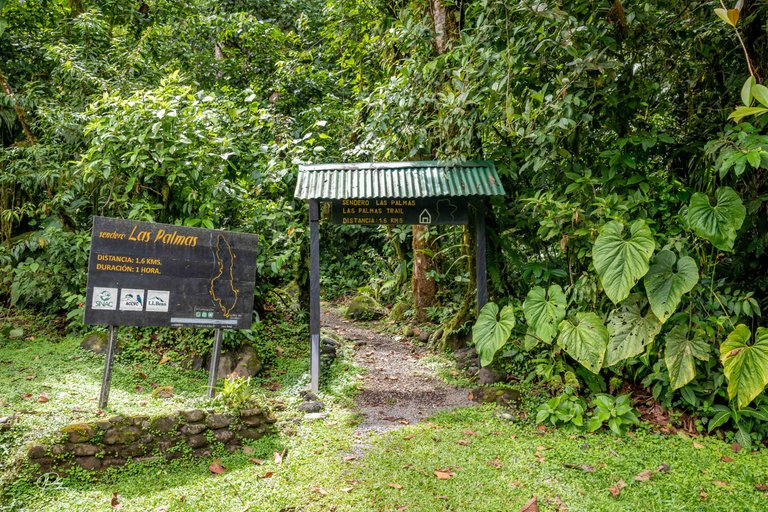 The path that we choose to travel is called Las Palmas, which has a length of 1.6 kilometers and an average journey of one hour. From the beginning you can find a large number of species of flora and fauna, the birds being the most striking and boisterous.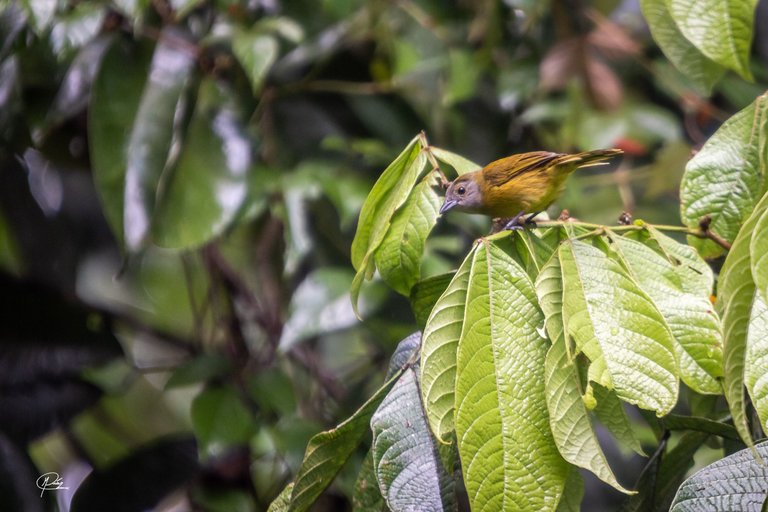 Along the way it is necessary to take small pauses to try not to miss anything, as many tiny beings move around us, sometimes without noticing it. Among them you can see the leaf-cutting ants and a great variety of ferns whose leaves contrast beautifully with the clay soil.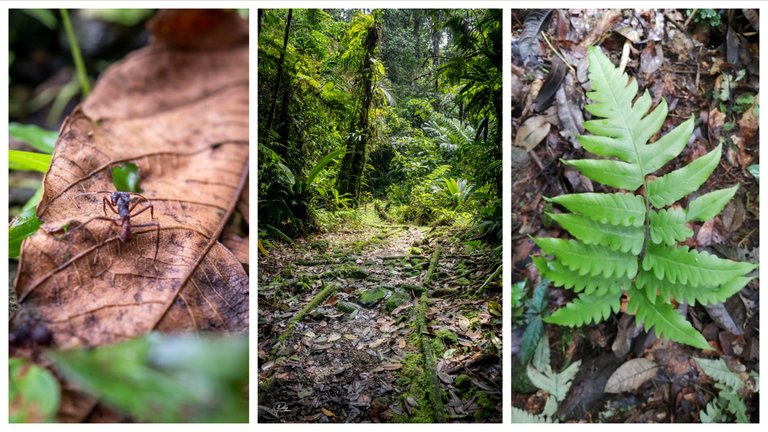 As we move forward we find a large number of small streams, water so pure that we can drink directly from the river.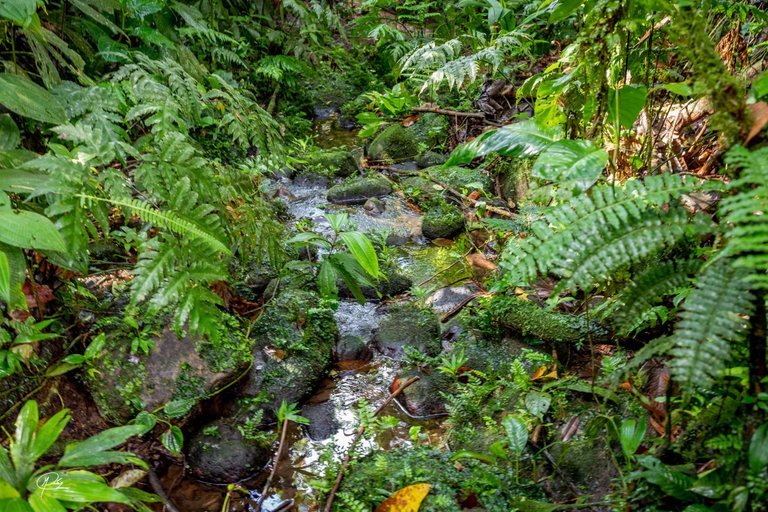 This is an ideal place to find small amphibians and reptiles and it doesn't take long until we find our payoff. Among the brown leaves and the clay soil invisible to most eyes, a small frog hides, a casual movement allowed us to remove it from its mimicry and take a photograph. Further on nearby, one of the jewels of the tropical forest, a poisonous frog, whose venom is capable of killing small birds and reptiles, so it is not on the menu of any predator.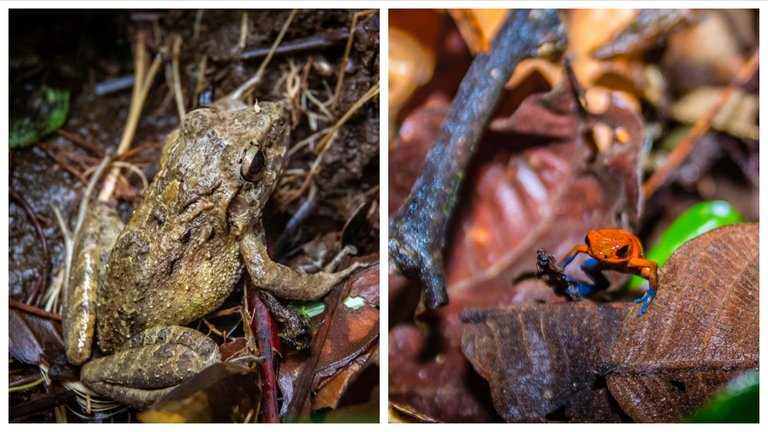 We continue our way, the slope begins to be greater and the path fills with large moss-covered rocks which can be slippery, so we continue our march with care.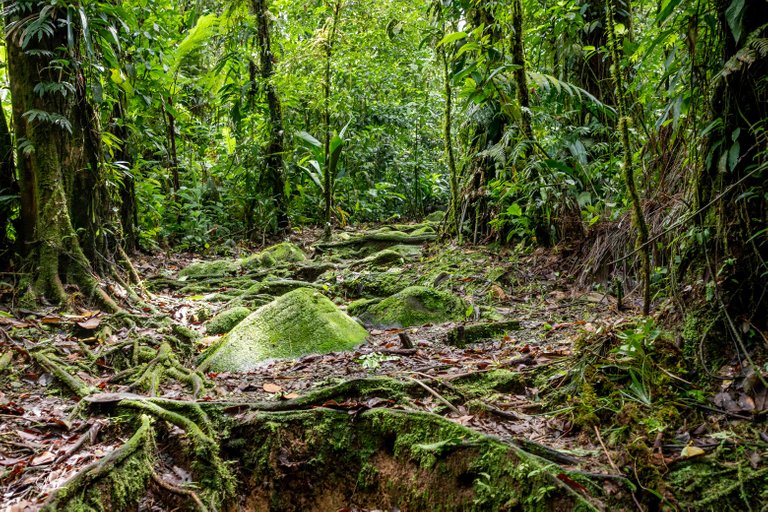 In some sectors we can see beautiful flowers, whose colors and fragrances contrast with the dense green and the humid environment. Erithrinas and orchids find here a perfect place to develop and attract a large number of polarizers with their flowers.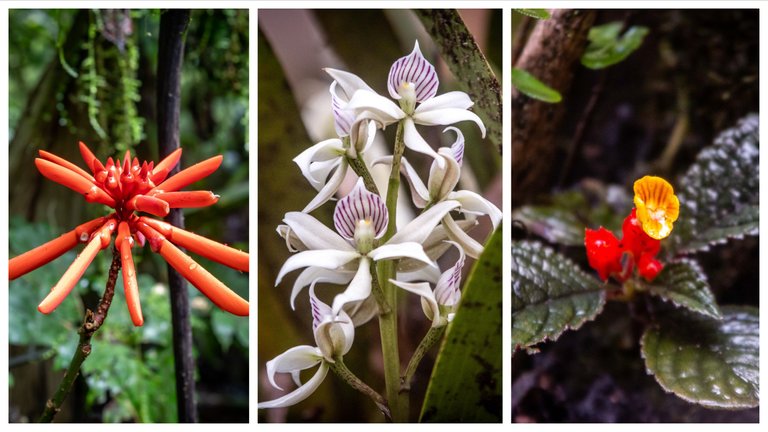 It starts to rain lightly, it's a common thing in these places, so we hurried a bit. We found other brightly colored birds. Moving between the branches, individuals of different species form what is known as a mixed flock. As he passes, the calm and silence of the forest disappear, his song fills every corner.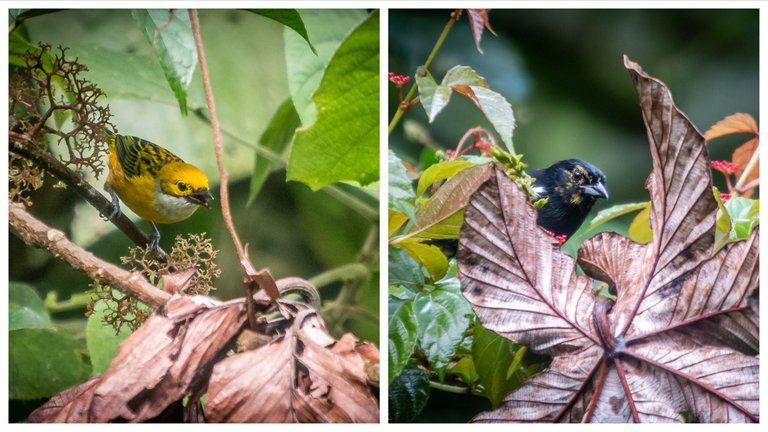 Last meters to finish the route, a slightly complicated slope that forces us to walk very slowly, while we hold on to a cable placed at the edge of the road and that serves as support in the difficult descent. At the end we come to a small bridge, this marks the departure and the end of this adventure full of nature, where every corner hides surprises.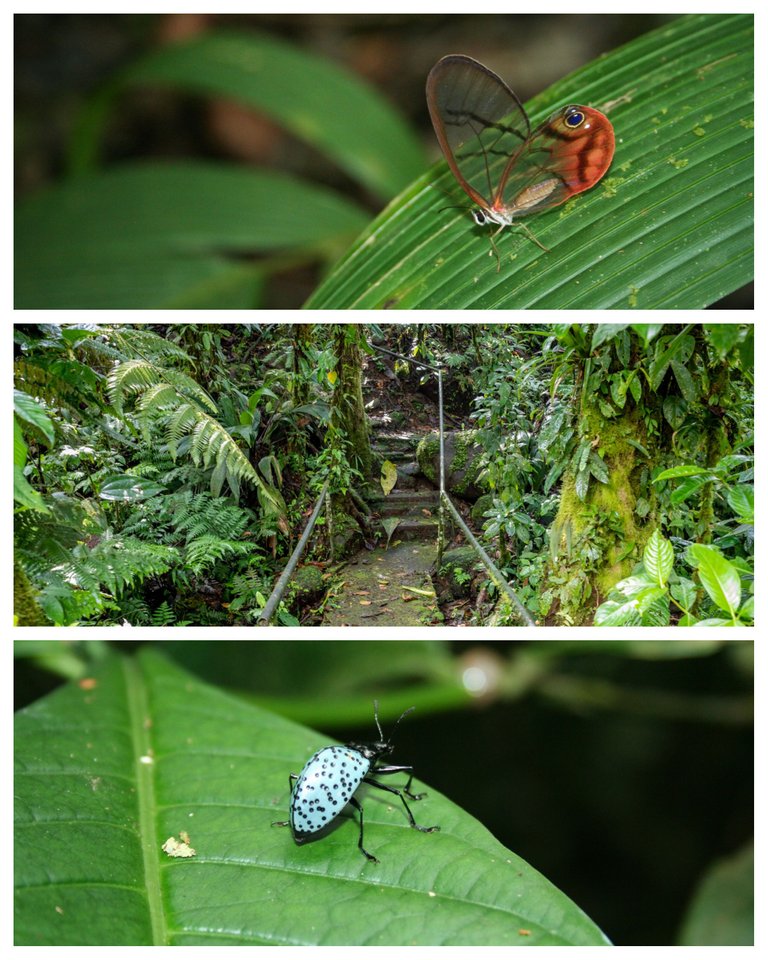 Versión en español
El Parque Nacional Braulio Carrillo es una de las áreas protegidas más cercanas a San José, capital de Costa Rica. Entre sus montañas se encuentra la principal carretera que une el valle central con las llanuras del caribe del país.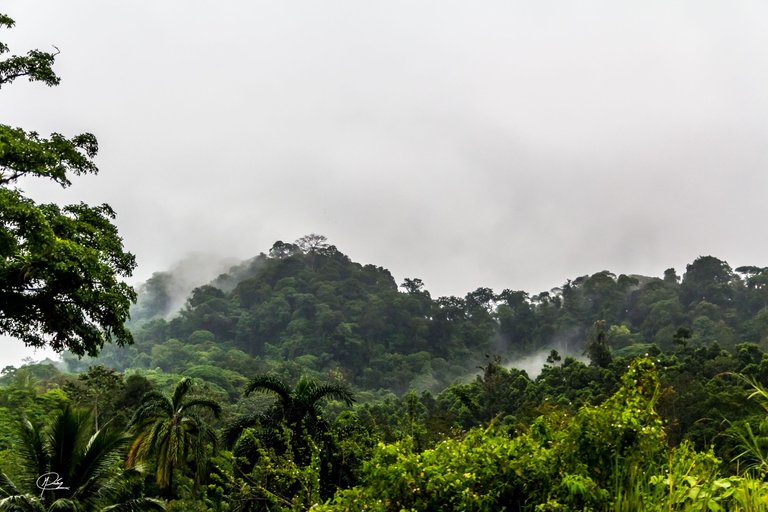 Antes de de salir del parque y después de cruzar el gran río Sucio, se encuentra una pequeña estación de guarda bosques, Quebrada Gonzalez. Este es un sector del parque que cuentan con dos senderos que penetran dentro del bosque tropical lluvioso, un lugar que ha pasado prácticamente inalterado.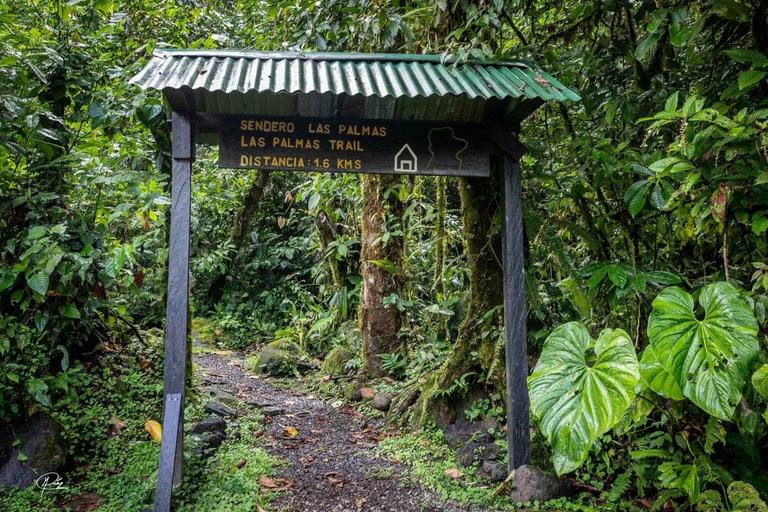 El sendero que elegimos para recorrer es el llamada Las Palmas el cual tiene una longitud de 1.6 kilómetros y un promedio de recorrido de una hora. Desde un inicio se pueden encontrar gran cantidad de especies de flora y fauna, siendo las aves las más llamativas y bulliciosas.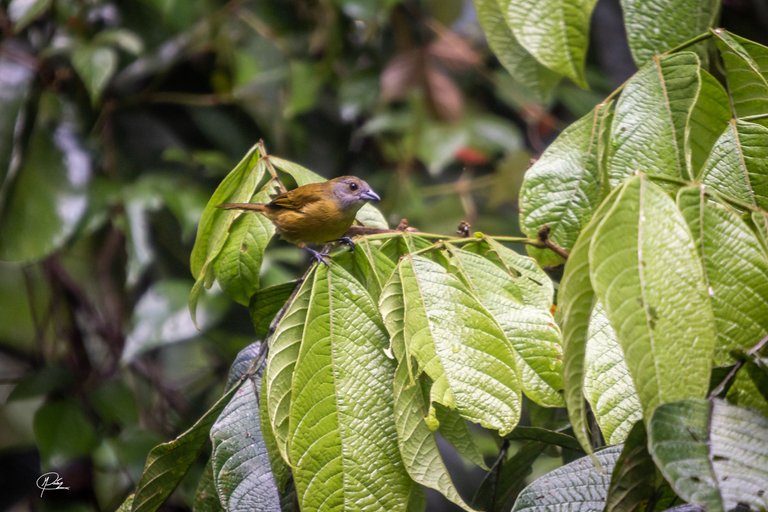 En el camino es necesario hacer pequeñas pausas para tratar de no perderse nada, pues muchos seres pequeños se mueven a nuestro alrededor, a veces sin notarlo. Entre ellas se pueden observar las hormigas corta hojas y gran variedad de helechos cuyas hojas contrastan de manera hermosas con el suelo arcilloso.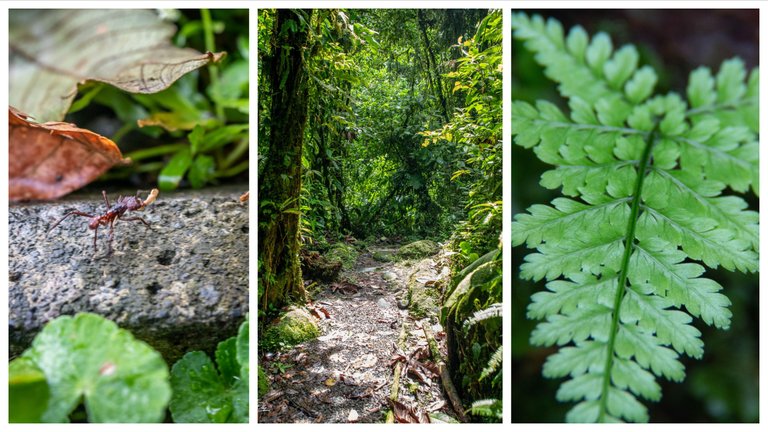 Conforme avanzamos encontramos una gran cantidad de pequeños arroyos, agua tan pura que podemos beber directamente del río.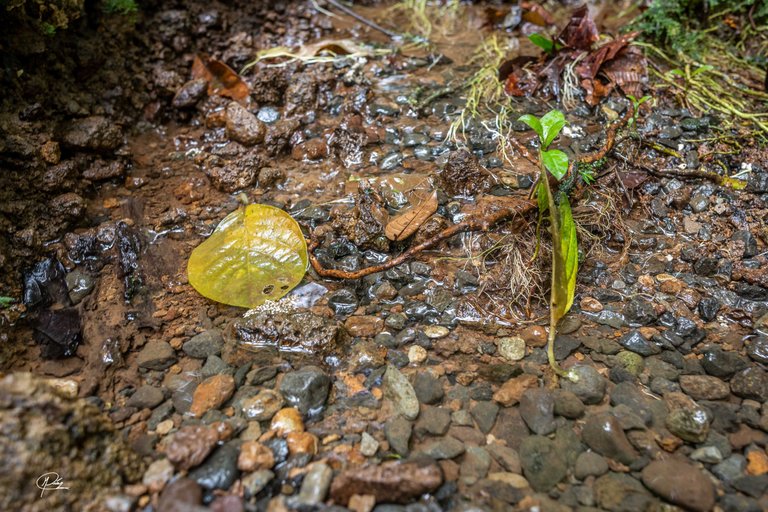 Este es un lugar ideal para encontrar pequeños anfibios y reptiles y no pasa mucho tiempo hasta que encontramos nuestra recompensa. Entre las hojas cafés y el suelo arcilloso invisible a la mayoría de ojos, se esconde una pequeña rana, un movimiento casual nos permitió sacarla de su mimetismo y lograr una fotografía. Más adelante cerca de ahí, una de las joyas del bosque tropical, una ranita venenosa, cuyo veneno es capaz de matar pequeñas aves y reptiles, por lo que no se encuentra en el menú de ningún depredador.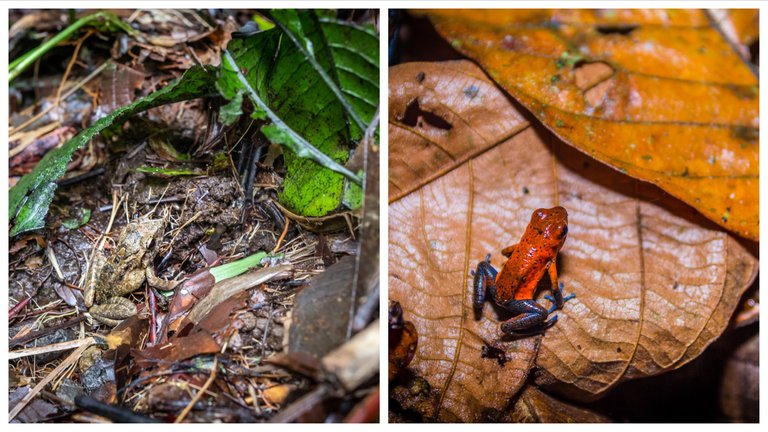 Continuamos nuestro camino, la pendiente empieza a ser mayor y el sendero se llena de grandes rocas cubiertas de musgo las cuales pueden ser resbalosas, así que continuamos nuestra marcha con cuidado.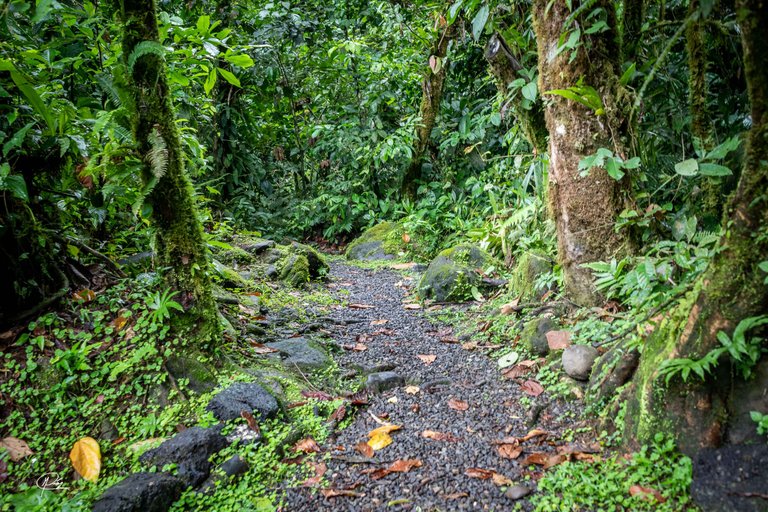 En algunos sectores podemos observar hermosas flores, cuyos colores y fragancias contrastan con el verde denso y el ambiente húmedo. Erithrinas y orquídeas encuentran aquí un lugar perfecto para desarrollarse y atraer con sus flores a una gran cantidad de polarizadores.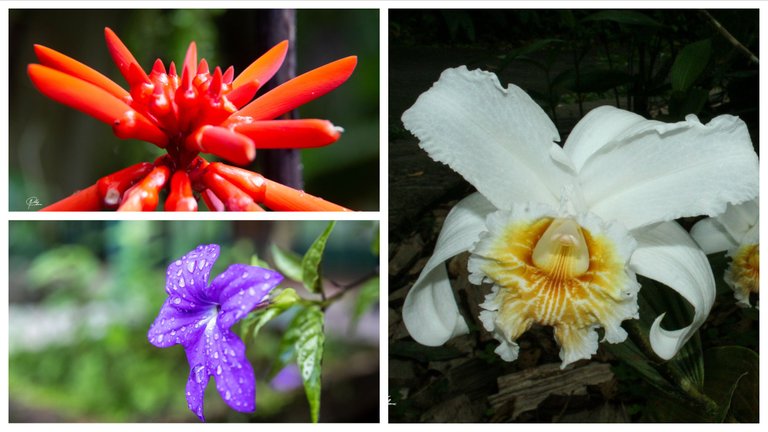 Empieza a llover ligeramente, es algo común de estos lugares, así que nos apresuramos un poco. Encontramos otras aves de vivos colores. Se desplazan entre las ramas, individuos de diferentes especies forman lo que se conoce como una bandada mixta. A su paso, la calma y el silencio del bosque desaparecen, su canto llena todos los rincones.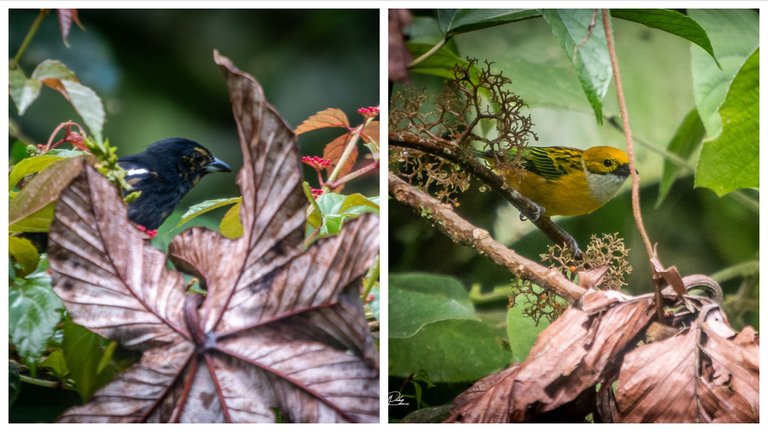 Últimos metros para terminar el recorrido, una una pendiente un poco complicada que nos obligar a caminar muy despacio, mientras nos sujetamos de un cable colocado a la orilla del camino y que sirve de apoyo en el difícil descenso. Al final llegamos a un pequeño puente, este marca la salida y el final de esta aventura llena de naturaleza, en donde cada rincón esconde sorpresas.