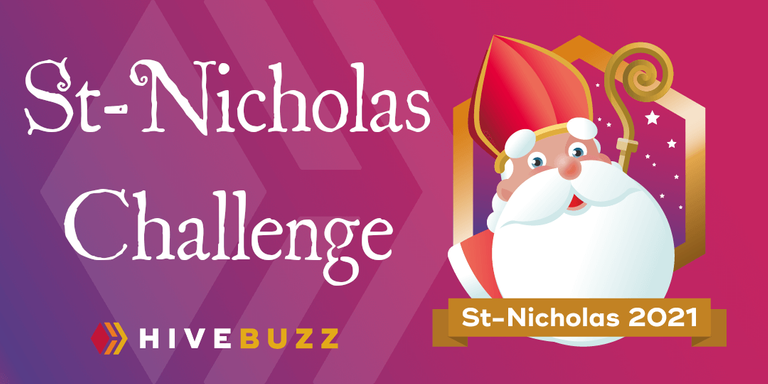 You've been a good boy or girl all year with all your Hive friends? Perfect, you are just a few steps away from getting an exclusive badge.
Why celebrate Saint Nicholas?
Saint Nicholas' Day, observed on December 6 in Western Christian countries, December 5 in the Netherlands and December 19 in Eastern Christian countries, is the feast day of Saint Nicholas.
It is celebrated with particular regard to his reputation as a bringer of gifts.
In Ukraine, children wait for St. Nicholas to come and to put a present under their pillows provided that the children were good during the year. Children who behaved badly may expect to find a twig or a piece of coal under their pillows.
In the Netherlands, "Dutch children put out a clog filled with hay and a carrot for Saint Nicholas' horse. On Saint Nicholas' Day, gifts are tagged with personal humorous rhymes written by the sender."
In the United States, one custom associated with Saint Nicholas Day is children leaving their shoes in the foyer on Saint Nicholas Eve in hope that Saint Nicholas will place some coins on the soles, for them to awake to.
Source Wikipedia
Were you kind enough to deserve a gift?
HiveBuzz has prepared a new badge for all the Hivers that have been kind throughout the year.
If you have been a good boy or girl, follow these rules to get your badge:
Upvote this post!

Write a comment on this post before December 7 at 23:59 UTC telling us the gift you would like to receive from Saint-Nicolas. The funnier, the better!
Who knows, maybe you will receive what you asked for...

Tag one friend of yours who you know has also been a well-behaved boy or girl during the year. You may both get an additional gift if they also successfully complete the challenge.
Example:
Dear Saint Nicholas, I wish to receive a Hive-Punk that looks like you.
I know @arcange has been a good boy in 2021.
BEWARE:

No more than

1 comment

and

1 friend tag

otherwise Saint Nicholas will not be happy and will disqualify you!
Thank you Saint Nicholas!


PS: Badges and gifts will be distributed from December 6. Do not forget the carrot for Saint Nicholas' donkey!
---
HiveBuzz is a project created by @arcange