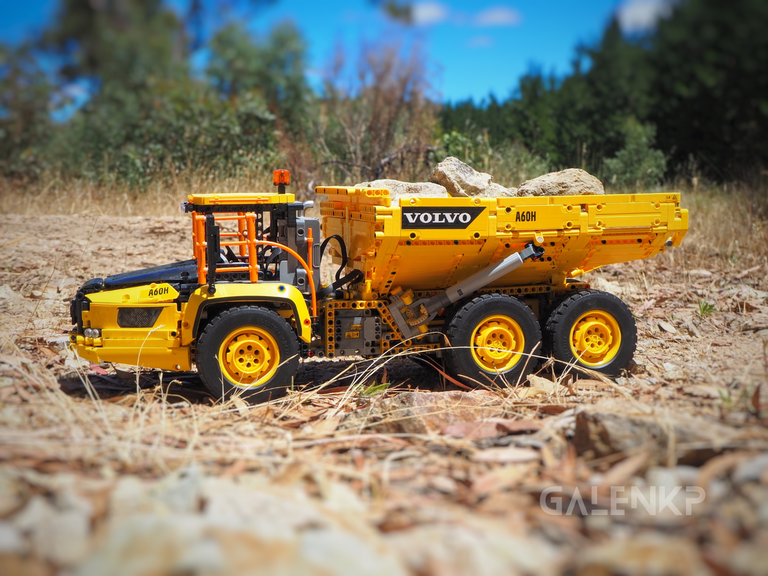 ---
---
Australia Day is my favourite public holiday after ANZAC Day and, traditionally, I use it to relax in some manner. A BBQ at home with friends, a day at the beach, hiking and a picnic or some such thing that doesn't require a lot of effort are the usual activities. The day is just made for taking a load off, for rest and relaxation.
Today was no different and although I had some tasks to perform they were enjoyable and going to take place in an enjoyable environment. I was excited.
In a post a few days ago I wrote about taking my Lego Technic builds apart - I just have too many and due to their size I'm running out of room. I decided to take some photos of them, just as memories, prior to deconstructing them and building them into something else. That's the task I set myself today.
I put all of the sets you see on the table below into my four wheel drive together with my camera, some water and picnic stuff and headed off to the pine forest about a forty five minute away to see what shots I could get.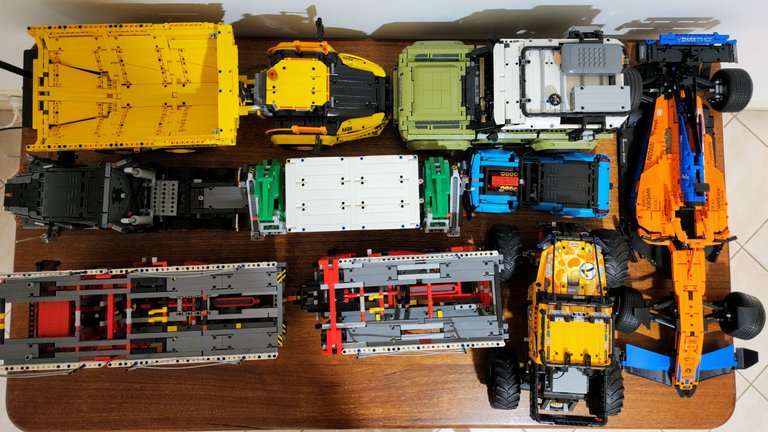 I drove into the forest and found a few great spots, one of which was off-road slightly, through a bog, up a hill, and started shooting.
I finished up there and was driving to another spot on the graded gravel road when a ForestrySA four wheel drive with two rangers in it pulled up into the dust cloud behind me. I was going slow so pulled over a little to let them by. He parked up about a kilometre further though and there he was waiting for me when I arrived. I went past looking left and right scoping out good places for my photos and he followed. Ok, something was up so I pulled over.
He came over to my car and asked me what I was doing and immediately went on to say that four wheel driving in the forest is not permitted. OK, so he thought I was looking for places to off road my vehicle. I get it.
I told him I wasn't doing that and said something like, I'm just here taking some photos of my Lego Technic. I thought I'd just be honest.
He looked a little quizzical and I followed up with, do you want to see? He did. I jumped out and opened up the back and he saw all those sets you see above all over the back seat and rear load area. He smiled and said, that's cool!. I pulled them out one by one and the guy and his partner-ranger and I spent forty minutes talking about Lego and various other things. It was a legit chat.
Right before I left the guy asked if I'd want to take some shots on their runway (light plane runway) and I said that'll be cool. He also said they had some gravel and rock piles back at the forestry station which would be cool to take some shots of the Volvo Hauler. It was a deal. I said I'd swing by after I grabbed a few more shots and off they went.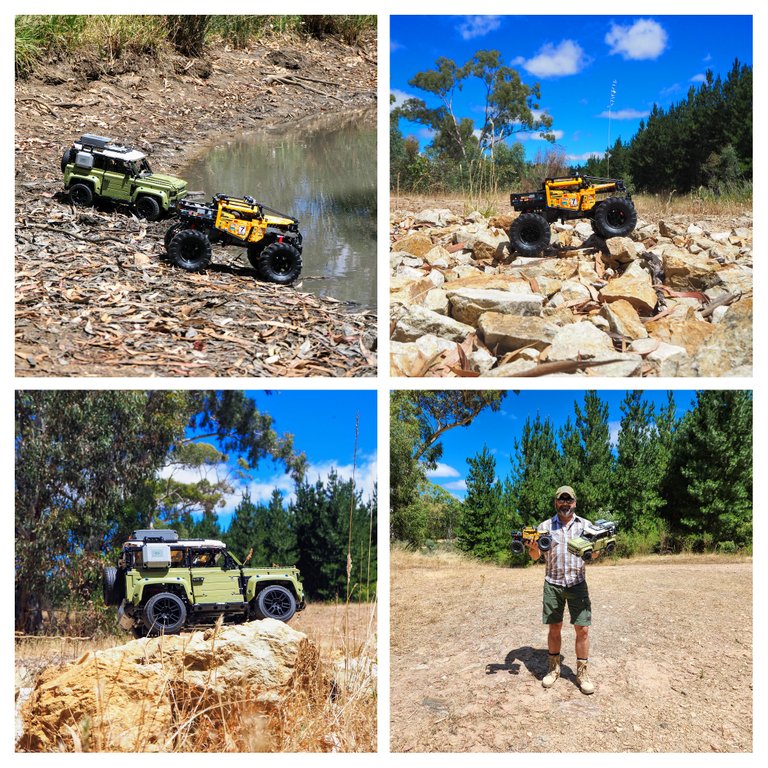 I headed over to a camping ground I knew of inside the forest where there's some legit rock formations and loads of trees and stopped there for some photos and a bite of lunch.
Just a word on lunch. You may be picturing a beautiful spread of cold cuts and exotic cheeses, olives, a pâté or dip, a crusty sour dough bread stick and a lovely bottle of Chianti wine. Well...my picnic was sort of like that. Ok, it was nothing like that at all.
I had some crackers and a can of Sirena chilli tuna, and some water too. I know, basic. It did the job though and there's something rather nice about such simple food in an amazing location accompanied by my girl-person. I was content.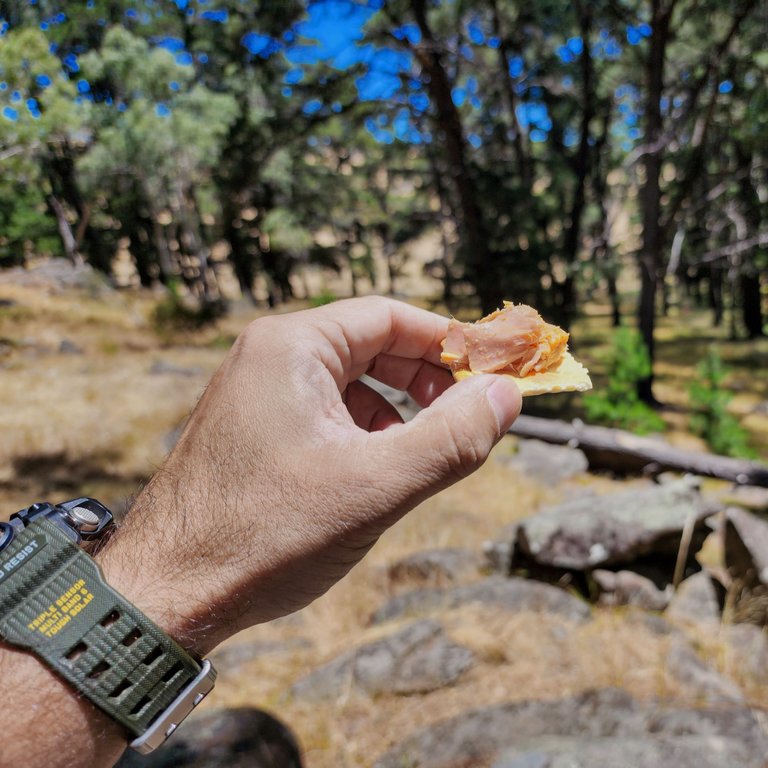 Australia Day was going really well so far.
I was quite impressed with the lack of people in the area although it's a vast area so I'm sure there were plenty there. I only saw a few cars here and there however, and small groups of people having picnics; I was pleased to see Australian flags flying proudly at their picnic sites or on their cars, as I also had on mine proudly flapping away on my CB radia antenna. #proudaustralian
I sat for a while after lunch then packed up and headed over to the forestry ranger's station for some more photos.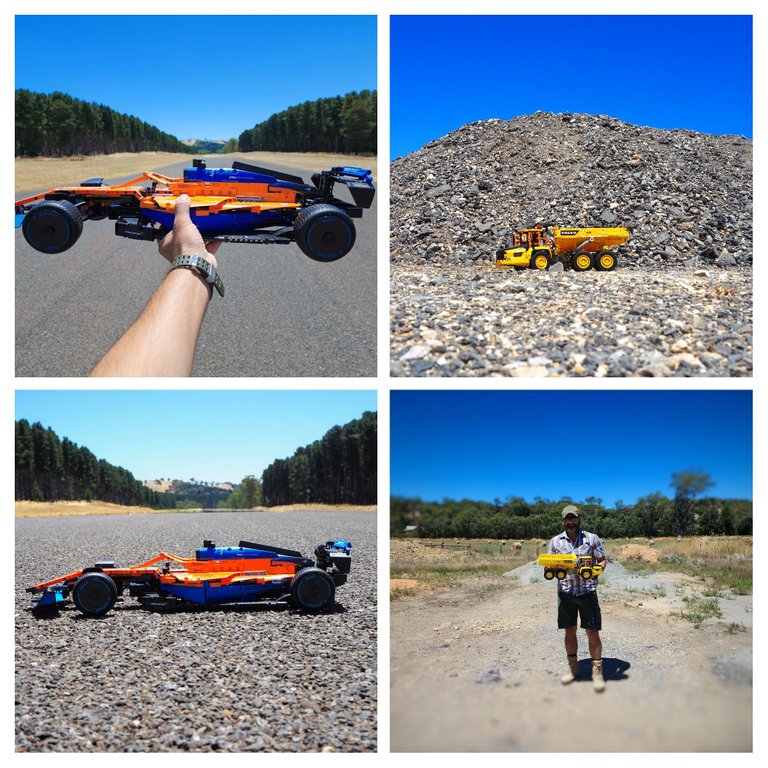 I met up with the two rangers again, spoke some more then one of them unlocked the gates to the runway, generally used for medical emergencies and firefighting planes, and I took some snaps of the McLaren F1 car. Just behind was the rock piles he mentioned and the ranger basically let me have free reign there, he had to go back to work.
I've not included all the images in this post, there are just under a couple hundred of them, but you'll get the idea. I also included a couple of me holding the Lego for size-reference. I didn't actually get to take images of the Mack Anthem and car carrier I also had with me, that's a mission for another day.
---
I had a really great day today, it was nice to take a load off and relax my mind.
I got to hike around a little, got some really great photos which will serve as great memories for when these sets are deconstructed and had a couple really great chats with some legit ForestrySA rangers. Oh, I didn't get a $200 fine for not sticking to the designated gravel roads in the forest either...and lunch was good. Yeah, yeah, it was super simple, but come on, not everything has to be over the top spectacular right? It was a great Australia Day.
---
Design and create your ideal life, don't live it by default; tomorrow isn't promised so be humble and kind - galenkp
All images in this post are my own and were taken today.