A few weeks ago, I posted about the museum and artifact part of our homeschool field trip to Sitio Barriles. Here is the rest of the story - the walk around the property and some of the items that we saw.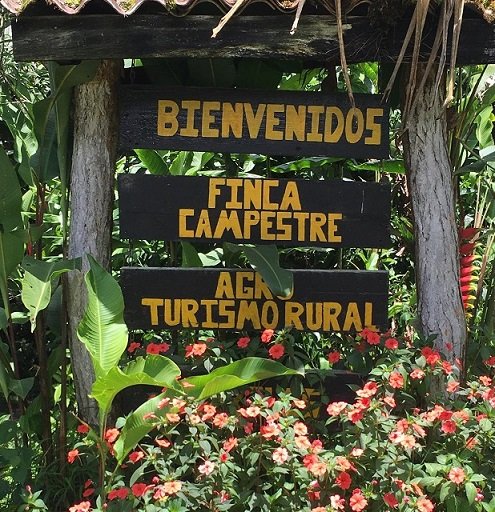 Sitio Barriles is an archeological site located a few kilometers from where we live in the highlands of Panama. It's a great place to learn about what happened here many years ago!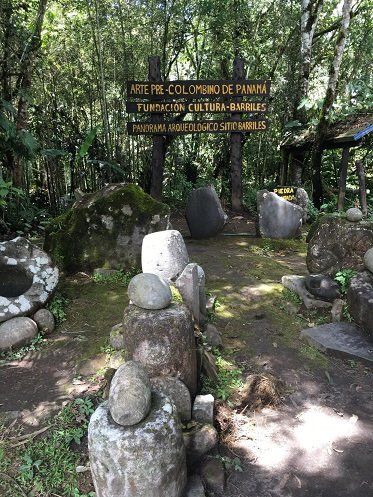 They have found many pre-Columbian artifacts on the property. Many of them were just below the surface. Our group checked out the museum and then we walked around.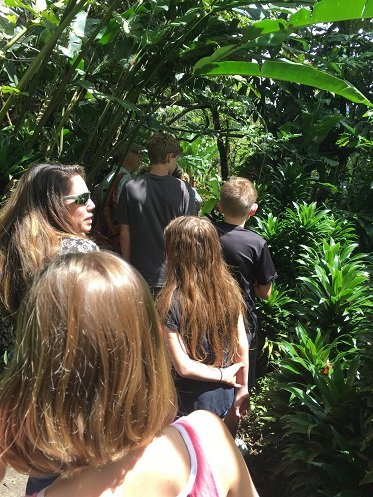 It was such a nice day and everyone enjoyed being out in the sunshine. Everything is so green here thanks to it being rainy season!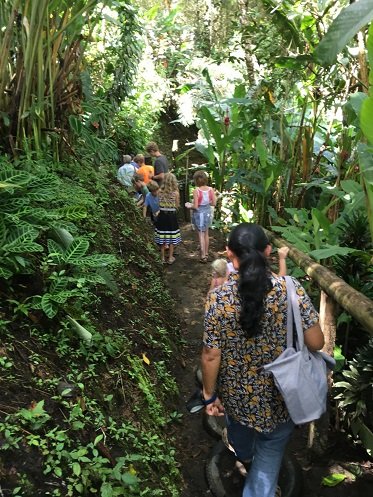 We saw many different types of plants in this tropical environment. They have set up the property with some different paths to follow, streams to cross, and items to see along the way!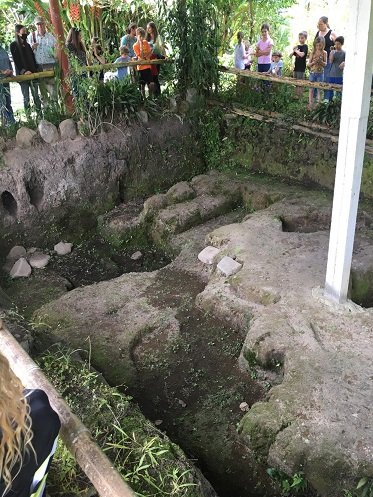 One of the more interesting things to see along their trails is an actual dig site. I don't think it's been used for a number of years, but you can see some of the area that has been excavated.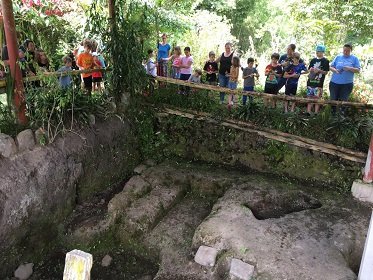 This is a housing area that a group of diggers found a few years ago. It's interesting to see how the stone was carved in different areas to construct a home. It always makes me wonder what life was like back then!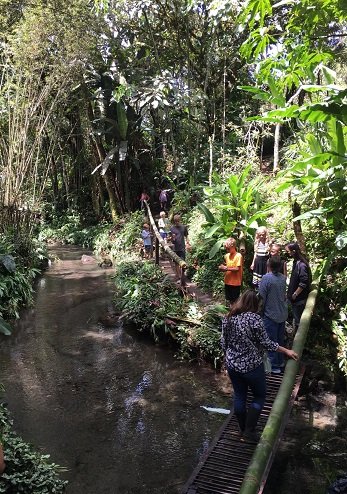 .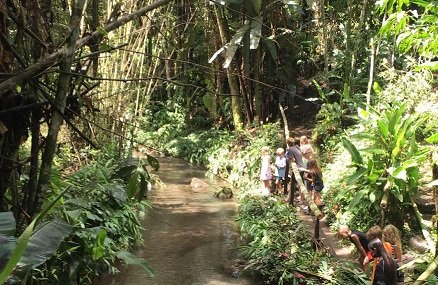 Years ago this creek crossing was just a log, so you can see how they've made improvements over the years. Now it was pretty easy to cross without fearing that you would fall in!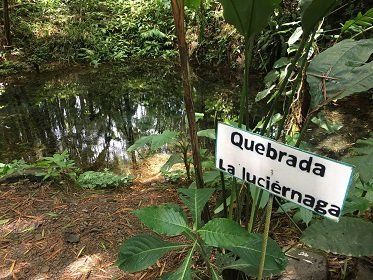 .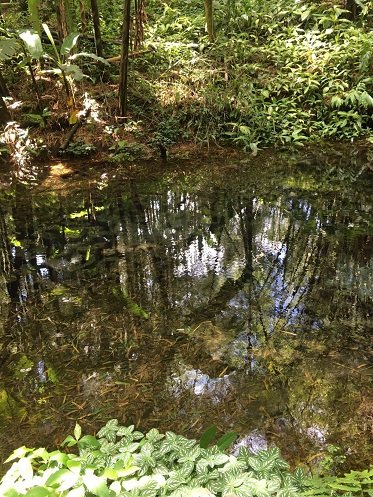 The natural spring on the property was crystal clear! I'm sure it was refreshingly cool water as well! I heard one of our group members went back after we were done and swam in it for its "healing properties." The name of the spring is "La luciernaga" which is one of my favorite words in Spanish. It means the firefly.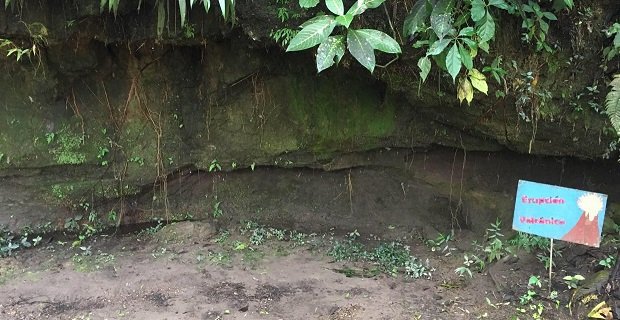 We also were able to see the different layers of soil due to the volcanic eruption from about 500 years ago.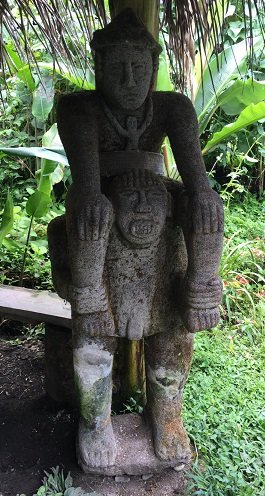 Our area of town uses this statue in different places. Apparently it was found on this location - featuring a man holding another man on his shoulders with a small "man" necklace around his neck. No one knows what it means really.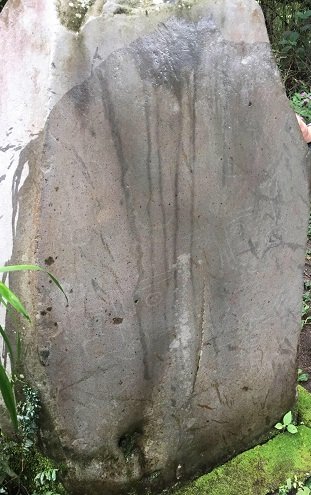 There are a few stones like this one there. The images are only visible when it is wet and they are not etched into the stone. The stone is also magnetic apparently.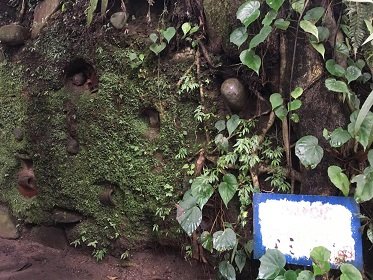 As you can see, the area is still filled with artifacts. This is where they put in some stairs and just left the uncovered artifacts sticking out of the wall. The guide did have to ask some of the kids not to touch them as they are pretty fragile and that is why they haven't been removed. Besides that, it makes a pretty cool wall!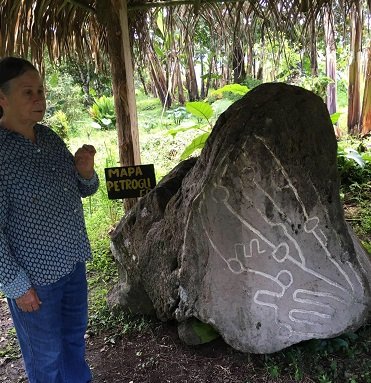 Our guide lastly showed us a "map" that was drawn on a large boulder. No one knows exactly what the map points out, but it is believed to be a map to the top of the volcano near us, pointing out various paths and possible villages.
It was an interesting time at Sitio Barriles, and I'm sure it won't be my last. It's great to get such a nice tour of the property in English for about $1 a person. If you're ever in the highlands of Panama, I recommend you check it out!