Witness descriptions has actually been around for a while, however we wanted to highlight this feature to show users where they can find more information for voting and to educate witnesses so they could add their description.
WHAT IS THE WITNESS DESCRIPTION?
Witness Description is a decentralized bit of Data in the witness account (which a witness can easily fill out) to help voters understand what the witness does for Steem, or why someone should consider voting for them.
https://steempeak.com/me/witnesses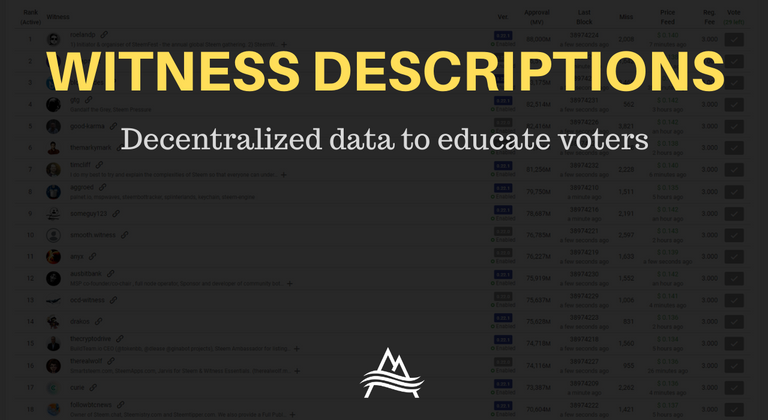 WHY?
Because voters have a hard enough time learning who they should vote for, what that witness does and even though big voters are likely more well versed with their options, (partly because they have been around a long time) it's nice to get all users involved with voting and this description can help voters in making decisions.
---
WHERE IS IT SHOWN?
While any witness list CAN show these descriptions easily... to my knowledge https://steempeak.com/ may be the only interface presently showing it.
https://steempeak.com/me/witnesses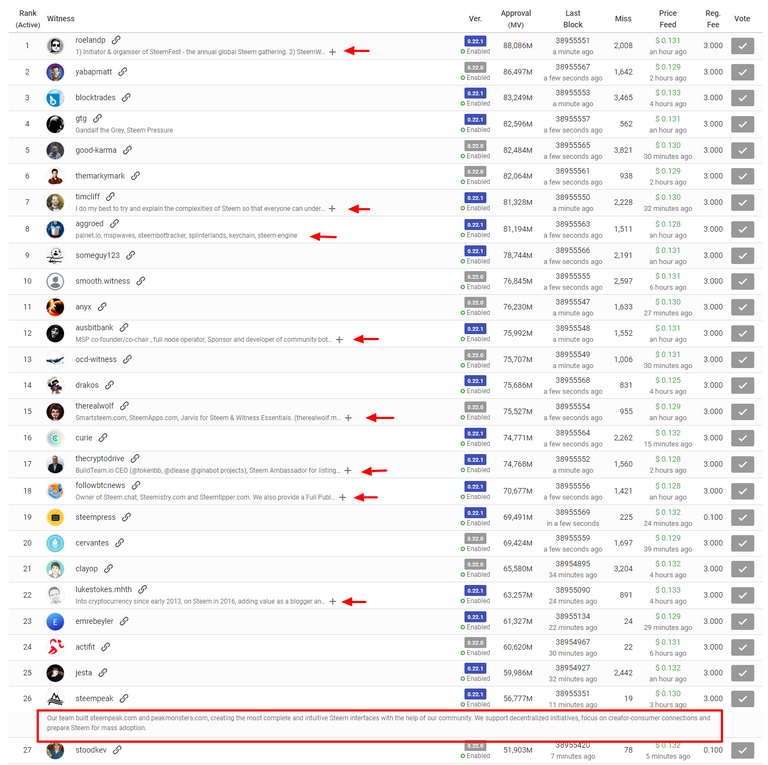 If you're on https://steempeak.com/ you can easily click this image to view it larger
---
WHERE IT IS EDITED?
Any interface is technically able to easily impliment this system, it's just a matter of editing metadata on a profile...
However to our knowledge only SteemPeak has an easy interface to add the text.
STEP 1 - Go to your witness profile
STEP 2 - ACTIONS >> EDIT PROFILE
STEP 3 - Add text to "Witness Description"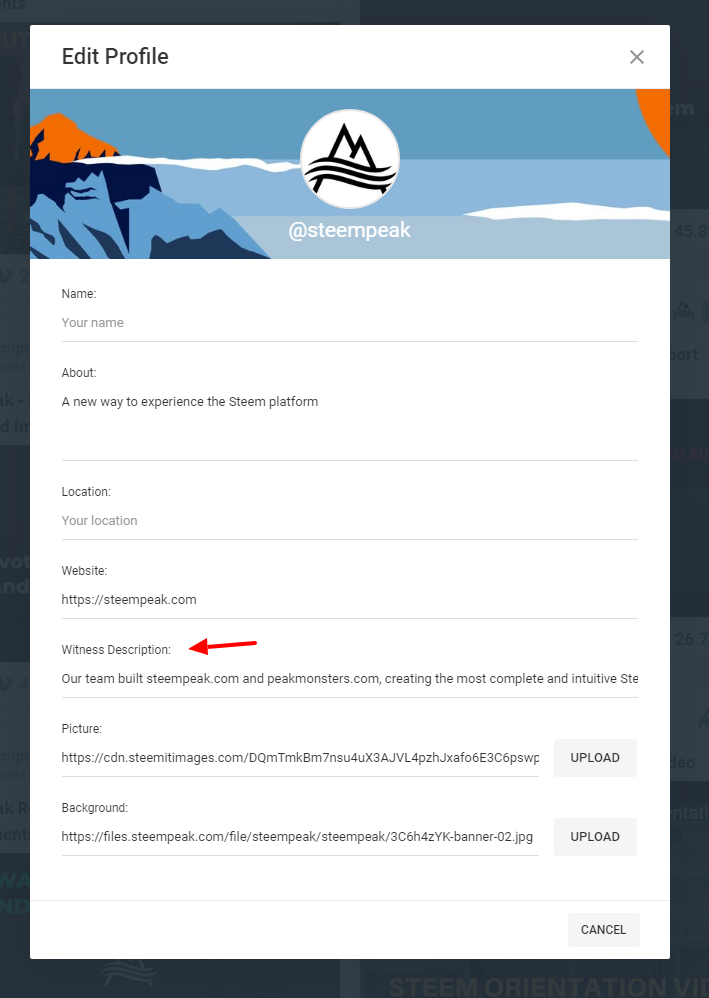 STEP 4 - Continue - Sign transaction with Active Key
---
CORDIAL INVITATION
We invite pages that show witness ranks to add this data to their sites.
Also invite you to give witnesses an option for editing their description.
We invite witnesses to edit their witness description.
Many of them may just not have known that it's been around for a bit:
@yabapmatt (ADDED)
@blocktrades
@good-karma (ADDED)
@themarkymark
@someguy123
@smooth.witness
@anyx
@ocd-witness
@drakos
@curie
@steempress
@cervantes
@clayop
@embrebeyler
@actifit
@jesta
@stoodkev
@abit
@pfunk
@pharesim
A BIG THANKS FROM ALL THE SMALL VOTERS
All the voters who don't have a lot of information to go off of really appreciate at least having these descriptions to start off their research.
So thanks to the witnesses that have put in their information
@roleandp
@gtg
@timcliff
@aggroed
@ausbitbank
@therealwolf
@thecryptodrive
@followbtcnews
@lukestokes.mhth
@steempeak
@holger80
@c-squared
@crowdwitness
@quochuy
@kyle
...and others
---
---
STEEMPEAK WITNESS UPDATE
BLOCK PRODUCER #26
We want to thank everyone for voting for @steempeak as witness it means a lot to us and gives us faith in our mission on Steem. Which is to make the most intuitive site for Steem and put all the features we want in one place. We're working on a bunch more awesome features for 2020 with a focus on getting ready to target full-time influential content creators and their own followers. If you believe in that mission, love the features we create and believe we'll help direct Steem in a solid direction please vote.
Vote on out profile page: @steempeak
Vote on the witness page: https://steempeak.com/witnesses


This works for all witnesses BTW
Using Keychain: You just have to click and approve the transaction
Using SteemConnect: You'll need access to copy paste the Active Key at least.
---
The SteemPeak Team
About us: https://steempeak.com/about
Join us on Discord: https://discord.gg/6hCAcVp