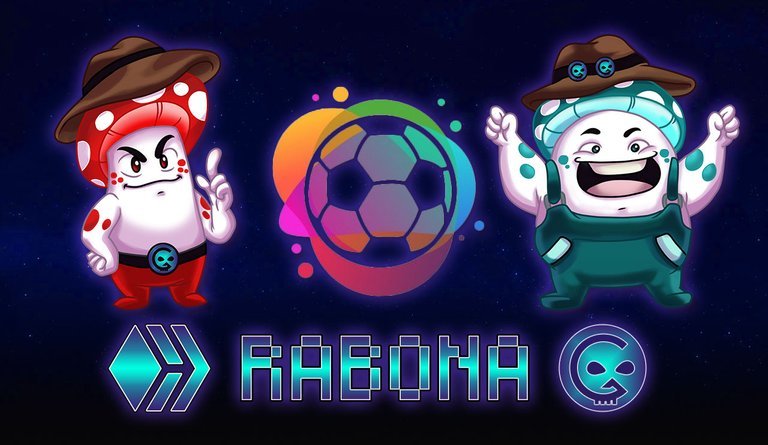 Welcome to my Rabona update post of this week. I am an 1UP Cartel operator and I try to keep all of you up to date with these posts. New operator posts should be published every Tuesday but could be delayed from time to time since I am really busy with my upcoming exams at the moment.
I had to make this weeks post a bit shorter because right now I am learning basically all day long 😑
Season 69
I devided this part of the post into different chapters, since I want to cover several important aspects of the game. You can find information about...
Buildings
Training
Game results
Financials
Preparations for the new season

Buildings
The following buildings were upgraded:
Shop Capacity: This upgrade costs 600,000 RBN + 15,000 RBN/match and I'll increase the shop capacity by 1,124 shirts/scarf by that. Since merchandising is one of my most important income source and I have a lot of fans, this seems like something I had to do.

Office Building: Currently I have a salarly bonus of 16% (which means that salary offers will be decreased by 16% upon contract renewals). Upgrading will increase this bonus by 2% which can really pay off in the future. The costs for the upgrade amount to 1,440,000 RBN + 300 RBN/match.

Building Yard: I want that extra 2% less upgrade time to finish upgrades sooner. So I'm willing to pay 500,000 RBN + 1,200 RBN/match for that.

Youth Academy: Like I already mentioned in an older post I want to scout more players in the future. So I upgraded the youth academy for 500,000 RBN + 1,200 RBN/match to increase the efficiency ratio by 2%.

Training
08/03/2022: Trained 4-3-3 with all players
09/03/2022: Trained 4-3-3 with all players
10/03/2022: Trained Endurance with 16 players
11/03/2022: Trained Endurance with 16 players
12/03/2022: Trained Endurance with 17 players
13/03/2022: Trained Endurance with 17 players
14/03/2022: Trained Endurance with 18 players
Please note that the decrease from 13/03 to 14/03 is caused by signing a new player from scouting with an OS of 66 and not because training made my team weaker 😂
Game results
The season is not over yet, there is still one match that needs to be played. The outcome of this game won't change the position in the table that much though. This time I was able to win 17 of 29 matches, which was way worse than last season. If you compare my goal difference to the other teams with a similar amount of points, you'll see that I scored way more goals than other teams in 4th - 8th place. Unfortunately I lost a lot of the really important matches, so I'll end up somewhere between place 5 and 8, depending on the last match.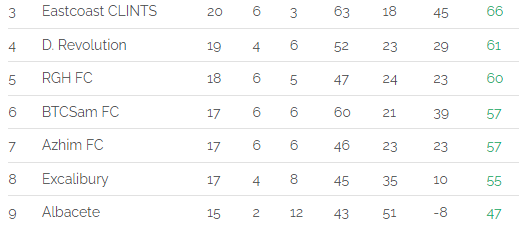 Financials
I scouted 3 new player for 20,000 RBN each (60,000 in total) just to see how good those players are with my current efficiency bonus. The first player had an OS of 66, I signed him because he has a salary of only 400 RBN and if I train him a lot he might be a good alternative for the future if a player is blocked/injured. The next one had an OS of 59 which was too bad, so I didn't signed him. The last play had an OS of 53, so he was signed as well. I see an improvement with scouting because scouted players were a lot weaker before I started upgrading the Youth Academy. I'm still at a point where scouting doesn't seem like a real alternative to buying players from the market but I'll get there 😎
---
The income decreased from 77 million RBN in season 68 to 63 million RBN in season 69. This is mainly caused by lower merchandising income. Since I haven't changed merch prices this seasons I guess this has something to do with the performance of my team (last season went way better...).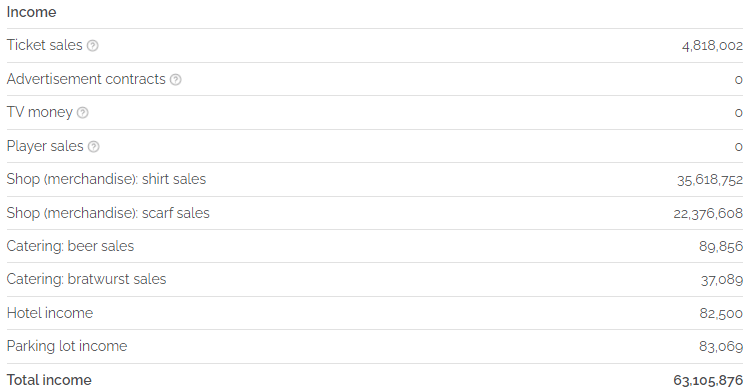 The costs are a bit lower than last season. They amount to 42 million RBN which is because 1) merchandise costs went down (less sold shirts/scarfs) and 2) there were no player purchases this season. On the other hand you see that the player salaries had increased by a lot.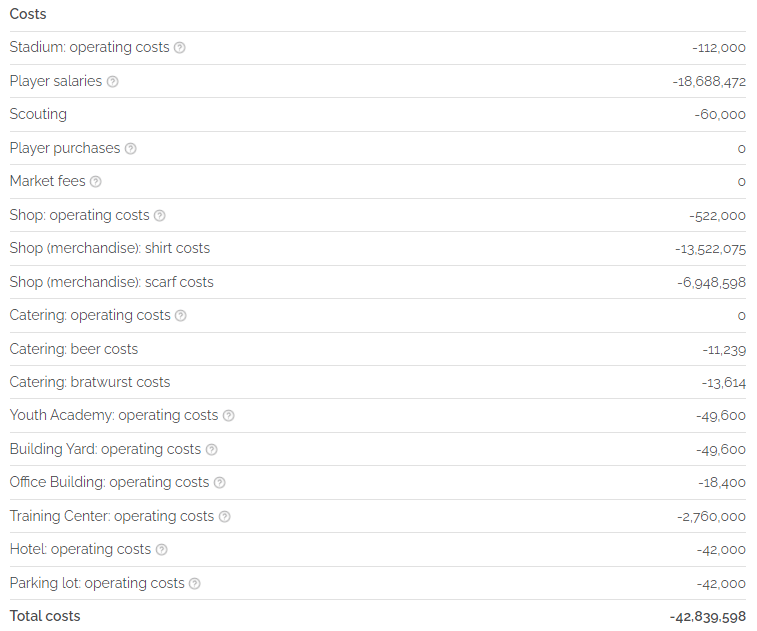 The end result is 20,266,277 RBN which will change a bit when the season actually finishes (after the next game) but the profit should be between 20 million and 21 million RBN (~ 0.8 HIVE) in the end. I don't know how much HIVE I will get for this season but I guess if you add that to my RBN earnings the total profit for this season should be ~ 1 HIVE.

Preparations for Season 70
Although my team didn't played as well as I hoped I'm not unhappy with my current squad. This is why I won't buy / sell any players at this point.
I extended the contracts of the following players:
| Player | Position | Age | OS | Salary | Demanded Salary | Contract renewed? |
| --- | --- | --- | --- | --- | --- | --- |
| Emiliano Palumbo | Def | 24 | 87 | 36,681 | 42,404 | YES |
| Zeng Dong | Mid | 35 | 75 | 45,450 | 30,608 | NO |
| Badreddine Faria | Mid | 34 | 82 | 44,206 | 37,971 | YES |
| Jose Arias | Off | 32 | 79 | 30,201 | 30,331 | YES |
At this point something strange happened: Yuan Yu (UID: P-ZHRSPOFQO0G), Jeffrey Ahmed (UID: P-ZHWHTLN67Z4) and Edgar Cruz (UID: P-Z76SA6R1PGG) all had a remaining contract duration of 1 season but after I extended the contract with Jose Arias they had 3 / 5 / 3 years contracts. The same happened with Zeng Dong (UID: P-Z7FQVK8YXUO): I haven't extended his contract but now he has a contract duration of 4 seasons. No clue what happened there 🤔 Maybe @mciszczon from the @rabona team can clear this up.
Season 69 was okay but not really good. I haven't found time to do some things I wanted to like setting different prices for tickets or merch but I'll do this in the future for sure (once I have more free time again).

Not playing Rabona yet? Start your football journey now by signing up here. See you on the pitch!