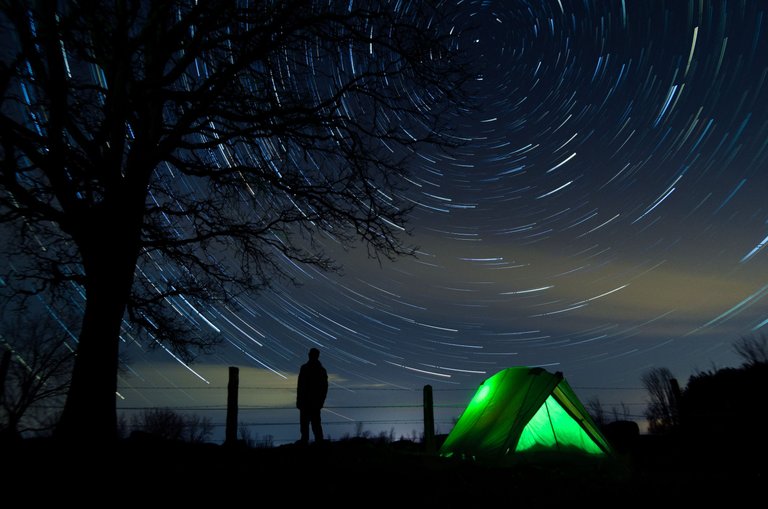 We live in a beautiful world. I recently visited a friend's farm in Ontario, and camped out in the field. It felt good to get out of the city and contemplate the stars. I shot star trails on two cameras, until the batteries died. I like the first composition better, despite being shot with a lens that's less sharp, and capturing a shorter total exposure. The first image was shot with a Pentax K30 and Sigma-Fisheye 1:2.8 16mm with the built-in intervalometer. The second was shot with the Pentax K10D and SMC Pentax 1:3.5 28mm and an external intervalometer.
I'm learning that with this kind of photo, having an interesting foreground is very important. Also, where you position the north star in the frame is key. Having the center of the star circles in the image makes it feel more complete. For this, my wonderfully sharp and reliable 28mm lens doesn't cut it on a crop sensor. You need a wider angle lens. I suppose it could work at lower latitudes or with a vertical composition. Does anyone know any inexpensive tricks to make the batteries last longer when the weather gets cold?
I'm hoping to head out camping again this weekend and do some astrophotography while there's no moon. My wife is worried that -20c is too cold to camp, but I think it will be worth it.