Hi Hivers and Hivians,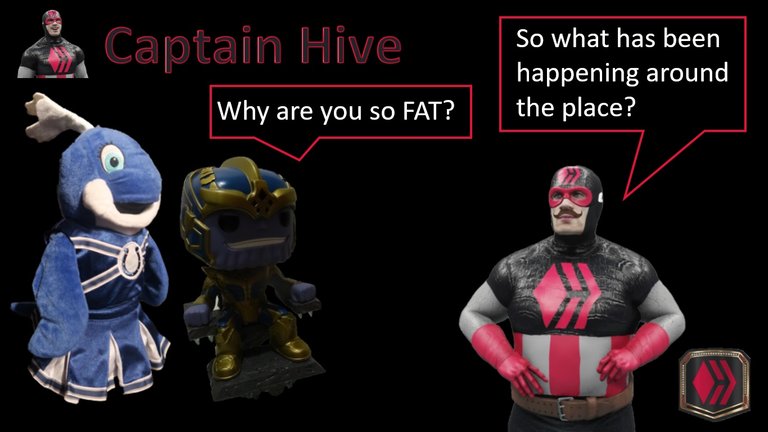 Captain Hive returns with a few of my creations from recent posts. In this post, I will share with you my favourite pictures from three posts. These three posts are Power, Money and Me Me Me, My take on the abortion debate, and 500 Posts on Steem/Hive.
Power, Money and Me Me Me
---
The original post contained 12 pictures. In this post, I will share 6 of my favourites as well as 2 others that I did not include in the original post.
Power, Money, and Me Me Me Thumbnail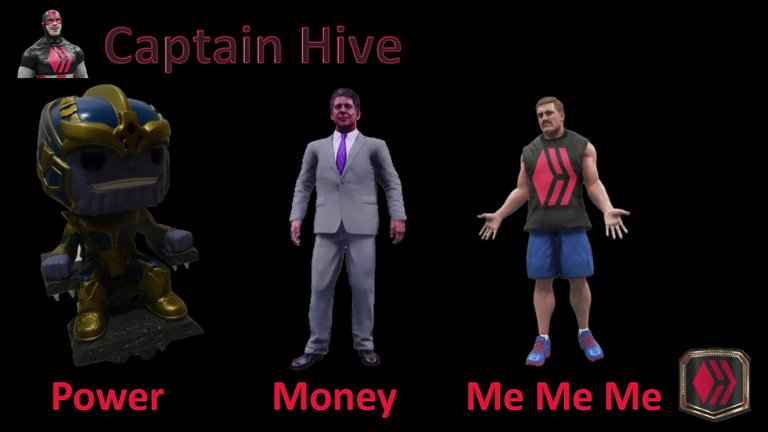 The picture above was the thumbnail to my post Power, Money and Me Me Me. It is a very simple picture containing Funko Thanos, WWE 2K19 Vince McMahon, and your average person (happens to be a Hiver). Thanos represents power based on the devastation his character has caused in the Avengers movies. Vince McMahon is a multi-millionaire and occasionally Billionaire and therefore my symbol for money. The average Hiver represents of all of us.
Altruism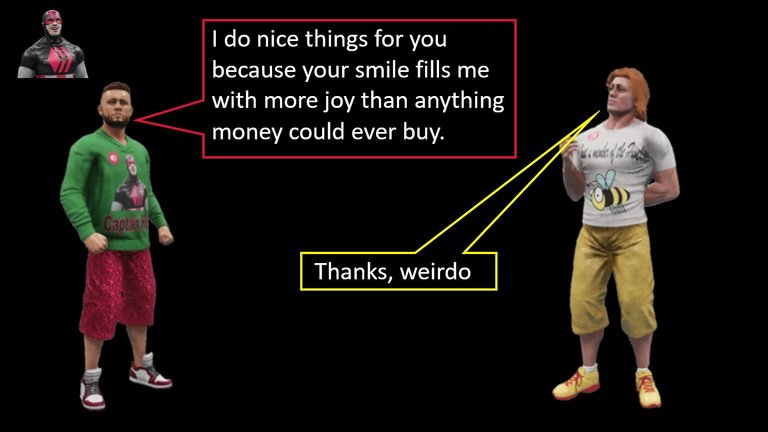 The picture above demonstrates both altruism as well as the complete disregard some people have for it. The Captain Fan (on the left) states that being kind has its own rewards and demonstrates my point that altruism is also self-motivated.
Altruism Alternative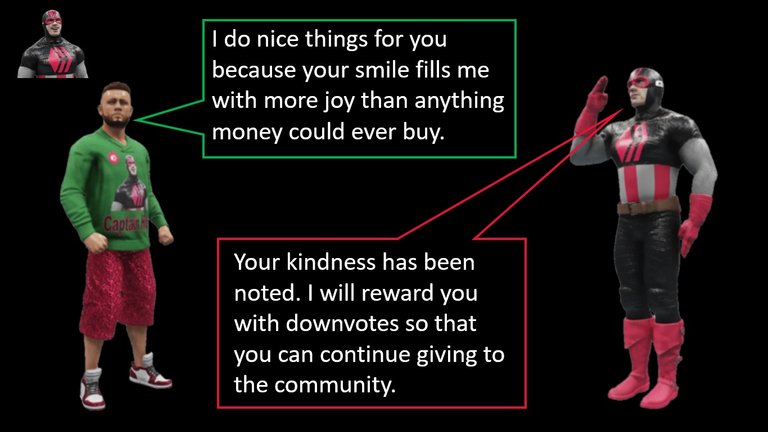 This picture contains the same Captain Hive Fan making the same remark. In this scenario, Captain Hive responds by proposing an unexpected action that will cost his fan money. This is a test of the sincerity of this claimed altruistic behaviour. This also demonstrates that Captain Hive does not enjoy people sucking up to him.
Different perceptions of the same act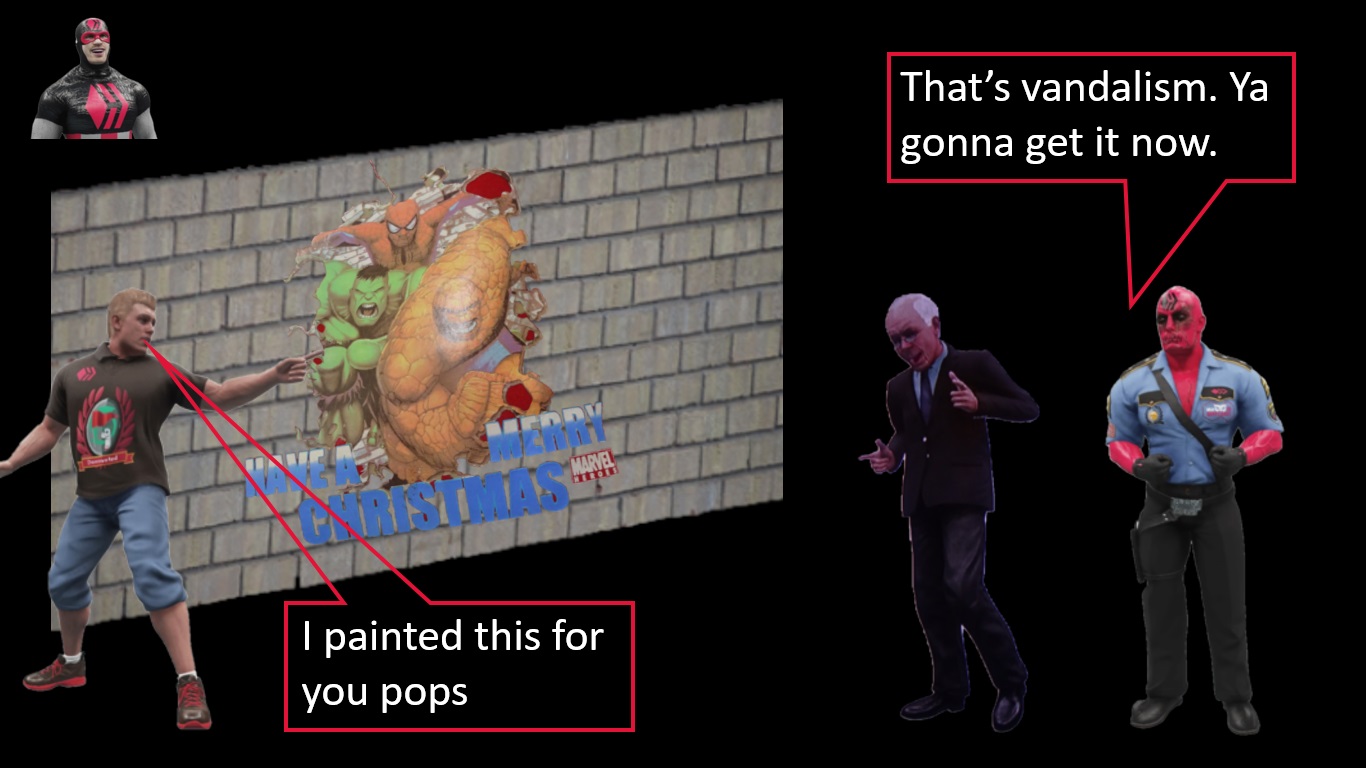 A guy has painted graffiti on a wall as a claimed kind gesture to his father who is apparently a Marvel Fan. However, the police officer perceives the graffiti on public property to be an act of vandalism.
Money and Wealth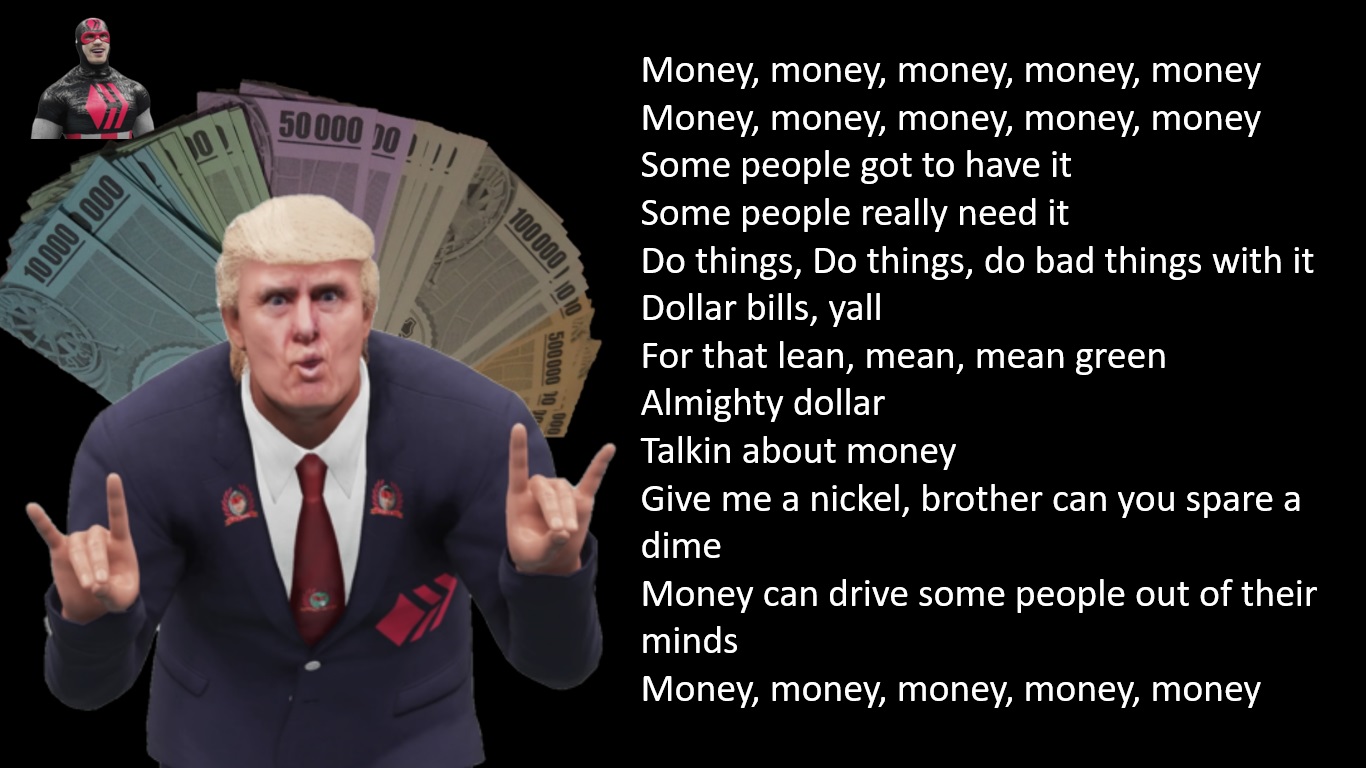 Billionaire Donald Trump is a famous symbol of wealth to most people in the world. He hosted the Apprentice television show from 2004 to 2015. The word 'Money' is the repeated 10 times in a row to begin the television shows theme song. The picture contains some of the other lyrics to the song, which obsesses about money.
Connection between power and the wealthy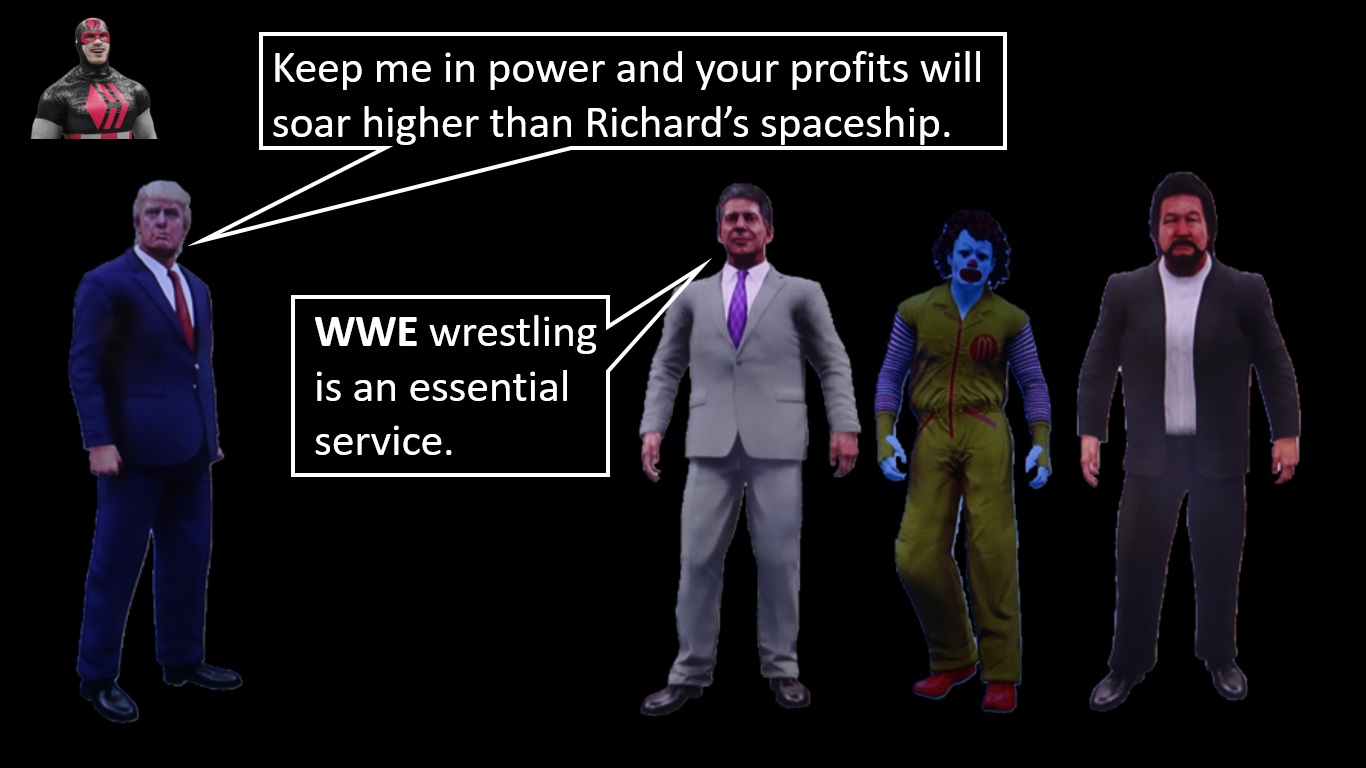 Donald Trump appears in another picture. This time in the context of holding political office. The other characters are his friend Vince McMahon, Ronald McDonald (Joker Version), and the Million Dollar Man. The picture emphasises mutual favours between those with power and those with money.
Likes and Don't Likes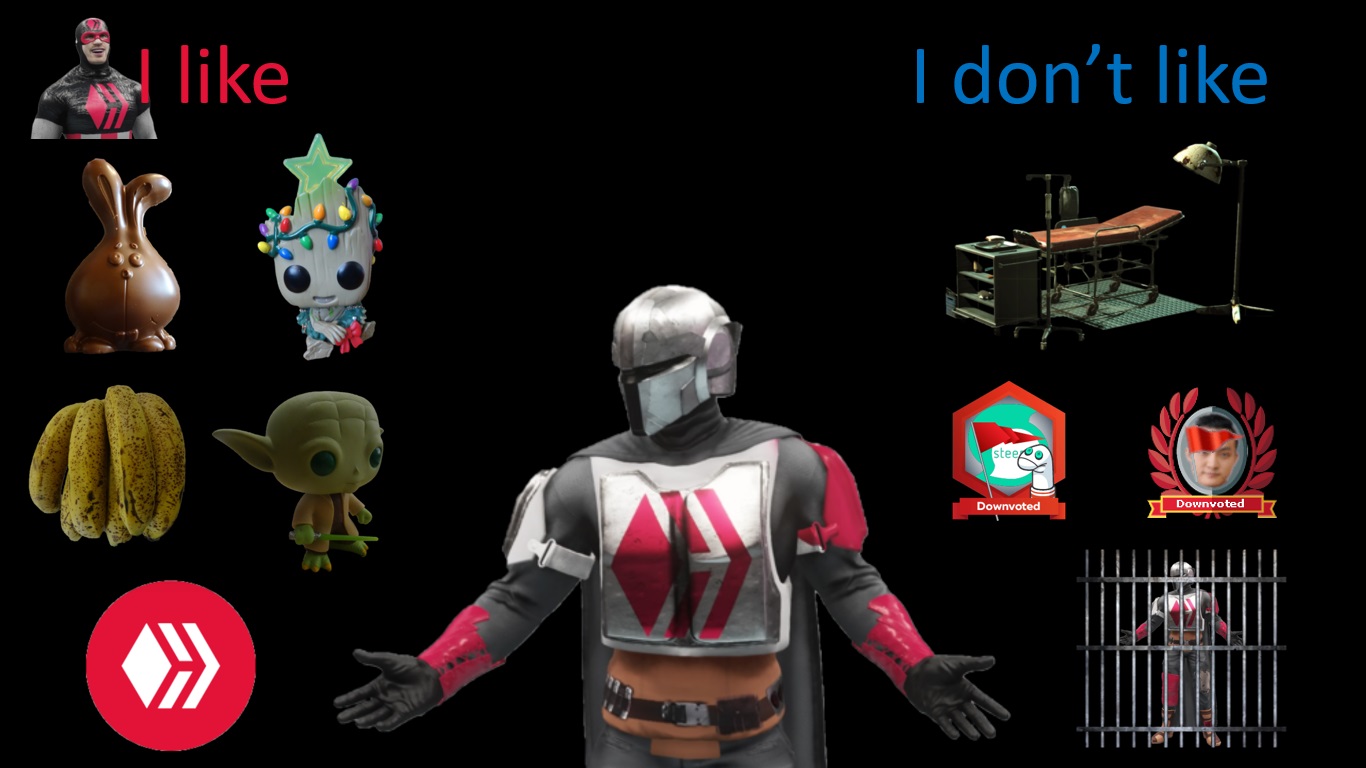 This picture is used to emphasis my point regarding our responses to what they desire and do not desire. The picture also demonstrates my own personal preference to Hive over Steem with Steemit Inc. and Justin Sun flags.
Education Alternative Picture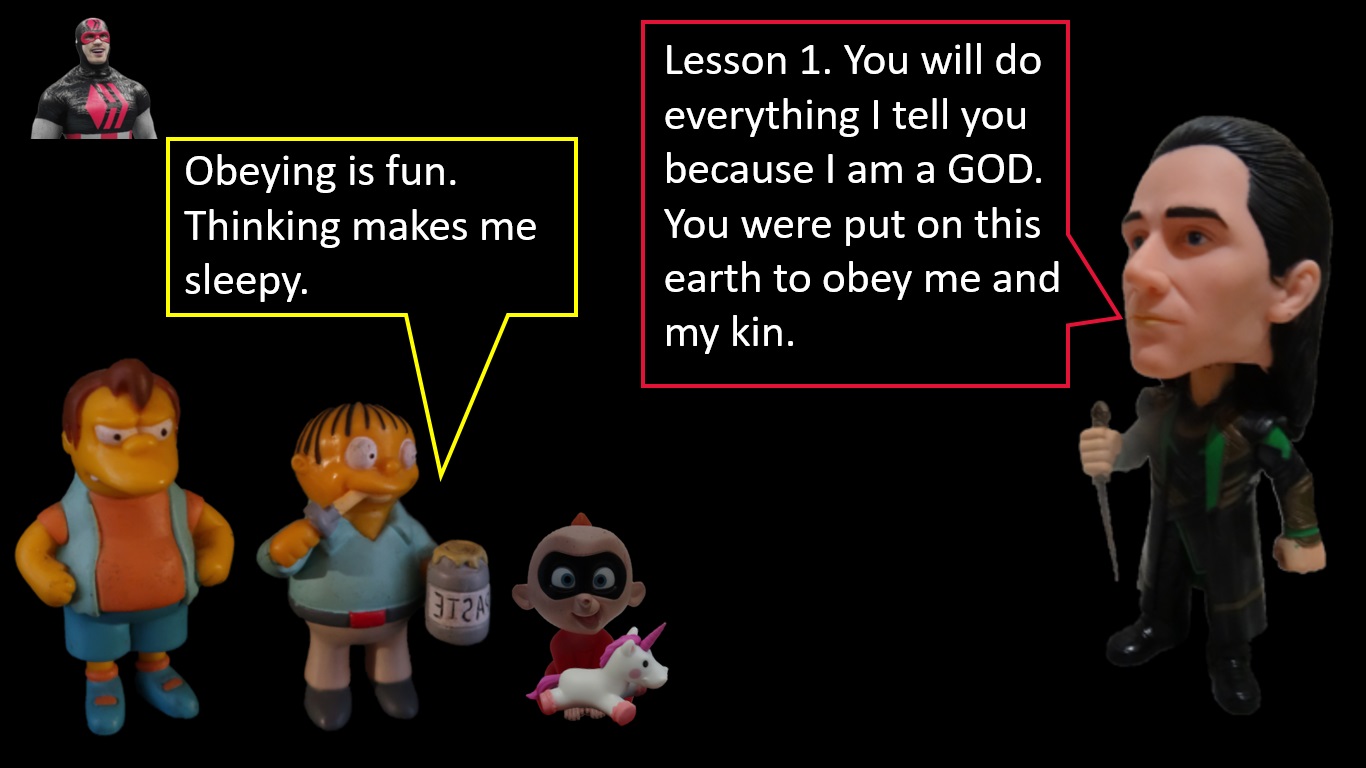 In the original post, I included a picture of Freddy Krueger threatening children to obey using his power to give them nightmares. In this alternative picture, Loki is demeaning the children with his god status. Ralph Wiggum's response emphasises how so many people are willing to accept whatever they are told.
My take on the abortion debate
---
I did not include many original pictures in my post 'My take on the abortion debate'. My biggest challenge was the thumbnail, which took me a few attempts before I came up with something I thought accurately conveyed my message.
Thumbnail First Take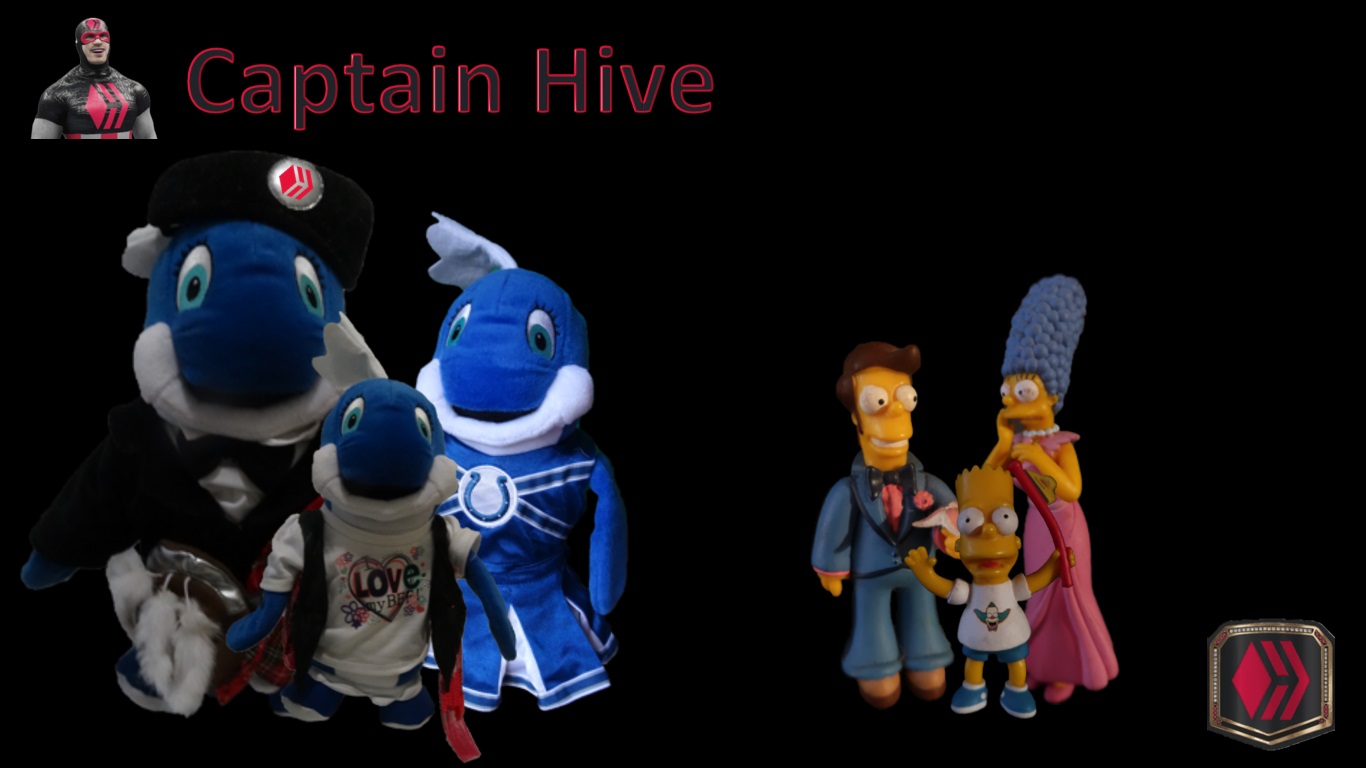 In this first attempt, I included two families. These were a whale family and the Simpsons family. These were very stereotypical man, woman, and child families. I did not feel it conveyed a strong message about family or the impact of abortion.
Thumbnail Second Take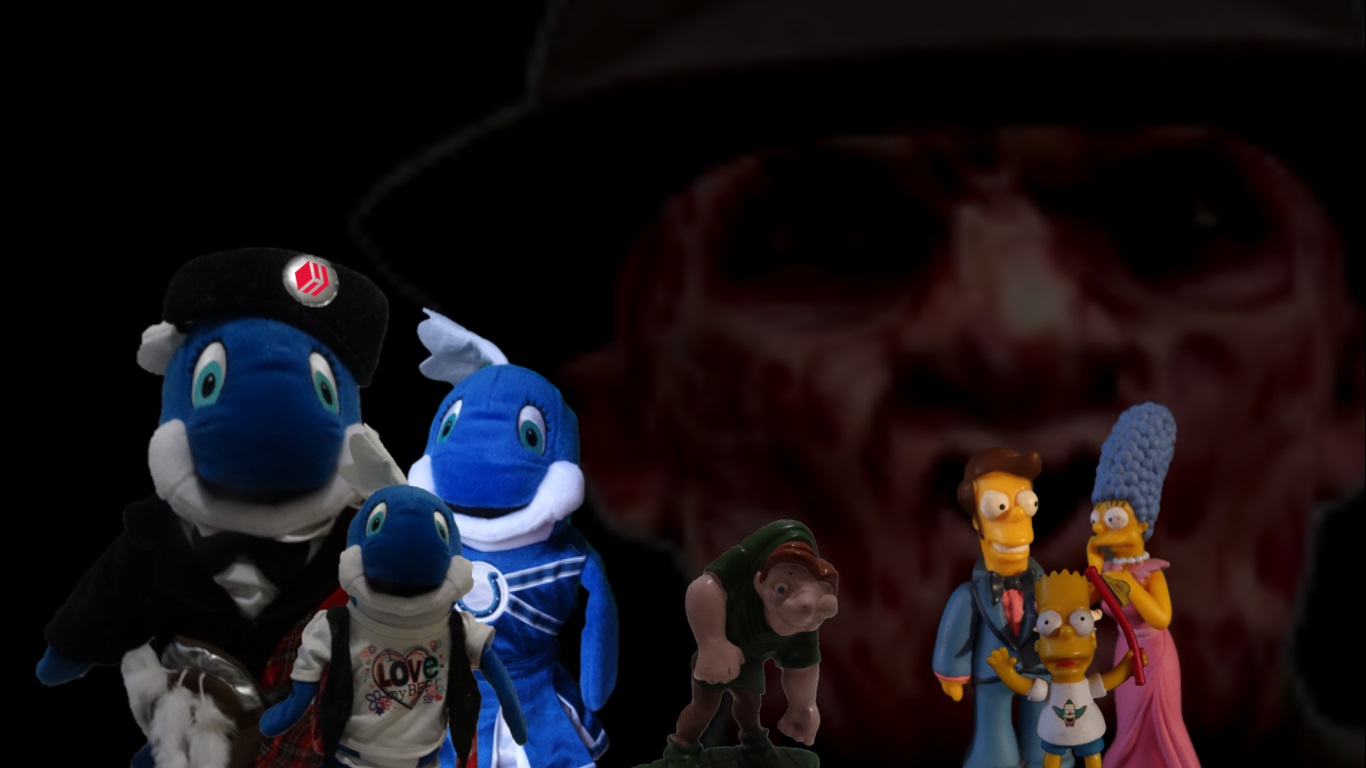 In the second attempt, I added a hunchback and a large Freddy Krueger face. The hunchback was to link abortion to disability and the Freddy Krueger is a notorious movie child killer. I also kept the Simpsons and Whale family in the picture. I believe this picture conveyed the message I wanted to make about abortion but it was also a little crowded. Having two families of the same structure did not add to the message.
Final Thumbnail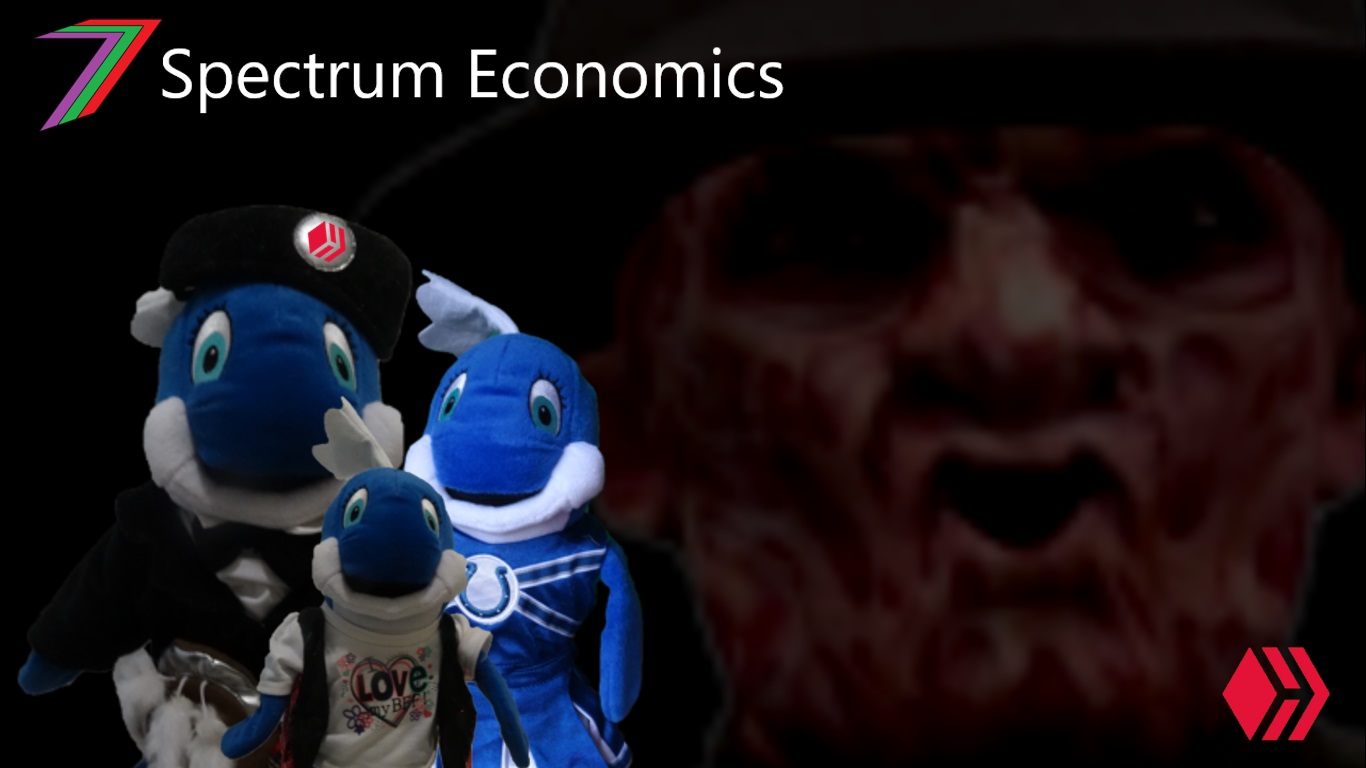 In the final thumbnail, I removed the Simpsons family and the hunchback. I liked the idea of the hunchback but a baby hunchback would have added more value. I believe the final thumbnail conveyed a sufficient link to the content and was not overcrowded or conveying any mixed messages.
500 Posts on Steem/Hive
---
I kept my '500 Posts on Steem/Hive' post simple. I have only one picture I believe worth discussing.
Censorship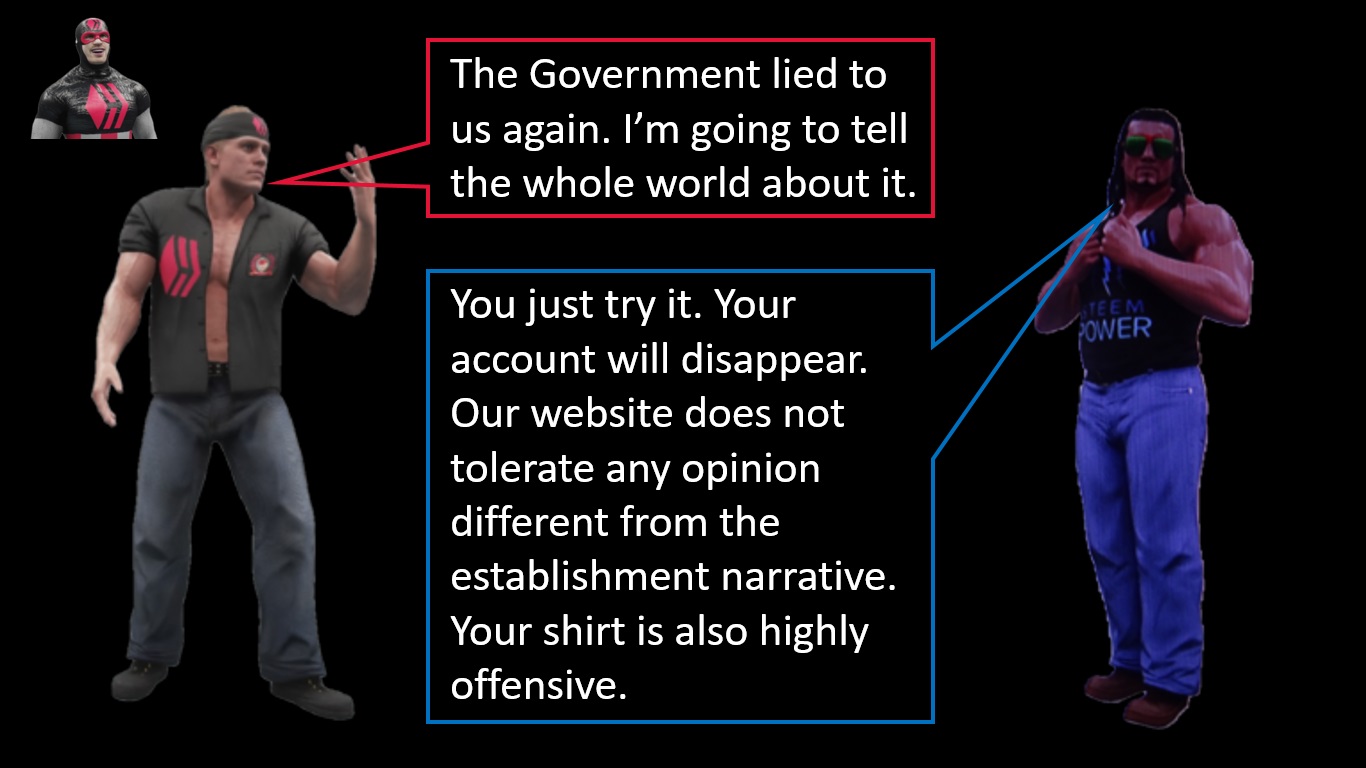 I believe the censorship resistant nature of Hive is one of the most important features. It enables people to post whatever they like without risk of it being removed, this is particularly true for written content. Steem was previously censorship resistant. After Justin Sun acquired Steemit, content is no longer safe. Steemit Inc. has centralised control of the Steem blockchain. Therefore, has full control over Hardforks, which could be used to delete accounts and content with it.
The picture above shows a Hive user who wants to freely write about Government misconduct and a Steem user who is threatening to block that content as well as the user altogether.
Censorship Alternative Picture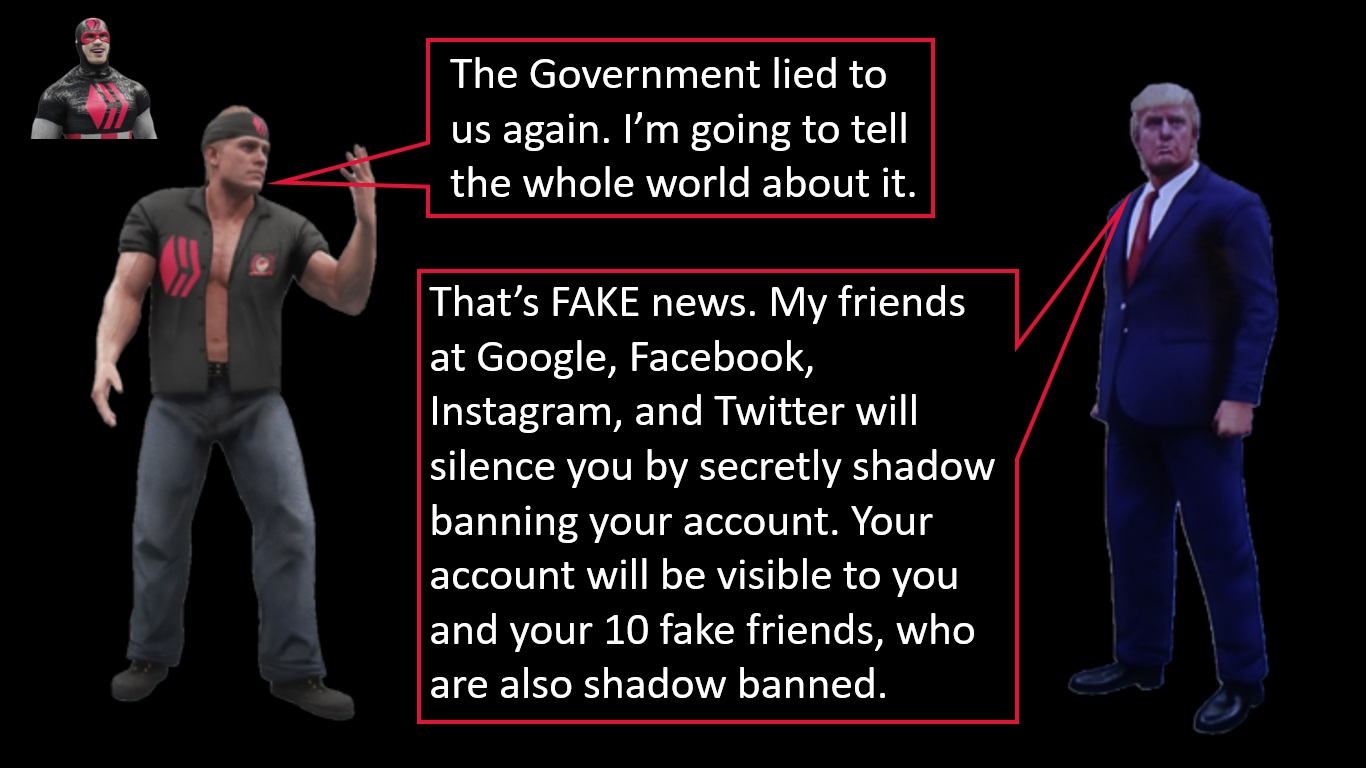 An alternative picture contains the same Hive user with the same message but this time encounters Donald Trump. As the negative opinion by the Hiver is about the Government, Trump would brand the information as 'Fake' News. I choose not to use Trump as I have used him in several pictures recently and the comparison to Steem was more relevant to the post.
Steem HardFork 23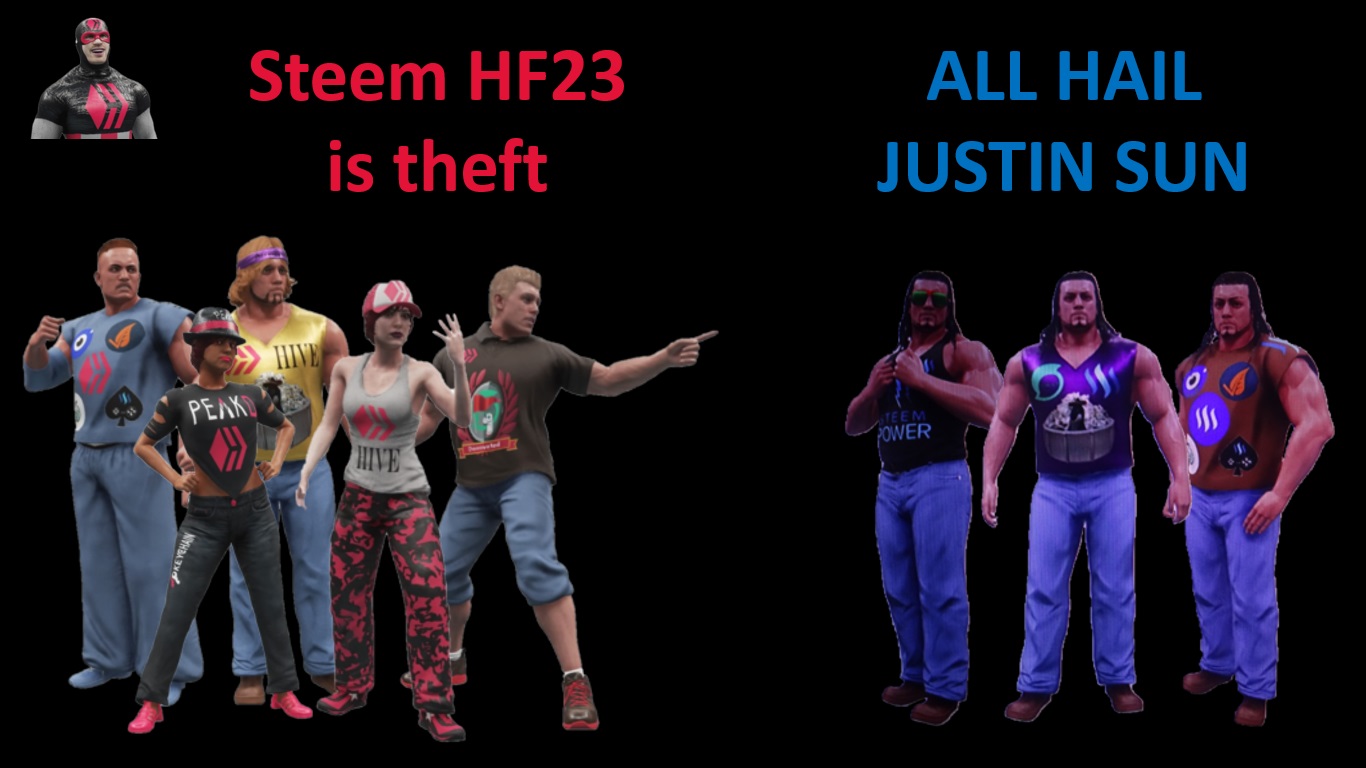 Note: The Steem users are just one character wearing different t-shirts.
Many of you would have heard by now that a Steem Hardfork is planned for today. If the Hardfork goes ahead as expected, Power Down time will be reduced to 4 weeks and many Steem accounts will be stripped of their funds. Using a Hardfork to take money from someone's account is appalling. Such actions are not just bad for Steem but the whole cryptocurrency world. It sends a message that your funds are not safe. I hope that the Steem sock puppet witnesses grow a spine and reject the Hardfork. However, I highly doubt that they will.
Hive On
---
That is just a quick look at some of my recent creations. I hope you enjoyed them. I will have more to share in a couple of weeks.
---
Future of Social Media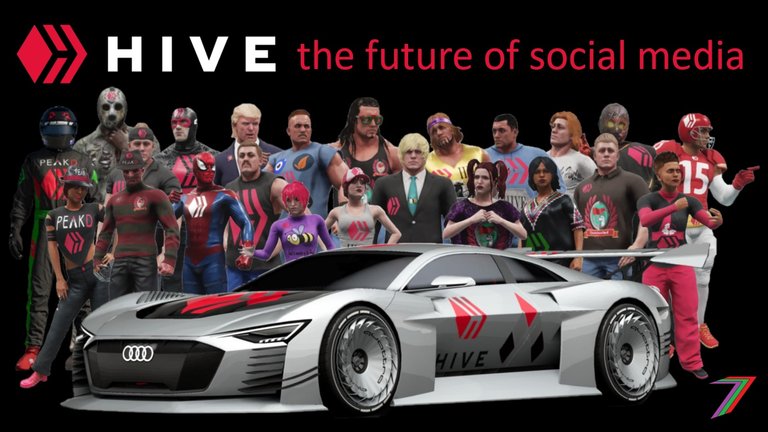 Captain Hive is here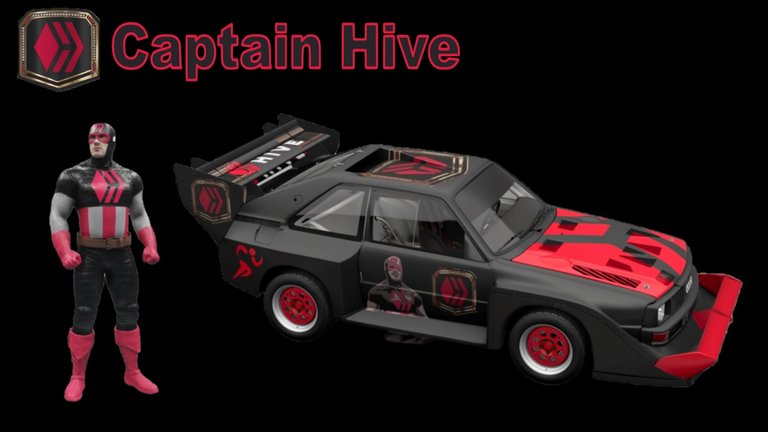 Remember to catch me on Spectrumecons, click link below.