Hey everyone, this'll be a fresh idea we're looking for some help from the community with.
We're wanting to create business cards for Hive to start an initiative as a test run and we'd like to see the amazing artists on #hive participate with their versions of designs they think would look great on these cards.
Let's keep it short and to the point!
What we're looking for:
These will be simple business cards with 2 sides. There should be room for QR codes on both for this test run. 1 QR code with a link to hiveonboard.com for account registration (we'll include the QR code, you can use an example one) and 1 to the Discord of the community we'll be testing this on (Hive Philippines).
We're looking for a sleek design to be ready to print and mass-produce. The front side should be something universal and only Hive related. Slogans and links is something we can add in, though we'd appreciate example ones to give us an idea of how it would look on your design when you present it.
For the backside we're looking for something that'll change depending on which community/country we direct it at. For this contest, we'll be looking at test running it for the @hiveph community, i.e. Philippines. You can feel free to be a bit experimental here and we can go back and forth about details if your design is picked as the winner. The whole page doesn't have to be about the community/country fully, the main design and Hive colors/logo concept can remain but a small touch of uniqueness based on the community/country would be great to set these cards apart.
The concept:
(please note we prefer sharp edges representing (most) business cards, not like the concept below)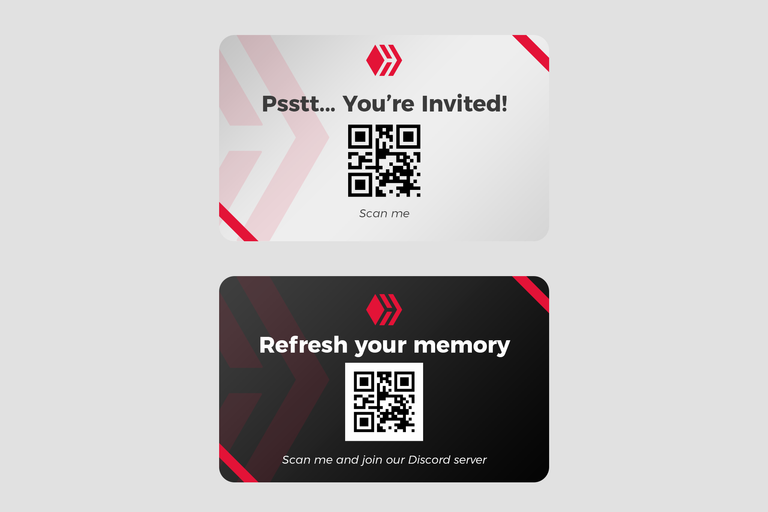 [Example concept provided by @rubencress]
How to participate
Make a post about the process and finalized design (please also mention/source to inspirations if there are any)
use the #hivebusinesscard tag
link to your post in the comment here so we'll make sure not to miss it
Include your entry the latest 10 days from this post to be considered for the prize.
There's a 200 HBD reward for the winner sponsored by @poshtoken and most attempts at participation will be curated through the posts by the team behind @ocd.
(vote strength during curation does not indicate the winning design until a post is out declaring it)
---
If you have any questions, please feel free to ask them! If others would like to add more rewards to the prize pool, please contact us through discord or here in the comments.
By submitting your design into this contest, you give us permission to use it in onboarding & promotion initiatives without requesting credit or further reimbursement aside from the contest prize if you're picked as a winner.
---