I've been reading a lot about PolyCub for quite a while. You can buy it with some Polygon MATIC tokens. If you are on Hive then it is easy to swap some SWAP.HIVE for some SWAP.MATIC then withdraw that to the Polygon part of your Metamask wallet. I'll talk about the steps I took, below. But here is the result so far. I own some PolyCub!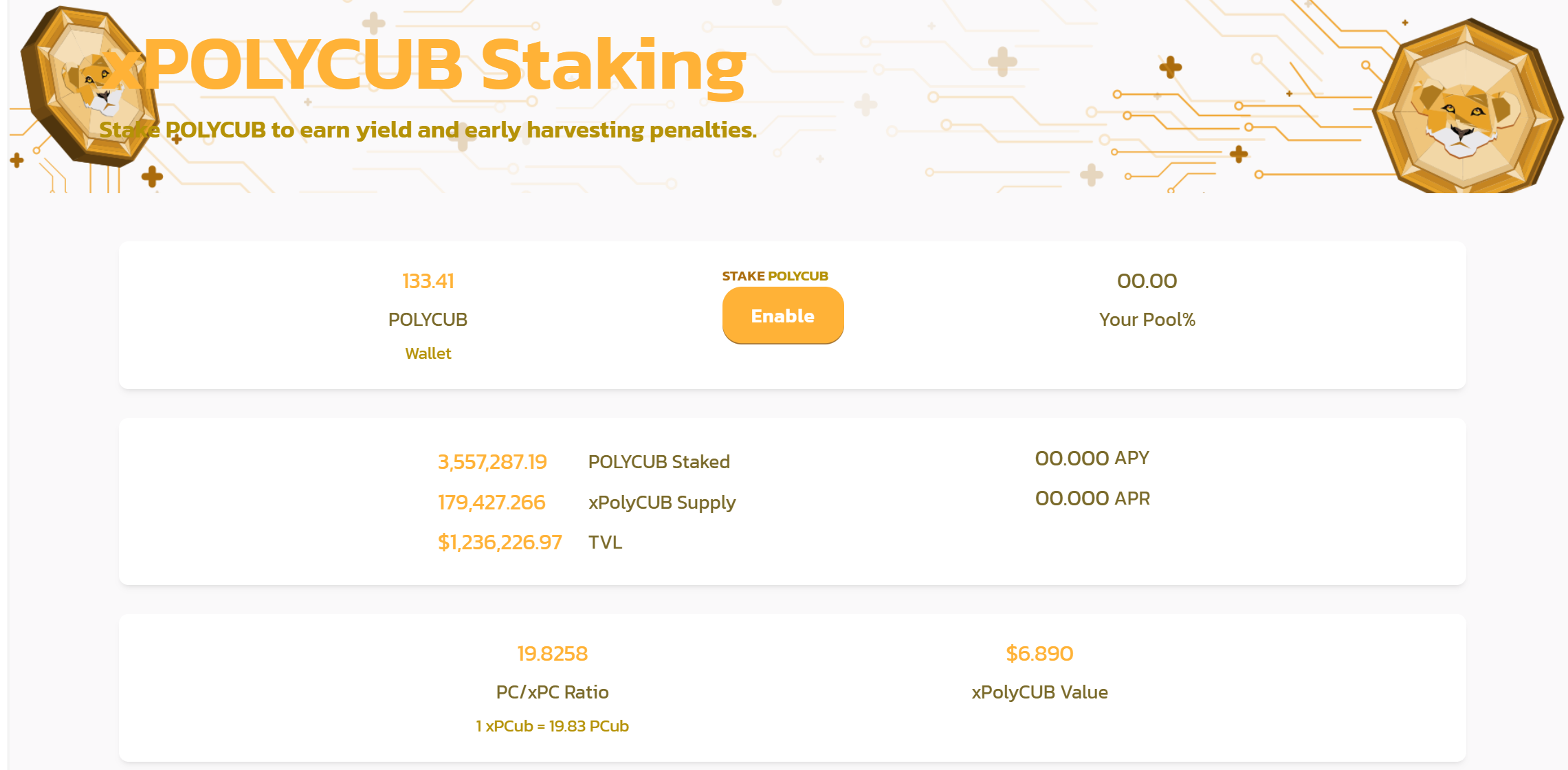 Some Background
I have been on Hive since the beginning and on Steem since 3 months after its beginning. I like to accumulate Hive Power to increase the amount I can allocate to posts I like via an Up Vote. But I also like to stack HBD since it pays 12% interest. I also have a decent Splinterlands collection and that is providing daily SPS airdrops. I like to diversify so I have sold SPS for Hive and then swapped Hive for Matic in the past.
Hello LeoFinance!
I blog on Hive everyday usually using the actifit app, but this is my First Time posting here at leofinance.io so hi everyone! I'm going to use the #NewLion tag as suggested in a recent LeoFinance post. I'll probably come back here and post again in the future. :)
NOW on to the procedure I used to buy and stake PolyCub.
Sell SPS For Hive
You will need MATIC if you want to swap for (buy) PolyCub. So if you are on Hive, you can either use Hive you already have, or sell some SPS for Hive here: https://hive-engine.com/trade/SPS
Swap Hive For Matic
Once you have HIVE, you can swap the hive-engine version of Hive, called SWAP.HIVE for the hive-engine version of MATIC called SWAP.MATIC here: https://tribaldex.com/dieselpools/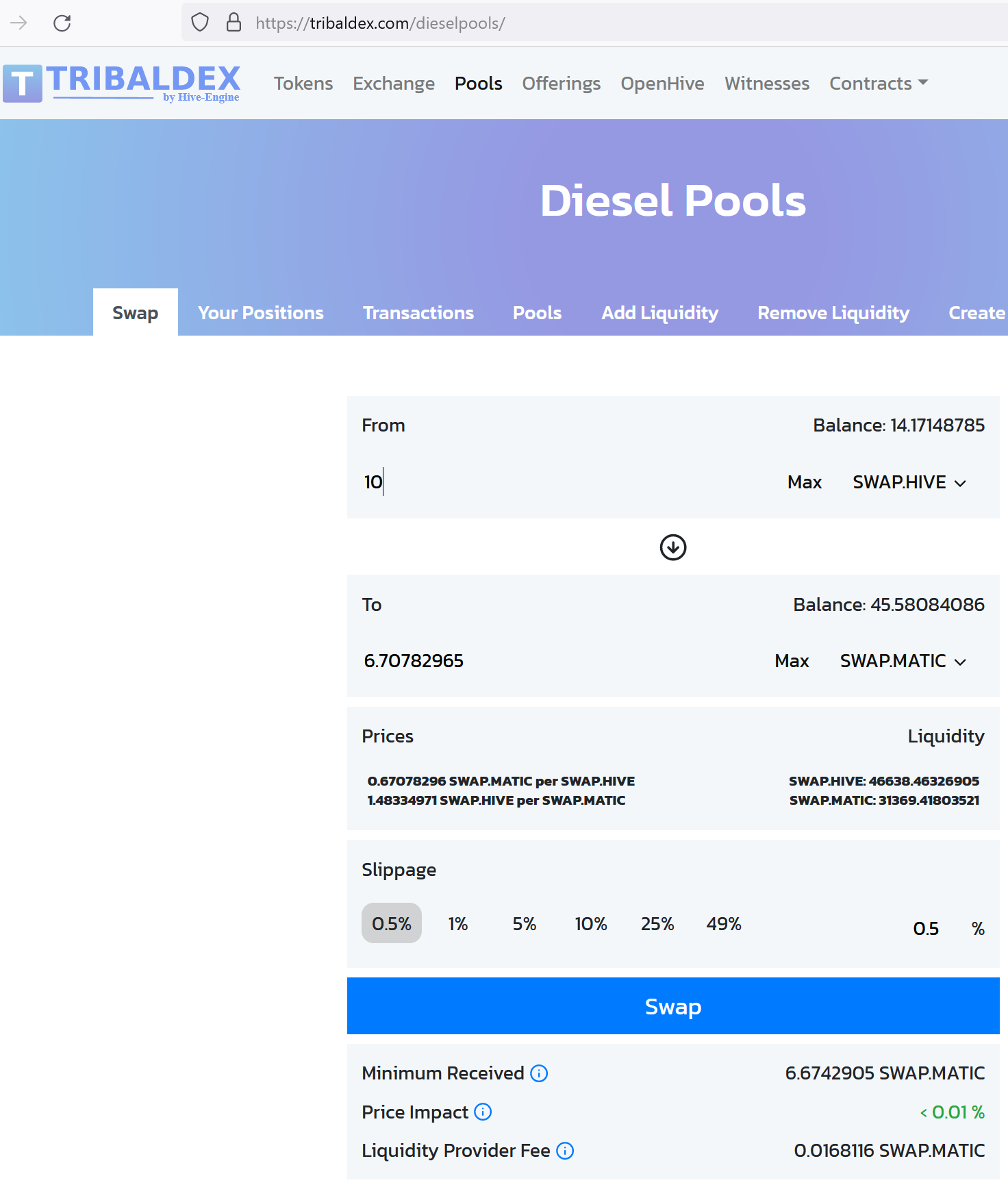 Withdraw MATIC to your Polygon Metamask wallet
Go to the tribaldex withdraw page at https://tribaldex.com/wallet/ and select Polygon (MATIC) token and enter the Withdrawal amount and address.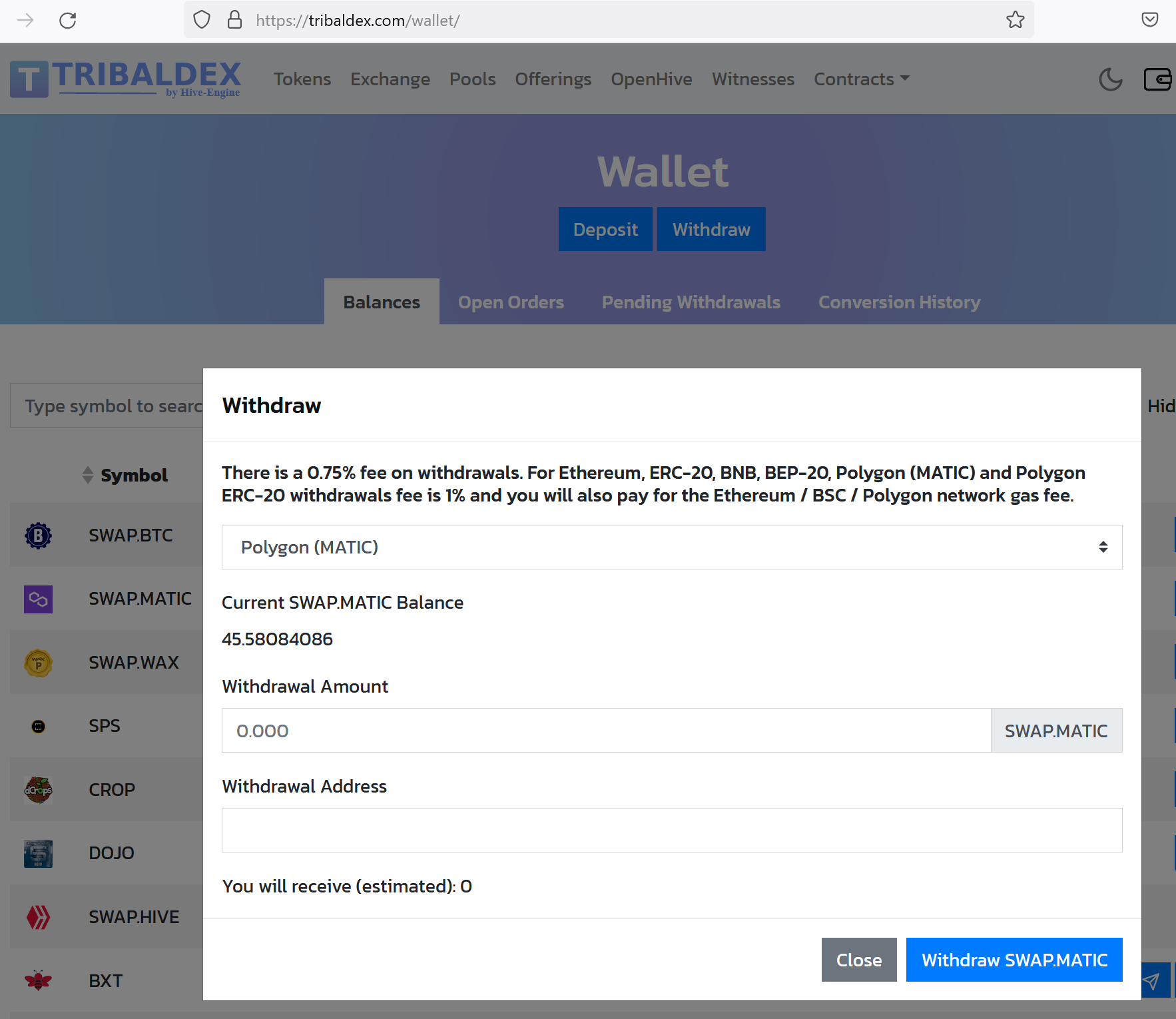 If you don't have Polygon set up on Metamask, there is info on that in this article: https://peakd.com/hive-167922/@kevinnag58/it-s-easy-to-buy-polycub-tokens-at-sushiswap-step-by-step-instructions-with-photos


Swap MATIC For PolyCub
I used this very helpful article which I already mentioned above as a reference to its guide to getting Matic/Polygon on Metamask. It also is a great easy-to-follow guide to swapping/buying PolyCub with MATIC so read this: https://peakd.com/hive-167922/@kevinnag58/it-s-easy-to-buy-polycub-tokens-at-sushiswap-step-by-step-instructions-with-photos
Seeing your PolyCub
Open your Metamask and make sure the Assets tab is open. Scroll down and see if you see your POLYCUB. If not, click "Import tokens" and paste this in "Token Contract Address"
0x7cc15fef543f205bf21018f038f591c6bada941c
Then click the button that says "Add Custom Token". You should now see your PolyCub in your assets.
You can also see your PolyCub at https://polycub.com/staking if you have connected that page to your Metmask.
Staking PolyCub
Now we are back to the screen you see in the top picture of this article. I am about to stake my PolyCub into xPolyCub. I believe it gets locked for 90 days so take that into account. I play to HODL my PolyCub for a long time!
I selected the MAX amount of PolyCub and clicked Confirm.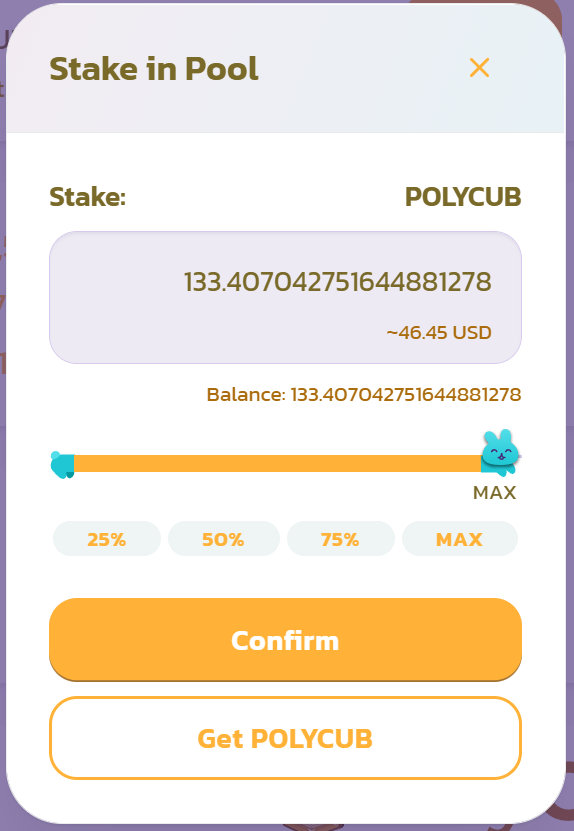 Metamask asked me to Confirm and I did, notice the super low (gas) fee!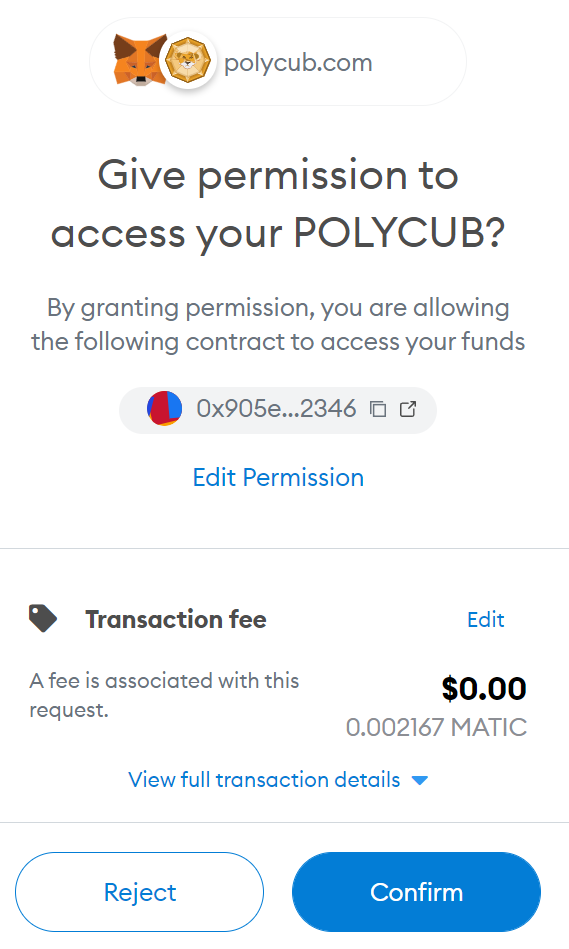 The Result
I now show 0 PolyCub in my Metamask and on the staking page at https://polycub.com/staking but I see that I have 6.728 XPOLYCUB STAKED, yayyy! :)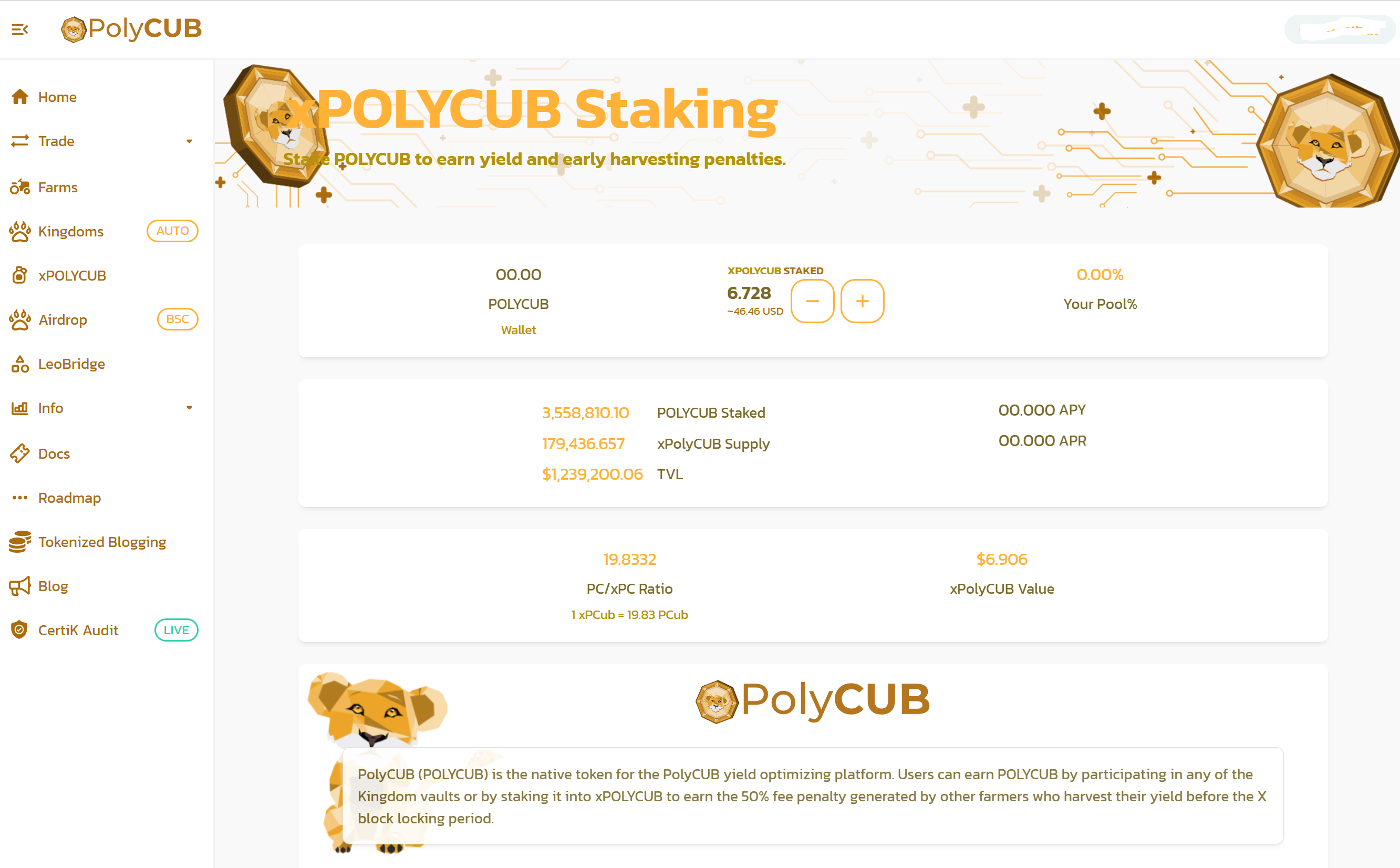 Disclaimer
This is not really meant to be a guide for how to do anything! This is my first time using some of these platforms and it seemed to work as I described but I may have left something out or written something incorrectly. This is simply a record for myself of how I went from SPS to XPOLYCUB. Verify everything for yourself!
This is also not investment advice! I am not an investment advisor. Always do your own research and make your own decisions!
Posted Using LeoFinance Beta