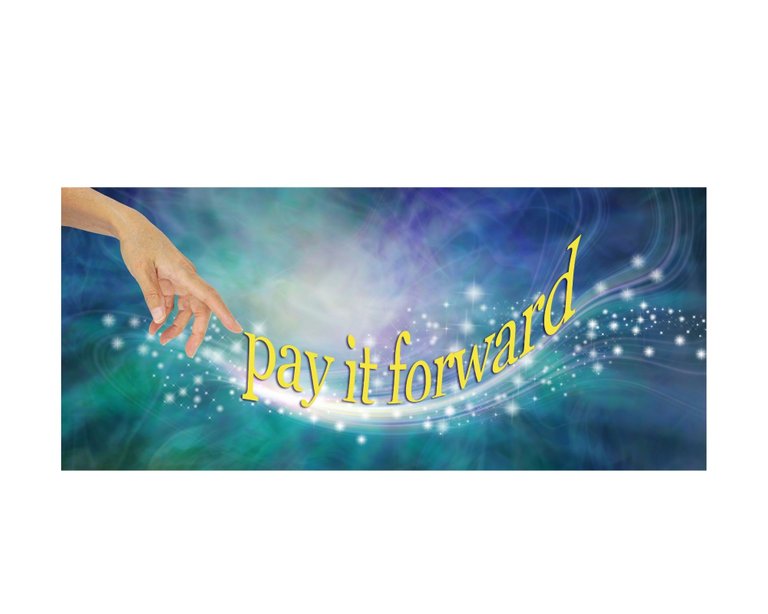 source
We are now in the 4th consecutive month of the #payingitforward #pif contest 😊
I am so grateful to be alive and thriving on Hive both in terms of social and financial capital and so I started this little contest 3 months ago as a way to give back to the community and first and foremost to help those who were just starting out on Hive, as I know how hard it is to make an initial dent on this platform. Once you get going though, like me I hope that you can derive much joy from your engagement on Hive and within its many varied communities that provide a home for so many different interests.
Before I jump into this month's contest, if I can give any newcomers any advice on what to do when you join Hive in order to thrive, it's the following:
Don't try to write what you think your audience wants to read. Be yourself. Be true to who you are and what you are passionate about. Write about the things that make you tick; about the things that bring you joy, interest you, intrigue you. Because when you do that your audience sees authenticity and we all love authenticity 😍
Choose your communities carefully so as to draw the attention of like-minded individuals who are more likely to appreciate your posts.
Use tags in the correct manner. Communities can get very upset if they think you are tag spamming with their tags (ie: trying to accumulate their tokens without abiding by their rules and guidelines for earning those tokens) and it could get you sidelined or worse still muted or downvoted by those communities.
Support your fellow Hivers by curating (reading, commenting meaningfully, and upvoting) their articles too. They need you as much as you need them. Meaningful engagement is absolutely key to your success on Hive and in the communities. It will bring you immense joy, wonderful friendships, social as well as financial capital.
Stake all or most of your earned tokens to keep liquidity low and the prices headed upwards. This goes for the main Hive token as well as layer 2 Hive-Engine tokens that you will earn from time to time on your posts. Many communities have fairly new tokens and selling them straight up without giving the tokens a chance to grow and stabilise in the marketplace, will just drive the token price down and not benefit you or others in the community.
My favourite community is Proof of Brain so please do take time to engage in @vempromundo.pob's POBTALK and follow him @vempromundo for his new series on Growing in Hive with lots of tips for beginners here. Also, be sure to check out @insight.pob's (with @onealfa.pob) POBstreet for daily discussions
Finally, do not plagiarise. I repeat:
DO NOT PLAGIARISE EVER.
It's a one-way ticket to the dumpster my friend, and it is such a simple rule to follow when you understand it. So this means if it isn't your work, your words, your photos etc, do not take credit for it. If you want to quote the words of someone else, attribute those words to that person in your post. If you want to quote from an article, put in a link to the source of your quote in your article. Likewise with photos. Only use those that you took yourself, own because you paid for commercial rights to them, or those that are free to use on websites like Pixels, Pixabay, Unsplash, Canva etc ... but do make sure that you have still provided a link to the source of these free photos so that it is clear where they came from and that they are not your own. If you have used your own images, taken by yourself, say so. As an aside, an image taken from Google search or websites is not a free-to-use image unless it comes from a free-to-use database of images or you have been given express permission to use it by the owner.
Now, onto the contest 😍🙌
We'll jump straight to the good part: The prizes!!!
This month I am switching things up a bit to provide a little bit of a mix of prizes on offer. There will be some POB delegation prizes, liquid POB, Hive power Up, Ecency points, and DEC (Splinterlands in-game currency) to be won. I figured that as Halloween has just passed, maybe a mixed bag of treats would be in order 😊
Special thanks to @penderis for the wonderful idea and for sponsoring the DEC prizes.
Now on to the contest requirements for this month 😀
Anyone can enter but the focus is still on newbies so...
Requirements:
In the comments to this post, tag a new Hiver (someone who started on this platform on/after 1st August 2021) and invite them to enter the contest.
Provide a link to one of their recent posts (preferably one still within voting date) that you have personally visited, commented meaningfully on, and upvoted, and tell us in 1-2 sentences why we should go and read this person.
For each person you tag and comment on, you gain an extra entry into the draw. Last month the person who was selected randomly, by random.org, in 1st place, also happened to be the person who made the most entries to the contest! Just saying! 😜
Once you have entered once, you may add as many additional tagging comments as you wish, and provided they all comply with requirement (1), you will gain an extra entry for each new Hiver tagged (and an extra upvote from me and potentially others too).
New Hivers, you will automatically be entered into the contest by being tagged by someone else here. It would be wonderful if you then ALSO put in your own separate entry and also fulfilled requirement (1) above by bringing another new Hivian/Hiver's name to the contest with one of their posts. In this way, you can gain an additional entry to the draw.
Once you have all complied with requirement (1), if you then go and visit one of the posts linked by another entrant, and curate it, and then come back to this contest post and comment on the entry comment where you found the post you visited, to the effect that you have done this, you will be awarded another entry to the contest 🤩 (this part is not mandatory but is a nice thing to do to support your fellow new Hivers)
2 ) If you are not a new Hivian / Hiver, please also share with us a few sentences about your favourite layer 2 Hive Engine token. What it is, its related community, how to earn it, how to stake it, how to use it to gift others (if applicable) etc so that newcomers to Hive can learn something about the other tokens available to earn through the use of tags, contests, delegations, staking etc. You can provide links to relevant communities or websites if you wish as this could be helpful, but some explanation/guidance is required.
I thought this second requirement would be a nice thing to do as I have seen a few new Hivers recently mention that they are aware of these other tokens such as LUV and PIZZA and ALIVE and BEER etc but have no idea how they are earning them, or what to do with them and so on. Although you may add extra clarifying comments to those made by others on a specific token, it would really be lovely if each person who entered, picked a different token to summarise for their own entry 😊🙌 If you are a new Hivian/Hiver (ie: you started on Hive on/after 1st August 2021) then you are exempt from requirement number (2).
And that's it for this month's requirements, yay! Hopefully, your answers will prove helpful to newcomers ... and even to longer-standing members who may not be aware of a specific token and its use case etc. I, for one, am still clueless on the majority of them 😂.
So how are the prize winners decided and who wins what? I hear you ask...
The contest will end when the payout period on this contest post ends. I will try to validate as many entries during the contest as possible so as not to leave too many for me to do after the contest ends, and will be upvoting entry comments and visiting all tagged new Hivers posts along the way as much as possible so that I can curate them too 😀. I will also be sharing some PIZZA and LUV tokens around too on comments and posts.
All valid entries will be entered into random.org in the order in which the comments are posted, for the randomiser to do its magic and pick some winners. This should be no later than 3 days after the contest closes, but may be sooner ;-)
Then prizes will be awarded as follows:
Highest placed New Hiver in the random.org randomised listing will win themselves:
125 Proof of Brain delegation for 1 month
500 DEC tokens (kindly sponsored by @penderis)
500 Ecency points
a 10 Hive Power Up by me on 1st December.
a follow from me, with a visit to each of your posts for at least a month and a weekly reblog of one of your posts.
Second Highest placed New Hiver will win:
300 DEC tokens (kindly sponsored by @penderis)
250 Ecency points
10 Liquid POB
a follow from me, with a visit to each of your posts for at least a month and a weekly reblog of one of your posts.
3rd highest placed New Hiver will win:
10 Liquid POB
250 Ecency points
a follow from me, with a visit to each of your posts for at least a month and a weekly reblog of one of your posts.
Highest placed in the random.org randomised listing output, who is not a new Hiver will win:
125 Proof of Brain delegation for 1 month
500 DEC Tokens (kindly sponsored by @penderis)
25 Liquid POB
a follow from me, with a visit to each of your posts for at least a month and a weekly reblog of one of your posts.
@trostparadox would any of your students be interested in joining in the fun?
@fionasfavourites here is the contest that I was telling you about :-)