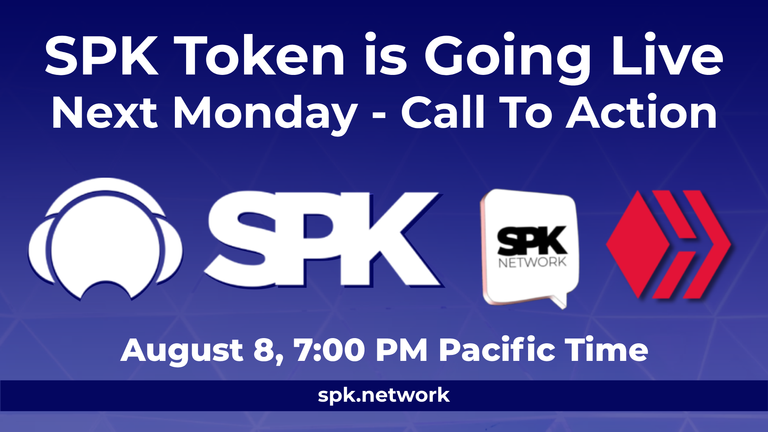 We are glad to announce that SPK Tokens will go live next Monday, August 8. It will go live at 7:00 PM Pacific Time (Tuesday, August 9, 2:00 UTC).
Thank you all for testing! We have solved a few bugs and are ready to go live!
Call To Action
After the token is live, we will host a call to action where users will be able to power up their tokens and delegate them to one of the nodes. You can see the list of the nodes here.
These are the steps to participate in the Call to Action:

Remember, there are two types of LARYNX, Locked and Power.
Locked is only for the node operators:

Power is for users that want to earn SPK by delegating to one of the node operators:

Decide which node to delegate to. Check out the SPKCC Monitor for that info. Select the node from the drop-down menu.

Note: It may take up to 60 seconds for the changes to update. You can confirm by clicking in magnifying glass icon.
You are ready to start earning SPK!
Make a Post and Share on Twitter and other Web2 Sites
To complete the Call to Action create a post about your LARYNX delegation. You can share the step-by-step process and your thoughts and feedback about SPK, LARYNX, and SPK Network.
IMPORTANT:
We will upvote all eligible posts with the @theycallmedan account and @threespeak (only 3Speak videos).
---
Consider voting for our witnesses:
---

---
About the SPK Network:
The SPK Network is a decentralized Web 3.0 protocol that rewards value creators and infrastructure providers appropriately and autonomously by distributing reward tokens so that every user, creator, and platform, will be able to earn rewards on a level playing field.