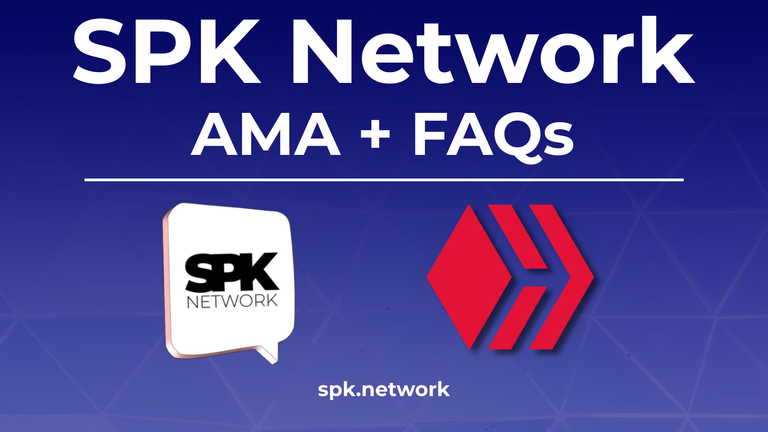 Hello everyone!
The SPK Network AMA was a success! We had great participation from the community. The questions and the engagement were great. Below you can read the highlighted questions.
---
Does that mean there will be varying tiers of tokens? (Talking about the LARYNX Miner tokens).
Yes, you will benefit from updating or improving your miner tokens after some time to the latest versions.
---
Can you tell us a bit more about #CANTTOUCHTHIS in Q1?
We chose to use hashtags of popular topics in the crypto sphere. #CANTTOUCHTHIS refers to users being able to create their platforms with real ownership using spk network technology
---
@ew
Dan is a great salesperson, but will he deliver? I hope it works, but it is quite a large project with a small team??
Our team has adequate funding to execute the scope. The SPK Network will have a community-backed DAO fund built to grow the team as the community wishes.
---
Is spk replacing 3Speak?
No, 3Speak will work as a video platform on top of the SPK Network. The SPK Network is the underlying protocol the 3speak app and several other apps operate.
---
To Verify; So the claiming starts from January... And we claim the airdrops like we claim curation rewards.
The claim will start in February, and you will claim on a website that we will prepare.
---
question: is there a time frame to claim - no of days starting from the start of the month?
You will have 30 days to claim each month. The claim will be each month for a year.
---
Diggin' the claim drop being broken up as a monthly thing. How many monthly cycles will this last for?
12 cycles in total.
---
what would you guess the timeline is for having a working model of spknetwork so that the other video platforms can be approached?
Somewhere between 4 and 8 months.
---
Can claimed tokens be delegated?
Not at the moment. These tokens are not planned to be proof of brain tokens to earn curation rewards. they are only for mining, and so delegation is not necessary
---
@hivetrending [Hive.pizza]
Which components are open source? Will it be possible to replicate and make new tokens that also rely on Hive/Peerplays?
yes. and everything will be open source
---
Dav
Will a non-technical person be able to run a node (and possibly monetize that)? Also, I understand that content creators can monetize when other people stream a video (satoshi) but will I be able to monetize "forever" or it's like on Hive that after 6-7 days, no more rewards can be accumulated?
Yes, non-technical people will ve able to run nodes.
If the community wants to incentivize the long-term storage of a piece of content, it will be possible to earn long-term. We are also considering modifying the 3speak proof of brain token that will allow users to earn long-term.
---
Any plans to add a streaming option on 3Speak, SPKNetwork?
For now, we recommend using VIMM.tv, but in the future, we will work to bring live streaming back to 3Speak and the SPK Network.
---
Do you have to run a node or a desktop app or both?
It can be both or one or the other.
---
So snapshot happens once, correct? No annual snapshots? I am understanding it as future airdrops will be determined on stakeholders? is there a post that better explains maybe I overlooked in the lite paper?
I understand the miners earn the larynx.
Yes, the snapshot is going to be once on January 6th. This post explains it better.
---
Check out the AMA recording:
---
Frequently Asked Questions, that were not asked during the AMA:
What token do I need to hold for the snapshot?
Hive or Hive Power. The coins need to be in your possession, for the snapshot will count delegated HP to the owner of the stake.
Where will the tokens be claimed?
Initially, the claim was going to be through the desktop app, but now we changed that, and we will have a website read for this purpose. This way, mobile users will be able to claim too.
What will happen if I don't claim my tokens?
You will have 30 days to claim your tokens. Unclaimed tokens will go to a DAO.
What happened to the initial claim drop?
This was going to be only for the first 888 accounts in a period of time of 3.3 days, but we have abandoned this idea and will only do the main claim drop. Check sections 17 and 18 of the Lite Paper for more information.
We may add more questions here if needed.
---
AMA Winners: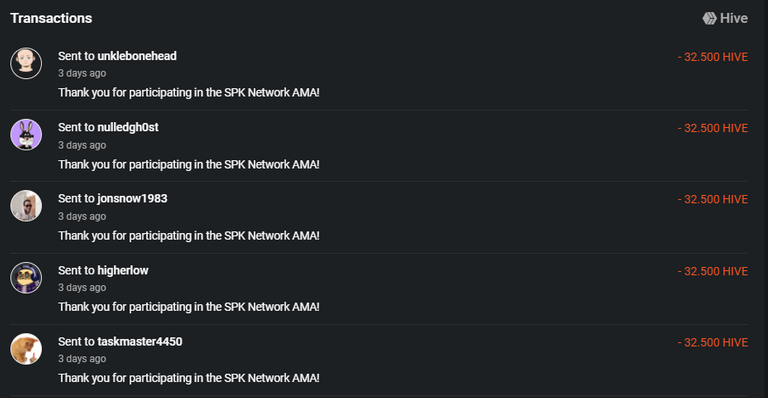 @taskmaster4450 - @hierlow - @jonsnow1983 - @nulledgh0st - @unklebonehead
---
HiveChat Today!
January 4th, 1:00 PM Pacific! See you there!
---
About the SPK Network:
The SPK Network is a decentralized Web 3.0 protocol that rewards value creators and infrastructure providers appropriately and autonomously by distributing reward tokens in such a way that every user, creator, and platform, will be able to earn rewards on a level playing field.