---
Hello my beautiful friends of Hive open mic and beyond, it's a great privilege and pleasure to be here once again and also have you stop by. It's the 147th week and I'm super honored and excited for being the chosen artist for the week. It's a shame that I'm only submitting my entry now and I'm really sorry for that, I never thought I would be submitting a late entry but then, like they say, man propose but God disposes. But above all, the theme is A GRATEFUL HEART, so I'm grateful to God for helping me to still join us this week with my entry.
---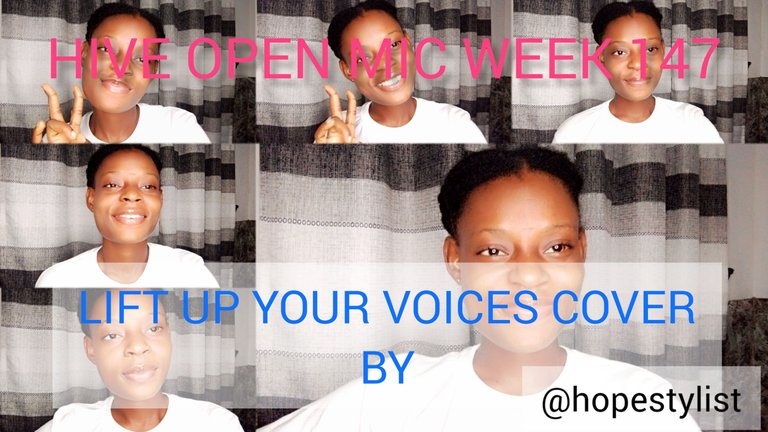 ---
Image is mine and was designed using Inshot
---
I chose this theme for one reason and that is because I'm not as grateful as I should be and I just wanted to remind myself of the importance of being grateful. For the past weeks God has been so good to me and he has given me so many people that have helped out in one way or another that I least expected. I'm supposed to be going through a lot but then somehow I just get a reason to be grateful. One of the main reasons why I'm submitting my entry late is because I'm now a student.
Life as a student has been really so demanding and I just have to be less active on the chain but still active on my daily posting because I already set a goal to make at least a post every day of the year. It has been quite challenging but somehow I manage to meet up. My life has been taking a lot of new turns lately and God has been with me all the way and I just want to lift my voice up and praise God because I know he will always be with me through out all of these turns and I'm sure I will overcome all of these new challenges because I have someone who will always be there for me and that helped me to choose the song titled LIFT UP YOUR VOICES BY KANYE WEST CHOIR.
Thank you so much for watching my video, I'm truly grateful. I didn't add the lyrics to my video but you can get it by clicking on the link Source. I just hope my voice was clear enough for you to pick up the words I'm saying so you don't have to strain your ears, hehe, just feel your self in the song and lift up your voice and join me in singing praises unto God.
Until next time, stay AWESOME!!!


Español

Hola, mis hermosos amigos de micrófono abierto de Hive y más allá, es un gran privilegio y un placer estar aquí una vez más y también que pasen por aquí. Es la semana 147 y estoy súper honrado y emocionado por ser el artista elegido para la semana. Es una pena que solo esté enviando mi entrada ahora y lo siento mucho por eso, nunca pensé que enviaría una entrada tarde pero luego, como dicen, el hombre propone pero Dios dispone. Pero sobre todo, el tema es UN CORAZÓN AGRADECIDO, así que estoy agradecido con Dios por ayudarme a seguir esta semana con nosotros con mi entrada.
---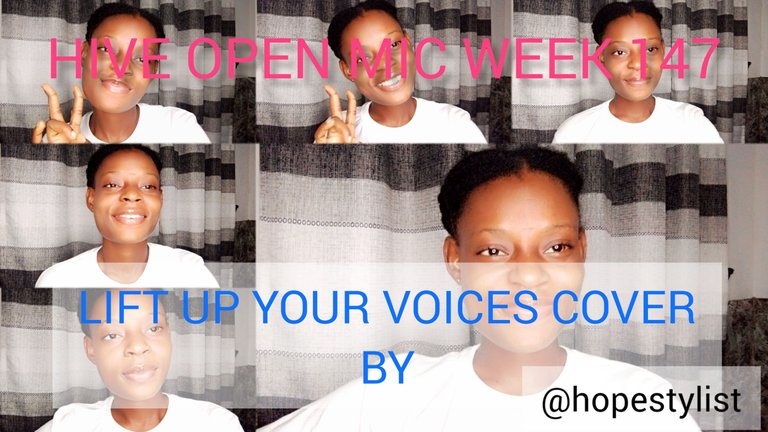 ---
La imagen es mía y fue diseñada usando Inshot
---
Elegí este tema por una razón y es porque no estoy tan agradecida como debería y solo quería recordarme la importancia de estar agradecida. Durante las últimas semanas Dios ha sido tan bueno conmigo y me ha dado tantas personas que me han ayudado de una forma u otra que menos esperaba. Se supone que debo estar pasando por muchas cosas, pero de alguna manera tengo una razón para estar agradecido. Una de las principales razones por las que estoy enviando mi entrada tarde es porque ahora soy estudiante.
La vida como estudiante ha sido realmente muy exigente y solo tengo que ser menos activo en la cadena pero aún activo en mis publicaciones diarias porque ya me propuse hacer al menos una publicación todos los días del año. Ha sido bastante desafiante, pero de alguna manera me las arreglé para encontrarme. Mi vida ha estado tomando muchos giros nuevos últimamente y Dios ha estado conmigo todo el tiempo y solo quiero levantar mi voz y alabar a Dios porque sé que siempre estará conmigo en todos estos giros y yo Estoy seguro de que superaré todos estos nuevos desafíos porque tengo a alguien que siempre estará ahí para mí y eso me ayudó a elegir la canción titulada LIFT UP YOUR VOICES DE KANYE WEST CHOIR.
Muchas gracias por ver mi video, estoy realmente agradecido. No agregué la letra a mi video, pero puedes obtenerla haciendo clic en el enlace Fuente. Solo espero que mi voz haya sido lo suficientemente clara para que captes las palabras que digo para que no tengas que forzar los oídos, jeje, solo siéntete en la canción y levanta la voz y únete a mí para cantar alabanzas. a Dios
Hasta la próxima, quédate IMPRESIONANTE!!!
---
▶️ 3Speak