Huge blockchain test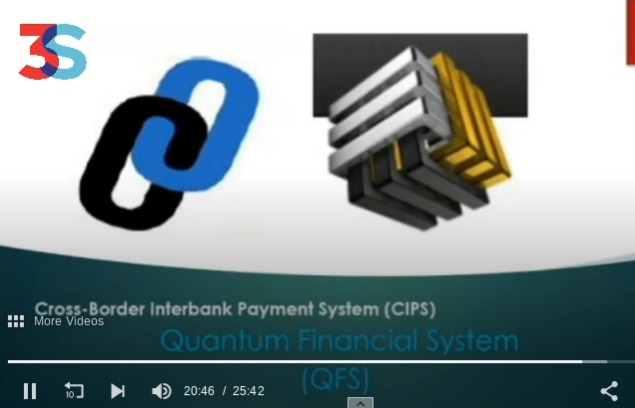 and you didn't even know you were participating in it.
---
There is a rumor out there that the Quantum Financial System was tested over the last several months. Most did not even know they were using it.
I spoke about where the evidence is leading the world in my last video - see it here. - and at the end I posted the official QFS video that explaines the new financial system that will be active in January according to some globalist requirements. It is like Bitcoin but with God-like tracking attached. It has blockchain that is fully centralized in the hands of a few elite controllers. Just think Federal Reserve, but on the blockchain.
Everything that Bitcoin is without all the benefits and freedom
The new currency will be fast and users will not need to keep track of their private keys. The government will do all that complicated stuff for you. It will verify every purchase using your issued identity and your GPS location (and habitual movements) to authenticate that it is really you spending your money.
It will also be used to track items you purchase, where you place them in your home and who you later sell them to. It will track everything you carry with you and if anything gets stolen, it can be retrieved.
Note: The QFS is completely opposite and antithetical to cryptocurrencies like Bitcoin, Dash, Monero, and the like. Bitcoin cannot be taken from you, but QFS will be taken if you step out of line.
All of that is factual from all I can tell
The rumor that I heard was that it was used to track every single ballot that was mailed out, handed out (in person) and cast in the recent election.
I heard something months ago about a patented blockchain voting system. I remember asking myself, "Well why don't they use that for the elections if fraud is expected?" I did not link what I knew about QFS with the voting system at the time.
Today I hear that they had used it. If the rumor is true, then every single ballot was tracked in real time and none that were thrown away will stay hidden. All could be retrieved. Amazing and yet scary!
Time will tell if they used it - we should know in the next month.
The tech is here. Just think about smart phones ten years ago and now. Then crypto and how it was ten years ago and what it must be like now.
Worth a look at the video
English: at the end of my last video here on hive
Spanish: here is a link to a translation. https://odysee.com/@nuevaeconomia:8/QFS:7
Many countries have a January deadline for getting an app out to their populations. Yes, January 2021
Watch for news that the U.S. election was monitored by a blockchain system. When you see it, you will know that these voters participated in the test of the new system unbeknownst. That would be just under 200,000,000 people!
If there is no news of this in the next six months, I expect you all to tell me how silly I have been.
Frankly, I hope DJ Trump is not declared President again. The man has been punched, chewed up and spit out so many times by special investigators and opposition members for over four years. He deserves a break to enjoy his family and riches in peace. I have been audited by the IRS and it is not fun. He has been under audit for over four years and it has not ended yet. I f I were him, I would be done with politics.