by Alice Horrigan
Blockchain technology and crytpocurrencies are beginning to disrupt every industry and application that relies on good data and security, to benefit the unbanked as well as investors looking for the next big thing.
In the 1967 film "The Graduate," young Ben who is fresh out of college gets pulled aside by Mr. McGuire and offered a business tip—"One word: plastics."
"Exactly how do you mean?" Ben replies.
Fast forward half a century and we hear a similar exchange about a new word: "blockchains."
In essence, blockchains are digital accounting ledgers that are highly decentralized and automated with deep security and immutability. Many think they're the biggest thing since the internet.
"Instead of corporate transformation, this is a societal transformation," said venture capital investor Tim Draper in his opening remarks at the 100X Blockchain Investors Summit August 8 and 9. "This is really the most exciting time I have ever seen in the venture business—and I went through the internet craze."
More Progress Faster
If Draper is correct, a tectonic shift is already in progress in the world economy due to blockchain technology and all the business applications it is spawning, as well as bitcoin and the hundreds of other cryptocurrencies, or "alt-coins," that companies are releasing.
This shift will affect how everyone—from the whales to the "unbanked" minnows—goes about navigating the high seas of life and business. It will create "more progress faster," said Draper, who founded Draper Associates in 1985 and whose earlier investment successes include Skype and Tesla.
Draper is part of a growing chorus of voices saying public blockchains will eliminate "big drags on society." Real estate, insurance, manufacturing and Internet of Things (IoT), ID and health records—"anything where we need really good data on things and the data can be updated and not hacked" will transform, he said.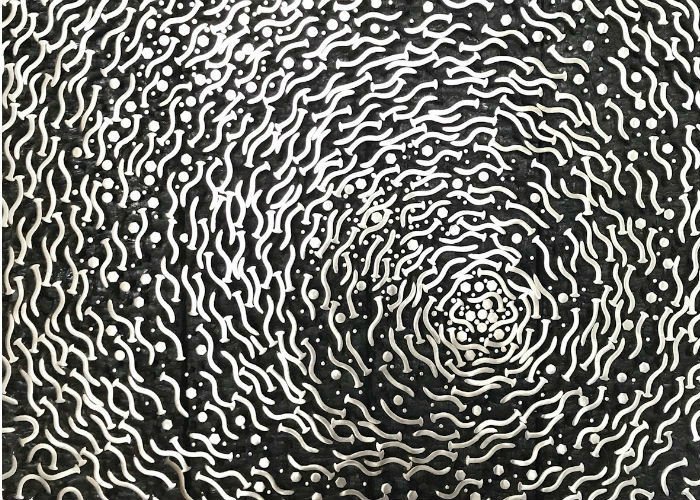 Like the nails in this wall sculpture by Korean artist JaeHyo Lee, which I photographed at the Johnson Museum in Ithaca, New York this summer, blocks in a blockchain are immutable, which makes the data they hold very secure.
Money to Family in Minutes
In a data-driven world, the need for "really good data" covers just about every industry on the planet, and every person.
The two billion people globally who are currently unbanked, for example, will soon be able to use blockchain technology to participate in the financial system--perhaps gaining a fighting chance to beat poverty. Draper noted that these are individuals who "no bank wants to take because they want to put $7.30 into an account that costs $200 for the bank to regulate"—so they've had no way to store value.
"They now do."
Instead of relying on the external third-party verification systems of banks, blockchain technology internalizes and automates third-party verification with computer code. The result is that people can more easily trust one another to send money around, and they can do it fast and cheap.
Because bitcoin's value is not tied to any government, it's worth the same in the Philippines as in the U.S.A., in Indonesia as in Mexico, in Russia as in Guyana. Very poor individuals working overseas, and refugees fleeing their countries, will be able to send and receive money across borders in just minutes for a small fee. This is instead of the current model where the poor spend hours in line to pay high fees to Western Union and wait days for much-needed funds to arrive.
Banking on Proactive Work
At the heart is a fundamental change in how regulations are executed. Cryptocurrencies like bitcoin automate regulation by digitizing it. In the physical world, "regulations become barriers and barriers become corruption," said Draper, but on the blockchain regulation is "fair and honest and incorruptible. We have sort of a new society coming."
By automating regulation, "I think we're going to free up 20 percent of our progress" that is "currently wasted on government programs and regulatory issues," he added. "That 20 percent will go back to proactive work."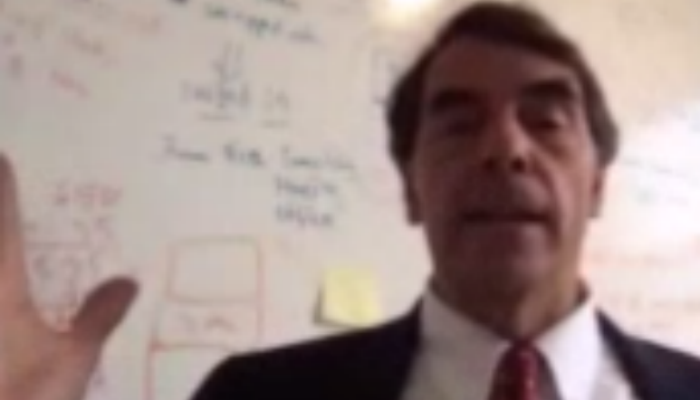 VCl investor Tim Draper offered opening remarks at the 100X Blockchain
Investors Summit via webcast Aug. 8-9: 'We have a sort of new society coming.'
Jobs that will be displaced in this process tend to be white collar: accountants, lawyers and regulators. Not all will disappear, said Draper, "but I think all those jobs can be replicated and done better by the blockchain." (On a positive note for financial professionals, the new society will "free us all up to do interesting things."
Adoption Gaining Speed
Blockchain technology is powerful because people use it, said Draper, who predicts we are just one year away from having bitcoins and U.S. Dollars be completely interchangeable. He thinks we're about three years away for other cryptocurrencies such as bancor, tezzies and ether.
For the past three to four years, Draper's group backed programmers and engineers working on making blockchain technology more mainstream: "We've got a wonderful entrepreneurial community that sees opportunities whenever there's a problem."
Turning those opportunities into solutions takes a few years, though. "It takes about three years for them to come up with the product they're trying to create, and then another year where the marketplace has to get in and bang it and, make it more than just a beta," said Draper. "Then it starts going mainstream and proliferating. The proliferation is going to be extraordinarily fast."
If that's true, consumers will soon start to see new cryptocurrency products shipping that will allow them to swipe a credit card and pay with bitcoin or dollars, use bitcoin to buy stock, and many other applications.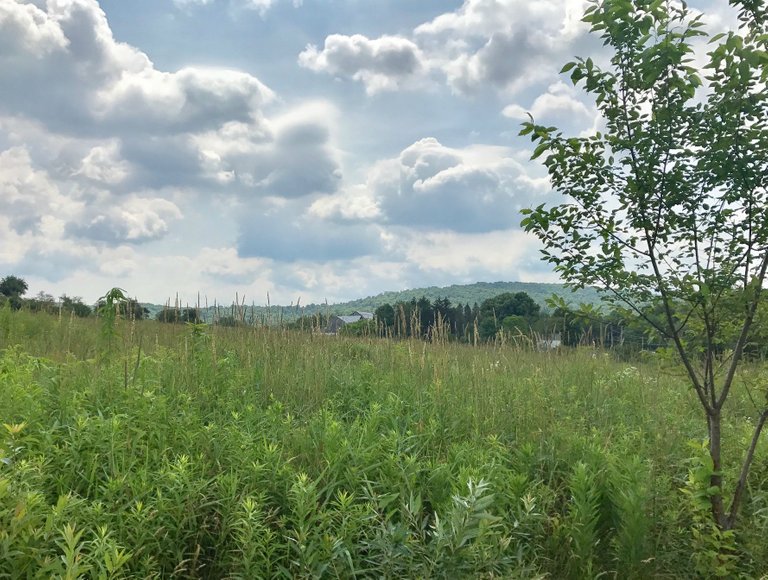 Crypotcurrencies are multiplying like the clouds on this July day in upstate New York.
In Africa, many people skipped landline phones and went straight to mobile. Similarly they may leapfrog conventional bank accounts and go directly to cryptocurrency. If demand for access to "mobile money accounts" (broadly defined as provision of financial services via a mobile phone) is any indication, that leap may be near. At 12 percent adoption, Sub-Saharan Africa now leads the world in mobile money accounts, according to the World Bank's Global Findex Database, with the rest of the world trailing at two percent.
The inaugural 100X Blockchain Investors Summit, organized by Jun Dam of Bitcash Inc. and co-hosted with Pierre Wolff of ExecConnect, aimed to educate retail and institutional investors about bitcoin and blockchain. It took place August 8-9 via webcast and was attended by more than 400 from across the globe.