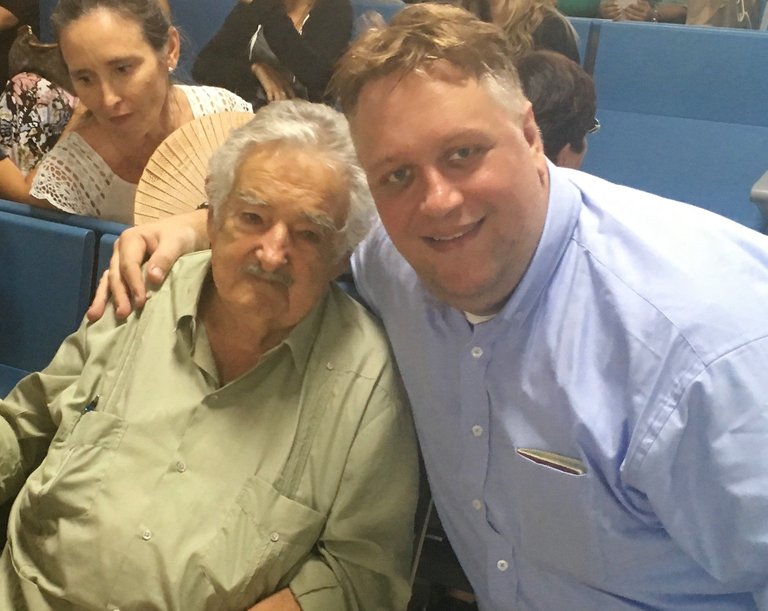 As Steem-Witness, meeting with important people as STEEM ambassadors bring us to better and greater understanding of what works and what does not work in real-world scenarios. One of the people that made a political decision that actually worked is Pepe Mujica, the 40th President of Uruguay
The Republic of STEEM
"Return to simplicity, with lives founded on human relationships, love, friendship, adventure, solidarity, and family, instead of lives shackled to the economy and the markets." - Pepe Mujica
I have seldom met a man with so much wisdom, and listening and learning from him has been a fantastic experience which we urge everyone to google for documentaries and speeches, because this man is the reason for Normalization of Cannabis, he did it in his own country Uruguay, and is now harvesting the highest order of gratitude from countries officials all over the world. Wherever he goes, people flock to listen, to adapt, to learn about politics that actually work and make people happier and lower the stress levels.
In STEEM we shape our digital republic, decentralized worldwide but with a common goal, to make this platform known and used by the masses of the world, in the future even onboard countries republic banks into cryptocurrency systems, and why not SMTs?
I am sure he liked the idea of sending money worldwide in 3 seconds, and he knows about a system called STEEM, a modern economic system with private banking functions and zero fees.
Thank you for always voting for @fyrst-witness, we listen to people, and we talk to people. If you want to talk to our team, come to http://steemspeak.com and have a good time with us on the voice chat.
Sincerely,
@fyrstikken
To check if you have voted for @fyrst-witness, go to https://steemit.com/~witnesses.