A few of us have been playing a SUPER fun game by @insaneworks. He will give us a character (from movie, tv or both) to guess. He drops hints every hour or so - and whoever gets the answer first gets a steemy reward! It is a simple idea - but SO fun. Not only is it fun, but he is really engaging in the comment section! It ends up being a free-for-all of giggles and engagement - and I love it!
In one of these comment sections, he, @hyperbole and @penderis started


(I think it was @hyperbole's original idea!)
And - I'd like to borrow this idea, and use it for our community! To honor its beginning... I'd like to call it HyperInsane Tag hahaha They have their own rules for the game - but - for the purpose of our WW Tribe - here will be our rules!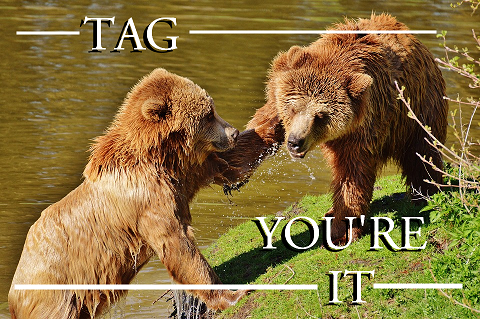 RULES:
Everyday, tag ONE member of the WW tribe on a post that you think they'd find interesting. Simply add, "Hey @dreemsteem, I think you'll find this post interesting!" (or whoever you want to tag) at the end of your own comment.
Three tags each day. (Can't be the same person in the same day. Also can't be the same person more then THREE times in a week)
Let me know in the Special Announcements Room (by your emoji) that you've done it each day!  
The end!
REWARDS!!
Remember that little bot I told you about? Well, it's been working like a charm! And now - it's time to give you weekly rides on it! As you successfully complete each week - you'll be added as a member of the bot! If you don't get your week finished, you'll lose your passenger status - but don't worry! You can get it back for the following week!


Right now it currently upvotes from these 7 communities @we-are, @we-are-community, @we-are-lucky, @we-are-mentors, @we-are-one, @we-are-steemians, @we-are-welcoming See that last one! That one is EXCLUSIVELY for us! If you have any SP you want to delegate to it - that comes RIGHT back to us as the beneficiaries of the bot!) HUGE THANKS to @eturnerx. I absolutely LOVE what you're doing with this bot! It's going to be AMAZING for communities!!!!


THIS WEEK ONLY!!!! @eturnerx has offered generously to sponsor some SBI for you all! He's donating 20 SBI as a prize! I'll add in another 8! 28 SBI up for grabs total!  Random drawing for ALL who participate successfully this week :)
1st prize: 7 SBI
2nd prize 6 SBI
3rd prize: 5 SBI
4th prize: 4 SBI
5th prize: 3 SBI
6th prize: 2 SBI
7th prize: 1 SBI
---
Want to see more about @eturnerx's bot? Go back to this post to find out more about it!
---
Care to delegate to boost our bot? Delegate using the quick links:

10SP, 20SP, 50SP, 100SP, 200SP, 500SP, 1000SP,
(via SteemConnect). Or use your favourite tool to delegate to @we-are-welcoming.
--- Amazing banner created by @liberty-minded

Wagon Wheels and Welcome Wagon logo designed by the amazing @penderis

CLICK HERE TO VOTE FOR @C0FF33A AS WITNESS
This banner created by @enginewitty
CLICK HERE TO VOTE FOR @ENGINEWITTY AS WITNESS
This gif created by the wonderfully artistic @liberty-minded
---
Font used in this blog post.
Bear Tag image source