Value Plan is an idea initiated this time of year in 2022 to act as a general Hive promotional empowerment account. It has funded a number of both concluded and ongoing projects and allowed for Hive to gain momentum in various parts of the world.
Our year end report is compiled in several parts:
Project Spotlight: Street Workout Community
Project Spotlight: Cumana Expo and Sucre State Tourism
Project Spotlight: Community Well Project
Reflections and Projections (this report)
The reason for the multi-part approach is the length of the report. Please start with our Quantitative Report and review the financial findings and project transactions. Further Project Spotlight reports will be posted over the course of Q1 as findings become known. Any delays are due to exigent circumstances beyond our cumulative control but we own them and apologize regardless.
Before we begin, your Value Plan key holders are @Blocktrades, @Crimsonclad, @Guiltyparties, @Smooth, and @Theycallmedan. All have the full set of keys.
Conferences
This year we had three types of conferences that fell under Value Plan:
In-house (HiveFest)
Hive dapp-hosted (Splinterfest)
External (Caracas Blockchain Week, etc)
All conferences came in on budget as expected and went well. Challenges and opportunities became evident in all.
In-house events are loved by the Hive community but unfortunately lack the appeal for external partners, many of whom could not attend despite invites. The reason is a tight schedule and budget for conferences and the need to be selective when evaluating opportunities. It is a challenge to rank newer or lesser-known conference in terms of importance and networking potential. HiveFest was regardless massively successful for the Hive ecosystem and served to empower and inspire all who attended.
This is the first year that we had an opportunity to see a Hive dapp-hosted conference-style event in Splinterfest. We treated the opportunity as any partnership and supported the event with a standard sponsorship, Hive merchandise and a presentation about Hive. It was a professionally crafted event and was a massive draw for Splinterlands fans from the US and abroad. It is also the first US-based such event by any dapp built on Hive and many lessons were learned by ourselves as participants and observers.
External conferences have never been attended before in the sponsorship sense by Hive. CBW was a massive week-long international tech conference held in Caracas, Venezuela, that acted as a "trial by fire". Approximately 30 Hive community members were involved due to the massive scale of the event. There were over two hours of speaking engagements and a continuous need to staff the Hive booth.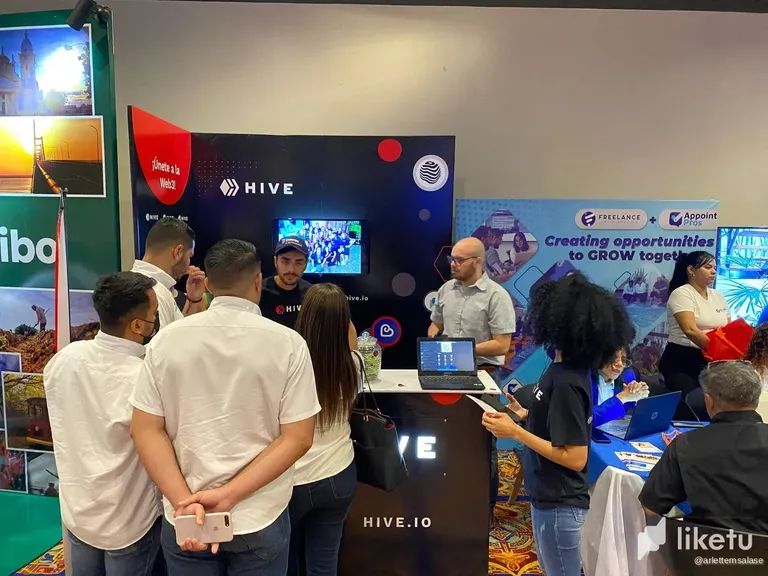 Lessons Learned
The availability of professional speakers is an ongoing concern not because there are not enough speakers but because of the pandemic. International travel (and even domestic travel) is no longer simple and many competent individuals with extensive presentation skills are finding themselves limited either by their own health or by the needs of loved ones. In this roster are included those who may not necessarily be Hive presentation speakers but still represent Hive by staffing booths.
More community members who are well-versed on all things Hive need to be mentored and empowered. Lessons learned from the CBW indicated that technical acumen and the ability to present financial facts to potential investors are two areas where improvement is warranted.
Lodgings, food and logistics are an ongoing challenge due to its reliance on the external supply chain. This is a problem with any conference type and the only point of mitigation is early planning with an increase on the need for in-house preparation. While we are able to minimize external reliance when it comes to merchandise design or equipment, we cannot do the same for variables like lodging, food, transportation, external infrastructure and related elements.
Building long-term relationships with providers and finding ways to incorporate vendors in the Hive ecosystem is one plausible solution. Specializing Hive community members in relation to specific deliverables such as food management for larger events is another step that can be taken. Both of these are also cost-saving measures that will reduce any potential waste.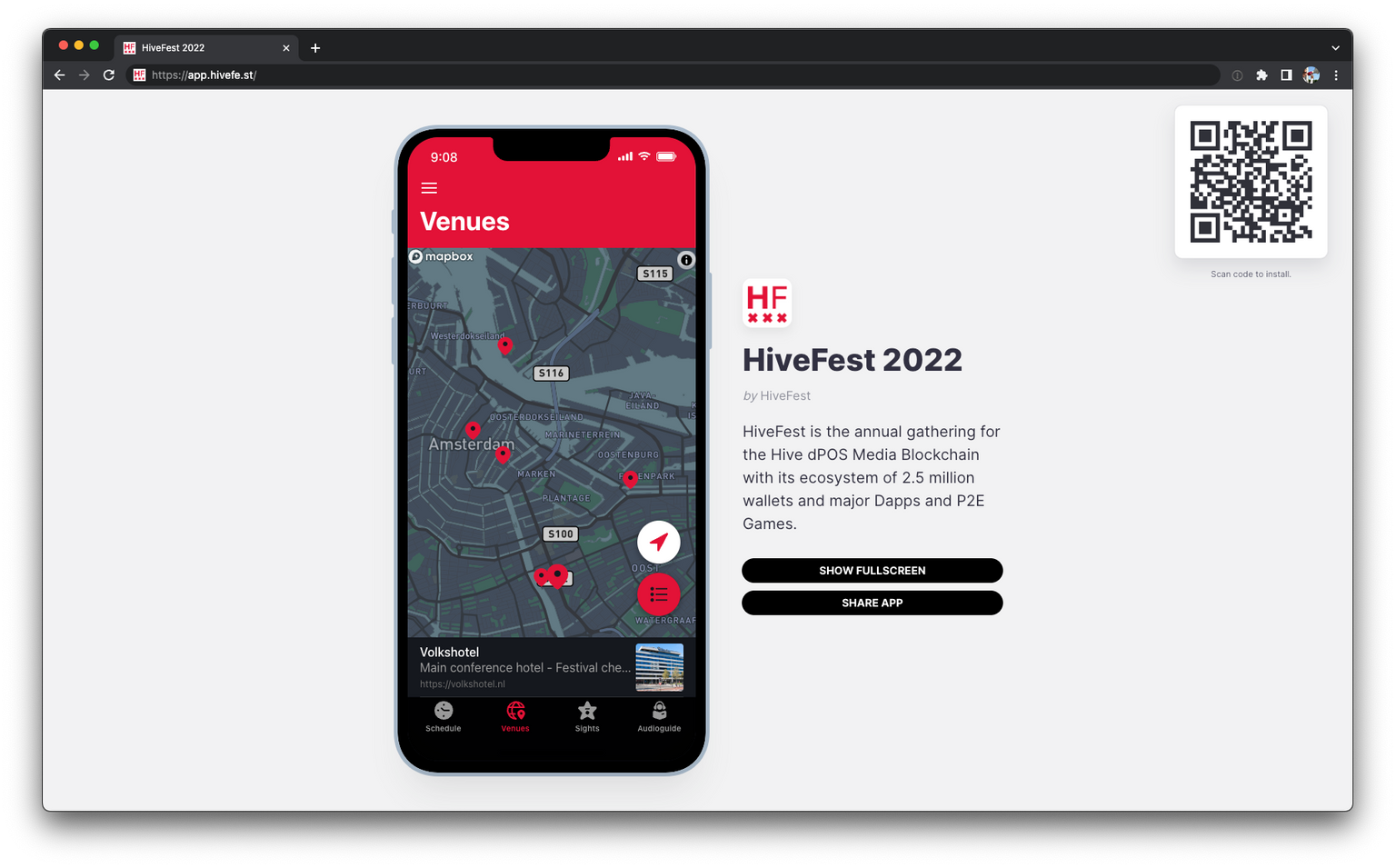 Projections
The intended and industry-accepted cost per attended or sponsored conference is $10,000 to $50,000 on the conservative side. Crypto-focused conferences have much larger budgets normally and we have seen numbers averaging in the $100,000 to $300,000 range. These are lofty fees when compared to our total budget. We try to be as selective and prudent as possible to maximize the impact of our budget. This is another opportunity to leverage relationship-building now and going forward.
In this coming year we will see a growing number of Hive-attended conference and potentially a diversified roster of in-house events. We have been invited to a number of LATAM conferences both as sponsors and participants following our 2022 lineup. We hope to both re-attend previous ones and to attend new ones. Each conference requires an extensive relationship with its organizers in order to build trust and ensure the best possible experience for everyone. This is not only in the initiation phase but during preparations and the event itself. We will continue to focus on building these bridges.
Many have wondered why the majority of our conferences in 2022 were Venezuela-based. This is only due to logistics and invitations. We are planning on two conferences in Asia which had to be declined due to travel restrictions. An American event and a conference in the Netherlands were also incompatible due to being extremely short notice to a point there is nothing we could have done. We are planning to include them and other global opportunities in this year's lineup and will share the schedule as it becomes known.
Social Impact
Social impact projects are meant to showcase the power of Hive. Hive is one of the only blockchains on the planet that enables people all over the world to directly draw from it to affect physical change. There are very, very few such entities that empower rather than allocate.
Hive social impact stream of initiatives started with the Community Well Project in Ghana. The project was particularly geared towards gaining a promotional foothold while solving a real-world situation and improving the lives of individuals. It was wildly successful and the first run of the project showed that Hive can change lives not only through an inclusive ecosystem where anyone may monetize and control their content, but through a physical representation of a border-less impact.
Since that first well, two other projects came to be. One is the Hive Goes to School initiative which brings Web 3 education through the use of Hive as a medium and example to secondary students. It started in Venezuela and has since spread to Spain where its organizers are currently presenting in several schools by direct invitation.
The other project is called simply 'Revenga', which is a school for special needs students in Venezuela. It is a school which serves a large community of vulnerable individuals but was in a horrible state of disrepair. The school is currently undergoing repairs and progress has been recorded in a documentary and a series of professional Vice-style articles. We are anxiously awaiting its public launch shortly in Q1.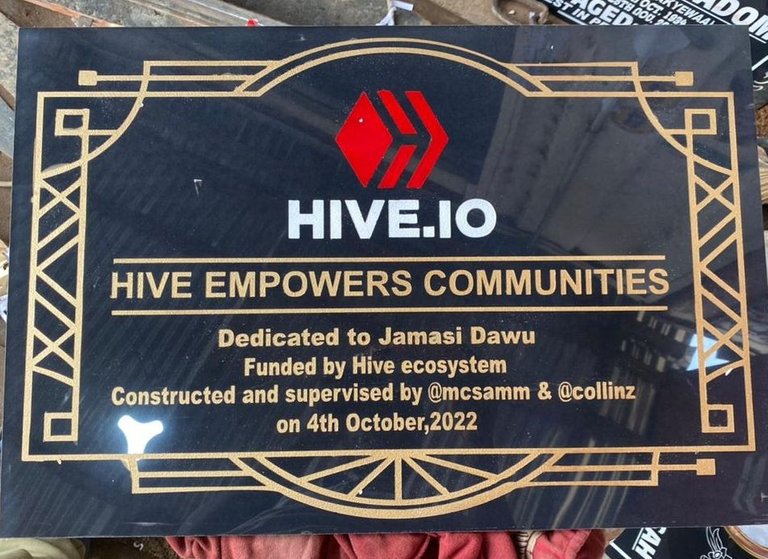 Lessons Learned
The first lesson is the simplest: Social impact initiatives are far more than articles in the newspapers or televised interviews. They show the true capability of Hive and demonstrate why Hive exists as a border-less community. "What has Hive achieved?" A lot. It brought water to villages. It gave children and families a future.
It is easy to become sentimental in such a report but we must remain objective. A small range of high-impact social projects grant Hive a focal point to present in conferences and speaking engagements. They also keep Hive in the news on a local community level (for the meantime) and result in legitimate articles being published about ourselves and our work. They also serve to normalize cryptocurrency and blockchain entities not as unreachable high-tech corporations but as a community of everyday people. These projects pull people across the planet together in the same way that Hive pulls people together.
We have attempted to include non-Hive partners in the projects early on to gauge if cross-promotion was a possibility. This idea did not pan out and we now know that avenue is not viable. We have tabled that idea and should a partnership opportunity arise in the future we will re-explore it anew.
A fortunate factor of any such physical projects is that the required materials are all locally-sourced and available. This simplifies the logistical factors and saves much money and time. Purchased assets are reusable and merchandise costs are kept low. Where physical structures are erected, they will sport the Hive brand and stand the test of time.
Projections
We will see the continuation and expansion of the current social impact projects this year. There are five more wells being planned in Ghana. The Revenga school will open its doors to students with Hive colors. Daniel from Hive Goes to School is currently teaching lectures in Spain.
There is much opportunity for Hive dapps and developers and builders on Hive to become involved. Through technical and side-projects the main initiatives can be exponentially broadened in terms of their impact and would act as a spring-board to propel Hive. Dapps can be built with the projects in mind.
HIVE and HBD Adoption
This is a brand new approach that started with a small mechanic shop where we tried this and that and went on to include the entire state of Sucre in Venezuela.
Lessons Learned
We discovered that dual-branded merchandise is the key to empowering businesses and encouraging them to accept HIVE and HBD. This merchandise shows the business owners that due care has been taken to ensure their new initiative to embrace the Hive currencies is both respected and acknowledged by Hive.
Scaling is a challenge that we fully expect. Relationships must be maintained with the business owners in order for them to receive a continuing array of merchandise. Merchandise is going to become worn out or broken over time and it is fully expected that replacements will be needed. Owners will also likely require technical support in regards to Hive at some point and should be able to request it without undue delay. Finally, regular communication helps with building and maintaining a strong relationship.
Projections
This past year this segment of the budget received less funding than others due to its scheduling being very late in the year. In 2023 it is expected to grow, particularly as processes and relationships become developed. Many other geographical locations can be targeted and modeled based on the Sucre state experience. A significant budgetary increase is in order that would encompass not only Sucre state but other areas.
We do need to identify other key areas to spread to in regards to business onboarding. Some steps have been taken so far but no definite locations are known yet. It is likely that we are looking at parts of Europe and Africa where we already have a foothold.
Niche Promotion
We currently have two niche promotion projects on Hive: the Street Workout Community and the Hive rally car. Both of these are unlike anything ever seen in our industry and take a unique approach towards promoting the Hive ecosystem. All niche promotions currently and will always have one thing in common: they are international or national-level activities in atypical fields for technology marketing. Currently all of our niche promotions are sport-related and it is likely that we will continue with the sport theme going forward.
The theme splits into two target markets:
Sports LATAM
Sports Europe
We are currently looking at adding other sport-related partnerships that would be less hands-on and more in sync with a traditional sponsorship. We have not been able to attempt this approach prior to the current year.
We are currently awaiting the completion of the short documentary on the Hive rally team and will publish a spotlight report upon that milestone.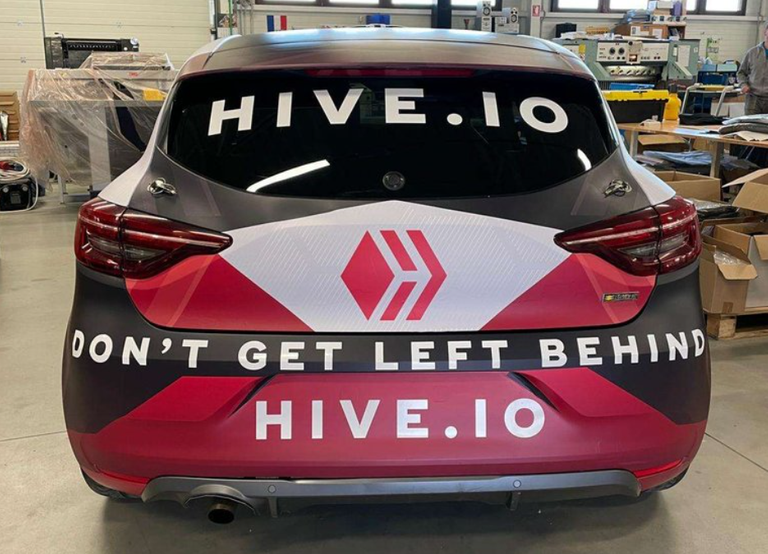 Lessons Learned
The Hive rally car is a project in the works for a number of years. It was proposed early into the launch of Hive as an excellent promotional opportunity but was not acted on due to the pandemic. It resurfaced as a feasible project this past year and we initially approached it with the intent of simply co-branding a car owned by one of our long-time Hive members. This aroused some interest in Hive during the races and we began looking at one of the biggest rally championships in the world, the WRC. We particularly wanted the Monaco race which would place Hive front and center in a highly-prestigious location. In hindsight, an early initiation in 2020 would have been best for planning purposes.
We had evaluated our costs in previous events and found that purchasing assets, if for multiple uses, is far cheaper than renting them. For example, it is cheaper to purchase conference furniture than to rent it. The same was the case with the rally car; renting it for several WRC races is the same cost as purchasing it (the previous car was not suitable for international rallies, which are tightly regulated). Renting would also limit us in wrapping the vehicle, which would eliminate the purpose of the promotion. The vehicle was purchased for a total of 60,000 Euros minus a 20,000 Euro trade-in of the previous car. The cost of the car became 40,000 Euro or the cost of two rentals.
This process would not have been possible without the detailed industry knowledge of the racing team. Aside from the actual car there are numerous components and elements on which we were able to save costs. In-house industry knowledge is one of the key lessons learned in this and any project. We have not and will not risk funds on activities we know nothing about and need external experts to rely for. Hive is a decentralized community with a decentralization of skills and expertise but it is still one ecosystem.
Let us go back to and reference the issue of regulations. If you had reviewed the Street Workout Community report published earlier this month you would have found governmental regulations mentioned periodically. This is true of all significant sporting activities. Professional sports, which include rally racing, are tightly regulated. The WRC alone has a meticulous set of requirements for a team to enter it. The unstarted sport engagement that is being considered is no different and even unattached sponsors must be carefully vetted.
We also learned to be prepared for disappointment. The Monaco race had to be cancelled due to a mistake by the WRC. They had overbooked the event and the staging area for the teams was insufficient. They cut a number of teams, which unfortunately included ours. Although the team went above and beyond to try and get the spot back, nothing could be done. We had a similar type of incident with the Street Workout Community where the final Hive Cup had to be moved twice, first due to retracted space and then again due to inclement weather. We cannot predict derailments but we can respond to them in an organize manner and adjust our plans.
Projections
The key to niche promotions is the lack of Hive competitors in the same field. What this does is allows Hive to stand out. It also helps with perception; there are no crypto or blockchain-based competitors to sour people's perception. This further supports the intent of Hive as a 'gateway' to cryptocurrency and a safe, trustworthy product. The proliferation of Hive as a recognizable brand and respected partner in targeted segments is our goal. We do not intend to spread ourselves too thin as that would be highly ineffective.
Leveraging niche efforts for crisp, professional examples of Hive engagement will continue going forward. Hive-branded events of this caliber allow us to showcase the power of Hive to existing and new partners and exchanges, many of whom partake in similar activities although in different fields. Although Hive is an entity without an organization it is still in competition with larger ecosystems that have long-standing connections. Hive must carve its space in Web3 among them and make itself known through the means we have that are in-line with our vision.
Ecosystem Marketing
This refers to traditional marketing methods that are designed to be inclusive of as many Hive dapps and projects as possible to showcase the entirety of Hive. It is inclusive of but not limited to publishing articles, participating in various metaverse gatherings, and other activities that would not fall under Conferences.
We have had some very favorable experiences with our final year-end event with the Mazer e-gaming tournament which included video gameplay clips by every Hive game that was a) complete and playable and b) submitted their clip. We are expecting that the next tournament will involve actually playing Hive games as part of the tournament. Much of this depends on the games and their development and capability. Logistical challenges around account creation for participants and onboarding will also need to be overcome.
Contests
There were a number of contests and activities, for the most part in conjunction with Hive partners, this past year. We have learned a hard lesson in respect to how far scammers will go in order to exploit contests and, with our partners' help, have developed an approach of due scrutiny in regards to all entries and winners. Our last contest with Uquid was not corruptible, despite hundreds of attempts.
Going forward we will clearly state a Zero Tolerance approach to dealing with contest hunters and scammers. We will do everything we can to ensure that only legitimate individuals interested in Hive or in the contest itself are able to benefit. This will help create a positive experience for all honest participants and benefit Hive and our partners alike.
Lessons Learned (Combined)
Ecosystem marketing and contests are very similar in that they both incorporate the entire Hive ecosystem. These efforts are challenging in terms of preparation and coordination, possibly more so than some of the other initiatives, because they require the input from a wide variety of actors. The need to streamline communication processes is one notable finding from this past year. The more direct our communication, the faster we are able to get the buy-in and materials from within our range of Hive dapps.
There is a marked need for coherent documentation that has been defined and redefined over the last year. For example, documentation on Hive talking points that is both short and easy to understand. Documentation is generally at the center of these categories and is mandatory for their expansion. Although we already have a very good set of documents, they are not yet sufficient. As most of the more ambitious projects in this segment rely on documentation and that will be addressed ahead of time of any new ventures (and is already underway).
Projections (Combined)
We are expecting to see considerable growth in ecosystem-focused activities this year. These types of activities allow individual Hive dapps to be incorporated and benefit as well as they inspire the development of new dapps and services. We are expecting to see relationships form with universities, with hackathon-style engagement activities on the horizon. The goal is to grow Hive and to diversify and broaden what can be built on it.
Professional Services
It is expected that our professional services will stay roughly the same in this coming year. The engagement of graphic design services, which is the most expensive element, is an ongoing challenge because of the sheer volume of design needs. Every event requires designs to be completed as per schedule. Many events must have these designs impromptu; meaning, designers must work through the night to meet a deadline we only found out about the night before. This is not ideal but we have learned it is necessary to meet tight deadlines that often change.
Lessons Learned
Making sure that we discover and utilize the best and most experienced talent from within the Hive ecosystem will remain a challenge but one that is overcome with time. This is not to say that our current roster of professional services providers is lacking in any way but to instead note that we are aware there are undiscovered opportunities to further improve our posture. All individuals who assist Hive with professional services are expected to collaborate and teamwork as necessary. We do not believe in silos.
We were quite shocked by some of the incidents of outright hostility towards individuals who lent their time and expertise to Hive. Implying that Hive should exploit individuals and pay them close to nothing because of their physical location is unacceptable and inhumane. We hope that this coming year we will not see such comments from our community and can focus on constructive feedback instead. There is no competition for tasks and everything depends on academic and professional experience.
Projections
We will continue our collaboration over the course of the year and will strive to grow our team of talented individuals whose expertise can assist Hive to reach new heights.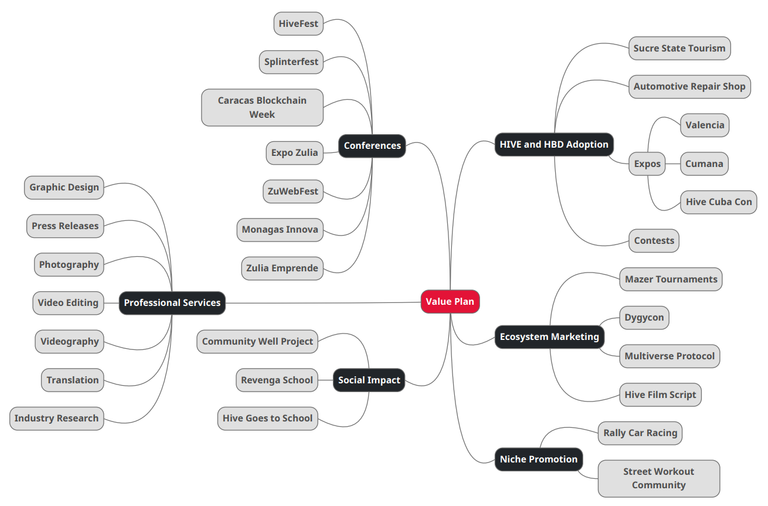 Proposed Approach
To recap, a total of 346,085 HBD was allocated and distributed to the full range of 2022 activities. Please refer to the Quantitative Report for a full spread and detailed presentation of same.
A number of distributions were already earmarked for 2023 and allocated. Those are mainly in relation to the rally car which had to be paid for by end of year. Additional costs for that activity are projected to be on a race by race basis and not of high significance.
The majority of projected investments to take place in Q1 will be towards a new niche promotional opportunity, HIVE and HBD adoption and conferences. Ecosystem marketing will also see an increase but it is likely that this will be closer to the end of Q1 and going into Q2 due to the heavy emphasis on completed documentation upgrades.
To fulfill the projected requirements we are seeking 250,000 HBD in this proposal.
Roadmap
| Category | 2022 Percentage | 2023 Percentage |
| --- | --- | --- |
| Conferences | 30% | 34% |
| Social Impact | 13% | 13% |
| HIVE and HBD Adoption | 4% | 9% |
| Ecosystem Marketing | 4% | 10% |
| Niche Promotion | 41% | 27% |
| Professional Services | 8% | 6% |
| Contests | 1% | 1% |
| Grand Total | 100% | 100% |
A quick review of categories:
Conferences in the US, the Netherlands, the UK, Peru, Ghana, Mexico and Venezuela
Three keystone social impact projects, as initiated with another five wells, a focus on Web3, and the launch of Revenga
Expansion of HIVE and HBD adoption at a steady pace as processes become verified
Two ongoing niche promotion projects with another one being added as a sponsorship
An expansion of ecosystem marketing to ensure all of Hive's diverse dapps are highlighted
Interesting contests for all to enjoy and spread the word through
A streamlining of professional services
Asset Registry
All project assets purchased for the purposes of an event or activity do not belong as private property to the project leads. They are not their personal tools. These assets belong to Hive and are moved and shared between activities as possible. For instance, conference furniture ends up at multiple events. Specialized assets that require specialized knowledge and have paperwork and licenses associated with them must travel with their teams as possible. Regardless, all assets will be registered on chain by the end of Q1.
Hive merchandise is expected to be issued either as promotional items for giveaway and use or as branded clothing or items for use during Hive major events. All events strongly emphasize the need to wear Hive-branded clothing for brand recognition purposes. All Hive representatives must look professional at all times. We understand that such items do wear out and break or cannot be registered as they are created with the intention of public distribution. Those do not count under Hive assets unless they are pieces of merchandise not yet distributed. Overstock of merchandise is to be recorded as it is needed to keep diligent track of it for dissemination purposes.
Reporting
Reporting is expected to be a major focus this year. This past year many people misunderstood the expenses and the projects themselves due to a lack of reporting. What we will start doing is develop a monthly template that can be filled out. With its help we would be able to record and relay key metrics, successes and challenges. This would not only keep the Hive ecosystem well-informed but also allow Hive community members to assist where opportunities arise.
Spotlights
Project spotlight reports will be completed on a regular basis upon a key milestone being reached. These will then be leveraged for press releases and combined with other successes to celebrate Hive. These spotlights will eliminate the need for those interested in gauging the effectiveness of the projects to scour Hive for posts or wait for major updates.
Goals
Brand recognition and awareness of Hive is the main projected outcome of all Value Plan activities. Hive is not competing with DPoS blockchains, most of which are defunct or abandoned. Hive is not competing with Web3 blogging platforms. Hive is competing with industry giants like Ethereum or Solana. We must focus on highlighting our amazing protocol, achievements, ecosystem and communities.
Scope
We are true to the original scope as outlined in our Initial Proposal. Here we offer some further clarification with built-in examples.
Conferences which can be organized in-house, Hive dapp-hosted, or external. These include trade shows and expos.
Physical major advertisements on products, vehicles, billboards, signage and events. All locations must be legitimate and professional.
Significant promotions of Hive which may include contests and hackathon-style activities. This includes partner-related promotional activities to which we are invited to in joint participation.
Outward-facing events such as the undertaking of the social impact and niche promotion events or conferences.
Promotions and activities that showcase Hive as a Web3 leader and an excellent protocol to build on.
The key to the scope is professionalism. All activities must be formal, organized, and present Hive in the best light possible. If an event or activity cannot meet the highest levels of professionalism, due to logistical challenges or any other reason, that event or activity is terminated or rescheduled until it can be properly conducted. Last year a number of activities were cancelled in early preparation for that reason.
Out of Scope
Developing technical solutions on Hive, beyond participation in a hackathon or challenge, is not in scope and must be approached as a regular DHF proposal.
Meetups between Hive community members with no external invitees.
Payments to 3rd party marketing companies for marketing services.
Ongoing monthly salaries beyond professional services, which are billed at a per-piece level.
Educational programs to 'sell' people on cryptocurrency in general or sessions introducing Hive as a place to earn money online.
Hiring "influencers" and other inflormal information disseminators to talk about Hive.
Controls
Value Plan heavily leverages open communication with project participants in order to keep all projects on track. We are currently looking at the best ways to ensure streamlined communication and a dissemination of real-time messages that can be shared with the Hive community beyond regular posts.
Transfers
All transfers from the Value Plan account are in either HIVE or HBD and issued only directly to another Hive account. No transfer is ever issued directly to an exchange. Where HIVE must be issued, the internal market at the price at the moment must be used to convert HBD to HIVE. That issued HIVE must then be used to pay for the requested costs imemdiately and without any divergence. Issued HBD may be kept until payment is required if there is a payment schedule in place.
All transfers are issued based on spreadsheets and invoices supplied to the Value Plan keyholders. Line items are scrutinized and regularly amended or removed if possible so funds may be saved. Any attempt to use any issued funds for anything other than their designated purposes will result in the immediate replacement of the project lead or the termination of the opportunity. It should be noted that in 2022, no such attempts have occurred. The only cases where such control is not possible is when partners external to the Hive ecosystem are involved.
Feedback
Value Plan welcomes all feedback as long as it is constructive and helpful. It is our expectation that all feedback will be professional and we will never see any racist or inappropriate comments going forward. Inappropriate conduct by any individuals representing Hive on a global scale in events will be thoroughly investigated on an individual basis, irrespective where it takes place. Value Plan is here to support the promotion of the Hive protocol and ecosystem.
Insights
Prior to publishing our major reports this round we had taken to borrowing the expertise and unbiased insights of Hive community members. Two independent anonymous contributors helped with the Qualitative Report and another two have assisted with this one. Going forward, we are looking for volunteers and will be felshing out this program. To qualify, one must not currently have or ever have had a DHF proposal out or been part of one and not be part of any Value Plan initiative in any way. We thank our contributors.
Closing Remarks
We would like to thank the Hive community for your ongoing support and excitement about Value Plan and the individual supported projects. We are continually inspired by your love of Hive. We speak for all project participants when we say we will continue to do our utmost best to showcase Hive and to actively seek out and welcome new opportunities.
We request 250,000 HBD from the DHF with the following proposal link: https://peakd.com/me/proposals/254
Thank you and with respect,
~ The Value Plan Keyholders