Hey everyone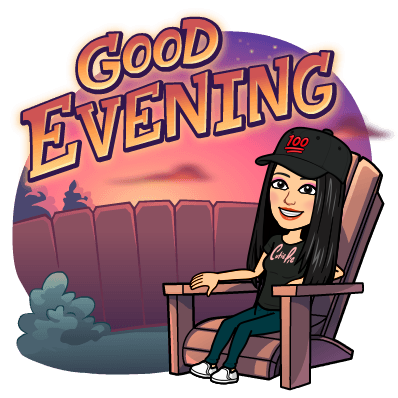 This Ulog is about yesterday. Sorry for the late post but you'll see why I didn't post it yesterday after you read my story 😁
I went straight for the laptop when I woke up and after doing some stuff on Steemit, I did some Spanish lessons on Memrise. Sister had been doing the Spanish lesson 2 on it with her account and then I changed it into my account. After I did some lessons, I found them a bit harder for me. But anyway, I was still learning and finally when I was feeling that I've learned enough, I went back and saw that I had been doing Spanish 2nd series! I'm still at the 1st series and how could it feel like when I skipped a whole series! So I had to do some 1st series lessons.
Then I started a Japanese lesson on Memrise. The first parts were pretty easy cuz I already know the alphabets, only Hiragana and Katakana. Those lessons were based on Hiragana so it was just a piece of cake to me. Little by little, words with Kanji came and I closed the Memrise tab.
Then I went to my study table and started to study a History lesson. After a while, I was feeling a bit tired and bored and some Spanish word came to my mind and I searched for its meaning. Then I found out an app called Fluencia which contains Spanish lessons for beginners. It is as good as Memrise and by 10.00 PM, I had finished 15 lessons. But sadly, only 15 lessons are for free and we have to pay for the other lessons. That's some kinda reason which we can take Memrise to a higher place than Fluencia 😉.
Then I had a nap and it had lasted for about 2 hours 😅. Then again, it was again time for History.
Now let's jump to the night time.
Dad and sis went to bed before I and mom did. (our bro usually works according to Washington time or such USA time so he goes to bed at about 4.00 AM here and wakes up at about 9.00AM-11.00AM.) Mom was cleaning the kitchen and the whole house was a real mess. My heart wouldn't let me go to bed while mom is awake doing cleaning and other stuff. So I walked around the kitchen while talking with her.
After a few minutes, she finished cleaning the kitchen and she asked me whether I can sweep the house while mom takes a bath. Then I went to take the broom and mom asked me whether I was sleepy or not. How could I feel sleepy after taking a long nap? So I said no and she asked me shall we arrange the clothes and clean the whole house before going to bed.
So I helped her arranging the clothes and I re-did the whole clothes rack. After we cleaned our common table, mom took the broom to sweep the house. When she was near my study table, she had to beg me to clean up my table.
To tell the truth, my table was a whole mess that I didn't want to even look at it. Then I got the feeling to clean it up and also I was a bit embarrassed to see that my table was the only untidy and unclean thing in our home. This time, I didn't forget to take a shot of my messy table.
Close your eyes and don't look at it if you are a heart patient lol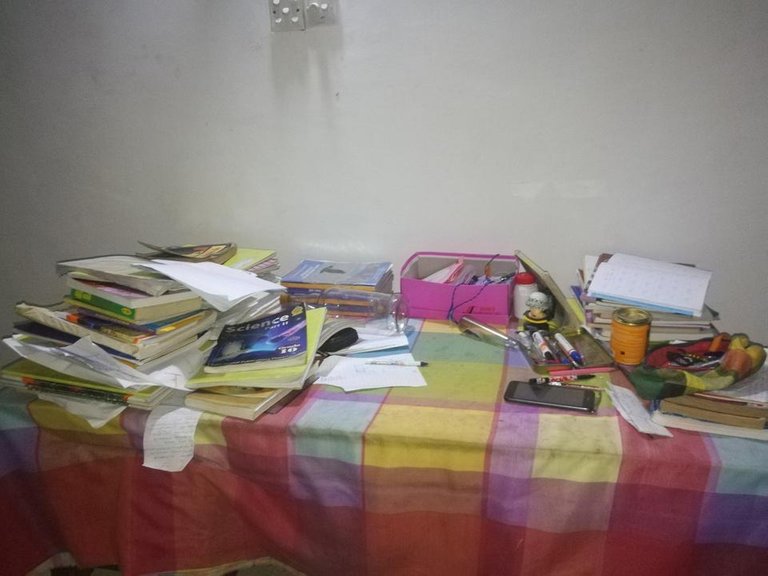 What do you think? So attractive, right? 🤣
Why don't we take a closer look?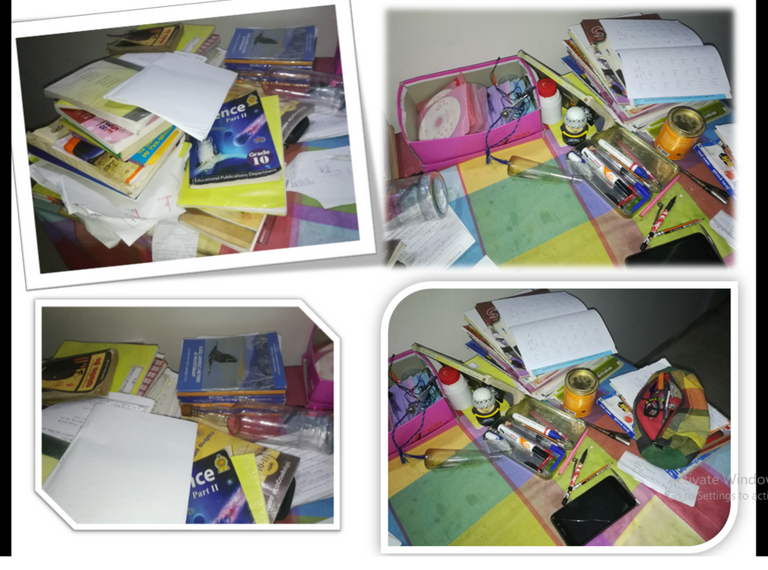 If you look closely, you'll see an open bottle. That's a hair oil bottle which I finished recently and it's lying opened on my Study table 😛 I kept away my teacup which was on my table before I took the photo ad there are some ants on my table which had come for my teacup. (I'm a very tidy girl though 😉) And that big glass bottle is my Kangen water bottle and it had fallen flat on the table. Also, there is a Multibond tin which sis had used to fix her shoe and how nice, she had kept it on MY table 😡
Then I moved on to the cleaning part and what do we have here?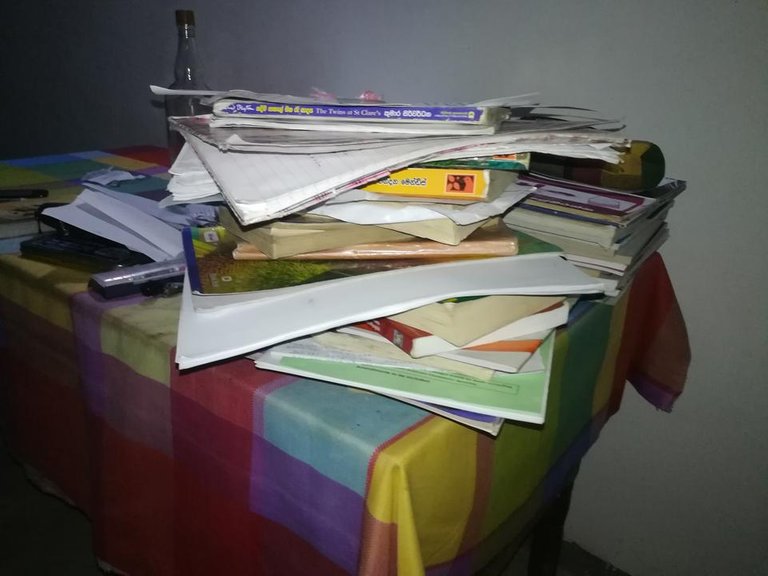 A whole lot of books which were comfortably lying on my table which do not belong to me. Everything is brought here by sis. Her Japanese books, Sherlock Holmes books and everything else. By the way, these ones gotta be everything that was making my table untidy. Yeah, that's all your fault.
After about a half an hour, I HAD FINISHED CLEANING UP MY TABLE! Yeeey!!!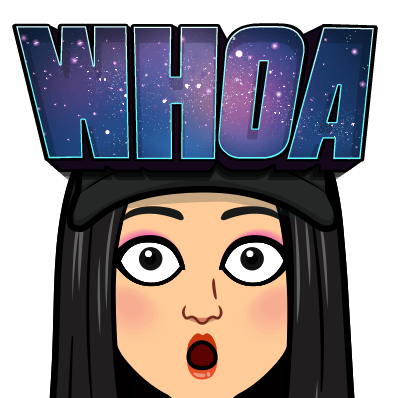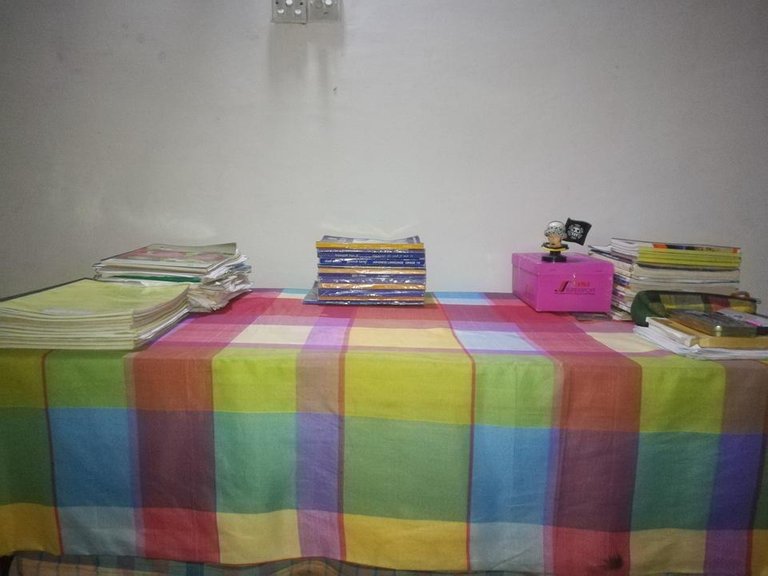 Can you believe that I made these changes?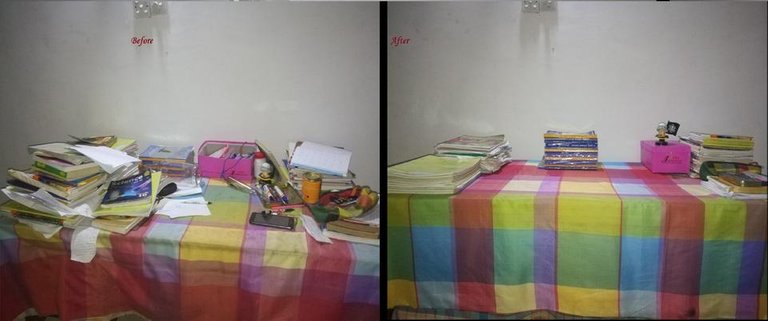 It was past 12.00 AM when I finished my work. Then it was bed I went to after I took a wash.
And one more thing;
Did you hear about the Teen community me, @mashiliyanage and @justaboutart are working on?
We created the #tos tag which stands for Teens On Steem
So that we can make Steemit a better place for teenagers.
So if you are a teenager, you can also use this tag.
You can follow our account @teensonsteem
You can join our Discord chat here.
Thanks a bunch for stopping by
Have a good day or night!
Until we meet again ❤