As my primary language is not English, there are probably some mistakes in my translation.
Remember that the person who speaks here is NOT me, Vincent Celier (@vcelier), but @terresco, a French guy.
---

Senegal

From Abidjan we had crossed the north of Guinea Conakry with great pleasure and a lot of difficulties. We ended up reaching Senegal by the south east. We thought we were going to visit nearby Niokolo-Koba National Park but there were bad weather. From there it was necessary to reach Dakar 700 kilometers further, to check some noises on the 4x4, noises that had started on the Guinean tracks and to go up to Mauritania.
* * * * *
The Niokolo-Koba
At the time, we rejoiced. We had gone from Guinea to Senegal without meeting borders or uniforms. Proud of our nice shot, involuntary, we were driving near Tambacounda already thinking of the pleasures that we had beginning to be missed, a hot meal, a good bed, a few provisions to go back to the park. The police control showered our enthusiasm: without realizing it, we had just been caught in a foreign country without a visa or paperwork.
It is solved as always, with patience, diplomacy, laughter to relax the atmosphere, visiting a large number of administrations, escorted by policemen turned into tour guides. We have tasted the unenviable status of rich clandestine immigrants, for ... three days. Friends were waiting for us in Dakar to cross Mauritania together, we left to visit the park whose name made me dream. The elephants, the Derby elands and the baobabs of Mount Assirik would wait another two years for us. Only consolation, in the rainy season it would have been difficult.
Dakar was waiting for us, we loved Dakar, we had our haunts, our friends, our little meetings and habits. Two days later we returned to the peninsula.
Dakar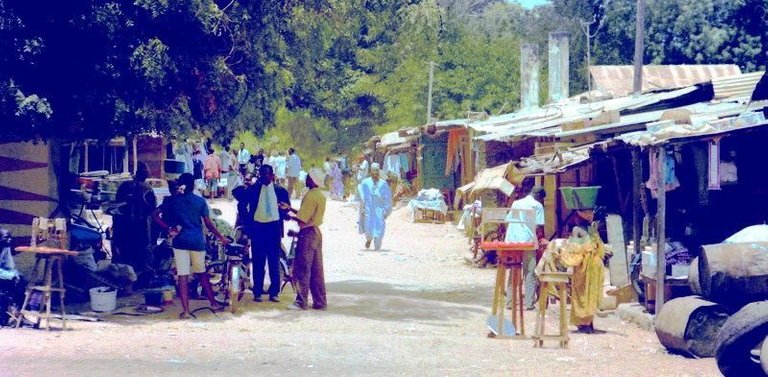 I had sympathized, a little by chance, with an atypical character to whom I visited each of my passages in Dakar. [Haidar](https://en.wikipedia.org/wiki/Ha%C3%AFdar_el_Ali) was Lebanese, born in Senegal, sea lover and ecologist. Not classic at all. He owned a diving club on the small ledge, preferred to take care of diving women rather than diving men, free in his own way he respected only what he considered as true values. Haidar never took himself seriously, Haidar, moreover, took nothing seriously, dramatic events had strengthened him in this way of seeing life. Some ten years later, I met by chance a diver in Madagascar who told me that Haidar had become ... Minister of Ecology of Senegal.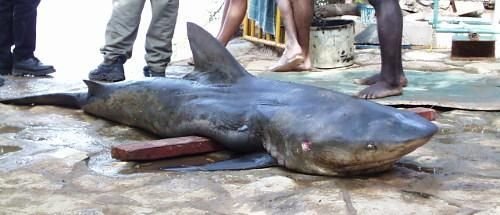 In addition to diving, the club had kayaks. I loved taking one to go on the island of [Gorée](https://en.wikipedia.org/wiki/Gor%C3%A9e), just in front of Dakar. A pleasant crossing that allowed to get to Gorée as a local guy and avoid the so-called guides who waited for tourists at the end of the dock, which is sometimes a little tiring. Gorée is the island from which ships loaded with slaves left; the [House of Slaves](https://en.wikipedia.org/wiki/House_of_Slaves) is visited as a highly symbolic place of this period. It is also a nice little port and beautiful walks in the wilder southern part.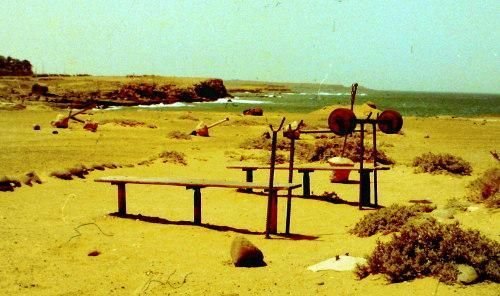 There was, in front of the sea, in front of the university, an outdoor space for bodybuilding. It was open to all, made with truck axles and other salvage parts. With my 65 kg I passed for a weakling compared to the Senegalese who spent their days there. Far from making fun of me, everyone was giving me a helping hand or a tip. Just before sunset a small beach a little below served for the outdoor gym. We were hundreds to scamper and make some movements under the orders of teachers, I guess improvised. A good way to be invited to discover the warm nights of Dakar.
In the morning, not too early, we had a coffee in the main street of the city center. A little scent of the country that we did not have in Abidjan, city organized differently. There were even croissants. Several interesting markets dot the city, colors, smells, noise and negotiations in the program.
If we did not go diving, we would surf. The tip of the Almadies with its beautiful but cruel wave behind the club Med. Cruel because the sea urchins watching for the slightest mistake and were remembered for a long long time from the pieces of thorns that remained under the skin. There were, fortunately, other easier places; one in them, near the airport housed the cabin that served as my headquarters when I came for work. At 12 o'clock I was going there, the owner kept my white shirt and my serious pants folded, gave me the state of the waves, the board and his encouragement. At 1:30 he made me a sign, I went out, he showered me with the bottle of water that he had prepared and at two o'clock I was in a meeting with my little varnished shoes. Sometimes my hair, that I still had a little wet could alone betray me.
On vacation, nothing like a Thieboudienne, rice with fish, after a good surfing session. I prefer not to describe the culinary specialties, as it makes me want to return there: the Maafe: chicken or peanut meat, the "dibiteries" that offer grilled mutton with onions, chicken yassa ... Small family restaurants serve you for three times nothing with a big smile. It feels like home and we go out satiated.
* * * * *
We had to leave one day, a small passage in a lost district where improvised mechanics full of genius and resourcefulness settle for a few bank notes the problems that large concessions have not been able to solve for lack of spare parts adapted. It's amazing that in a day a garage that looks like anything but a garage makes or adapts any part of the car for you to go back through the desert. I had already tested their talent, hence my confidence.
A last farewell party to the friends of Dakar, the fifth, the good one this time. Tomorrow morning towards the pink lake from where we will reach Saint Louis by the beach.
-- @terresco
---
01: From Abidjan to Carcassonne, the first crossing, by @terresco
02: From Abidjan to Carcassonne: Guinea
Encounters with Africa series:
01: Encounters with Africa: Ivory Coast, by @terresco
02: Encounters with Africa: Abidjan, a daily pleasure, by @terresco
03: Encounters with Africa: The Tuaregs of Agadez, by @terresco
04: Encounters with Africa: The Tuaregs of Agadez, part 2, by @terresco
05: Encounters with Africa: On the way to the Dogon country, by @terresco
06: Encounters with Africa: Among the Dogon of Bandiagara, by @terresco
07: Encounters with Africa: The Gold Coast, by @terresco
08: Encounters with Africa: Where was born a desire to go elsewhere, by @terresco
09: Encounters with Africa: The time of failures, by @terresco
10: Encounters with Africa: The Promised Land, by @terresco
11: Encounters with Africa: The Land of the Upright Man, by @terresco
12: Encounters with Africa: From Bobo to Ouagadougou, by @terresco
13: Encounters with Africa: In the Voodoo country,
From Cape Town to Mombasa series:
01: Africa, the long crossing
02: From Cape Town to Mombasa: South Africa
03: From Cape Town to Mombasa: Namibia
04: From Cape Town to Mombasa: Botswana
05: From Cape Town to Mombasa: Zimbabwe
06: From Cape Town to Mombasa: Zimbabwe, part 2, by @terresco
07: From Cape Town to Mombasa: Zimbabwe, part 3, by @terresco
08: From Cape Town to Mombasa: Zambia, by @terresco
09: From Cape Town to Mombasa: Malawi, by @terresco
10: From Cape Town to Mombasa: Tanzania #1, by @terresco
11: From Cape Town to Mombasa: Tanzania #2, by @terresco
12: From Cape Town to Mombasa: Tanzania #3, by @terresco
13: From Cape Town to Mombasa: Tanzania #4, by @terresco
14: From Cape Town to Mombasa: Kenya, by @terresco
---
All pictures are property of @terresco