Hello Hives,
The evolution of Hive leads our team to officially announce the lowest fee (0.09%) swap bridge (Hive | Swap.Hive) to the Hive community. This bridge service was previously known as the
hiveupme discounted bridge
or
upme swap bridge
, Now officially introducing the
uswap.app
.
---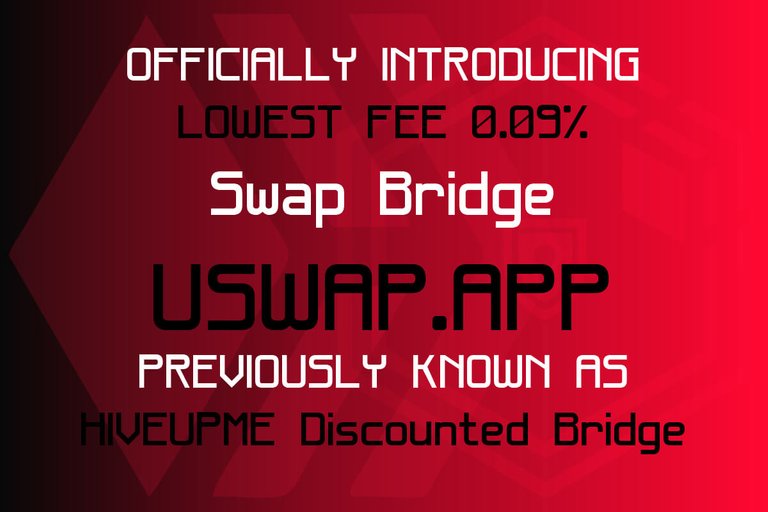 ---
@hiveupme is a curation project top of the Hive chain & we had limited Resource Credits (RC) to work with all projects belonging to us. Therefore, we used @hiveupme as the swapping account & we parked our simple UI solution as a subdomain of the
github.io
.
But now you can enjoy a
"less (0.09%) to no fee"
discounted bridge solution by clicking on one of the below URLs:
---
Why Our Swap Fees Are The Lowest?
We could remember the early days of the
Hive-Engine
deposit & withdrawal fees. It's a pain for anyone who wishes to invest in Engine & its' token economies due to the 1% fee. Then we saw a few swap bridges trying to provide a solution by introducing low-fee bridges. But we believe in the lowest fees. Therefore, we are trying to provide the
industry's lowest fee (0.09%) bridge
to you. Moreover, we support arbitrage trades between exchanges & Hive-Engine | Tribaldex by introducing the lowest fees & on-time support. Not only that, you can use our services to add & retrieve funds to play dapp games which are popular in the Hive ecosystem. (Example:- Splinterlands, Dcity, Startbits &, etc).
---
The Bridge Liquidity?
The liquidity of the bridge is fixed at 15,000 Hive | Swap.Hive for a moment. We will develop a mechanism to improve the liquidity to 30,000 Hive | Swap.Hive in the next stage. Unlike other swap bridges, we are the only bridge that charges
No to Less
fee & shares rewards between liquidity providers of the bridge. Therefore, we believe 30K might be enough to process swap demand per day.
---
Ownership & The Team?
The
Uswap.App
project is owned by @theguruasia & @ali-h is the co-developer. We believe in open ledgers. Therefore, no one can cheat the system.
---
If any error, please contact us @
CORE-VAULT Discord Channel
or send a discord message to
theguruasia#8947
.
---


"Delegate @hiveupme Curation Project To Earn 95% Delegation Rewards, 15% APR Worth UPME Tokens, Mentor Votes & WINEX Token Rewards"
Contact Us : CORE / VAULT Token Discord Channel
Discounted Bridge : The Lowest Fee (0.09%) Hive | Swap.Hive Bridge
Burn-To-Vote : Burn Your UPME / WINEX To Receive Upvotes