English:
In this post I show some images of a sunset at the border of the Pacific Ocean, at Antofagasta (Chile).
You can see the sun is still above the horizon and shining with all its intensity. The frames (which play an important part in the composition of the image) are bars for working out, which are located at the beach.
Español:
En este post publico unas imágenes de un atardecer en el borde del Océano Pacífico en la costa de Antofagasta.
Pueden observar que el sol está con todas su intensidad y sobre el horizonte. Los marcos en el primer plano, que forman parte importante en la composición de la imagen, son barras de ejercicios ubicadas en la playa.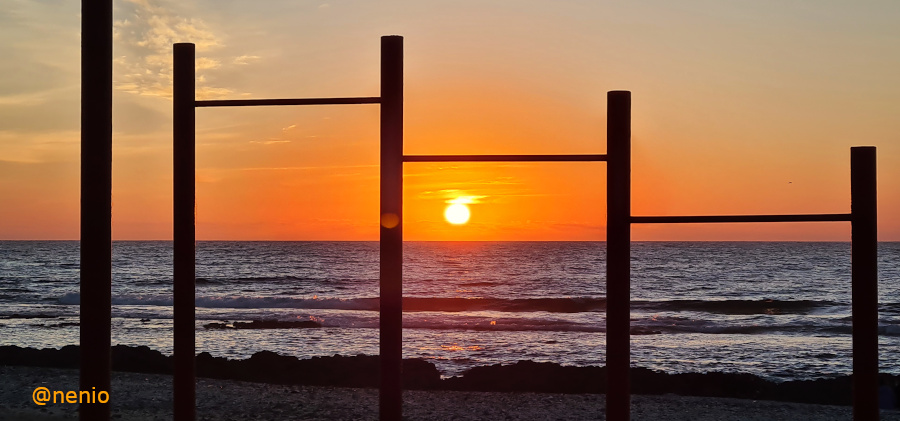 Con estas imágenes estoy participando en el concurso fotográfico #sunthursday organizad por @uwelang. Las reglas del evento se encuentran publicadas
este post
.

I show different editions of the same photo, in color and black and white format. Which image do you prefer?
I used the camera of a Samsung Galaxy S20 and edited the photos with Gimp.
Muestro diferentes ediciones (en formato color y blanco y negro) de la misma foto ¿Qué imagen es la que más le gusta?
Utilicé la cámara de una Samsung Galaxy S20 y Gimp como software de edición.
---
Thank you for visiting my blog. I hope that you enjoyed the post.
Gracias por pasearse por mi blog y espero que el post haya sido de su agrado.
---
---

Images by @nenio — All rights reserved