Overview:
The Risitas battling tool (Designed by Discord user: Lightproject#8137) combines collected battle data and competitor battle history to give you an edge against your competition. The tool helps SPL players determine the best hands to play based on rulesets, competitor battle history, and historical battle data. Can this tool help kill bots? Let's find out.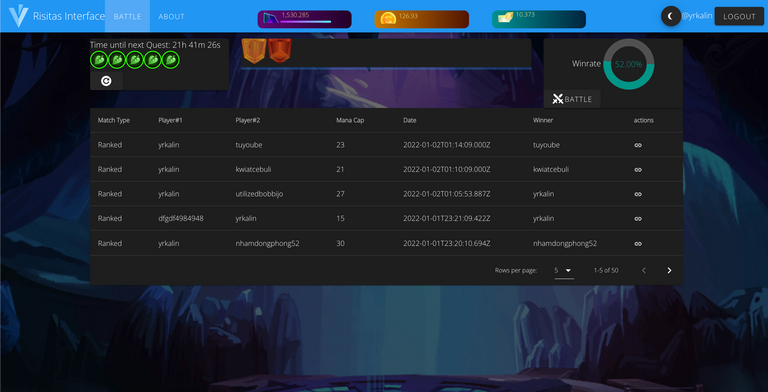 How to get started:
Click the battle feature on the front page. There are three tabs that will present you with a wide collection of useful information.
Villain tab – shows the summoners owned/played by your competitor. This tab will also show your competitor's most played splinters in the last 50 battles as well as collection power and current DQ.

Best Combos—My favorite tab. Shows you the best combos of monsters to use based on the abilities ruleset. Note that the combos are not in order and need to be re-arranged so there is some decision making involved after picking which combo set to use. Each combo shows the number of battles in which data was collected and the overall score. Higher the score and more sample battle data = better chance at defeating your opponent.

Manual – this tab allows you to pick your hand manually.
Screenshots
Villain tab:
The villain interface is an awesome tool to learn more about the deck you play against! In this tab you can view the splinter that your rival loves to play most often based on the last 50 battles. Further, the interface shows the current quest that your competitor is playing and the CP of your competitor! This can be a great tool to determine what hand your competitor will play prior to battling.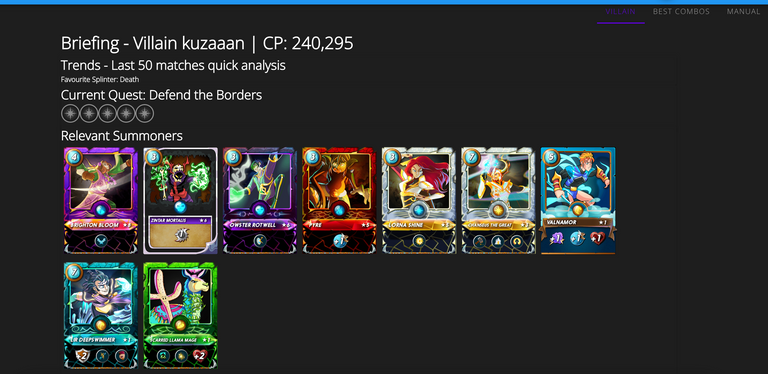 Best Combos:
When picking the best combos the interface will present the best cards to play even if you do not own them. In this case you will have to disregard the combo or rework it with cards you own in order to use the best recommendations to win.
*Notice the scores and sample size data on the right hand side. Higher the score, more wins for that combo.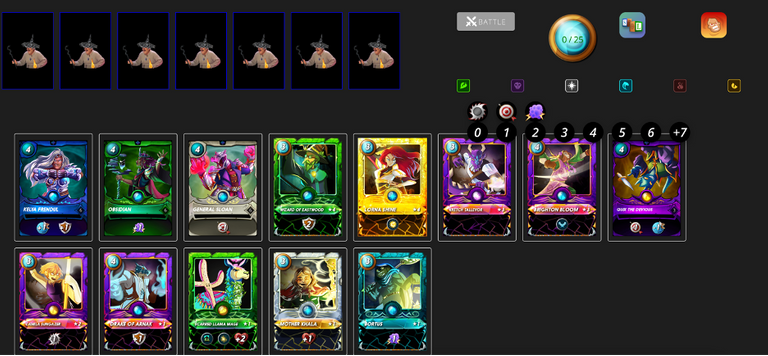 The last tab is manual where you can pick your own hand. You can see the ruleset, managed, and battle button. The battle time can be found in the top left corner (not currently shown on screen). What I don't see is the timer, but I'm sure that will be added soon enough!
So far I am 6 for 10 in battles. With more battle history and data this tool can become a very useful addition to your SPL game plan! Learn more from the developer of Risitas tool here: https://peakd.com/@lightproject/risitas-interface-the-bot-killer-is-here
What's your favorite splinter? Comment below!