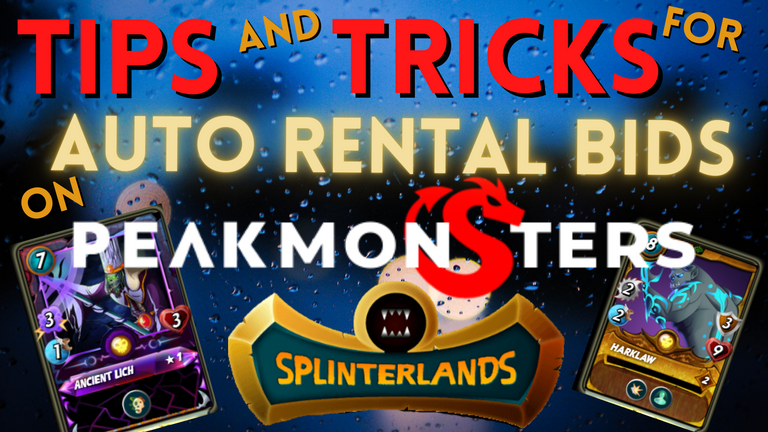 Live With Jarvie
Today @jarvie did a live stream called "Splinterlands Auto Rentals - Release party and Q&A" to help teach how the new auto rental bid works over at Peakmonsters! I thought I'd stop by stream and learn how to use the Auto Rental Bid feature. I've been lucky enough to test it a bit, but I still have some questions. If you have questions as well, I recommend you watch his stream which I'll post at the end of this blog! Also, please share your comments and questions about this new feature on @peakmonsters !
Facts About the Bids
I've seen people show how to Auto Bid specific cards; that's pretty easy to understand once you give it a try, but what I haven't seen much about is the Collection Power rental and really where we should be based upon market prices for that rental. When you want to place a bid on achieving a particular amount of Collection Power, the screen will look like this:

You click on the CONFIGURE CP BID and off we go!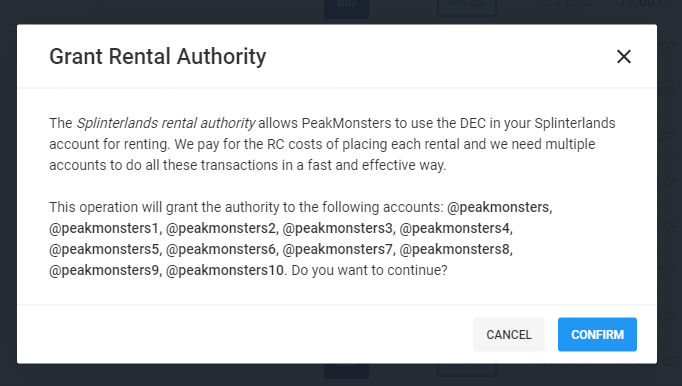 NOTE: When you give authority for PeakMonsters to find your bid request (as seen in the picture above), you'll need to refresh your page afterwards for that authority to go through for you. You're just giving permission for those fancy PeakMonsters Bots to zoom around PeakMonsters on your behalf and seek out your request!
After refreshing the page, return to the Configure CP BID, and you'll want to enter the Collection Power you need to have in order to add it to what you've already got and reach that next league. (So you will want to subtract the collection power you currently have in your account with the number you need for the league you're after. For example, let's say I have 5K Collection Power but I want to be in Silver League. I will need 15K collection power to reach that level so I NEED TO RENT 10K COLLECTION POWER.)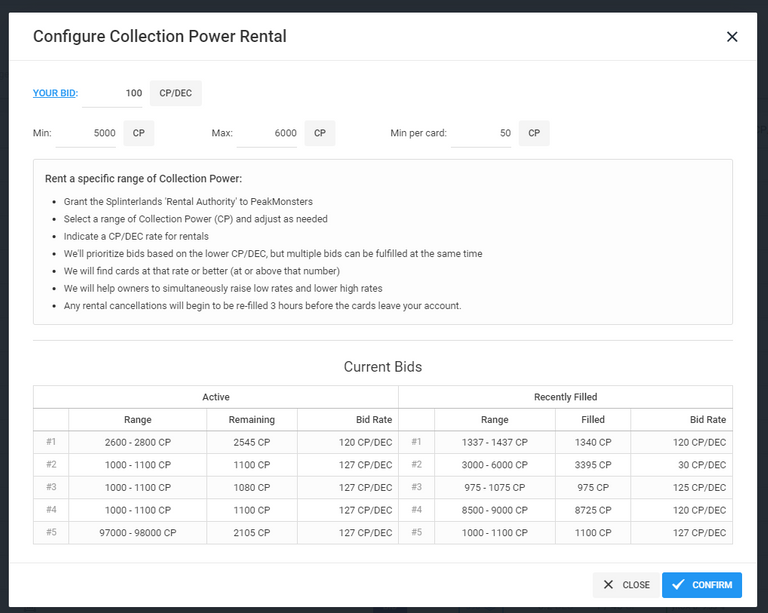 Tip: The way Jarvie was using the Auto System was to look on the Rental Market prices and use that as a guide for what kind of pricing you want when it comes to that CP/DEC.
Javie said "the trick is for the owners to be aware of these bids" and that of course will help both renters and card owners hit that market price for the cards
The Collection Power Bidding
TIP: In order to make sure you hit the goal of 10K collection power to get you the total of 15K collection power, you'll want to pick a Minimum of 10K and a Maximum of 11K. You want put in at least 1000 power range, because it's impossible to get you to that exact range, and you put in the minimum CP range and let's say you need 26K collection power when you go to rent. Well, you don't want 1000 cards rented, you really want less cards at more power, so, you put in the minimum collection power per card. He used the example of 50 Collection Power per card.
Here's another helpful tip to keep in mind: the higher the Collection Power number is (per DEC), the cheaper you're paying for those cards.
Jarvie's Tips!
If you're a renter, head over to check out what the cards rent for in general before you head over to renting for Collection Power. It will be a great gauge for you on what Collection power per DEC you want to bid.

Head over to the Gold Foil and check out what you can find by using the sort by CP/DEC. That will help you with your pricing for the Collection Power Bidding

If you're looking for a MASSIVE amount of collection power, you can increase that Bid Rate (like 200 to 300 CP / DEC)
Other Useful Information Tips and Tricks for Renting
Helpful Tip: Mark your cards as a favorite (the star to the left of the card) when you rent it to keep tabs on that card!
PeakMonsters will pay for the RC (Resource Credits, which is connected to your HIVE power) in terms of renting, so they pay that RC when a rental made and even when it is extended so you don't need to worry about that. This is a HUGE benefit to the users that PeakMonsters is doing for you.
Additional Visual Explanation
If you want to see how to rent a card using this Auto Bid system, Jarvie does a lovely job explaining it at time stamp 13:48 in his YouTube video I link below. Here he shows you how it works.

Someone has a card available for rent but at a high price. Jarvie wants to rent it for cheaper, so he goes in, places a bid ABOVE the bid that is currently available and now his bid is at the top and will be chosen first if someone offers to rent out their card at that price.

If you still aren't sure how the Auto Rental Bid System works, please be sure to check out the thorough post by @mozzie5 at this link: https://peakd.com/hive-13323/@mozzie5/how-to-use-peakmonsters-auto-rental-bids-feature
Here's the YouTube Live Stream with Jarvie
Click here to watch his live stream and see exactly how it works.

Thanks so much for reading this post! I hope it was helpful! What are your thoughts about this new auto rental bid system? Let me know!
Please be sure to check out most on @early-bird curation if you haven't seen it already! You can click the link here
If you enjoyed my post and want to try Splinterlands, please use my referral link: https://splinterlands.com?ref=rosiew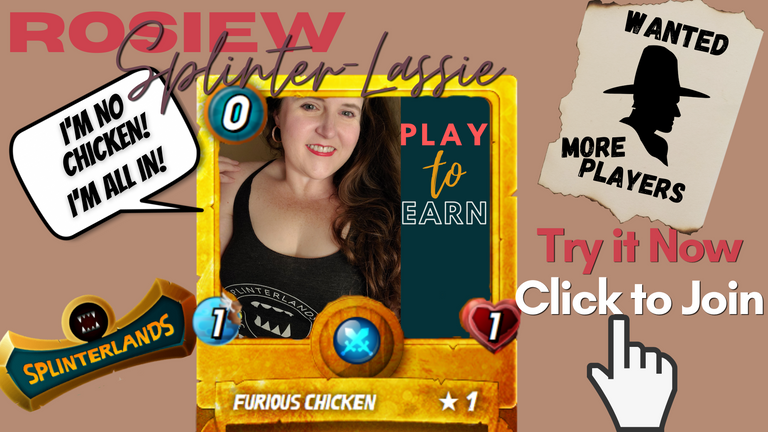 Please remember my post is not meant to be financial advice and is just my opinion.
Follow These Folks:
Early-Bird Curation Service: https://peakd.com/@early-bird/
Splinterlands: https://peakd.com/@splinterlands/
Monster-Curator: https://peakd.com/@monster-curator/
1Up (#OneUp): https://www.1up.zone/
Here are some great links to join as well!
Splinterlands Discord: https://discord.gg/Tw7KjNsQGs
Monster Market Discord (Monster Curator): https://discord.gg/DR3J9rfRFV
PeakD Discord (PeakMonsters as well): https://discord.gg/7mQmzZeugE
NFT Studios Discord (aka 1UP Discord #OneUp): https://discord.gg/4VYBcNuVQd