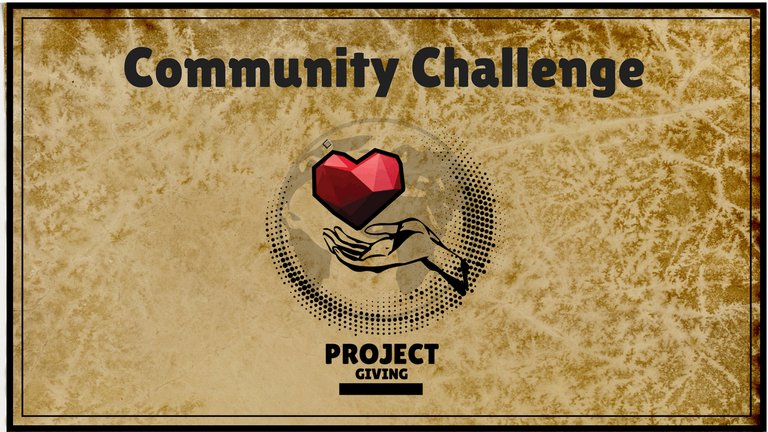 Project Giving - Community Content Challenge
---
Make sure to scroll down to the bottom of the post to see how you enter our writing challenge and win an @SndBox upvote
---
@ProjectGiving is a steem blockchain charity which helps fundraise for community and environmental focused initiatives around the world. Through project giving fundraising posts, we help to empower these organisations to make real change by providing both funds and a platform to be heard. To read more about our first fundraiser for Yokaenso charity in Tanzania please follow this
link
. Project Giving is a @sndbox summer camp project and with their support we have managed to raise over $100 for Yokaenso.
Project Giving is also committed to raising awareness around global issue such as poverty, environmental threats, inequality etc. So we decided to engage with you, our fellow steemians, by running a content creation challenge which will reward the winners with a @sndbox upvote and help inspire a ripple effect that we hope will spread outward through steemit.
Have you ever heard the saying, just sweep it under the rug?
We believe that a big part of providing effective charitable impact is countering these attitudes through education and discussion. Steemit's vibrant, engaged and talented global community of writers can be a part of this drive for awareness across the world. The more we talk about the issues that place people in poverty the more that peoples 'sweep it under the rug' attitudes will change.

Challenge Structure & Themes
Project Giving will be running a number of competitions over the next few months challenging the community to write around the issues of:
Community Improvement - e.g. addressing poverty, homelessness, mental health, drug addiction etc
Environmental Issues - e.g. conservation, sustainability, waste management, endangered species/ecosystems etc
Educational Drives - e.g. community educational deficiencies, environmental sustainability education, etc
These challenges will require you to go out into your community or environment and write a post highlighting local issues which relate to one of the topics above, as laid out in our competition posts.
To have a chance of winning, we want you to channel your inner journalist by going out to talk to people in your community about these problems and how they are affecting them. In your posts, you can accompany this information with pictures, videos, voice recordings and any other multimedia to show us how much you have learned and experienced during the challenge. Posts can be written or in video/documentary style.
We are looking for posts which show us your creativity in presenting the issues which you feel passionate about. Individuals who run steemit charities are welcome to join this challenge, and we would be interested in hearing from you separately about applying for funding through Project Giving blog posts. However, I would like to stress that this is a content challenge focusing on promoting awareness of issues around poverty rather than a particular charities operations.
Scroll down to the end of the post to find out what this week's first competition will be and what you can write about!


Prizes and Awards
There will be five overall winners selected by our judges at the Project Giving Sndbox Summer Camp. The prize for the five winners will be varying percentages of @sndbox upvotes along with Sndbox designed Project Giving badges and banners for the top three places.

Thanks to @voronoi from @sndbox for designing the badges for this competition.

Guidelines
Content must be the author's own original work (and not published elsewhere)
Upvote and resteem this post to help us spread the word about the competition
One entry per author please, multiple entries are not allowed and will disqualify you from the competition
All entries must be submitted no later than seven (7) days after this post has been published
All entries must be posted under the lead-tag #pgcommunitychallenge & #projectgiving
Winners will be asked to make a follow-up post, displaying their wining badge with a short explanation of how they believe the issues raised in their post could be best addressed. This will be the post receiving the @sndbox upvote.
We hope you will join us in our mission to raise awareness of these issues in your local communities and spread the message of steemit's ability to elicit a change in our society. We look forward to your entries. Thank you for reading.

The First Writing Challenge - Community Improvement in Poverty
The first writing challenge will be focused on the theme of Community Improvement.
We challenge you to create a post documenting any issues of poverty in your local community.
Here are a few topics you might want to think about while writing your post, good posts will come up with more than these!

How did this problem come to be? (You can include pictures, diagrams, videos etc)
Is this problem becoming worse or better? Why?
How can you, your community and the world help to prevent this issue?
Remember, to be in with a chance of winning, the post should include you personally going out into your community, talking to people about how the issue you're highlighting affects them, taking pictures and promoting steemit to the people you meet. We are looking for some personalized content, like pictures or written/filmed interviews, showing the issues discussed at the point of effect.
---
In 7 days from when this blog is posted, @ProjectGiving team members will read all posts created for this challenge to determine the winners.
Good luck!
EDIT: We have decided to extend the competition period for a further 8 days (ends Wednesday 15th August 2018 at 10pm GMT) effectively giving it a 2 week lifespan. There has been only one entry so far but as a few people have shown a strong interest I decided to extend it and promote it further in discord communities.

Support Project Giving with Delegation
If you would like to support us in creating more community challenges, we encourage anyone with high steem power to show your enthusiasm by supporting @projectgiving with a delegation. This support would empower us with the resources to further reward/engage the community through comment voting and new content creation initiatives. To delegate, please click the link of the amount you would like to share for a quick, easy and safe way to delegate via steemconnect. Thank you for considering Project Giving.


---

---
Click To Vote @ComedyOpenMic For Witness And Disrupt The Steem Blockchain With Laughter!**

---
Community Content Challenge Developed and Written by @raj808