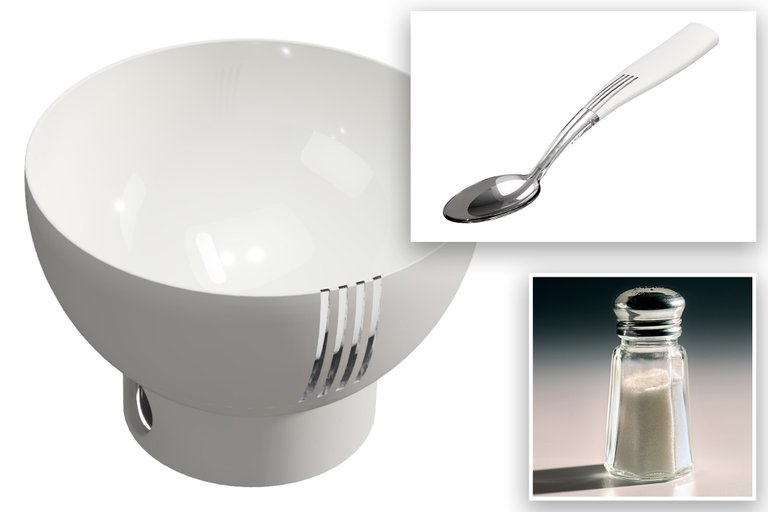 Source
We all like tasty food, but if we go too far with salt or sodium we can have cardiovascular problems, in fact, the World Health Organization (WHO) recommends consuming less than 5 grams a day, equivalent to a teaspoon, that's why as one turns years old it is one of the first things that the doctor is going to forbid us.
A todos nos gusta que la comida esté sabrosa pero si nos pasamos con la sal o el sodio podemos tener problemas cardiovasculares, de hecho la Organización Mundial de la Salud (OMS) recomienda consumir menos de 5 gramos al día, equivalentes a una cucharilla de café, por eso a medida que uno va cumpliendo años es de las primeras cosas que el médico nos va a prohibir.
Now the Japanese company Kirin Holdings Company in collaboration with Meiji University, also in Japan, has developed a spoon and bowl capable of increasing the salty taste of food by 1.5 times without adding salt, and to achieve this uses a small electrical current on the cutlery.
Ahora la empresa japonesa Kirin Holdings Company en colaboración con la Universidad de Meiji, también en Japón, ha desarrollado una cuchara y un tazón capaces de aumentar el sabor salado de los alimentos en 1,5 veces sin necesidad de añadir sal, y para lograr esto utiliza una pequeña corriente eléctrica en los cubiertos.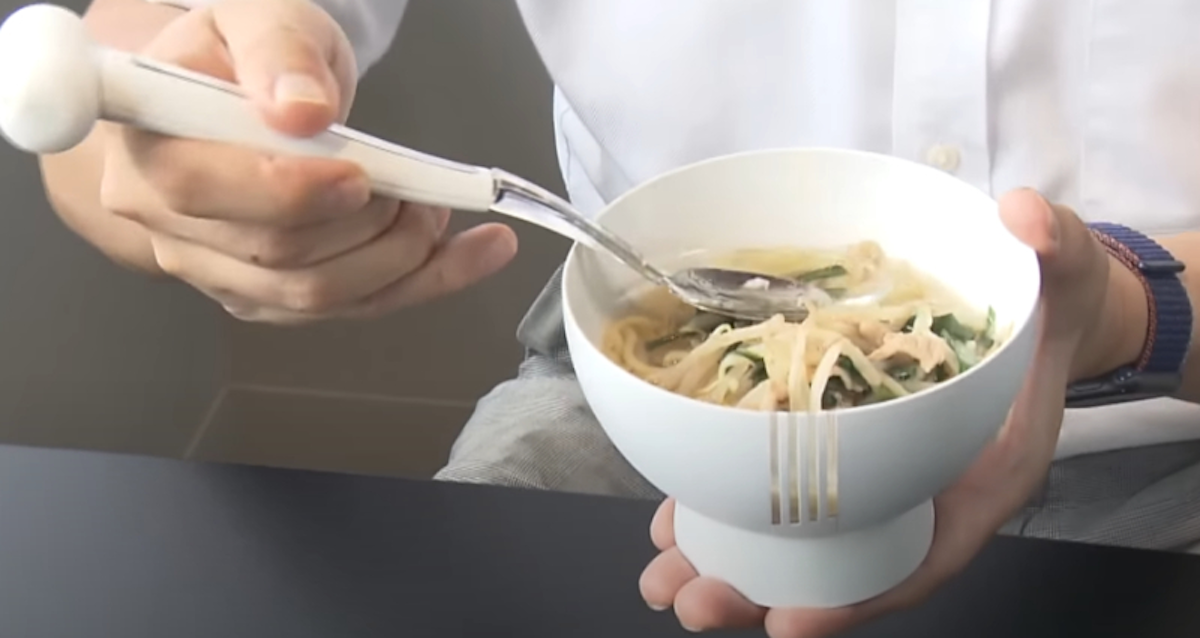 Source
The invention comes in the form of a spoon and a bowl, the spoon works by pressing a switch on the handle and offers four different intensities of flavor if we like food with more or less salt, in the case of the bowl the electric current is sent to the food when the diner holds the bowl in his hands.
El invento se presenta en forma de cuchara y tazón, la cuchara funciona presionando un interruptor que tiene en el mango y ofrece cuatro intensidades distintas de sabor por si nos gusta la comida con más o menos sal, en el caso del tazón la corriente eléctrica se envía a la comida cuando el comensal sostiene el tazón en sus manos.
In both cases, the electrical current passes through the food and it is precisely this electrical flow that gives diners the sensation of savoring a tasty meal when in reality it contains hardly any salt, according to tests carried out on people on salt-free diets, low-salt or low-sodium foods taste better by 1.5 times.
En ambos caso la corriente eléctrica pasa a través de la comida y es precisamente este flujo eléctrico el que produce a los comensales la sensación de estar saboreando una comida sabrosa cuando en realidad apenas lleva sal, según las pruebas realizadas en personas con dietas sin sal, el sabor de las comidas con poca sal o bajas en sodio mejora en un 1,5 veces.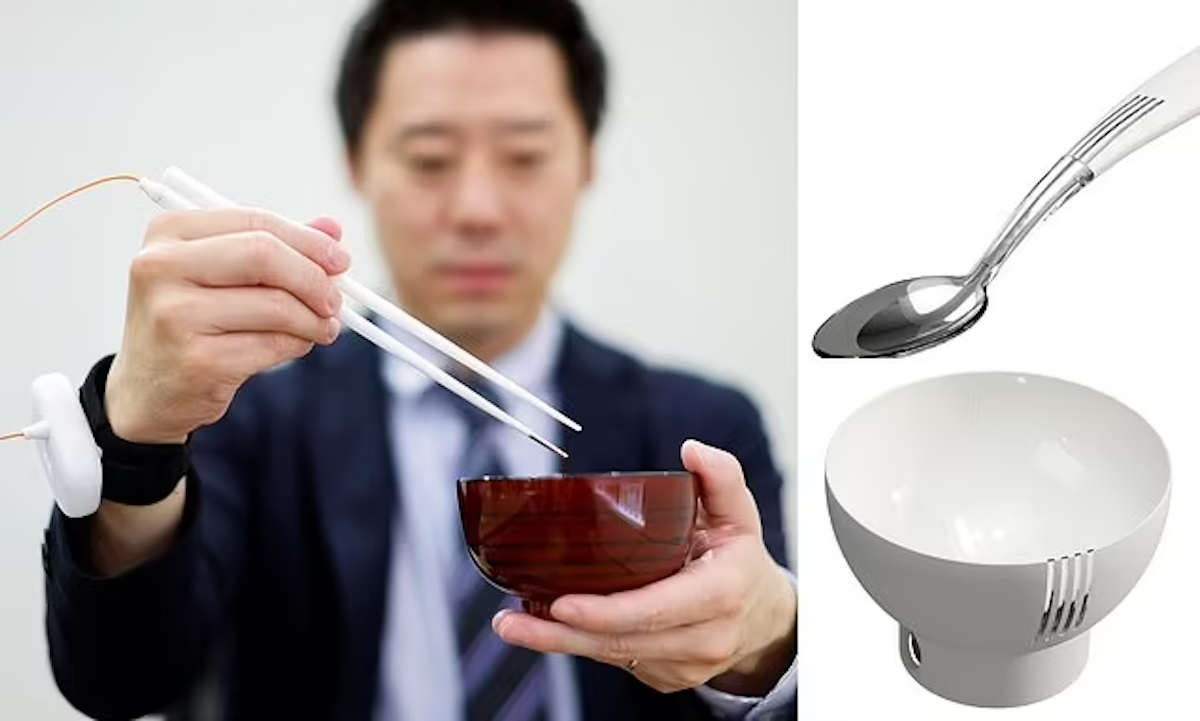 Source
This is not the first attempt of this type by this group of scientists, since last year they had already developed some Chinese chopsticks that used the same technology, but in this case the user had to wear a bracelet that electrically recreated the sensation of salinity when transmit sodium ions to the mouth.
Este no es el primer intento de este tipo por parte de este grupo de científicos pues el año pasado ya habían desarrollado unos palillos chinos que utilizaban la misma tecnología, pero en este caso el usuario debía llevar una pulsera que recreaba eléctricamente la sensación de salinidad al transmitir los iones de sodio a la boca.
The average age of the population in Japan is very high, and as I mentioned in the first paragraph, salt is one of the first things to cut out of your diet once you reach a certain age, and to be honest, food without salt does not taste like anything, so this can be a great invention that brightens life for the elderly.
La media de edad de la población en Japón es muy alta y, como comentaba en el primer párrafo, la sal es una de las primeras cosas que te suprimen de la dieta una vez que alcanzas cierta edad y, para ser honestos, la comida sin sal no sabe a nada por lo que esto puede ser un gran invento que alegre la vida a los mas añosos.
More information/Más información
https://www.dailymail.co.uk/sciencetech/article-11644933/Japanese-scientists-develop-electric-spoon-zaps-tongue-enhance-foods-salty-taste.html
https://www.alimente.elconfidencial.com/bienestar/2023-02-06/tecnologia-cuchara-electrica-sal-salud-comida_3563551/