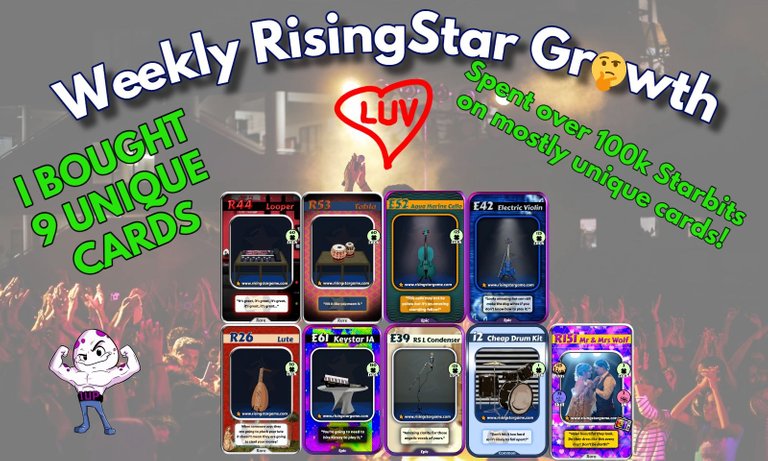 Rising Star Profile
Here are some quick stats about my account.
Rank: 123
Level: 93
Missions: 4303
Mission Ego: 10677
Lesson Skill: 20915
Card Fans: 31002
Card Skill: 25858
Cards Luck: 7291
Cards IM:502
Unique Cards: 269
Total Cards: 1339
Joined 8/12/21
Packs Purchased: 3
Boxes Purchased: 10
Pizza Slices: 6
Pizza Box: 4
Coffee Cup: 1
Risky Whisky: 1
Cans of Petrol: 5

Card Buying Binge 106k+ StarBits
I decided to attack my collection this week vs adding bulk. I didnt see as many deals for low priced cards outside of common instruments and I just didnt feel like buying them. I did add a few more Firefly and Stewie and a Cheap car to add a few more fans and a bit of skill, but honestly they were just there and I was bored.
I mostly decided to target Epics, and the lowest priced ones I needed to add to my collection. I managed to add 4 new Epics, that that feels great to add that color to my collection!!!
Didnt do much to my lessons potional, but I did add value to my unique number.
I also finally found a i2 Cheap Drum Kit, that tooks months of looking to find one for Starbits... it feels great to finally cross that one off the list!!! I also added a few Rare instruments that I needed. Looking at the table below, I added 9 new unique cards to my collection that helped raise my ranking to 123. I know I need a lot more work to keep climbing the ladder.


Next Buys
It looks like there are new common cards that were added in the last few weeks that I need to add to the collection, and I have so much work to do in the band member section. I will just keep adding the cheapest card I don't have in my collection and see if I can add another 10-20 cards next week.
Not sure I will get enough to also buy a box but I am starting to get the box itch....
I have also thought about just going bonkers and buying all the drums I can find to boost my lesson score so I can do fewer lessons to make up for the increased ego per mission I am picking up.

Major Milestones
Starbits Millionaire
Level 50 to Unlock Starbits Millionaire Mission
Level 55 to Unlock Local Mini Tour Support
Level 80 to Unlock Country Tour with Cheap Rehearsal Room
5 Cans of Petrol
Thoughts and Comments
Let me know what you think I should do next, or how to improve my band better. I got PIZZA, LUV to tip if they are working.