It is the art of compulsively collecting collections, for example stamps, coins, coffee cream lids (yes it does exist), small cars, nft cards,…, and the famous RisingStar cards.
It takes us as soon as something is amazing, well designed, that catches the eye.
It starts when we have a copy, then a second and little by little over time when we look back or when we take an inventory of what we have in our possession, we realize that we have already a nice collection. And this is the end, we have put our finger in the gear, we absolutely need the missing items.
It's a real passion, we love what is done well, we look at the details, we look for the story of the object or the photo.
No, it's not a disease, but a full-fledged social network, it's easier to talk to people who have the same passion.
The flip side is that it can get really expensive, because we always want the one we don't have, yes you know those Legendary or Epic cards which are very rare. Obviously, it is not easy to obtain them, but the day we manage to acquire them, we derive immense satisfaction.
The RisingStar team managed to share their passion with us, they made their project come true and their overflowing imagination never stops.
If I am writing this post to you, it is because I managed to acquire this weekend an * Epic * card which I was missing, this it the card "E6 The Pad of Chaos".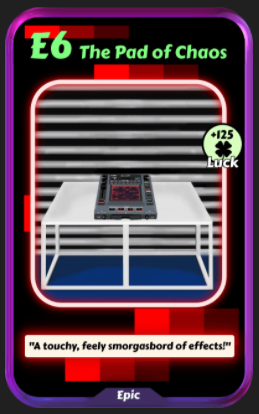 A personal satisfaction to acquired.
Come on !, I roll up my sleeves to further expand my collection.
I wish you an excellent evening and full of joy in collecting your cards. You have you wish to join RisingStar here is the link : https://www.risingstargame.com?referrer=cookaiss
My previous post : https://peakd.com/risingstar/@cookaiss/aarrrrggghh--where-is-my-hive-power