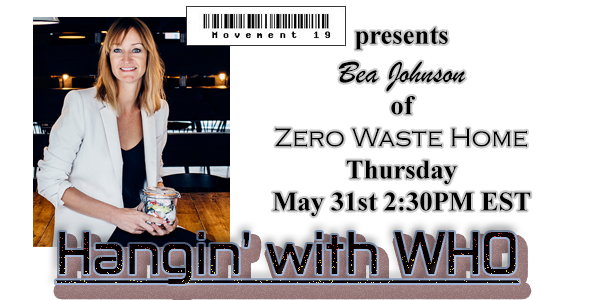 ---

Hangin' with WHO Special edition Thursday, May 31st 2:30PM EST
Please join me this week on a special edition of
Hangin' with WHO
for a very important discussion with an individual who should need no introduction.
Bea Johnson
is not just a best selling author with more than one
TED Talk
under her belt and world renowned leader within the Zero Waste movement; she is a mother, a wife, a professional and a role model to me. I discovered her by way of
Youtube
a couple of years ago after having followed
The Story of Stuff Project
for several years before that.
I had never imagined it would be possible to live a hustle bustle lifestyle within mainstream society without contributing a great deal of disposable single use items to our waste-stream. I'd taken the time to learn just how detrimental to the environment my own apathetic and listless behavior was. What I hadn't taken the time to learn was how many different options there were for me to reduce my personal contribution to the destruction of our biosphere. I knew we were ruining the global ecosystem, but did not understand to what extent and how I could play a major part in changing my family's habits and in turn inspiring and influencing others to do the same.
While I understand that anger and frustration are a perfectly normal reaction to a highly alarming situation, I had yet to understand that my concerns and compassion could be channeled in a more creative and constructive manner. I stopped utilizing most, at this point almost all, single use plastics other than what already exists among my belongings. I'd already spent years teaching myself how to eat healthier and prepare my own foods, even on the go, and stopped using things like baggies and disposable cutlery. I made conscious choices when eating out to choose places and dishes which didn't require me consuming something in Styrofoam or plastic containers. I began to notice an increase in my overall health as my diet and consumptive habits improved. I felt less anxiety about my environment and the future began to seem less bleak.
---
I continue to struggle with this from day to day. I cannot tell you that making such a lifestyle choice is going to be easy for anyone of us unless we were to become a recluse and live in the woods perhaps. I am part of the Dixie Cup generation. My parents were sold the idea that it was more sanitary and far more convenient to dispose of something that came in contact with your mouth and/or which contained food and beverage than to wash it and reuse it. This sort of practice allowed grown ups to more easily "grab-and-go" when "on-the-run" than take the time to prepare and care. We were ingrained with habits which are as difficult to break as a drug addiction for many of us.
I anticipate a deep, heartfelt and emotionally challenging conversation with Bea Johnson this week. It makes my chin quiver just typing out this last paragraph. I ask you to please listen with an open mind. I do not expect you to become a super anti-plastic warrior after this Thursday afternoon and go around shutting down plastic factories as the ALF did to animal testing laboratories in the 80's. We can make far more headway by speaking with our dollars. By simply not purchasing and accepting single use plastics we can make a tremendous difference almost overnight. I've already been to towns in the US where single use plastic bags are banned. Some countries are beginning to create Zero Waste oriented legislation and protocols for their own waste-streams. The fact that this may be the first time you have given this any serious thought is quite forgivable. If it becomes your last time, it will be quite regrettable in the eyes of future generation.
---

📡 Live stream...
To hear the live stream and participate in a live chat during the show follow this Mixlr link.
You can listen via web browser or download the free Mixlr app to any device.
Please make a username and join us in the chat if you like. We will surely have a Q&A after one hour.

---
If you enjoy the music I curate and content I create, please visit & follow on these platforms:

🙏 Thank you for your continued support ✊.

Your contributions help keep the #EHO homestead afloat as well as fund my personal fight against the War on "Drugs".
---
---
---

---
---
---

---
---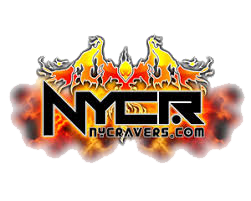 ---
---
#vaccinescauseavianflew