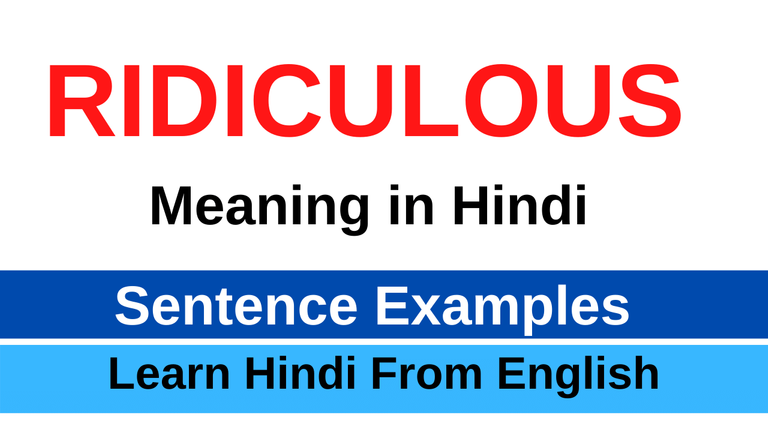 Meaning of Ridiculous in Hindi
English Hindi Dictionary - Shabdkosh - Ridiculous - बेतुका, बेहूदा , भद्दा, मूर्खतापूर्ण, ऊटपटाँग
Stupid or unreasonable and deserving to be laughed at
मूर्ख या अनुचित और हँसने के योग्य
In this video, I'm going to explain the meaning of the English word "Ridiculous " and how to form sentences using the word Ridiculous.
Watch the Video Here on my YouTube:: LBRY.tv / Odysee channel::
---
---
Ridiculous Synonyms (समानार्थक शब्द ):
Nonsensical - बेतुका
Foolish - मूढ़
Laughable - हास्यास्पद
Idiotic - मूर्खतापूर्ण
---
Ridiculous Antonyms (विलोम शब्द ):

Believable - मुमकिन
Credible - विश्वसनीय
Wise - समझदार
Good - अच्छा
---
Sentence formation with the word - "Ridiculous"
Do I look ridiculous in this hat?
क्या मैं इस टोपी में भद्दा लग रहा हूं?
He often says ridiculous things.
वह अक्सर मूर्खतापूर्ण बातें कहता है|
It is ridiculous to dispute about such things.
ऐसी चीजों के बारे में विवाद करना बेतुका है।
It's ridiculous to expect a two-year-old to be able to read!
दो साल के बच्चे को पढ़ने में सक्षम होने की उम्मीद करना बेतुका है!
---
Ab aapki bari - Now your turn to make a Sentence - नीचे कमेंट में आप Ridiculous
शब्द से सेंटेंस बनाकर बताएं |
---
PS:- This is the original work of my Youtube Channel LearnTogether
---
Posted from my blog with Exxp : https://healthdear.com/meaning-of-ridiculous-in-hindi/
---