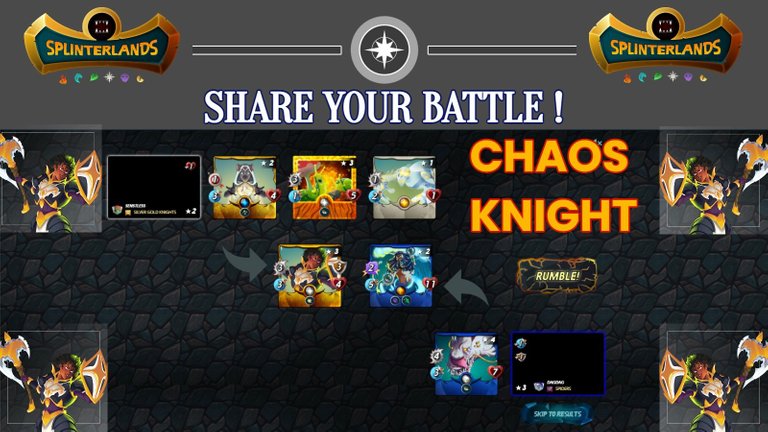 Back To Splinterlands -Building My Team to Level 2 Summoners
My Goal is leaning towards getting as many cards in 1 BCX GF as I can, but this will be a slow goal. I will get all the epics and legendary in normal that I can as I try to get common and rare cards I use often in GF first. It will be a long road, but it makes sense to me most of the time to buy 1 bcx and not combine it vs trying to buy 14 cards and combine to a level 2.
I am slowly getting a better collection. Adding Gold where I can, and the legendary that I can afford that make the best game play sense. I know many of the older cards are great, but the best return for me right now is to keep improving what I have and avoid the super expensive cards as I grow.

Weekly Challenge - Chaos Knight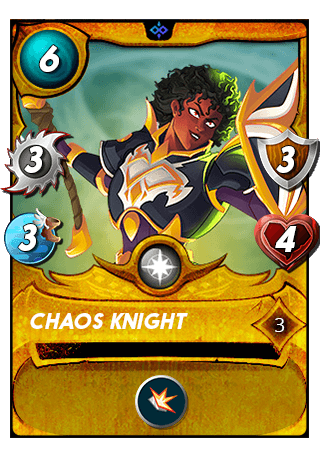 Edition: CHAOS LEGION
Rarity: COMMON
Element: LIGHT
Attack: MELEE
Abilities: SHIELD
Health: 4
Armor 3
Speed: 3
Attack: 3
Reasons Why I like it
Love Shield when you can reduce your risk to magic. Having nice a nice blend of Shield + Armor + Speed + Attack makes a great combo. While it could use a little more health, its a a solid card and great tank at 6 mana.
Its is really well balanced and if you can use Mother Khala to boost its health by 1 then you are really getting a boost and more value from your tank. I actually bought this card in Gold just for this weekly challenge when I saw I didnt have it. I use it often enough to justify the GF, I love GF in my lineup!
The Matchup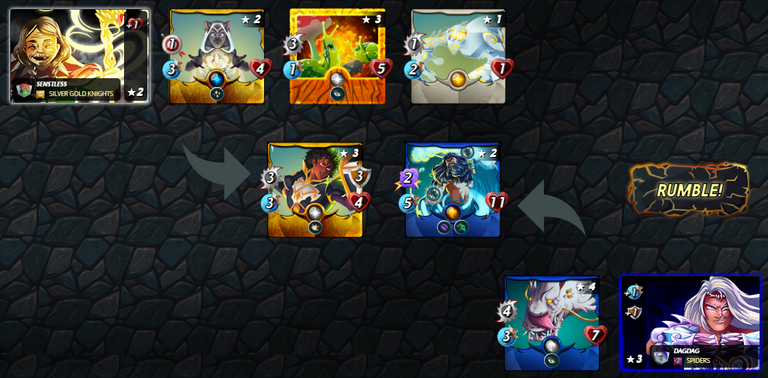 https://splinterlands.com?p=battle&id=sl_78b911f0606352c2c68c0aef25870ee0&ref=senstless
MANA: 18
RULES: Close Range: Ranged attacks may be used in the first position in battles
SPLINTERS: Life, Water, Dragon
Overall Thoughts and Lineup
Decided to it was unlikely to get a lot of magic since most splinters are a little light on good magic in 18 mana. Thought it was more likely to have thorns or shield to deal with.
Summoner Mother Khala
I decided the additional health would be critical in the low mana match and I was unlikely to benefit much from the additional range attack.

First position Chaos Knight
Tanks do what Tanks are going to do. Be first and take some hits. Put it here since it low mana and I felt like I had a good chance to take and deal some damage.

Second Position Venari Crystalsmith
Critical to get some heals since I am only dealing with a base of 4 health, up to 5 from Mother Khala. Having it get healed a few times will really help push to the later rounds. plus it will also have 5 mana, and will heal it self in 1st potion and will deal 1 range damage. Its really a perfect fit.

Third Position Cave Slug
I love my Cave slug, Oppertunity and 3 melee. Sure it is slow, but for a small mana cost I can get a couple of bit hitters in.

Fourth Position Soul Fiend
Pure oppertunity target. I load it up to save my other cards from getting knocked out before they get a turn or two.

Opponent Lineup & Match Play
Well I was wrong, there sits Djinn Oshannus in first position. Amazing speed, 2 Magic and Shield.. Going to be hard to knock it out, followed by a Deep Luker for a 2nd card. Another big hitter with oppertunity and good speed. I am really worried and almost skipped watching. So glad I didnt.
Round 1
Speed speed speed. Thats right, I will always be going after both their cards go. Djinn is first, dealing 2 to Chaos Knight, dropping it down to 3. So glad I boosted the health by 1!. Then Deep lurker goes and aims right for the oppertunity fodder I set up in Soul Fiend!. Sure it is knocked out, but guess what, I am still fully stocked after the first round, and have enough health to get all my cards to round 3!.
Finally I get a turn and I heal Chaos Knight 2, back up to 5. That means I can stay even for a few rounds and not lose my tank! I get lucky after the heal and my arrow hits taking away the armor. this is followed by more good forturne of Choas Knight connecting and dealing 3 more damage. Last but not least, Cave Slug gets into the action and take out the armor on deep Lurker.
Round 2 - How will the cookie crumble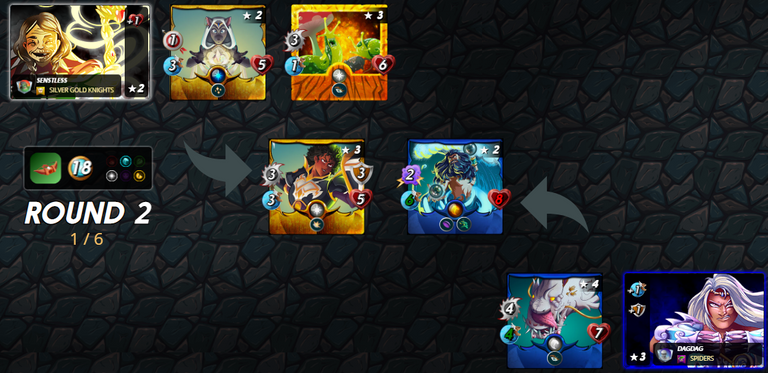 Repeat of Round 1. Djinn taking 2 from Choas Knight, and Deep Lurker taking 2 armor from Chaos Knight leaving 1 for round 3. As I get into my turn things are starting to look good, assuming I can connect. Venari crystalsmith heals, and then misses its attack. But amazingly both Chaos Knight and Cave Slug hit, dealing 6 damage leaving Djinn with only 2 health. Having both hit, with the speed difference of 3 and 5, was a big luck factor for me!
Round 3 - Close to Victory!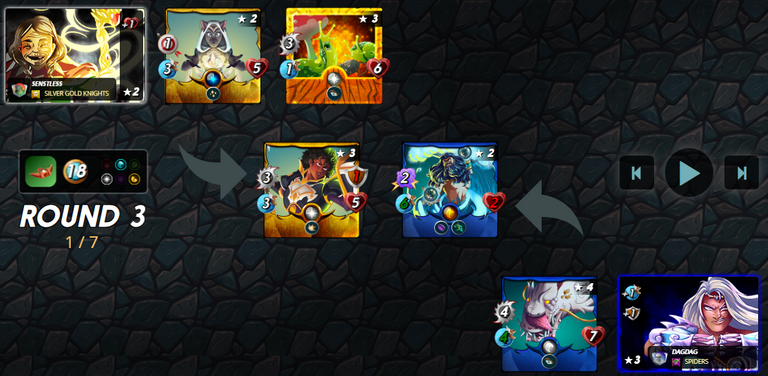 Djinn starts off again dealing 2 magic damage, followed by Deep Lurker taking the last armor from Chaos Knight. In a repeat of round 2, Crystalsmith heals Chaos Knight and missis her attack. My luck appears to have run out and Chaos Knight also adds a miss, but somehow the day is saved by the slowest attack, Cave Slugs blindsides Djinn and knocks it out of the match.!
Round 4 - No Way to lose.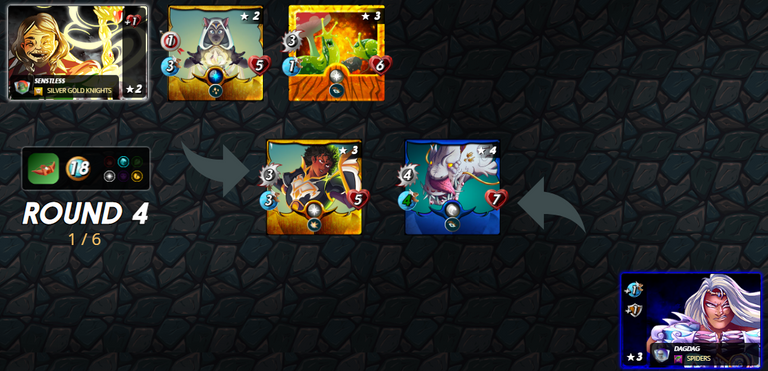 Sure, Deep lurker looks impressive with 4 melee but that pesky Shield for Chaos Knight means it will only take 2 damage from deep Luker... and as we know from the first 4 rounds it will get healed by 2. That means, no matter the misses, I should eventually win before we get into fatigue.
Funny Pat is, there were no misses this round, all hit, and deal exactly 7 damage to deep lurker locking up the win.
Thoughts
The initial board didn't look good, and I felt silly for my line up.. given the speed and magic I felt sure to lose. I think I got lucky with a few of the hits that clearly could have been misses that would have really changed the game. I would be curious to know the epected result if this lineup was run 100 times. I can't quite tell if the line ups are as close as they played or if I should lose the majority of the games.
Take a look and let me know if I happed to have the perfect counter up, of if I got lucky with my hits and likely would lose if run back.