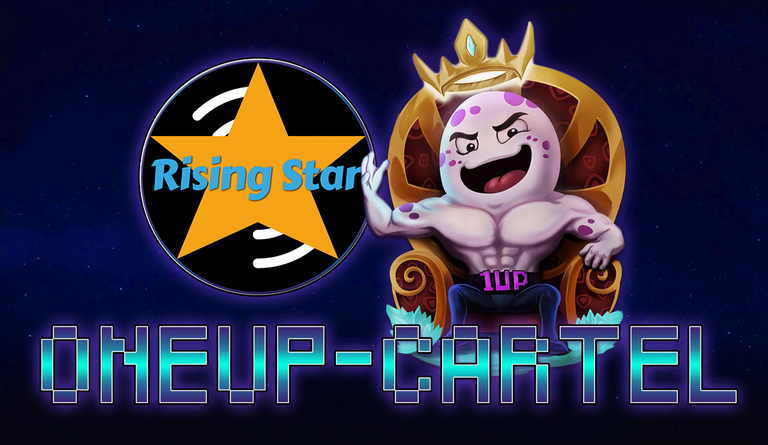 I am the Account Manager for the Rising Star Game Account of the Oneup-Cartel, so this post is about my weekly progress on playing the game! The Oneup-Cartel is a very active gaming community on the Hive blockchain. 😄

Rising Star Game
Hey everyone! 😊
How are you doing?
I am good! Just very busy with preparations for my birthday party on sunday in the Hive PIZZA Community Discord! 😉 I hope to see you there! We will listen to music, play games, do alooot of giveaways (also ONEUP Tokens 😉), great surprises and announcements! This year is gonna be great!
Anyways, this is my second report about playing the Rising Star account for the Oneup-Cartel.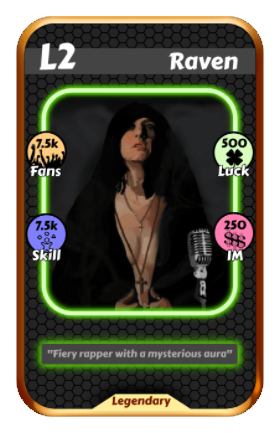 Rising Star is a P2E game on the Hive blockchain where you start as a lowly busker and work your way up to stardom. You can either invest money in to to speed up your progress - by buying cardpacks or cards from the ingame market - or also start playing without any investing any money. That´s what I really like about the game, that everyone has a chance to play and can make great progress. Not only the people who can invest money in it.
This game might not seem to be complicated at first glance, but it has alot of tactical elements to it, which - I can see that in the community - most people don´t really have a clue about. But to maximize your earnings (and I think the ROI of the game is really good), you need to understand and play these tactics.

This weeks post is about the EGO. The probably most important feature of the game.
As I already said last time, the more fans you have, the more starbits you will earn for doing missions. But as soon as you turn level 15 or have more than 1000 fans, the Ego will start to work. You can find it in the top left corner, near your energy bar.
It is important to keep the Ego as low as possible - yeah I am also not at 0%, shame on me!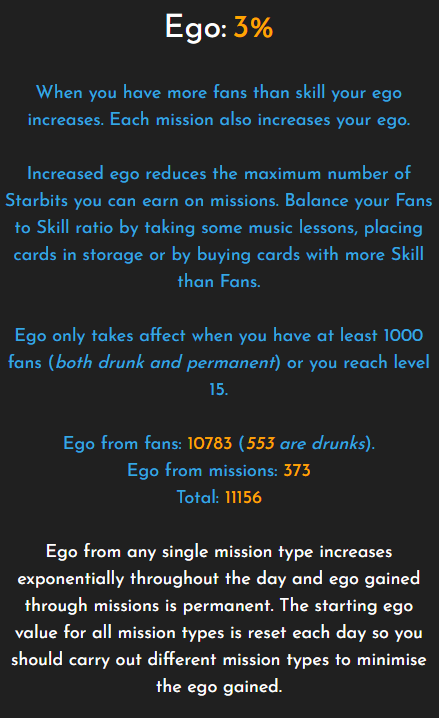 Well how do you do that now?
Ego is calculated through the fans of the cards you have plus your temporary drunk fans you get during missions plus the Ego you get when you do missions. If you hover over the Ego bar, you can see additional information and see how much total Ego you have. In my case it´s now 11156.
To keep the ego at 0, you need at least as many SKILL points as your total number on the Ego.
I only have 10812 so far.

What you could do now is, just buying cards from the market which have alot of SKILL. But that is not a very good method on the long term. Of course it´s not totally wrong to do it if you can grab some reaaally cheap cards from the market. But otherwise I would not recommend it.
Because your Ego keeps going up in the further game. Not only when you gather more fans but especially when you keep doing missions.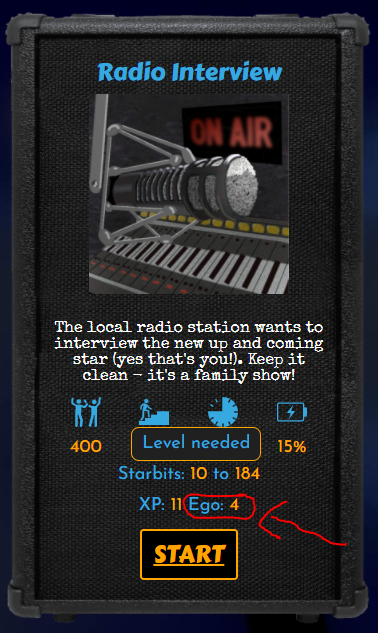 At the moment, for my current mission (Radio Interview) I get 4 Ego. But this number will go up over time. The more you do that mission per day the Ego of the mission will grow.
And it also has another multiplicator, which I am not completely sure of what it is. It´s either connected to your level, your fans or the total number of how often you did that mission already I would say. But I am not sure about what exactly it is.
So you need a method to get skillpoints which kind of scale together with your progress, so you can balance your Ego out, even if the Ego points start to go up.
You do this through MUSIC LESSONS. And this is the keyfeature of the game.
Music lesson give you SKILLpoints, based on the amount of LUCK you have of a SPECIFIC INSTRUMENT TYPE.
First, you need to decide on a specific instrument type.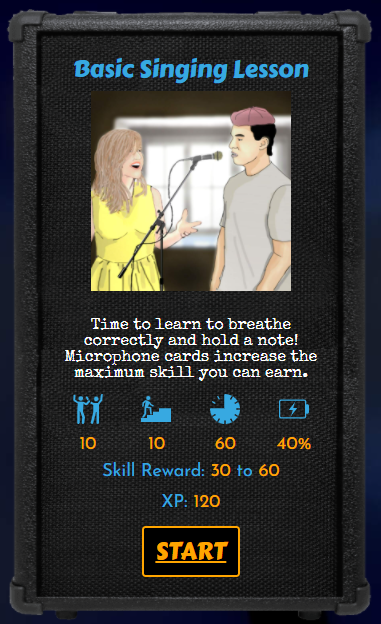 I will go for Singing Lessons, that means microphones. Because I pulled alot of microphones out of my first packs. And singing lessons are already available at level 10. So I can already do them.
Chose whatever instrument type you like best. Normally mics or orchestra are the cheapest ones on the market. But you have to decide this for yourself. It might also depend on what you already pulled out of the packs.
You will see, the more mics I will have during the further weeks, the higher the SKILL Reward on the Music Lesson will be. If you have a good amount of a specific instrument type, it is normally enough to do 1-2 Music Lessons a day to keep your Ego in balance.
Nice sideeffect of the Music Lessons is, that you gain a good amount of XP which help you level up faster.
Important: Look at the FAQ of the game! There you can see exactly which card belongs to which instrument type! Because it can get confusing, especially with Production and Piano..
I hope this is clear enough to understand... If you have any questions about the Ego, please let me know!
---
Coming back to the cartels account:
Third week of playing the account
Level reached: 23
Leaderboard Ranking: 863
Highest Mission: Stage 2, Mission 2 (Radio Studio Session)
To go on to the next mission, I need to have a higher level first.

I staked on some more records this week to get some passive income. What record staking is, I will explain later on.
Still have coins invested in the PIZZA:STARBITS Swap Pool. But the reward of the pool is quite empty at the moment so the APR is very low.
My goal is still, that I have 1 Million Starbits when I turn Level 50, to get the Millionairs Card.
Further goal is to collect so many more mics, that my Skill Reward is at least 100-200 Skillpoints per Lesson. I hope to be able to achieve this until the end of the month.
---
So guys, I hope my post aroused some kind of interest in Rising Star and I hope to see you in the Rising Star Discord.
If you don´t know about the Oneup-Cartel yet, you should also join our Discord and hang out with us! We will be very happy to have you there!
Hope to see you soon guys and have a great day! 😊💜
Best regards,
Raven 🐦

What Is The Oneup Cartel?
| Meta Gaming Guild | Meta Curation | Meta Dividend Token |
| --- | --- | --- |
| Splinterlands, Hashkings, dCity, dCrops, Rising Star, Farming Tales, Crypto Raiders, Gods Unchained, Skyweaver, Ehon, PsyberX, Ragnarok, ChiFiBots - and this is just the beginning. | With @curation-cartel we control over a dozen different curation accounts for HIVE tribes, including the popular @monster-curator and @oneup-curator, with total delegations worth over $100,000 USD. | Our token is the CARTEL and by selling it we generate funds to invest into games and HIVE tribes, as well as dividend tokens, to eventually pay dividends to CARTEL token holders. |