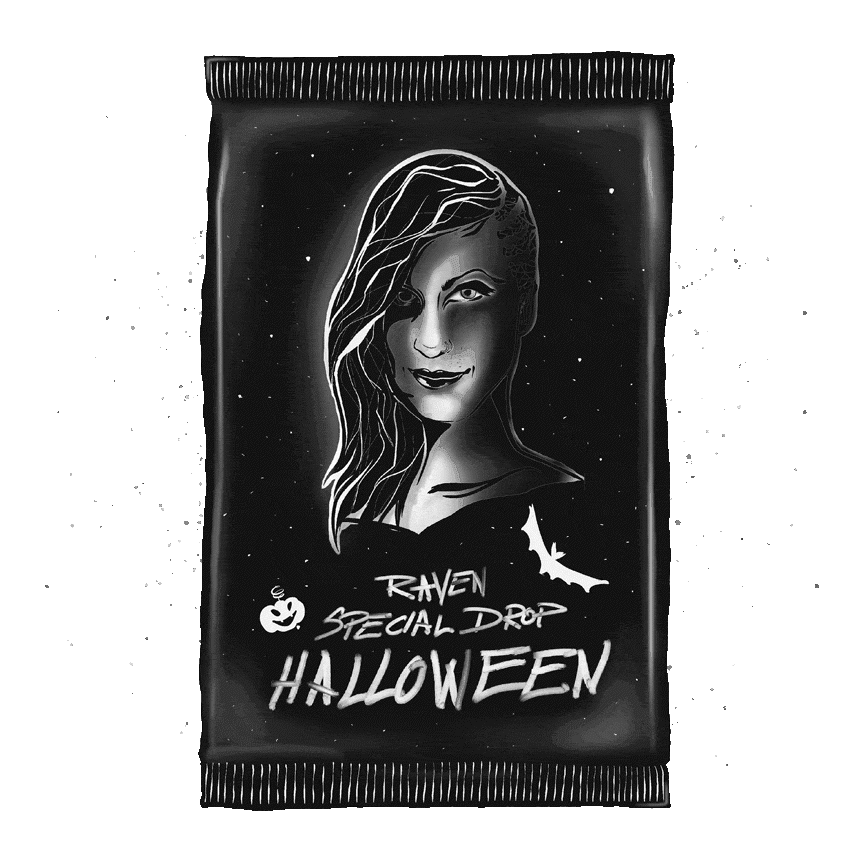 Hello again! 😊
How are you doing?
After already giving out the first $RAVEN holders drop, now get ready for the even bigger Halloween drop!! 😄
This is the second Halloween drop for you guys! 🎉
This is a HUGE collection of Halloween NFTs! 😈
This one is a little bit more complex than the previous song drop. So let me explain to you guys.
---
I´ve met a german designer at the beginning of the year through a german crypto creative group. And I totally love her artstyle. So I asked her if we wanna do something together.
I told her what I was thinking about for Halloween, and already the first picture she showed me blew my mind. She managed to do exactly what I had in mind.
I had alot of bad luck with designers this year and lost alot of money on scams and bad work.
But she is an absolute professional and I loved to work with her!
She didn´t setup her Hive account yet, so please guys, make sure to drop her a follow at her Instagram page.
Please check out Stella Petrakopoulou`s amazing work, and if you ever need anything, you should consider hiring her!
She deserves all the support you guys can give!
---
Let´s come back to the drop!
This drop contains of 81 different versions of an NFT which means alot to me. I love Halloween and I love art, so I am so happy to have this piece of art of myself.

Now let me explain the NFTs to you.
The NFTs consist of 4 different layers. There are 3 different versions of each layer.
This makes 81 different possible combinations in total.
Each Layer has a Rare, Epic and Legendary version.
The chance to get a Rare layer is 50%, an Epic is 35% and a Legendary is 15%.
Here is an overview of the layers.
Layer 1 – Background
| Halloween Mirror – Rare | Clairvoyant Sphere – Epic | Graveyard Landscape – Legendary |
| --- | --- | --- |
| | | |
Layer 2 – Face
| Normal - Rare | Dia de los Muertos – Epic | Vampire – Legendary |
| --- | --- | --- |
| | | |
Layer 3 – Necklace
| Small Crucifix – Rare | Ornate Crucifix – Epic | Black Crucifix - Legendary |
| --- | --- | --- |
| | | |
Layer 4 – Animal Companion
| Owls – Rare | Ravens – Epic | Bats - Legendary |
| --- | --- | --- |
| | | |
What do you think? I just love the art!!
🎁❗️And to make it even better, you not only get an awesome NFT. But some of the combinations are backed with prizes!❗️🎁
That means, if you pull a certain combination, you will get a prize from me.
Among the prizes, there are tokens like PIZZA, Starbits, $RAVEN tokens .
Aaaaand the rarest combination, which means all 4 layers Legendary, is the one that fits best to Halloween for me. This is the Ultimate NFT. And this one is backed with a special prize. An unreleased Halloween song of me, which you will get minted as an NFT! 🎉
If the NFT you pull out of the pack is eligeble for a prize, you can see this in the NFT description. Please come to my Discord to claim your prize then!
---
🔥There is even more! - Blending
At a later stage, you can even blend NFTs into the Ultimate NFT. So e.g. if you have 4 NFTs with one Legendary layer each, you can blend into the Ultimate NFT. Blending will go live soon.
So keep your NFTs to be able to blend! 😃
I really hope you like this drop as much as I do!
Now have fun collecting guys! 💜
---
▶️Here are the drop links◀️
These drop will not be for free (except for my DIAMOND holders). Because the artist put alot of work into it, and I want to reward and appreciate great art.
---
💎If you are a DIAMOND $RAVEN holder, you will get one pack for free.
-- You have 1 week to claim your drop! --
---
💿If you are a PLATINUM $RAVEN holder, you will get one pack for a reduced price.
-- You have 1 week to claim your drop! --
---
📀If you are a GOLD $RAVEN holder, you will get one pack for a reduced price.
-- You have 1 week to claim your drop! --
---
If you don´t have $RAVEN coin yet, you can just buy the packs here:
Do you want to become a $RAVEN holder to get the next NFT and song drops?
Then you can buy $RAVEN here. 😊
Please read about my token here, before you consider buying it.


---
If you have any problems with claiming or buying the packs, please let me know in my Discord!
---
Ok guys, I will now leave you to open your packs!! 🎉
Let me know what you think about this drop. I really hope you like it!
I wish you a great day! 💜
Best regards,
RAVEN 🐦
---
I still need the wax wallet addresses of the following people for the next drop:
@pizzaexpress @polarmystro @alic3wund3rl4nd @taskmaster4450 @hive-183741 @tfranzini @tokenizedsociety @synergized
You can either submit the address in my Discord server, or send an email to raven@twinsoulrecords.de. Thank you guys! 😊

---
I am very thankful for everyone who supports me on my journey!!