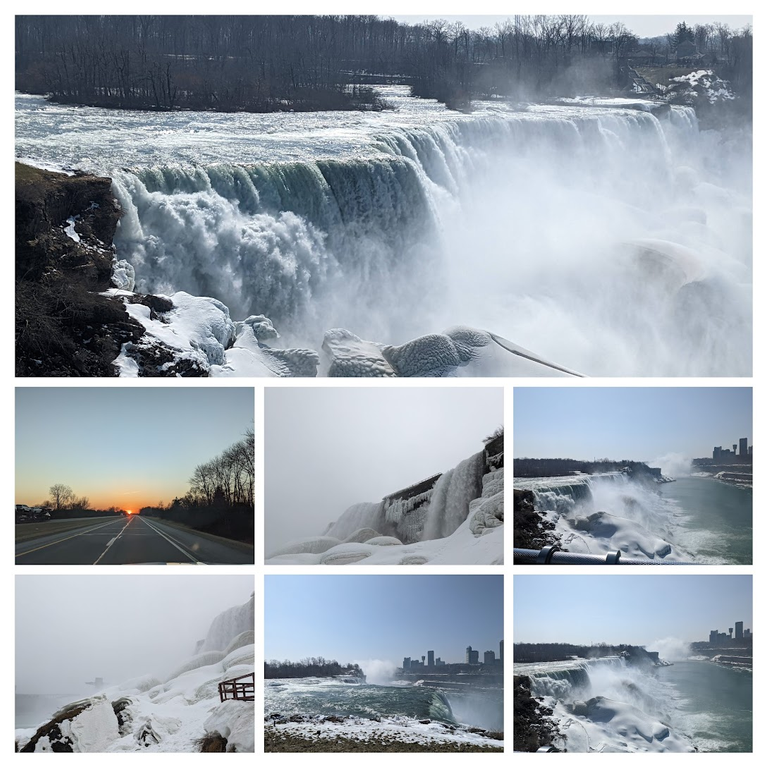 Did you Say Sunrise Fogged In!
Well we were up for the sunrise, but we could see nothing. I am talking about 4 inches from the window was nothing but white. It was crazy, I am not sure I have ever seen fog this heavy. While it got better after a few hours, especially at the street level, the 48th floor stayed pure whiteout until we checked out.
Trouble at the boarder.
My wife and I walked across the boarder a few years ago, actually over and back in the same day. But now with Covid Testing requirements for Canada entry, we had do it on the way out. That means my wife and kids walked over and I drove over. They wanted to walk for a few reasons, it was only a few miles, how many people actually walk over a boarder? and there are good views and photo ops from the bridge (well, without fog at least).
I dropped them off and started my drive over... and all was well until talking to agent. I was afraid of that part. When they start asking what we were doing, I mention brining the kids to see the falls... but when he does a double take in teh back of the truck... Its empty. So I quickly add that my wife and kids are walking over. I can see the skeptisim creeping in... not good.
He says its a long ways and why would they want to walk over.. how old are the kids. Its not like he would believe that we walked 15 miles the day before... and given how lazy most kids are, walking miles could be tough I guess.
As the panic starts to creep in, I bring up the fact that my wife and I had done the same thing a few years ago when we came without the kids. This did NOTHING, and he still had that look that said.... secondary questioning..... Now this guy is around my age, so its a 50/50 shot if he married with kids. As I continue to ramble on, thinking about them tearing apart the truck like you see on TV I said. My wife wanted to the walk over with the boys. You know take a photo at the boarder line on the bridge with a kid on each side for the photo book.
It was at that moment I see the recognition... he lets out a sigh, clearly not about me. His face fell slack, no longer suspicious. It spoke to a life of having to get the correct photo ops for books, albums, online posting. Lots of staging for "perfect" shots. It was followed with a "gotcha", slap the documents back in my hand and says, "have a nice day."
I was over... with a truck load of dirty clothes and stupid expensive souvenirs and photos.
Clearly my wifes interaction was much different. Walked over, chatted for like 2 min as the scanned documents, then gets chased down in the parking lot by the agent with Patches for the kids to sew on their bags. All smiles and have a great day....
Cave of the Winds Tour - Niagara Falls NY
We took the kids on the Cave of the Winds tour. You get to watch some history and ride an elevator down to the bottom of the falls. Given it was winter, there was alot of the access points that were closed because they were sitll filled with snow and ice, but you can still get really close.
The Views Are Cool
You get really close and get to see the falls looking up. You also get a closer look at the river below and have a chance for a few good photo ops.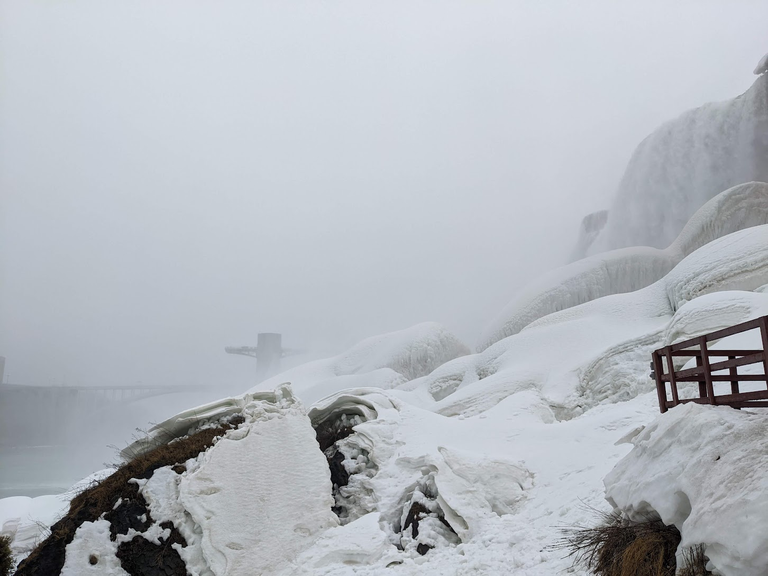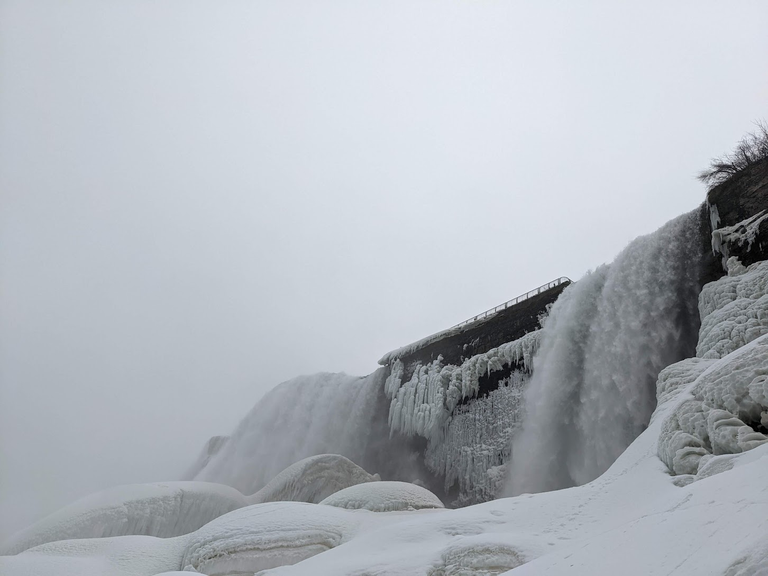 Goat Island
Since we were walking all around Goat Island, we stopped at the best places for photos. Terrpin Point was still closed because it was covered in snow and ice for the season still, so we were not able to get right next to the falls, but we still had good views.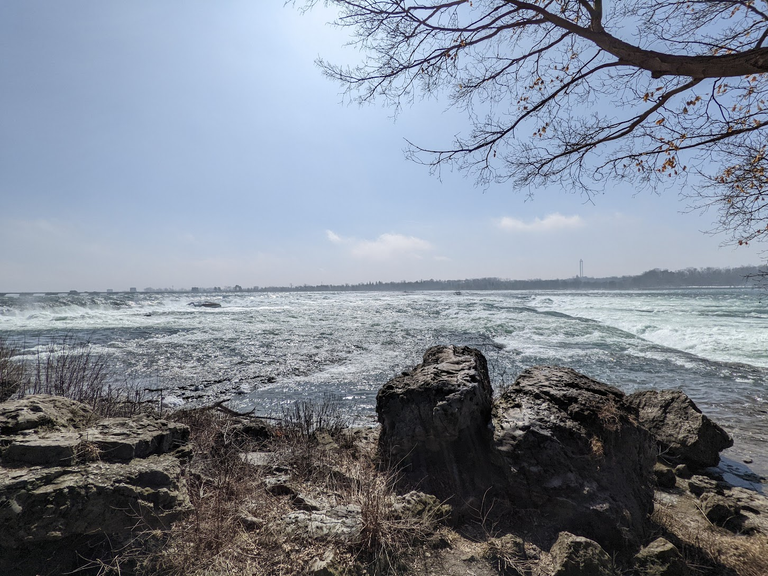 Niagara Falls State Park
After walking back from Goat Island, we went to the look outs in the state park. While normally this area would be packed with loads of folks taking the Maiden of the mist boat tour, given the snow and ice, they were still closed for the season.
This let us wander around get nice views.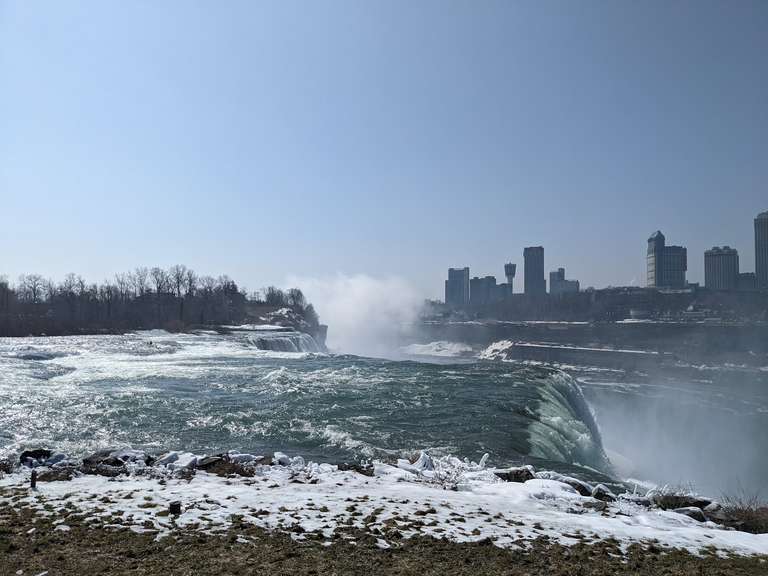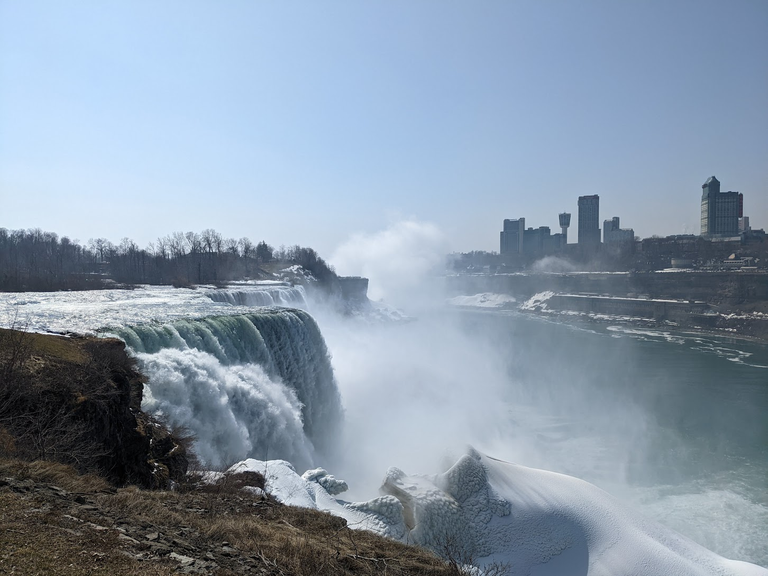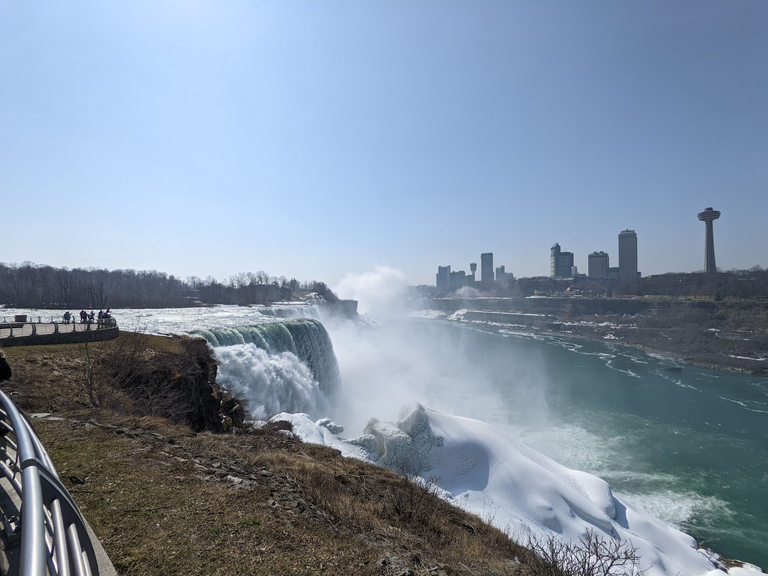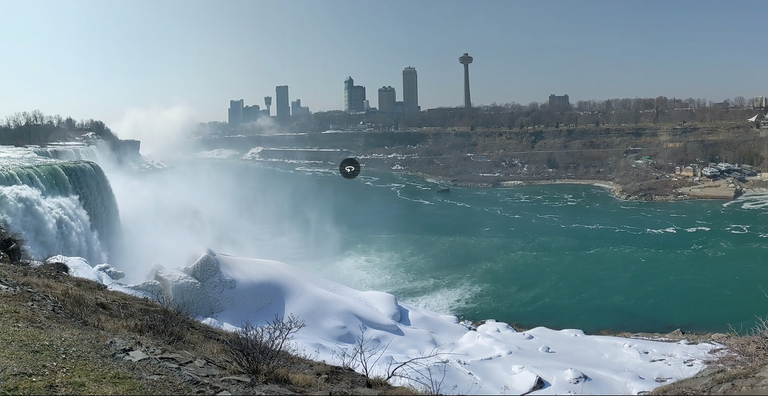 Niagra Falls Observation Tower
We went out to the end of the observation deck, and got the last good pic for the trip. While it was a nice day, and low tourist season, the deck was still crowded. I think its about the only thing to do on the US that isnt walking, and most people probably couldn't get over the boarder.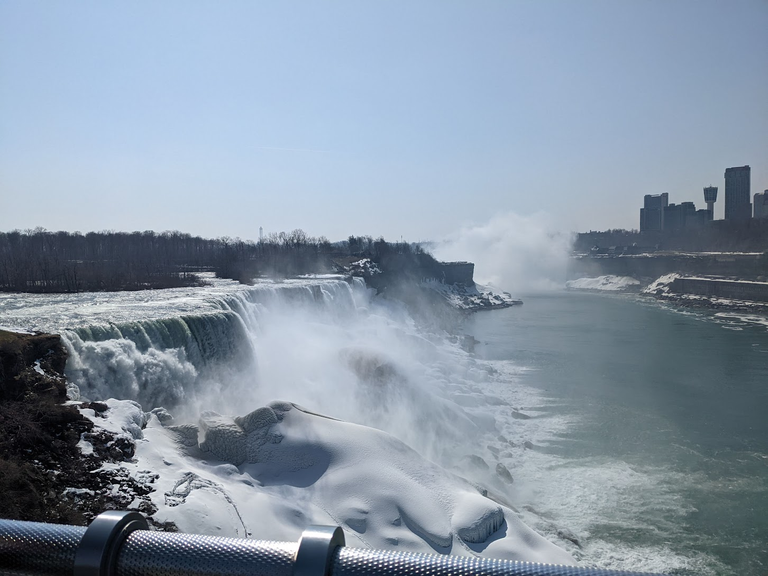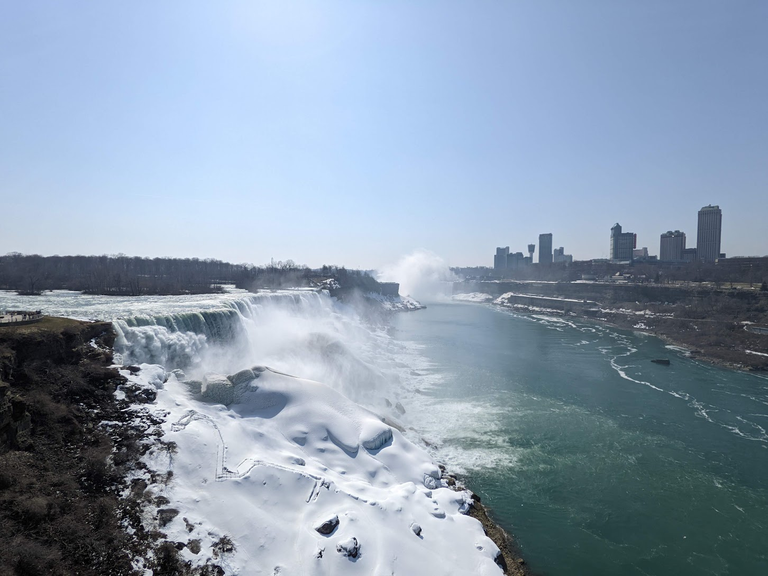 End of the trip
We left Niagra Falls about 2:30 in the afternoon. Given that driving home through buffalo NY and on the south side of Lake Eerie added time and miles, there was no way we were getting it done in a day. That said, the road trip rules were enforced and we stopped twice on I-90. Given the late start, I needed fuel and coffee to keep grinding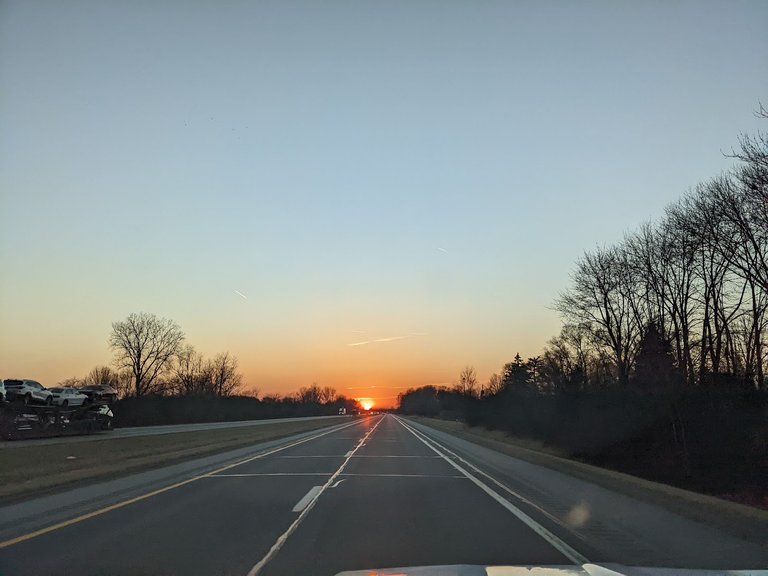 We drove into the sunset chasing it home. We drove until about 10pm at night. I found hotel on and managed to use points when we stopped. It was in Southbend, so we pushed for about 475 miles and over 7 hours.
We crashed- and I couldn't sleep. The furnace would kick on and off no matter the setting. When I woke up at 3:55, I said, lets get in the truck and get going. I was hoping to clear Chicago before it got crazy... I didn't. That was the crazies Thursday morning rush hour I have driven in. We got home at about 10am given the time change and pushing through. Time to unpack, do laundry, and get grocery. Not to mention I had to work Friday!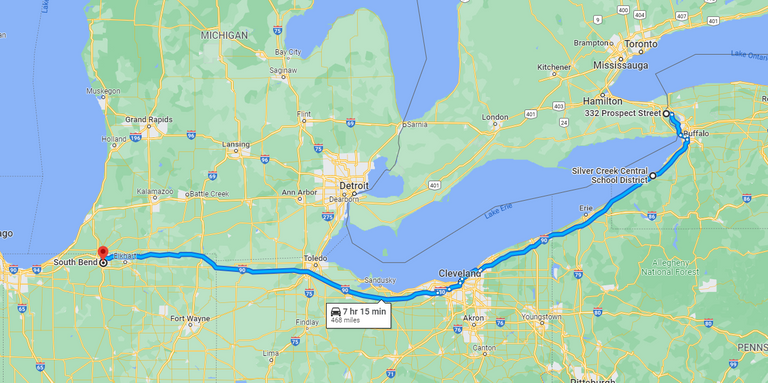 Vacation Stats
Day 1 Drive to Niagara Falls!!! 810 Miles
Day 2 Walk 10-12 Miles exploring. Hersey Store, Behind the Falls Tour, Skylon Tower, SkyWheel, Lots of looking at the falls!!!
Day 3 More Exploration, Butterfly, Helicopter, 7.5 Mile Walk and More great views
Day 4 More walking, Mini Golf, walking the Falls and exploring the park history
Day 5 Niagara Falls USA - Cave of Winds, Observation tower, Drive miles and miles
Day 6 Drive home and try to recover