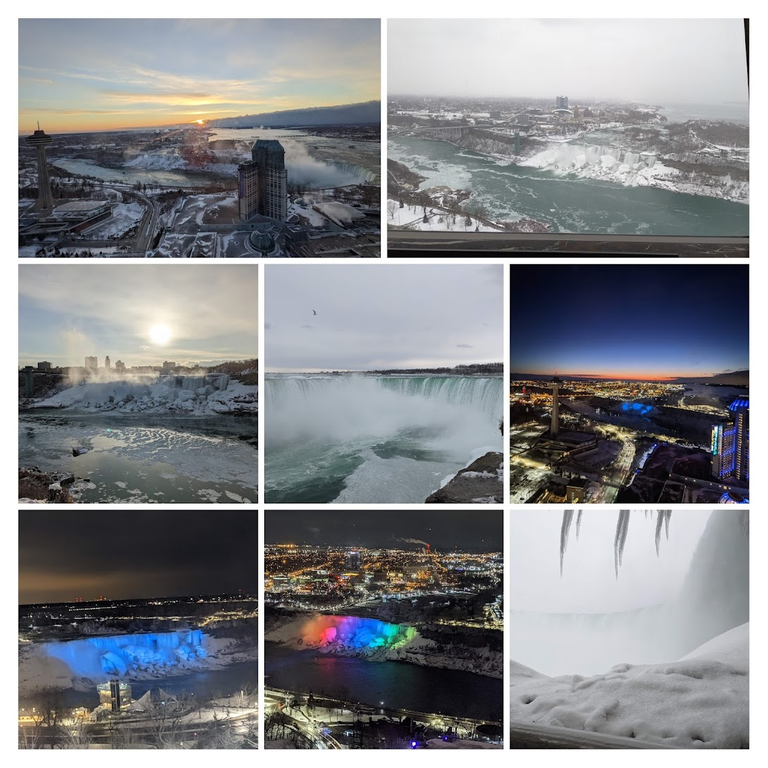 Did you Say Sunrise
We always get up before the sun comes up. Why go to a new location if you are going to spend all day in bed. We got beds at home for free, since we are here its time to get up and explore all day. Plenty of stuff to do and see, no need to sleep in and watch TV!
Now clearly it helps to move timezones to the east. We already get early, 5-6am, so now that is 4-5am Est. At least I had to keep laying around and trying not to make noise early in the morning before I could get coffee and watch the sunrise.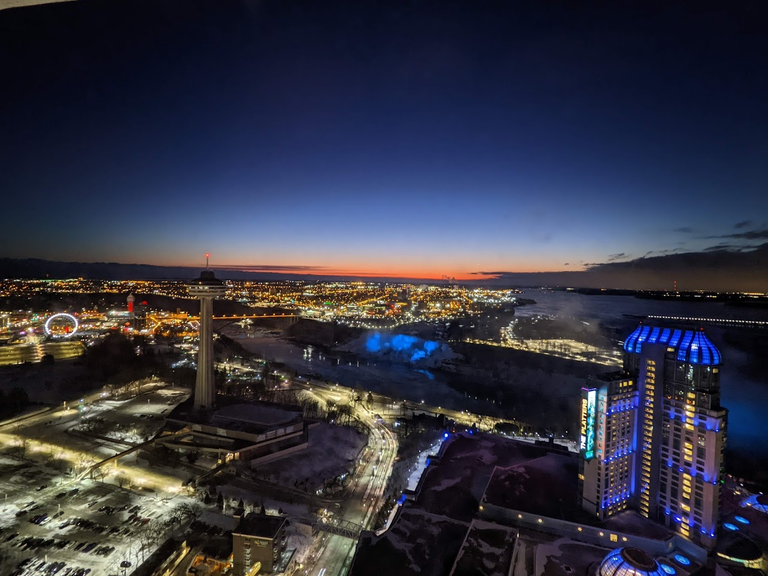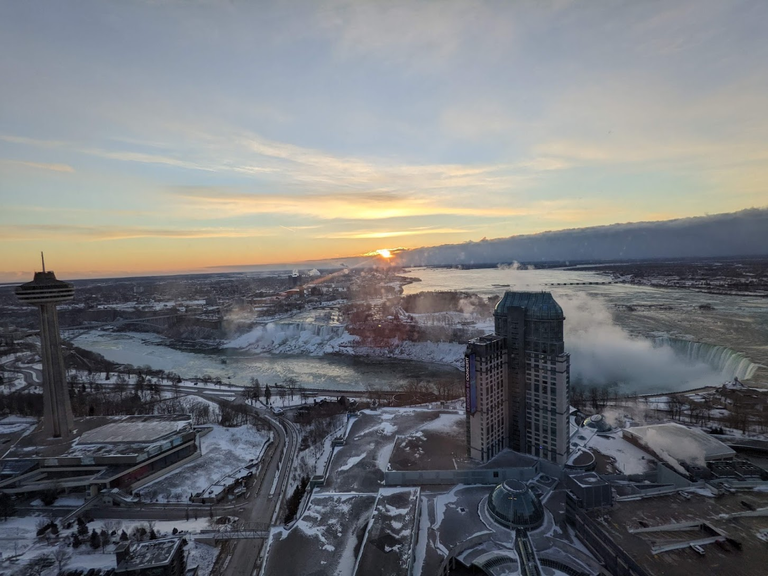 All the Tourist Stuff!!!
After watching the sunrise, and getting Starbucks from the lobby ( they opened at 7am and were our best breakfast choice) we were our to walk around see the falls. While it was house before the tourist stuff opened, it was nice to get out when there were less than a dozen people walking around.
American Falls and Bridal Veil Falls.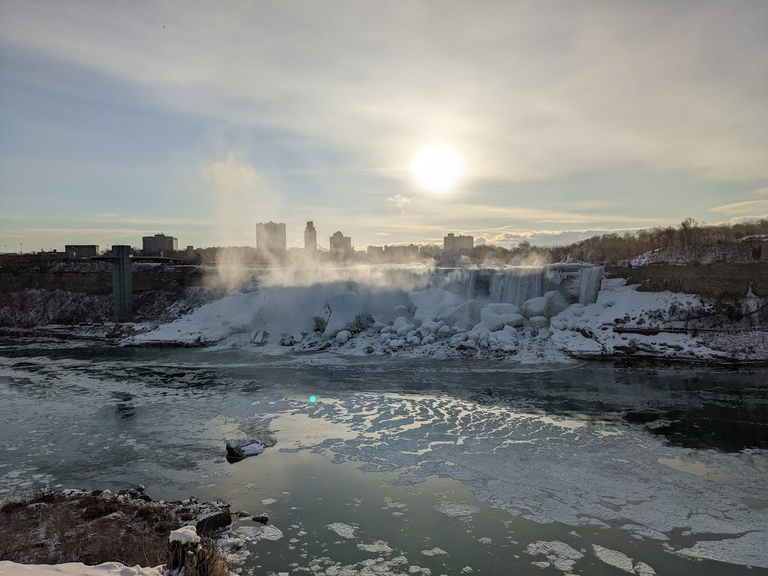 Horseshoe Falls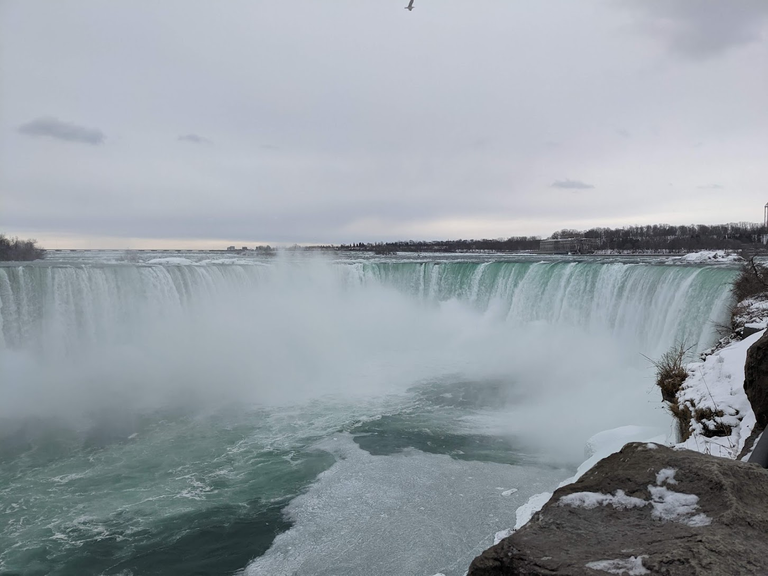 We walked to both end of the falls and enjoyed the views. There is just something about seeing that much water falling over. Not to mention the sound, the roar is so impressive and I feel it more than hear it. It a strange a sensation but I feel similar to when you sit on the beach and feel/hear the waves crashing in. It gives off a sort of energy that makes me happy and peaceful. That sound has always told me how insignificant I am, and how much raw power there is in the water.
Behind the Falls Tour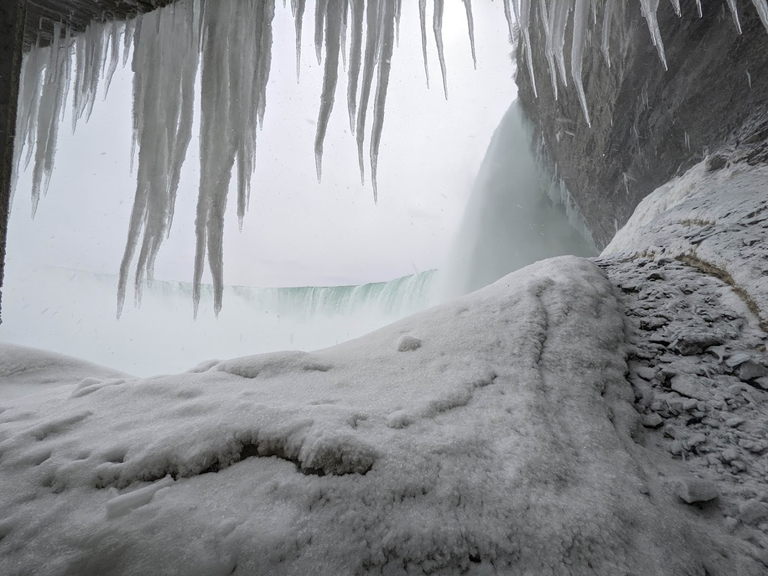 We did the behind the falls tour. It is always crazy to think you are walking in tunnels, under a river that leads to the falls. Every now and then I really start to wonder just how solid the rock is we are walking through. All things in time will eventually erode away!. We didnt really take many photos as one of the windows behind the falls was frozen and the other one was really bright and bleached out the photos. We did walk down to the observation deck. It is closed for the winter, but they allow you to walk into the building and look through the open windows! Its pretty crazy to hear the falls from this close and from under the falls. You can feel the floor vibrating with the pure power of the falls.
Late Lunch in Skylon Tower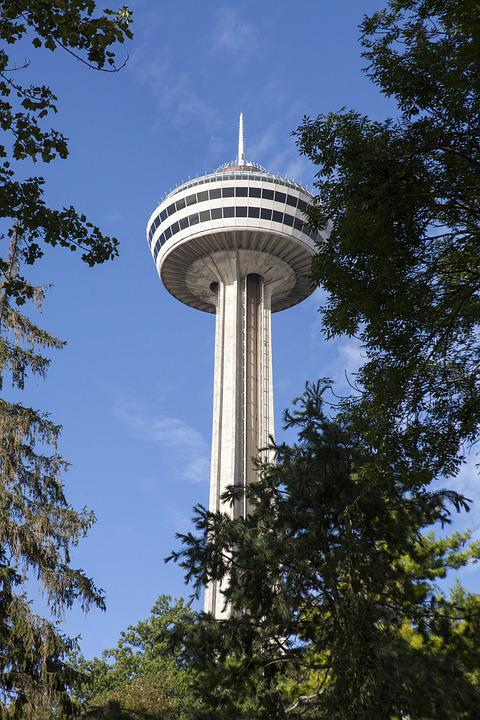 Stock Image
After walking down shopping district, we decided to get a late lunch in the Skylon tower. The food was good. My only issue most of the time is it feels like every place wants to give you a burger or meal big enough for two. Every portion we got was massive, and considering we were walking between 10-15 miles a day, I didn't want to eat that much. Nothing like waddling down the sidewalk with side pain like I am running long distance!. The best part of the eating lunch is the fact that tower is always spinning. So as you eat and talk, you get great views of the falls that is always changing. We got two passes by the falls before we were finished. It was a good thing we ate and were able to be inside and warm as it keep snowing off and on and was really windy. We went to the observation deck, but it was really windy and cold and we left right away.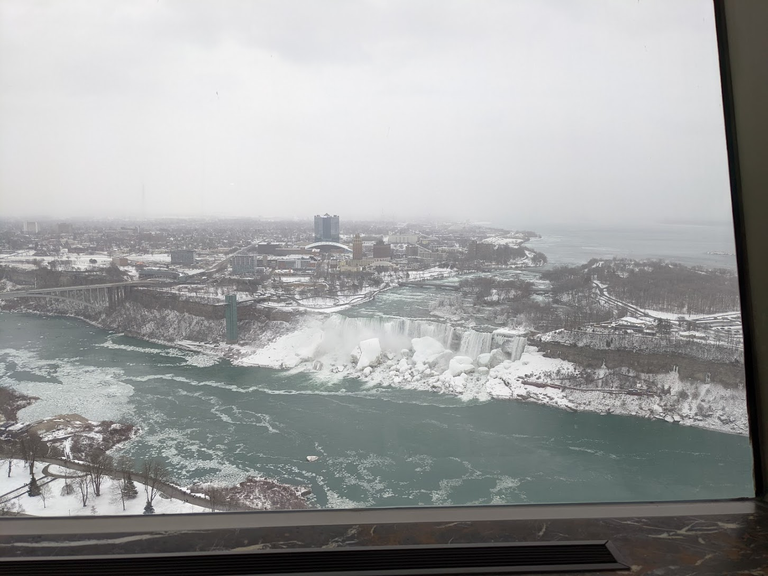 Niagara SkyWheel
After some more waling and chillin in the afternoon, we walked back to the sky wheel for a nighttime ride We wanted to go up and see the falls lite up at night from the sky wheel. the views were pretty good, but again it was snowing so half the photos didn't turn out.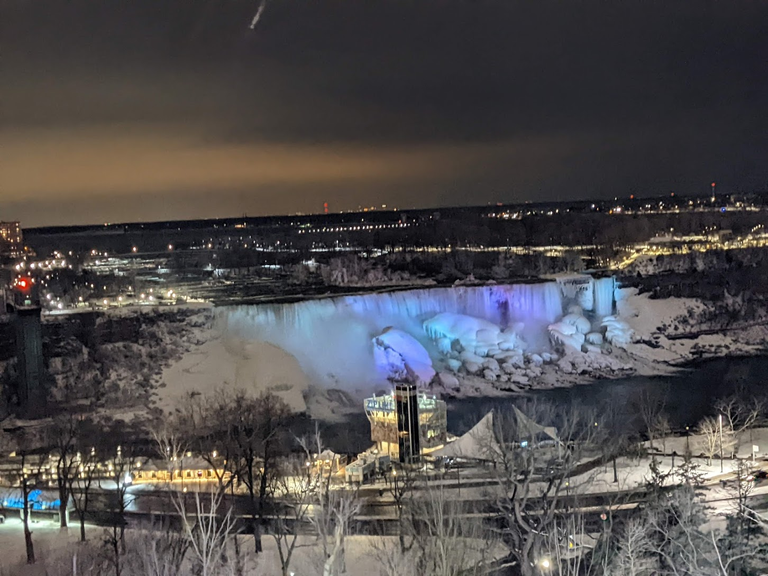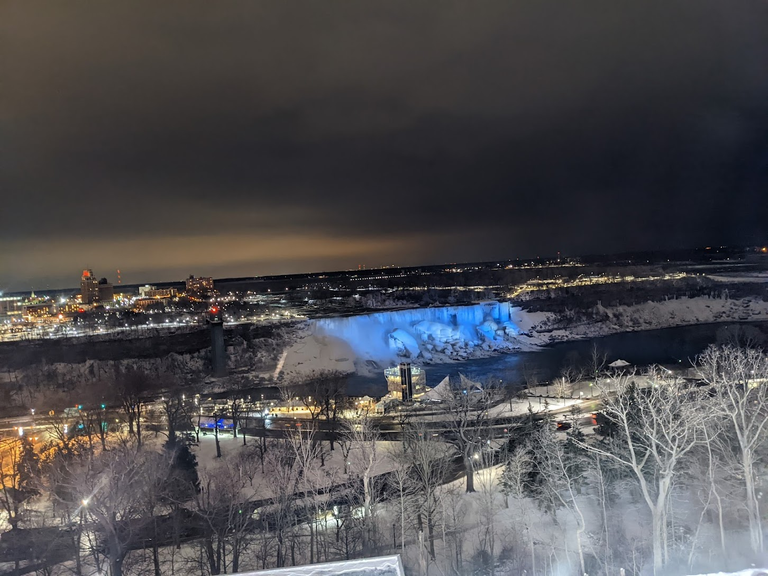 Dinosaurs!!!
The sky wheel is right by a Dinosaur Mini golf course, so of course every time you come around, got this little guy looking like he wants to eat you!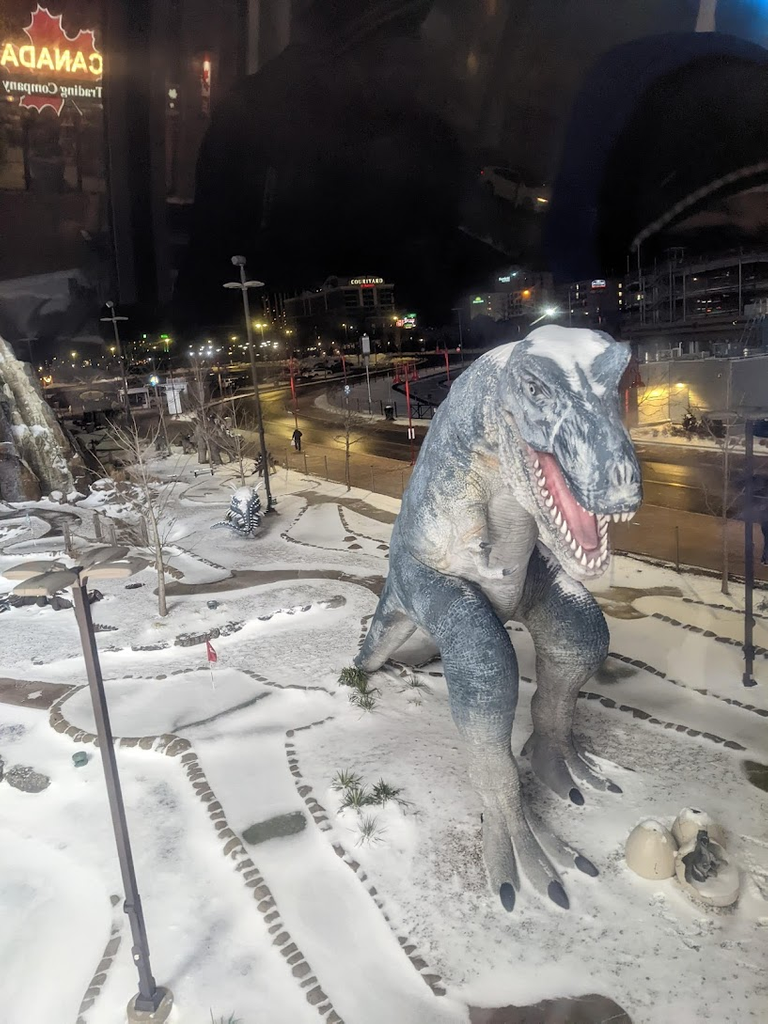 Vacation Stats
** Day 1** Drive to Niagara Falls!!! 810 Miles
** Day 2** Walk 10-12 Miles exploring. Hersey Store, Behind the Falls Tour, Skylon Tower, SkyWheel, Lots of looking at the falls!!!