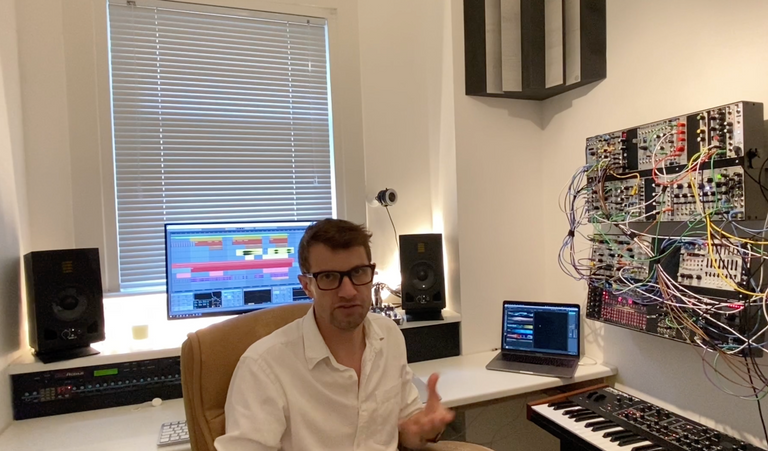 Hey fellow musicians, producers, fellow synth nerds and all Hivians!
My track 135 Senses just reached 1000 streams on Spotify so I thought it a good time to talk about the making of the track!
My goal was to take some of the bits from my live improvised shows and turn them into a track that I could release. In particular, I really love layering melodies and beats created by the modular with warm pad chords that I play live on a synth.
Combining a healthy dose of randomness to the patterns and sounds in the modular, I can create or imply chords on the synth on top of that to create interesting textures and musical progressions that I would never come up with using either instrument by itself.
The keyboard synth and modular have such different strengths - I'm trying to combine those strengths and create something unique. And in my shows there are always some bits I really like - so I really wanted to capture the essence of some of those with this track.
Here's a video of me in the studio talking through the equipment used...
Gear Nerd Bit
There are plenty of shots of my modular and Rev 2 synth in my existing videos but I thought the gear nerds out there might like a close up of the two rackmount units used - and if you were doing anything in music production in the 90s you probably had (or like me, read about in Sound on Sound but couldn't afford at the time) these:
UltraProteus

Released in 1994, this features what E-MU called Z-PLANE filters - basically highly complex filters with the ability to morph between 2 completely different filter models during the duration of a sound. It's pretty hard to program and I'm only just getting my head round it. However, 135 Senses uses (of all things) the preset Harp sound!
QuadraVerb

Programmable Multi-effects unit originally released in 1989. Industry standard at the time in terms of power, subsequently various upgraded and mini versions were released throughout the 1990s. I used this to process the Harp sound from the Ultra Proteus on 135 Senses.
Project 135
135 Senses features on the Project 135 Compilation from Electronic Music Alliance, released on Electronic Alliance Records on 27th August 2021.
Here's a little video promo mix with a bit of all 15 tracks on the album - from 15 different electronic artists! (thanks to DaveyHub at EMA for the audio for the promo mix!)
Hive Musicians!
The album includes tracks from two other great artists that are very active on Hive - namely @stickupboys and @gribbles. Both of whose music I enjoy and respect very much. You can check it out in full over on Bandcamp:
https://electronicalliancerecords.bandcamp.com/album/project-135
From track to Radio Jingle?
So, this week my radio show got an intro/jingle and it's based on 135 senses, with some parts removed to make space for a radio style voice-over.
All for the people who are quick off the mark and join the stream in the first 32 seconds whilst I'm still sound checking...
I'll be developing both the graphics and music for future shows - what do you think of the first cut?
Finally
Wow - 3 videos in one post! Not sure if I've broken some kind of Hive etiquette with that one - I'm sure someone will point it out if so?
Have a great day all!