Essential Road Trip Food Stop
Located away from the usual tourist areas and a good 20-30km from Pattaya, yet as you may imagine also close to major roads and intersections, this cafe is placed in an ideal catchment for a vast number of road-tripping bikers, and offers a fully bike themed experience for patrons.
---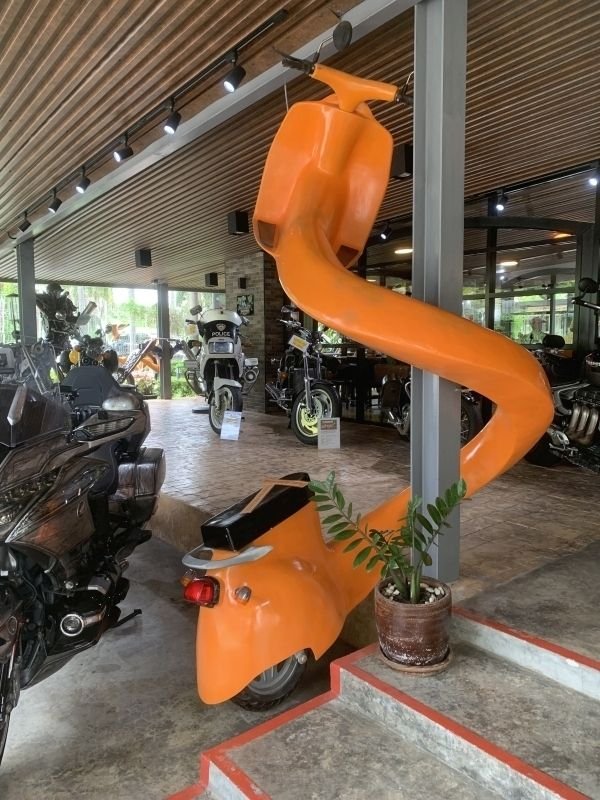 Throughout we find some very funky decorations, like this Dali-esque moped which reminds me of the movie poster for Fear and Loathing!
---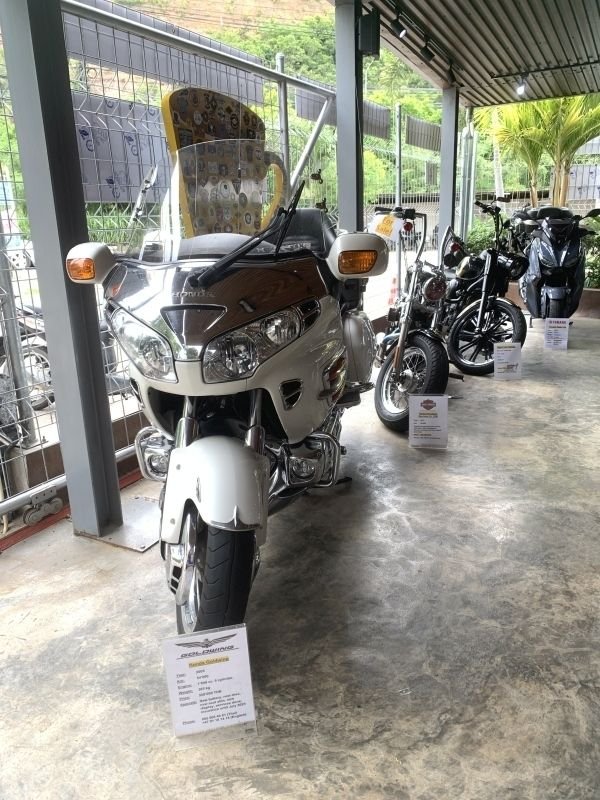 It is also a bike showroom as well as the cafe/bistro. So there will also be an interesting and revolving array of very collectable and high end bikes on display. There were several classic machines that we are going to touch on.
---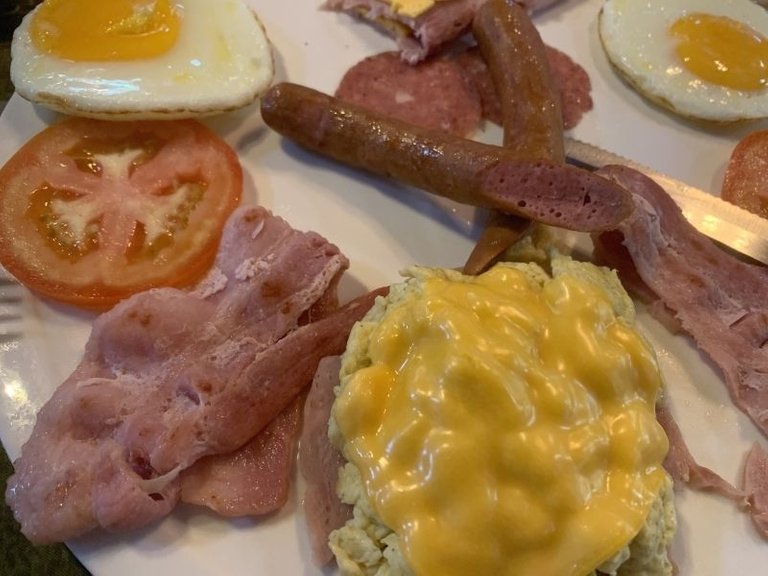 This is the 'Bikers Breakfast' that I consumed. A selection of Euro style sausages, meats and 2 types of eggs. Tea/Coffee, Toast, and Juice included (not shown). Good value, even if my preference is more towards an 'English Breakfast'. Apparently this appeals to a wider audience of European nationalities which frequent the bar. There is an extensive menu with many other western dishes, along with Thai food also. All at good value for money, and you can admire the bikes and decor as you do so.
---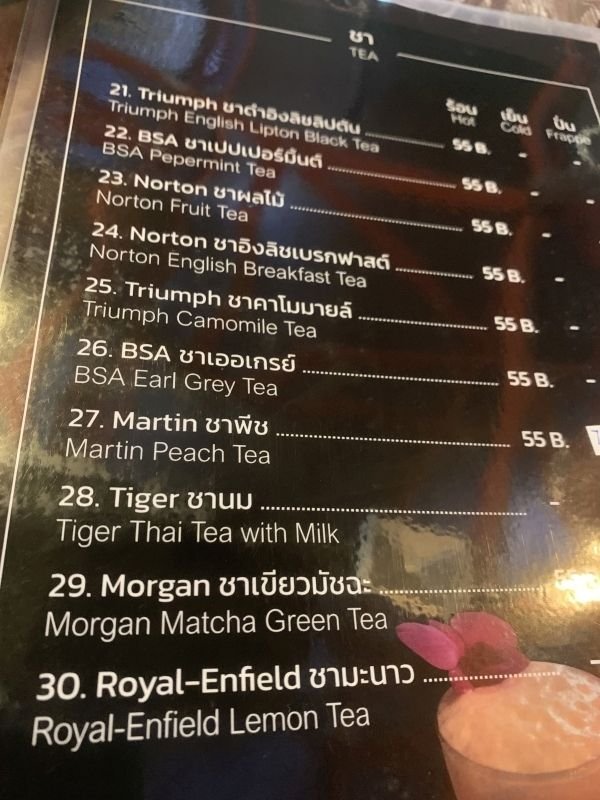 Classic Motorcycle themed drinks menu is a nice touch, and good conversation starter. Makes choosing your drink interesting, as where do your loyalties lie? Royal Enfield please, Ha ha ...
---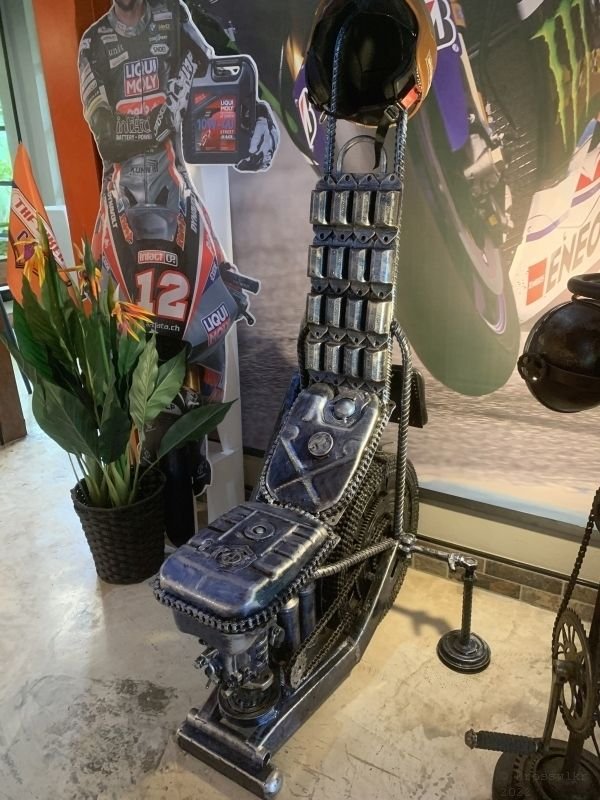 Waiting seat outside the restrooms, fashioned from welded scrap metalwork. This type of handicraft can be found easily in Thailand.
---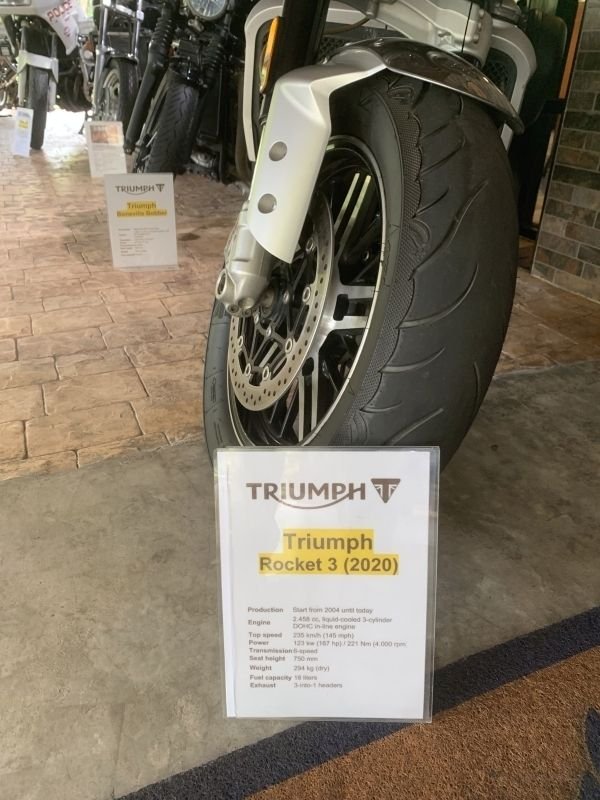 There were some very serious machines for sale (and some not for sale) out front on display. Very enjoyable to look at them so up close.
---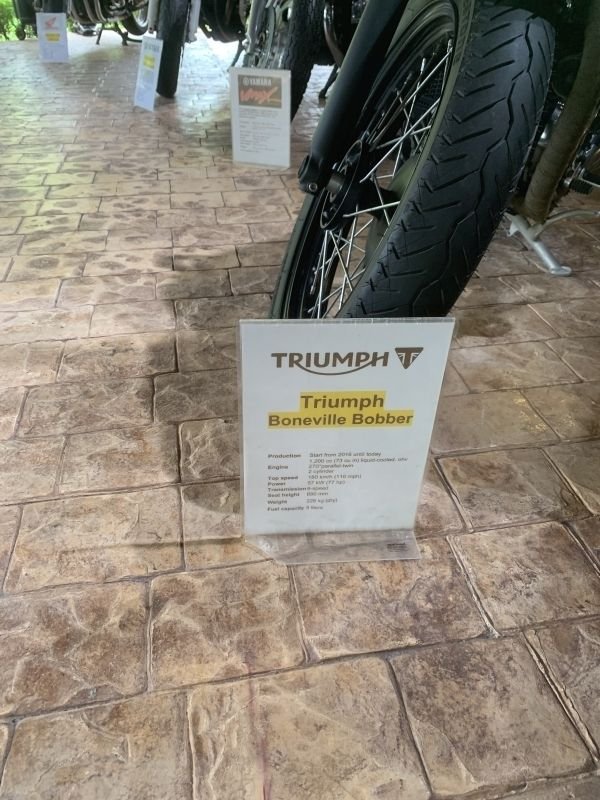 A modern and classic Triumph make for a great little pairing.
---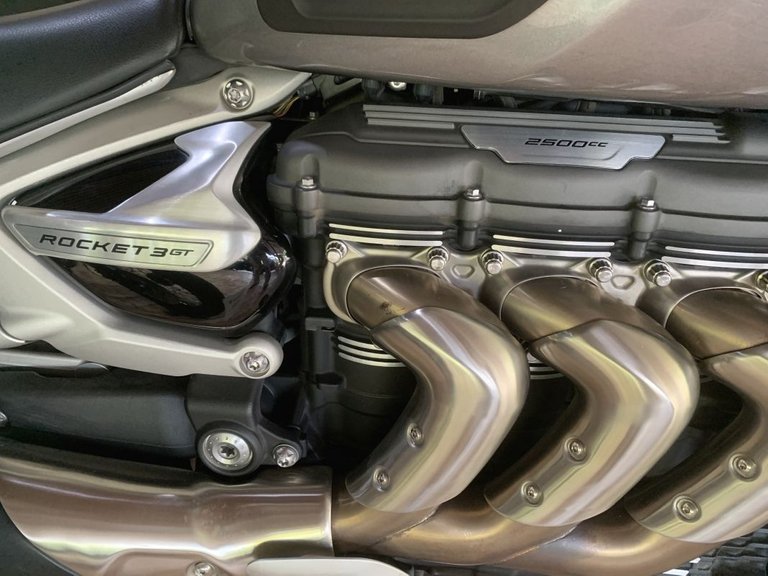 The very large 3cly engine of the modern Triumph Rocket 3 GT. I get scared just looking at it, bikers tell me that I am wise in which case to be scared. I never even rode a bigger bike than 250cc ! And this is 10x bigger. Wth? 2.5 litre motorcycle? Heck that's powerful in a road car let alone a bike!
---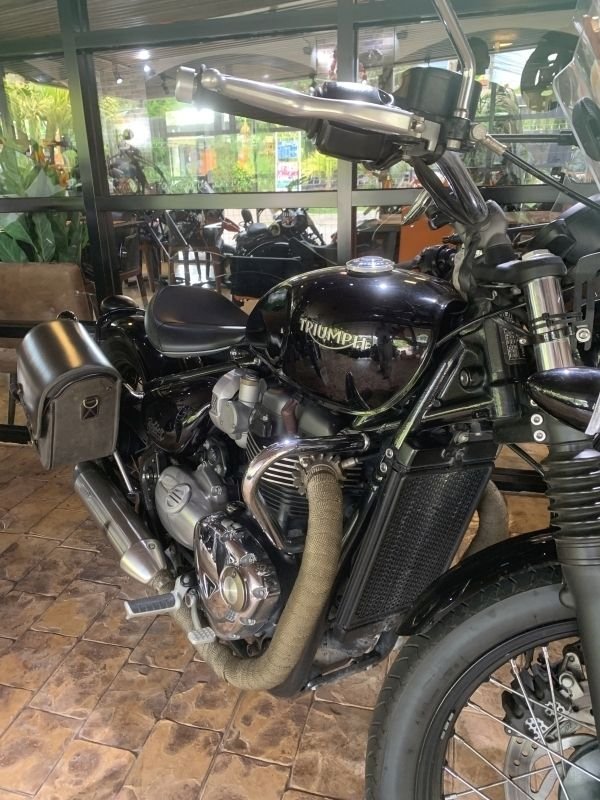 Triumph 'Boneville Bobber' , a truely classic and elegant machine. To us, perhaps a bit less intimidating also.
---
Yamaha FZ 750 Genesis - Japanese Police Bike
---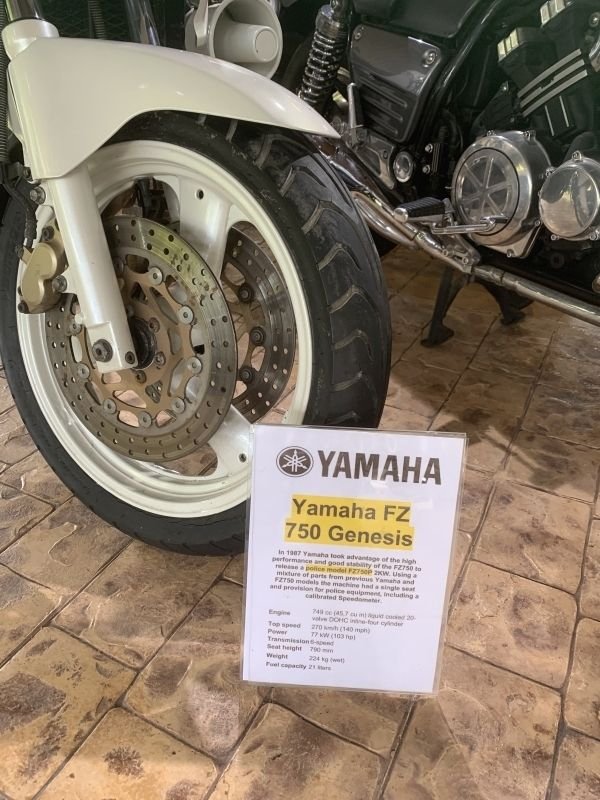 Next this amazing Japanese Police bike, what a thing. So well engineered.
---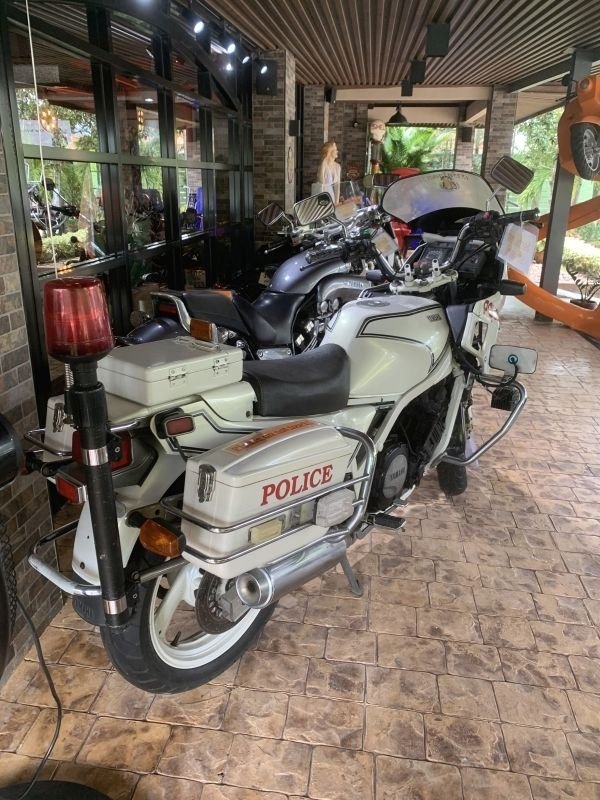 Complete with all the original livery. A cool piece to have in a big bike collection.
---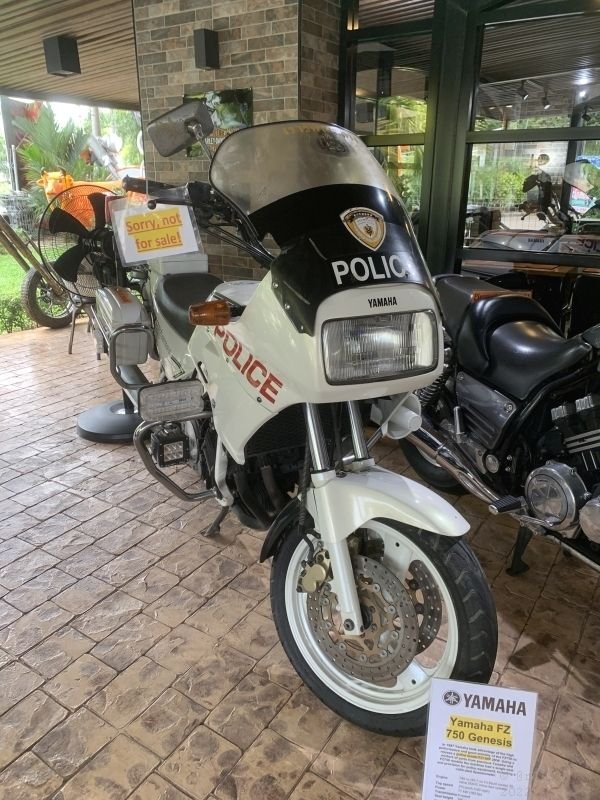 You want it, for some inexplicable reason, to be in your cave don't you?
---
Honda Gold Wing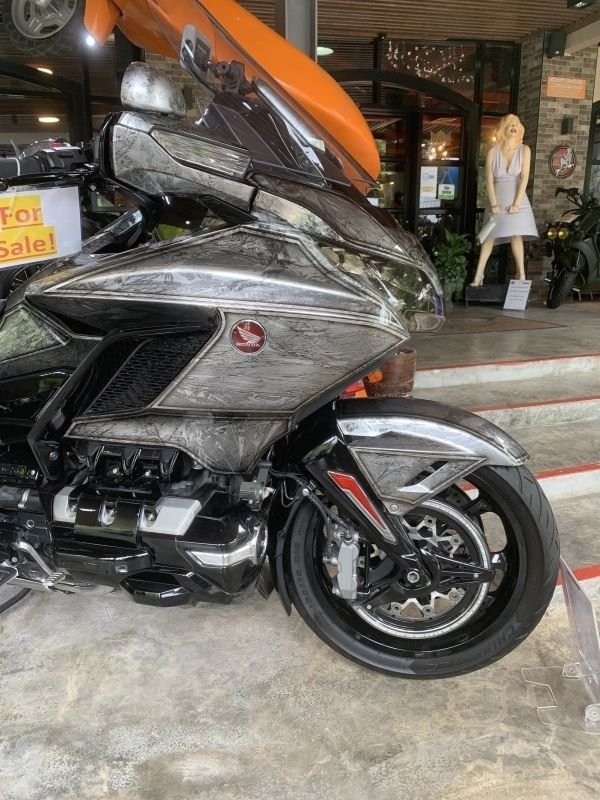 A Honda Gullwing, fairly new version with some very striking customized paintwork. It makes it almost look like some Japanese Gundam Robot. Gundam robots are cool.
---
An older model Gold Wing, still a very impressive machine with tires and lights bigger than many Japanese cars. Especially the 'Kei' cars. Heck. It also has 3 to 4 times the engine capacity!
---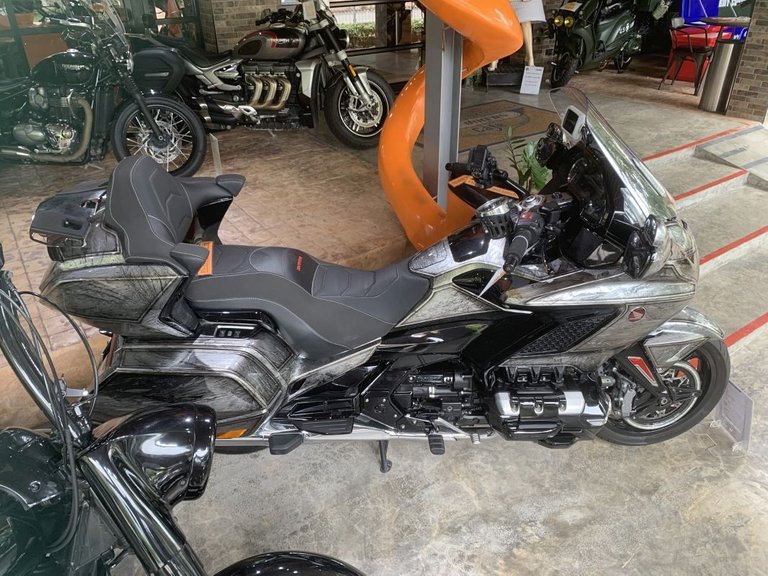 They always strike me as a kind of 2 wheeled upright open top car with no doors rather than motorcycles. Gold Wings are really in their own league. Another one for the list, would love to just try for a few days, go on a big long circular road trip; explore, drive up mountains without any of the and who wouldn't in their right mind that is able to?
---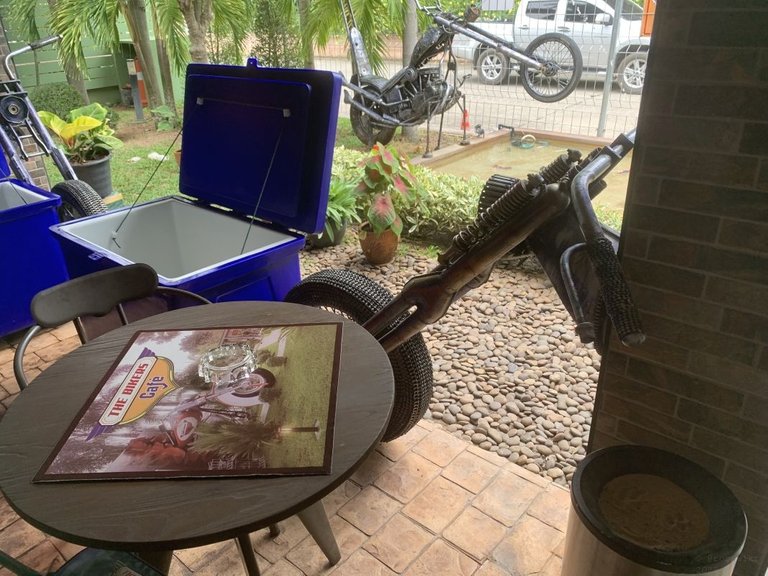 Menu, more sculpture in the background.
---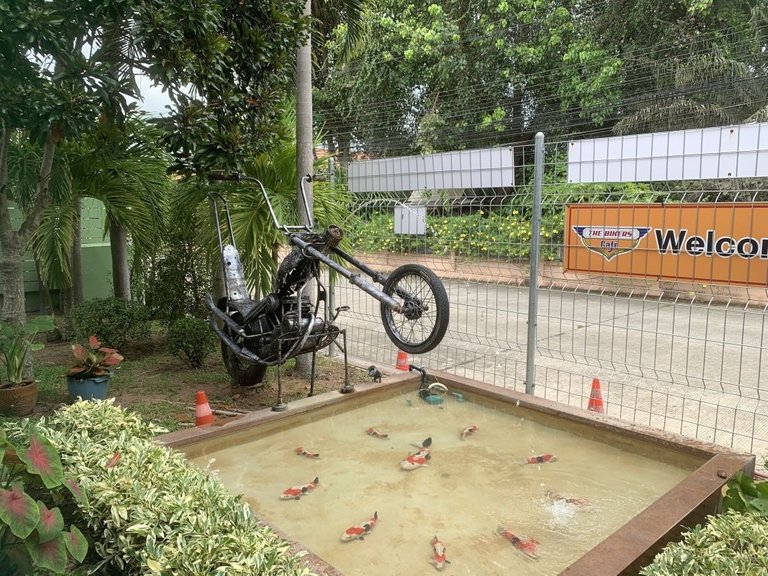 Very quirky garden fountain, more amazing scrap metal welding artwork.
---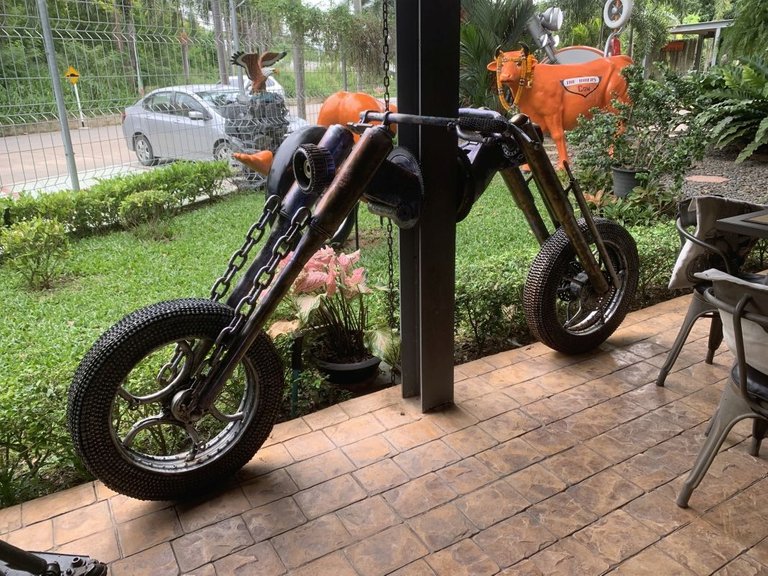 Out in the garden things get more surreal also, will have to go for some more pics around there, and if you visit don't miss the selfie opportunities!
As we can see, some really cool decorative pieces are throughout the establishment, I did not manage to capture them all. It will be nice to go for lunch again here one day, and capture more images.
All in all, a great spot and 'must see' for bikers visiting the area. Big Bike optional!
---
How to find it? See Google Maps:
---