Another warm day, thankfully tomorrow we are expecting cooler weather, I may be able to sleep then as its way to hot at night time even with all the bedroom windows and a fan going.
Hubby has planned a couple of hours of Golf with a friend, this will give me around 4 hours of no moaning, he does moan alot. It was nice to just take my time, Plus we have new neighbours moving in today. I watched as the vans pulled up as didn't have a clue who they are, was dreading a young couple who liked to party, thankfully they are an older couple, hopefully they aren't to wild as hate my sleep being disturbed.
Anyway back to my house :) I stayed resting on my bed with my pups and my new fan focused on me, when the others are home I have it oscillating, I don't really like to but you have to share don't want them getting to hot. Hubby got back from Golf worn out with sore feet, of course I showed no sympathy as it was his choice to go.
I did spend sometime sitting in my garden, I have my chair positioned in the best spot, tucked in a corner in between my Lavender garden and row of Sunflowers.
THIS IS A PHOTO FROM BOTH ENDS OF THE SUNFLOWERS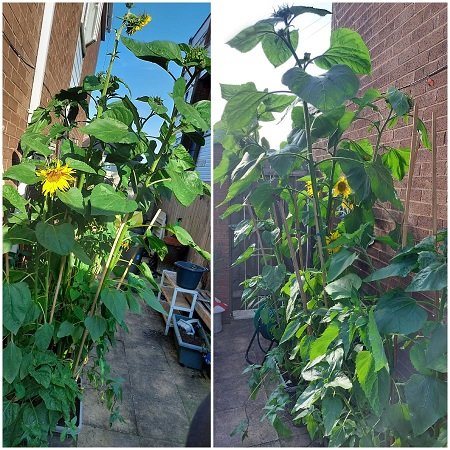 I have a nice selection of Sunflowers with more to come. Whilst I am harvesting seeds from the first Sunflowers my other Sunflowers are starting to open. I am hoping to get quite a few seeds for my next years plants. I have a few brown bags ready for for the Sunflower heads. I need to cut the head of the Sunflower leaving a couple of inches on the stem, I will hang the head upside down in a brown bag pegging it up whilst the head dries out ready for me to take the seeds, these will need laying out on some kitchen towel in a warm place until they are dried and ready to be stored away.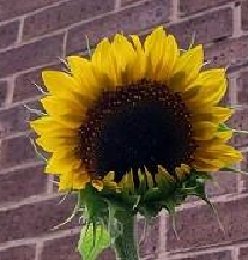 We are in for some heavy rain tomorrow with a few thunder and lighting storms. My Sunflowers will enjoy the rain, not sure about the Thunder and Lightning.
We are out of Isolation and negative for Covid, my daughter has gone to see her boyfriend then we are meeting up tomorrow so we can go pick up our new glasses. We will do a little shopping then take Nichola and her boyfriend back to her boyfriends house then home to enjoy the rest of the weekend.
Hope everyone is safe and looking after themselves, Hope you all have a good weekend.
Thank you for visiting. 💟💟