Here's A Question
What do you do when you know money is going to be tight for a while?
You tighten your belt. Meaning, you look for ways to cut down on expenses.
Unless you're some sort of government entity. Then, it's Dang the debt, full spending ahead!
In our case, I've been looking at ways to cut down on our bills as much as possible. A) because we needed to, and b) downsizing can have a net positive effect, if done voluntarily and done right.
House Debt
We have been fortunate now for roughly 10 years to have a smaller than normal mortgage payment for our house. We pay less on a monthly basis now than we paid living on rented land in a manufactured home that was half as big as our house is now, on property we own that is at least twice the size.
That has been a tremendous help.
In addition to that, we have no car payments.
What we do have in excess of what we want is credit card debt, most of it accumulating two years after our business was shut down while I still wasn't working, no longer able to collect unemployment, and our sizable savings was dwindling. Fortunately, my wife had just barely started working at the time.
Since I started my current job 18 months ago, we've been making headway paying the cards down, or at least were, until the COVID-19 restrictions hit and I've been laid off for a couple months at a time.
Mobile Phone Service
I've talked about our switching mobile carriers. While that's still not quite resolved, it was another effort to reduce our costs. When our phones are paid off, unless we increase our data usage, we will be paying a third of what we were paying before. Until then, it's supposed to be roughly $20 less.
I say supposedly, because that's not what's happening yet, but I've explained the reason for that already elsewhere.
TV Programming
One other savings I haven't mentioned yet that we've had since August is the switch from Dish Network to Sling TV. We've had Dish for years, and for the most part, have been happy with it. We'd probably still have it if not for wanting to cut down on expenses.
Note: I'm sharing information. You don't have to do anything with it at all, especially if you have a solution that works for you.
In our case, I was looking for a cheaper solution to DISH. We already had about the cheapest/best bang for the buck I could figure out on DISH by mixing and matching from their a la carte options. That still added up to $87 a month, and even though it was a la carte, we were still getting channels we never ever watched.
The Contenders
I started looking at different offers, including DirecTV (which we had for a while but ultimately went back to DISH when our two years were up) and Xfinity, along with all of the streaming services—YouTube, FuboTV, Playstation Vue (which is no longer available, but it was when I initially started this project), Hulu + Live TV, Philo, etc.
I really wanted Xfinity to work for us, since we already have it as our ISP, and because I was also eyeing the leap to Xfinity Mobile. There were some tantalizing bundles and discounts for their Double Play offering, until you got into the weeds of the deal. The price presented when going through the assortment of bundles was pretty attractive, but then when going through the process of signup, it would go up with such things as the devices needed to receive the programming (modem and receivers), and then there was one more additional fee that was unavoidable, even if opting for the Xfinity streaming app (no receiver boxes necessary):
A broadcast reimbursement fee for the privilege of viewing ABC, NBC, CBS, FOX, and probably the CW, too.
Now, if you're old enough to remember what life was like before satellite and cable came around, so at least 45 years old, more or less, you'll know that those channels, formerly known as broadcast channels but now generally referred to as Over The Air (or OTA), were free to watch as long as you had some kind of antenna to bring them in.
The broadcast reimbursement fee wasn't like $5, either. It was somewhere north of $15, and by the time it was added on, even having my own modem and foregoing the receivers for the streaming app, I wasn't really that much off what I was paying with DISH. Certainly not enough to make the switch.
Looking at the other streaming services, I really couldn't do a whole lot better. Not enough to get them. It didn't help that there wasn't much in the way of uniformity of programming, either, so trying to compare one service to the other wasn't the easiest thing to do.
Some had some channels I wanted, but not what my wife wanted, then vice versa.
After using up free trials, doing my best to compare channel lineups and special offers, and after well over a year of testing and indecision, I finally settled on Sling TV.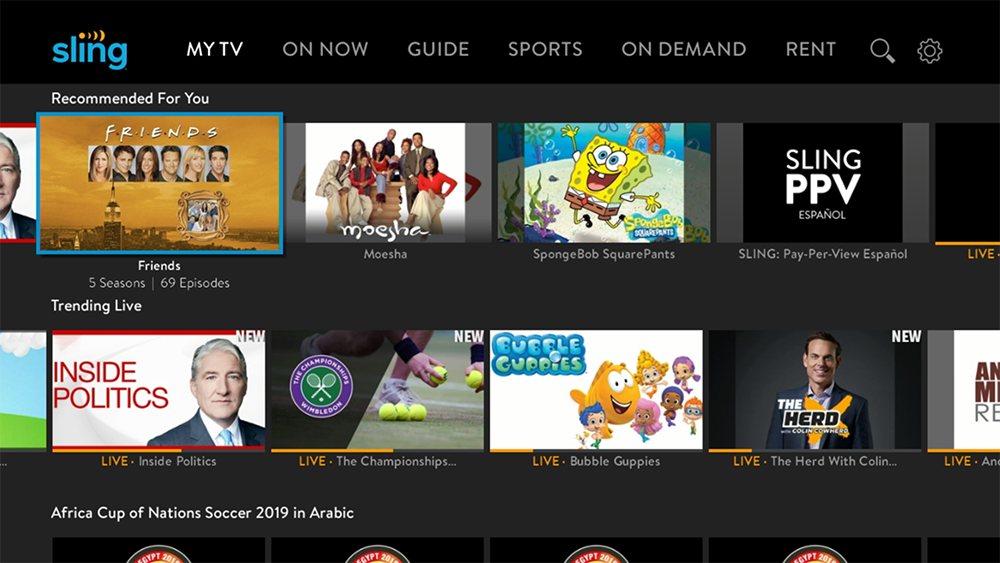 The Sling TV interface. You can select across the top tabs (where MY TV is) and then scroll down through the rows for content.
First Month Promotion, No Contract, OTA Channels
Sling TV has two major sets of programming, Sling Orange and Sling Blue. There is add on programming, too. It reminded me quite a bit of DISH. Except, Sling Orange and Blue by themselves were $30 a month, while together, they were $45. Add ons ranged from $5-$15 depending on the channels and whether or not you did Orange and Blue together.
There was also a first month promotion for $10 off. Since I did get both Orange and Blue programming, along with the Lifestyle Extras add on, our first month's bill was $40. It's been $50 since.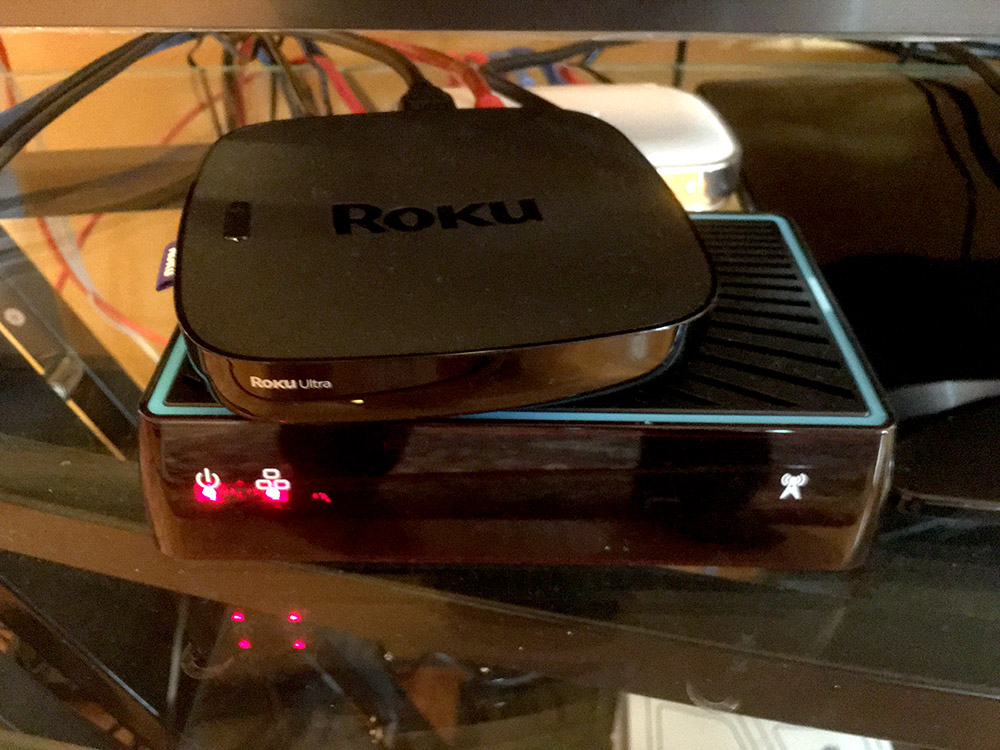 The Roku (top) and the AirTV.
The Hitch In The Get Along
The Sling TV service does not offer ABC, NBC, CBS, Fox or the CW. That's one reason why it costs less. However, it does offer OTA integration if you buy something called AirTV. AirTV is a set top box that you connect an antenna to that will then serve those additional channels across your devices. With Orange and Blue you can stream content up to four different devices simultaneously.
That meant, obviously some upfront costs for the AirTV and for an antenna. After that, though, and as long as the broadcast towers of each channel are within reception range, you don't have to have an antenna connected to each of your devices to get the OTA channels.
Cool, right?
Free OTA channels, just like it was originally intended.
Well, that part is cool in theory, but not quite as cool in practice. More on that in a minute.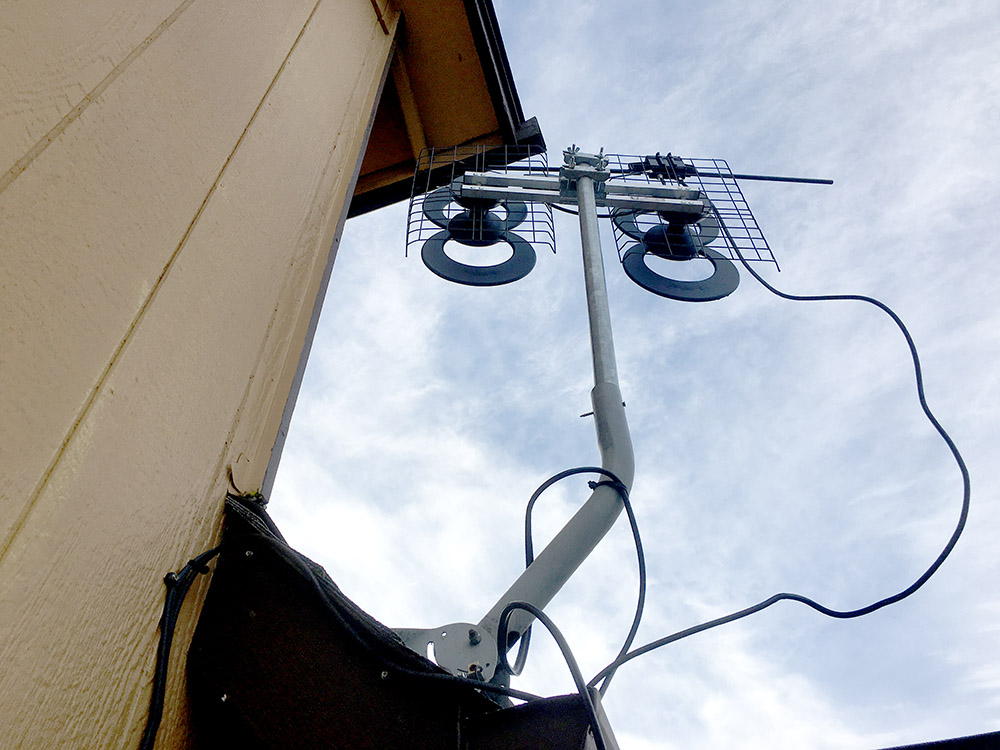 Our outdoor antenna, sitting where the DISH dish used to be.
Sling TV Menu
The interface looks like most streaming services, along with options for a grid listing of channels like you would get with a cable or satellite provider. It also offers a way to browse via favorites, or MyChannels, which I find the easiest to do since those are the channels we watch the most.
My wife is really into Hallmark and, surprise, surprise, NBC. I'm mostly into live sporting events, so one of the ESPNs, along with Fox Sports, and then any of the OTA stations that are showing a game.
I mainly watch college football, which lasts (normally) from late August through the second week of January. After that, I probably wouldn't watch much live TV.
For my wife, though, her viewing is year around.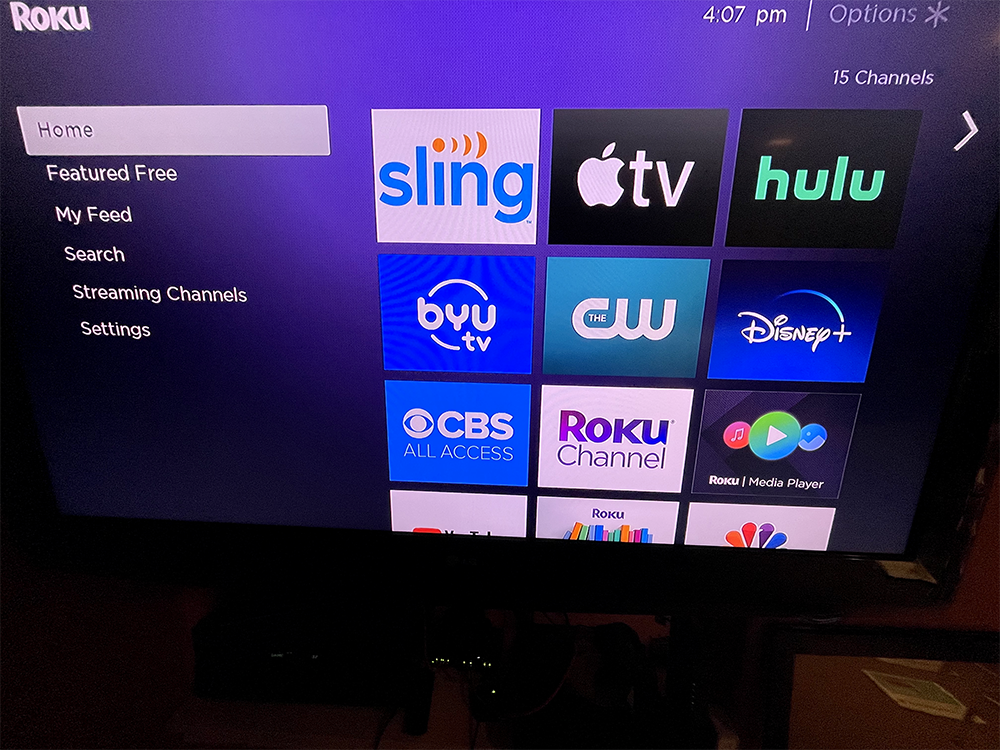 The Roku Homescreen with easy access to the streaming apps.
Sling Is An App
It used to be, if I'm not mistaken, an actual streaming device, but now Sling TV is an app. Which means, you still need someway to stream it. A smart TV is one way to do it, but so are other third party streaming devices like Roku, AppleTV, FireTV, Chromecast, etc.
I've tried out Roku before, so I already had a couple of them, along with a few AppleTVs, since most of our movie watching is done that way. Of the two, even though I am an Apple fan, I prefer the way Sling TV works on Roku. There's a personal preference in the remote, as well as how the Sling app works.
Cancel When You Want
There are no service contracts, and no early cancellation fees. You can add and remove programming anytime. I've been thinking about removing Sling Orange until next football season, which would drop our cost down to $35 a month, but haven't done it quite yet.
I did recently add some programming for basically four hours to watch a football game that I couldn't get otherwise because it was on ESPN News, and ended up paying $3.99 for it because I cancelled it immediately after the game. The monthly cost is $15 for that particular sports add on.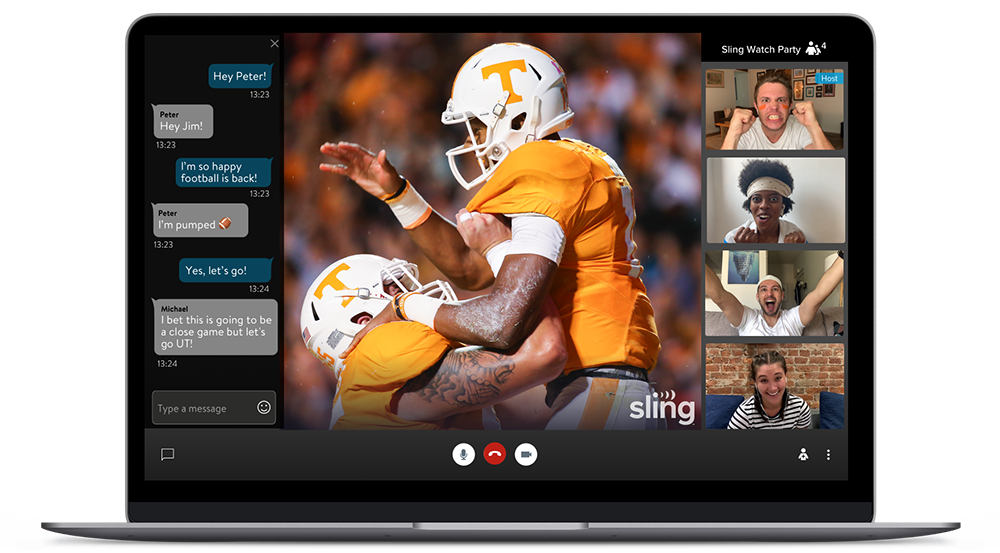 Watch Party
Sling TV now has a beta version of what they call Watch Party, which allows you to invite non-subscribers to watch something, regardless of where they are. They do have to create an account, however. To begin with, it was only good for one viewing, but that was changed a total of three different watch parties. There is no charge to anyone for the Watch Party. It just won't work once it's been used three times unless the non-subscribers sign up.
Something I consider a downside to Watch Party is that it has to be set up on a computer or other like device. It doesn't work within the Roku app or on other streaming devices.
Service And Data Cap
To date, we've had few problems with streaming. We did have something glitchy going on with Hallmark a while back, but it didn't last but a few hours. Otherwise, it's been good.
Also, since neither of us watch TV all day, but mostly 5 pm to 9 pm, we haven't seen a significant increase in our internet data usage. We've always had a limited Xfinity data cap in Oregon, so it was important we not go over with the additional streaming going on.
OTA and AirTV
There are ongoing issues with both.
The best reception for OTA is actually through our living room TV. It receives and holds the transmissions the best. So, we find ourselves switching back and forth between the HDMI plug to the Roku and the port to the antenna. Which is okay, because there are additional channels associated with the big five I like watching anyway.
When it comes to viewing the OTA channels via AirTV in the Sling app, mileage may very. I'm not sure if it's channel degradation, an issue with the AirTV, or something to do with the LAN, since it's being transmitted over either Ethernet or WiFI to the various devices, but the closer to the modem, the better.
The modem sits in my office, while the AirTV is in the living room, so watching the OTA channels in my office and in the livingroom are the best. Not so much upstairs in the house in the bonus room, where my son and I are often sent to watch the aforementioned football games.
I do know NBC has the weakest single of the bunch, and so it can even be hit in and miss straight to the TV. I found a booster device that actually helps, but not always. The other OTA channels generally come in just fine.
The takeaway is, if you end up going this route and want OTA channels, it's probably best to find out what your reception is like. There are different types of antenna that you can buy starting at $20 to test out your TV directly before making any other decisions or purchases.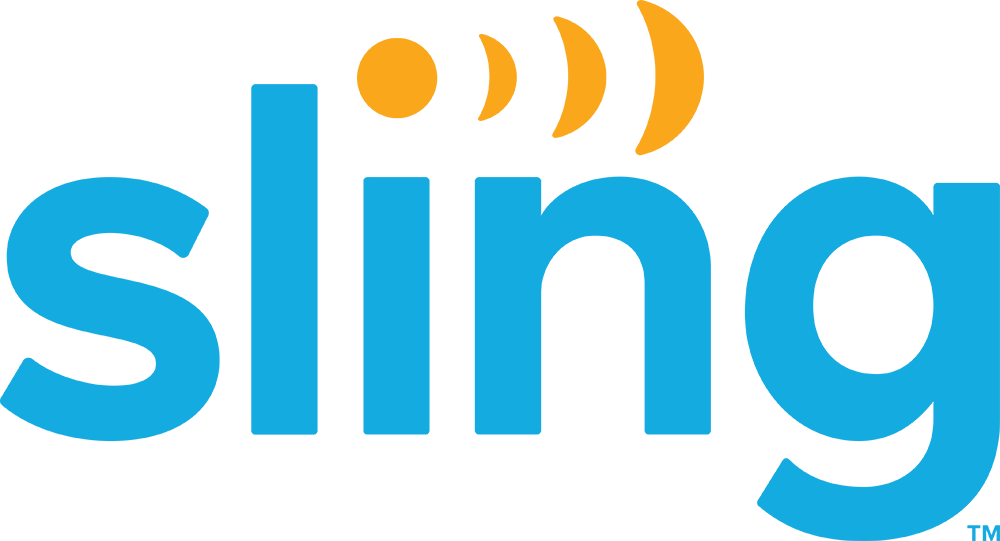 Summary
It's taken some time, and my wife is still trying to navigate Sling because of the subtle differences between it and DISH, but overall, I'm happy with the service.
Now, if you want to break it down, since there are fewer available than DISH I am paying more per channel, but still less overall, because I'm not paying for more channels we won't ever watch. It's exactly how I would expect it to be, given the bundling of channels that goes on in this current entertainment era.
The OTA channels work more times than not, and I'm not paying for them on a monthly basis, so that's all good, too.
Images sources—Top one and bottom two—digital assets from news.sling.com. Middle images courtesy of Glen Anthony Albrethsen