Oh no, this is not a post about adventures and lessons learned in the Mexican pacific beaches. This post is more about what I've been doing over the past couple of days in my spare time, which is surprisingly not a lot.
As some of you may know, I started to learn German three years ago, but it via wasn't proper lessons or a systematic approach. I would just learn a few words every now and then while practicing with German speaking travelers here and there, doing some Duolingo lessons every time I remembered and also by getting some one on one sessions with German girls I happened to meet on the road and spent time with them. But I never really put real time and effort to properly learn it.
It was only until April 2020 and thanks to the lockdown measures - stupid ones if you ask me - that I got myself into learning it with a system and putting in several hours a day into perfecting it. I learned that the best approach - despite what the language schools and learning gurus tell you - is to being learning it in a practical way so that you can actually start having conversations, no matter how silly and short ones they are, from day one.
This approach served me well, I now have a B1 German level certified by the Goethe institute, which gives me brag rights around the world.
So now, maybe as a way of giving something back to the world and as a way of thanking all those random people who took the time to teach me German, and who gave me their insights to keep getting better and better, I decided to teach spanish to some people I met here in this Oaxacan beach.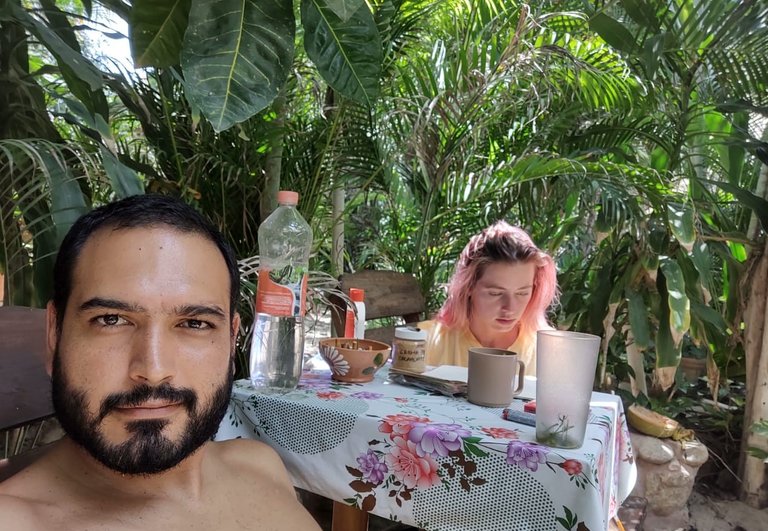 Today I had my first lesson with a girl from the US, Lauren, completely free of charge and just for the sake of helping her get better at this as fast as possible.
Teaching spanish to an english speaking person is not that hard, regardless of what people tell you, you just have to be clear on the concepts and explain them on a playground they can grasp clearly. First of all, you don't start with genders and numbers, you begin with the easy stuff, some verbs and persons, how to conjugate the basic ones and how to create short simple phrases they can use on a 2k people town, where what they learn will be useful and at the same time, the locals will treat them better, understanding and nobody is on a rush - unlike in a big city, for example.
I'll see how this works out and maybe, just maybe, I'll continue to give short lessons to tourists, some time I'll charge in beer or in cigarettes, some others I won't even mention the money part, depending on how I'm feeling.
The thing about teaching is, the more you teach, the more you also learn. You learn from the interactions, you get better at your people skills, you understand better that what you are teaching and most importantly, you give back to the world that gave you so much.
I'll keep you guys posted on how this rolls, in the meantime, I'm going to surf for a while now that the sun is nowhere to be found on this bright day at the Pacific.
Oh right! I almost forgot, the title of this post says Mexican, not spanish. That one is easy to explain: Mexican Spanish is obviously the best spanish but, it's so different from other countries' that I just had to specify it.
What about you? Which have you found out is the best way to learn a new language?