In today's post I want to share an amazing and fun workshop I got the chance to attend, organized by the Korean embassy in Serbia and King Sejong institute Novi Sad as part of the Sejong Culture Academy 2022.
---
They prepared three workshops - calligraphy, K-beauty and K-pop both in Belgrade and Novi Sad. As a big K-pop lover, my initial thought was to apply for that one but it was about learning some K-pop choreographies for five days in a row and it was just too much for me as I have a lot to study for University at this period of time. So me and my friend applied for calligraphy as it was only two days. All workshops are free but they had limited number of people they could accept and I was quite surprised and happy to see so many people are interested in Korea and Korean culture as all the workshops ended up being filled up so quickly!
---
Day 1 - Saturday, June 4th 2022.
---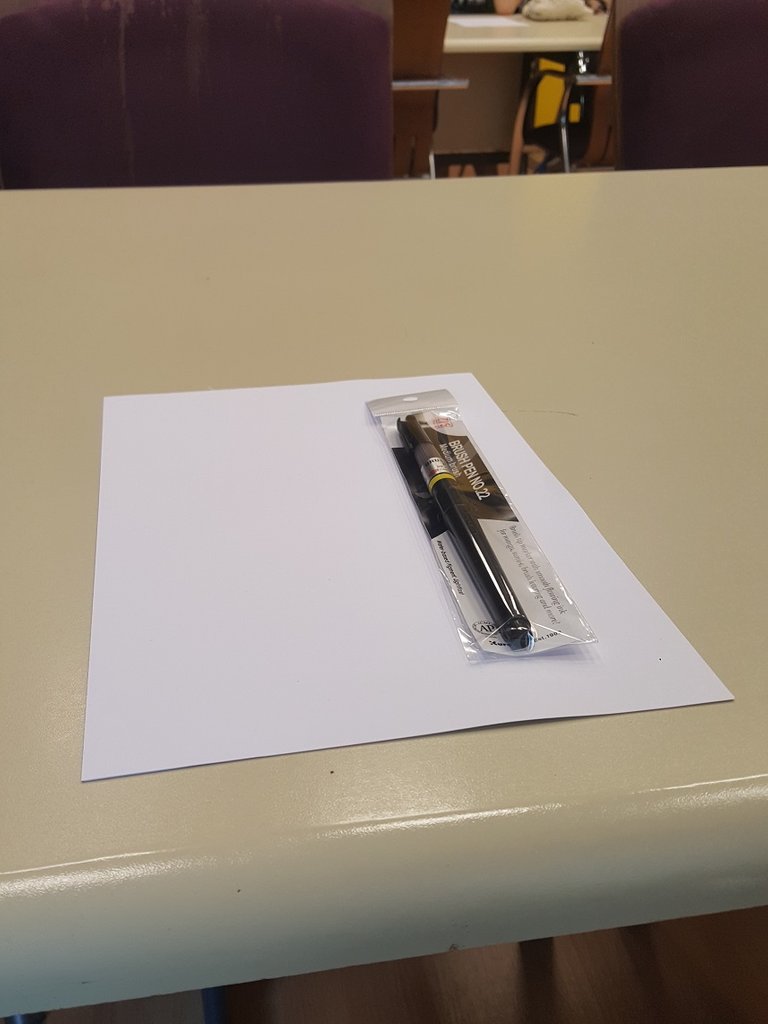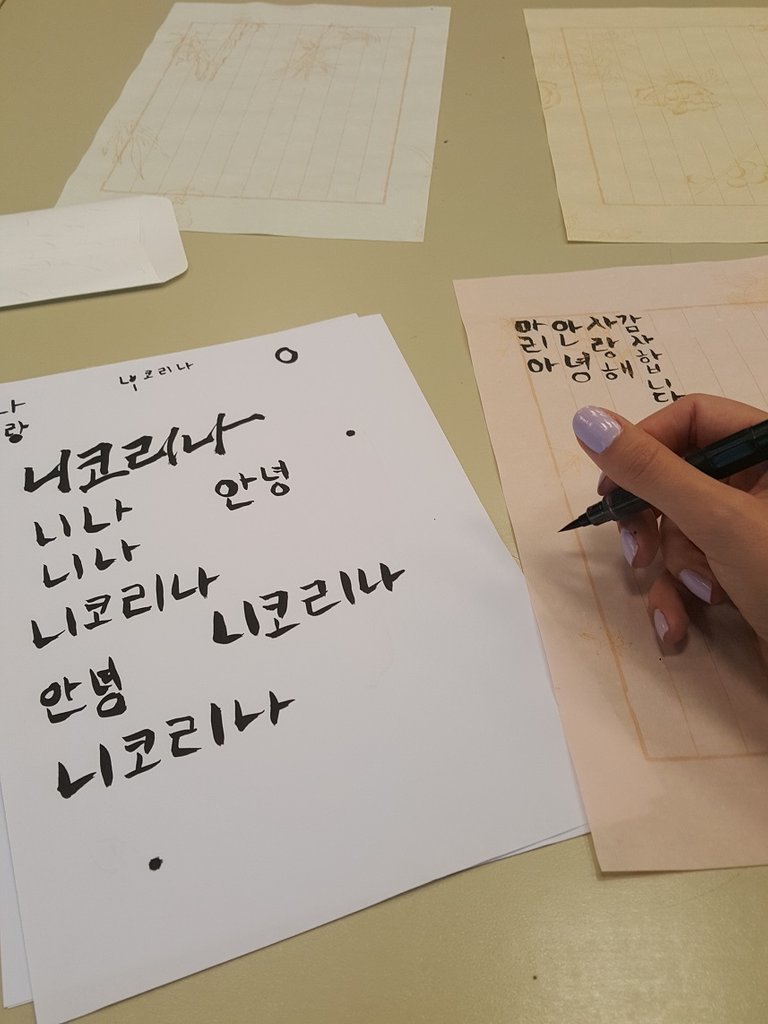 Workshop started with the introduction of the operator of the King Sejong Institute Novi Sad and our calligraphy teacher that goes by the pseudonym 지온. After giving us some basic information about calligraphy and introducing us to the tools we will use for the class it was time for us to practice writing on paper with a brush pen! It was so intimidating to start but after a short period of time, we got more comfortable with it and it turned out to be so much fun! We also got some nice calligraphy paper to write letters to each other so me and my friend wrote to each other. Since we don't know a lot of Korean words, we just wrote random words we knew. I also learned how to write my name properly! :)
---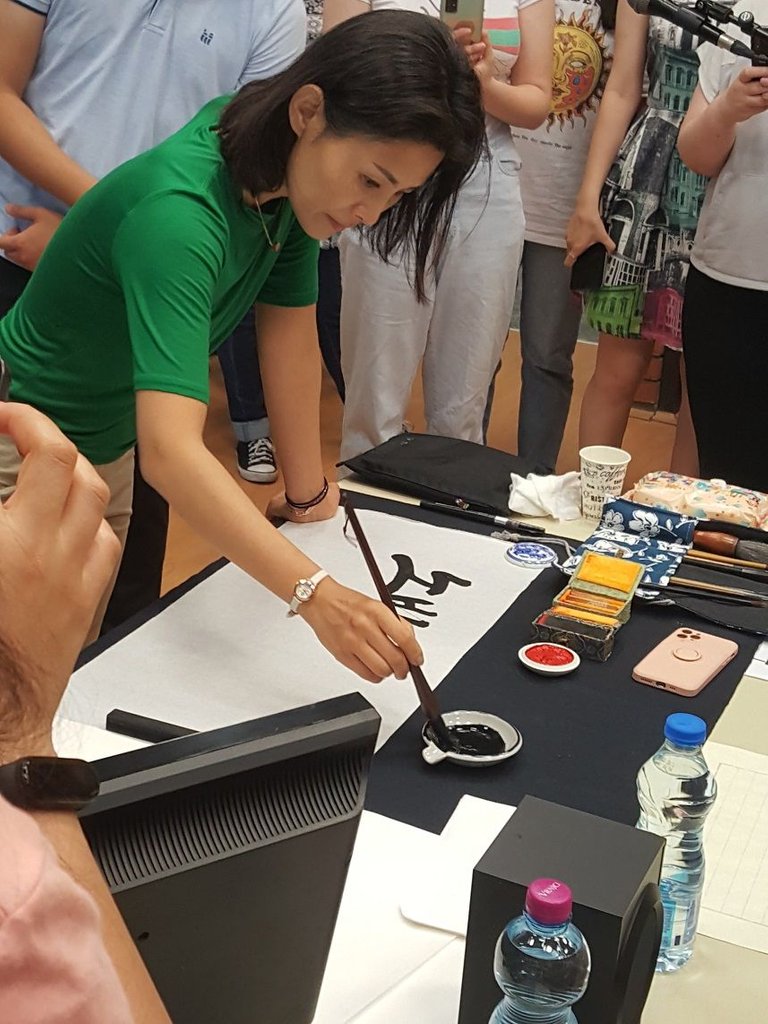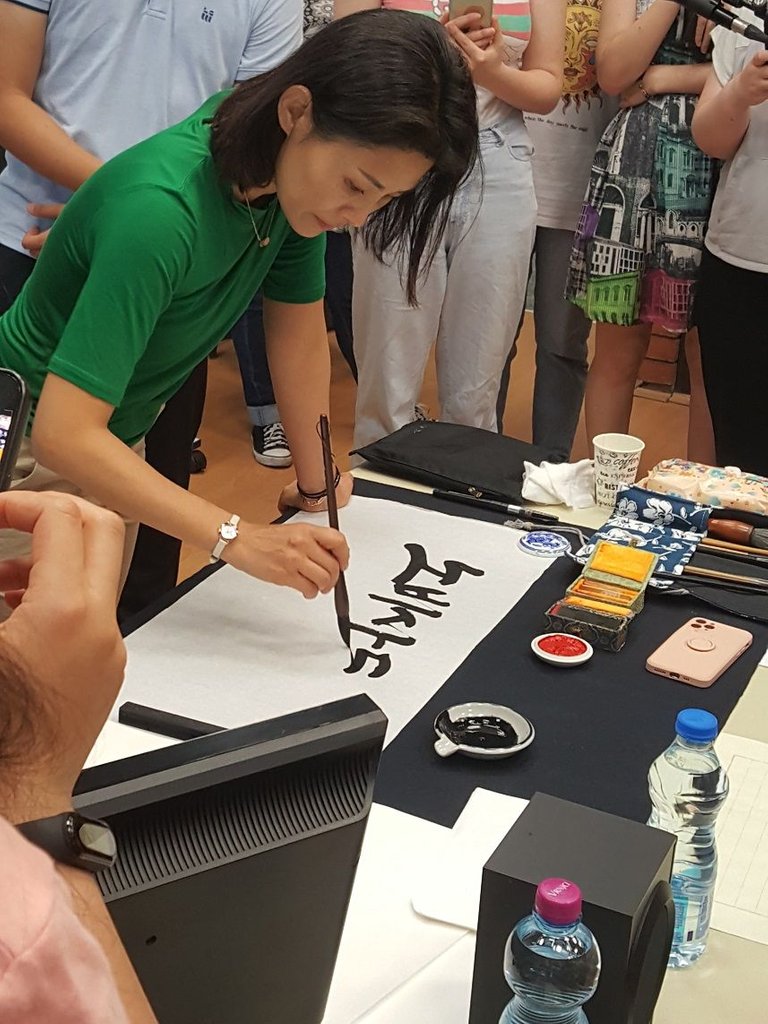 Next we got to see some amazing calligraphy writings on thin paper using ink and dipping the brush in it which was so interesting. You can also see how the brush or calligraphy pens should be positioned which is straight up.
---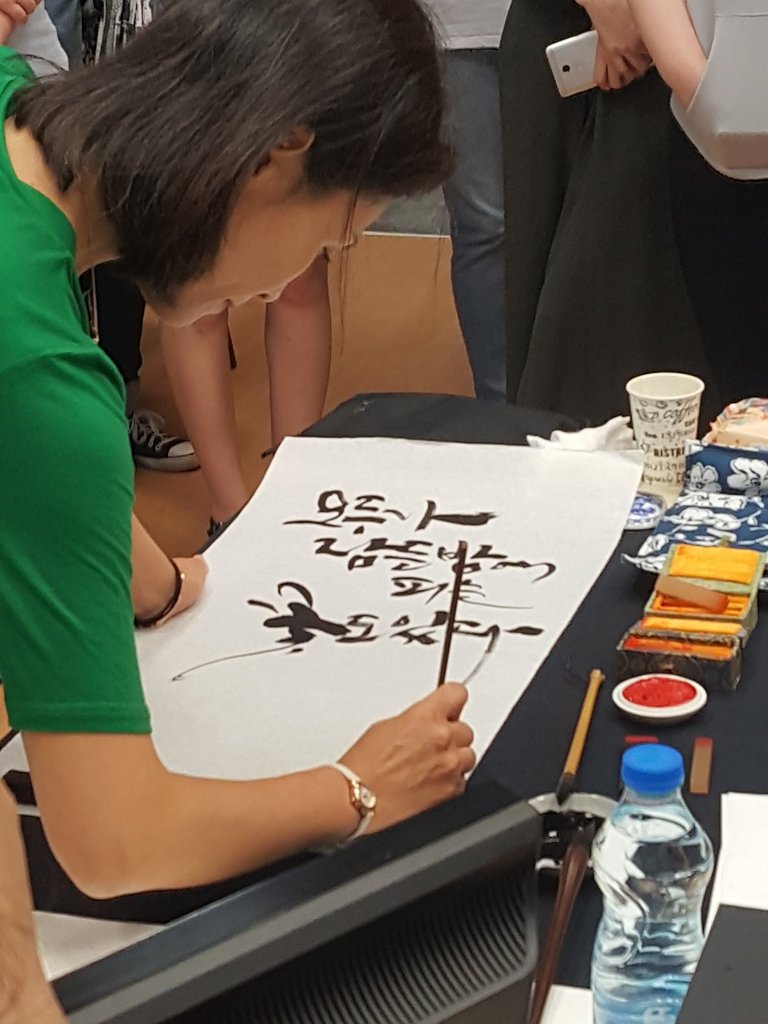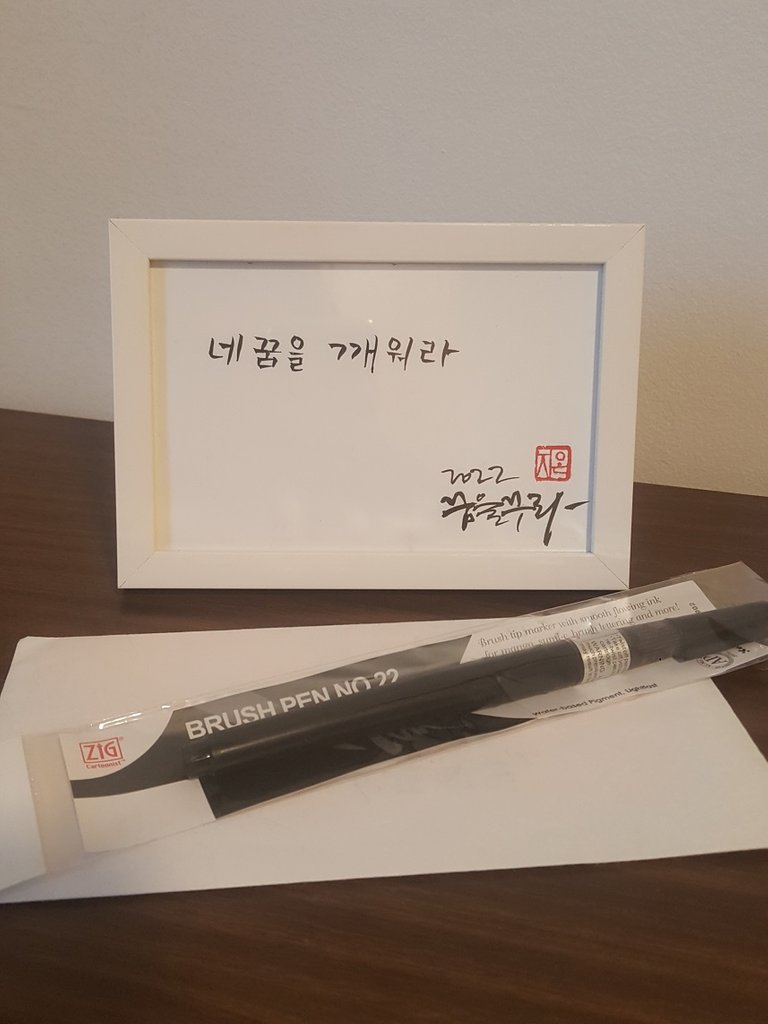 Our final mini project for day one was to make our own frame "artwork". We got three thicker, carboard papers to write whatever we want and we got it stamped, put in frames so we can bring it home as a memory. On the right photo you can see my frame, letter my friend wrote me and a brush pen that we used on both days and got to keep afterwards.
---
Day two - Sunday, June 5th 2022.
---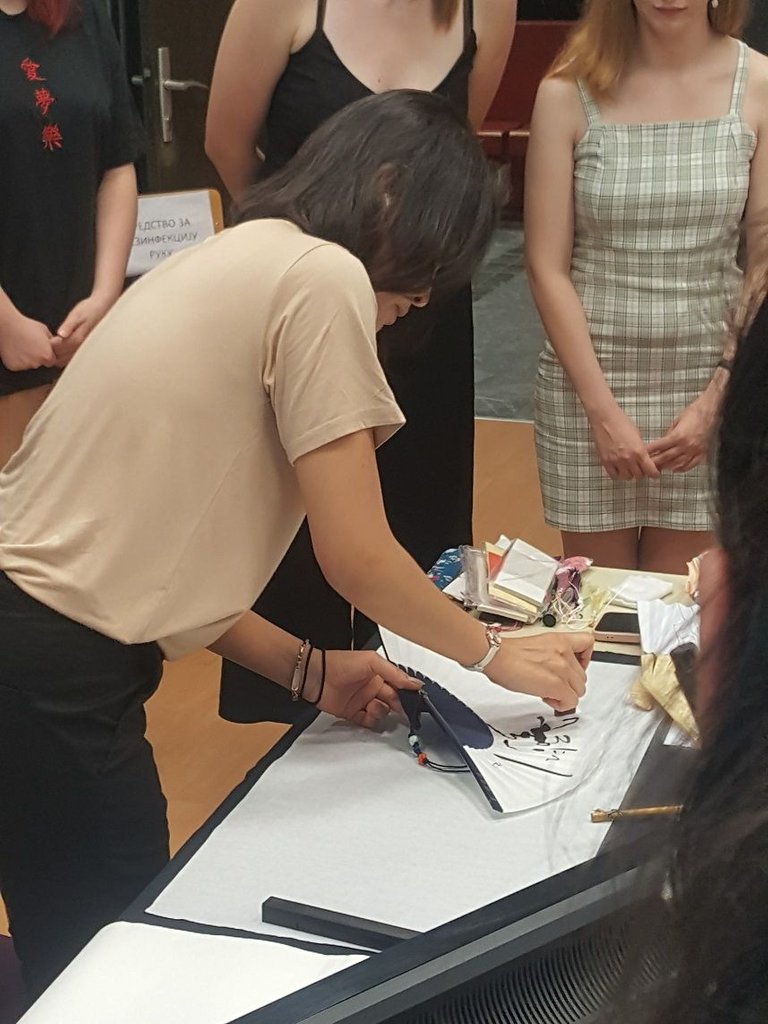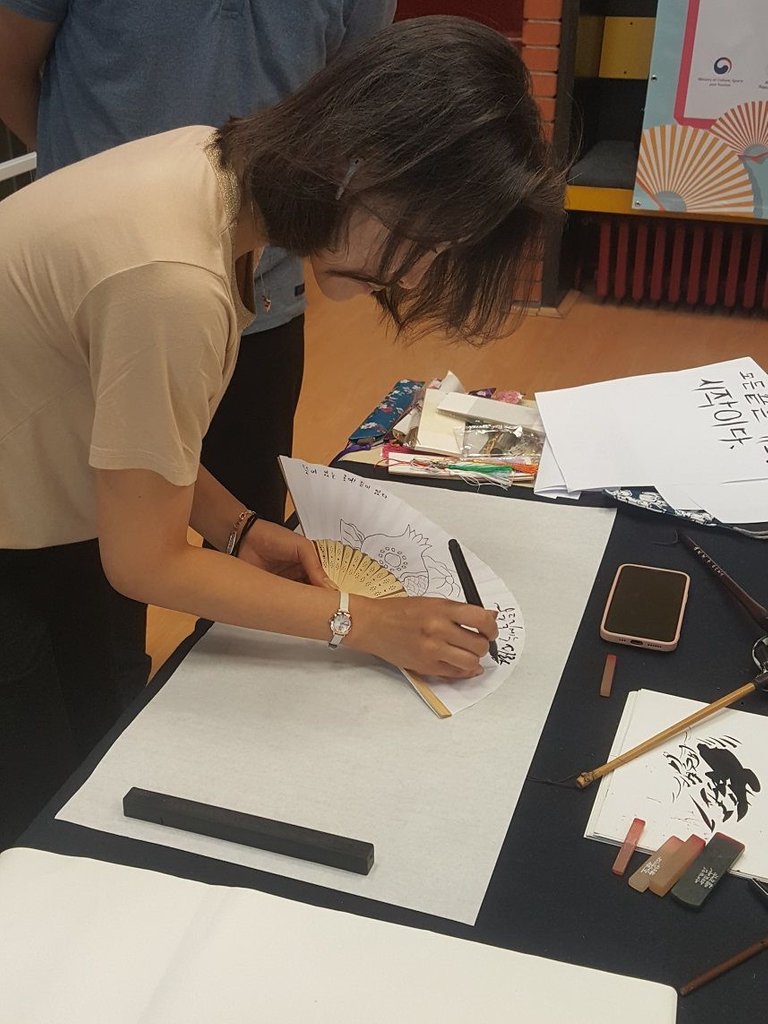 Second and final day was plan for writing on a paper fan! We got one each and again, we could write whatever we wanted and get it stamped and signed. I chose the quote that says 'If there is will, there is a way" and I got the additional message from Ms. 지온 that says something along the lines of "On every path there is love!" which was such a nice touch and I really like how thoughtful she was! You can see her writing on my fan on the photo on the right! :)
---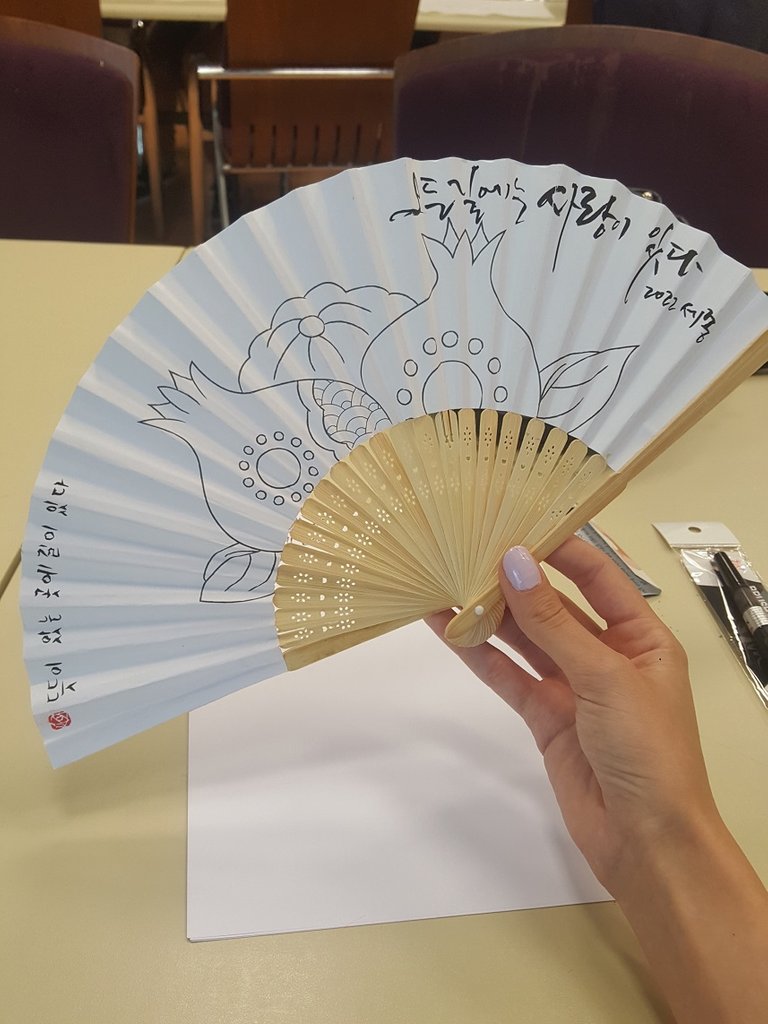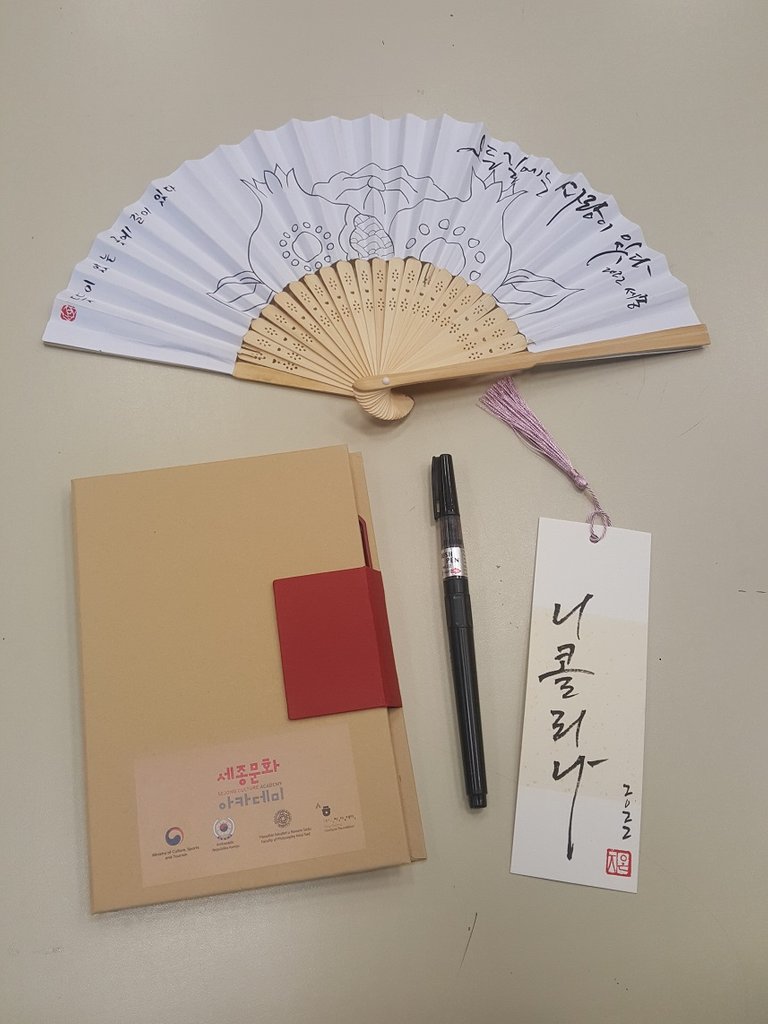 To end the workshop, we got a bookmark with our names written on it and a notepad - such nice gifts! For two hours on Saturday and Sunday we got to learn a lot of new things, try out something new, have fun, get creative and meet/talk to new people. Overall it was such an amazing experience and I am so glad I got the opportunity to learn about calligraphy, Korea and Korean culture!
---
King Sejong institute Novi Sad and Korean embassy in Serbia are doing a great job at organizing events, competitions, workshops and different projects that are fun, interesting and a great way to promote Korea and Korean culture in Serbia. King Sejong institute Novi Sad is mainly focused on Korean language courses for all levels including a TOPIC test (Test of Proficiency in Korean) which I hope to start this or next year. I am also planning to participate in more workshops and different project every time I can. Huge thank you to everyone involved in making things like this possible and for giving us the opportunity to learn about Korea and Korean culture!
---
감사합니다,
니콜리나
---
Instagram