Hello lovely HiveMinds. Let me say hello. I am a 56 year old bloke that many, many moons ago studied Computer Science at University. I now live in the south of the UK and have a lovely wife and 3 adult boys.
23 years ago I convinced two EY friends of mine to set up a company called c-people.com (look at wayback web!). Our vision was to wire the world better using this new fangled thing called the Internet.
We participated in many early online communities (anyone remember dial-up modems that used to make a racket?). We explored California and some of the counter-cultural hippies who were techno-optimists who, like me, thought the web stood for freedom and democracy and a smarter way of solving problems.
This was before Google! For me the Blockchain is the same frontier all over again. Let's not let the opportunity slip this time....
With the dotcom boom and then bust we ran for cover in 2001 thanks to a big UK corporate called Capita and then subsequently with a company called Thales. In 2010 we re-launched c-people as ethosvo.org and have been hard at it ever since.
We have been experimenting with building better people and planet systems since then and the result is lots of learning that we are finally in a position to share with people who are interested. Our system change approach starts with people, moves on to organisations and then finally to opportunities.
We need better systems, don't we?
For the people part, we have developed something called value exchange which is a tool to help people look after themselves and chart a future.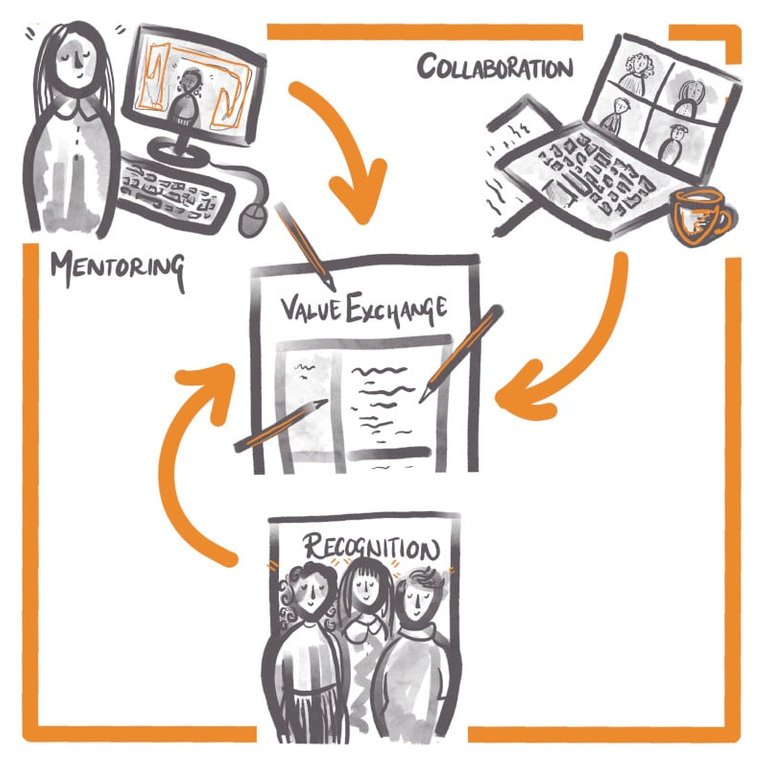 We would like to share this freely with interested people. I am here to conduct an experiment into putting Value Exchange and Value Recognition onto the blockchain. This is a people empowerment tool.
This is not an Ethos' company thing. It is a gift to anyone who wants to use it.
Value Exchange is simply a tool to help individuals to collaborate, trust and moderate their self-interests. From what I can see, Hive has the best UI/UX and on-chain capabilities to do what we need natively (no-code). I may be wrong of course. But from my initial search I believe this is a good place to run a project to ask willing volunteers to come with us on this 'working out loud' journey. Hopefully, we will also be able to amass many new HiveMinds as well along the way!
Please let me know if you would like to join in the experiment. There is more info in the link below so you can find out more: