Wow, that has really been a great start of the WINE ICO!
Mhhmmm.. !WINE .. swweeet!! 😋
You have bought nearly 10000 WINE during the first minutes after the launch - although we haven't released the !wine paper v0.1 yet and we're not even in the "early adopter" stage 😂
.. but !WINE is (a)live! and with it Hive's 1st ICO! - or rather ISO - Initial Stake Offering
read more about it here & follow @wine-token for updates! Join our CORE Discord to become a full !WINE member
---
By the time of writing we've already doubled in numbers and broke the 20K mark - which moved the WINE price slightly up once again and now sits at 0.29 SWAP.HIVE. Most likely it won't stay there for long if you continue like this. So we won't spill all the beans of what we've got cooking for you just yet 8)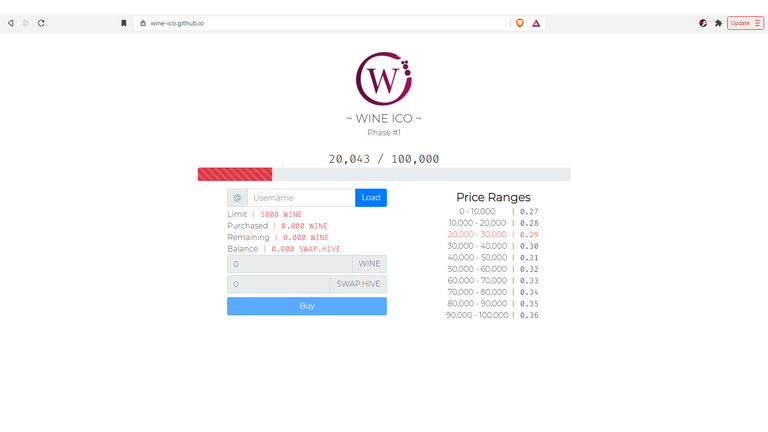 First of all thank you for your early participation to the WINE ICO and for your trust in the project! We have a lot more waiting for you, so it's good to follow @wine-token if you haven't.
Not even one week in & !WINE is slowly getting some attention on Hive. To keep it like this or - better - further increase our outreach we want to encourage you once again to re-blog this post & upvote it if you like it. You'll be included in the WINE airdrop which takes place once we've minted the tokens for the Marketing pool - which is the case after the Pre-ICO Phase is completed. The airdropped WINE stake will be determined based on your interaction. How exactly we're gonna do this we keep a bit of a secret to gamify the whole thing & motivate you to spread the word about WINE! ;) And to prevent abuse of course. $WINE is precious & we want to keep it like this :)
All your previous engagements are counting too & will be included for sure.
To save all of us some time we're gonna squeeze things a bit & go more into depth in the next posts. For now the word must get out there - before we're sitting on too many news :)

So here are the brief updates and a short wrap-up on !wine :
---
-> @ali-h has done a great job by building this fresh & clean user interface for the WINE ICO
-> thanks to him we also now have an API & simple to use UI to interact with it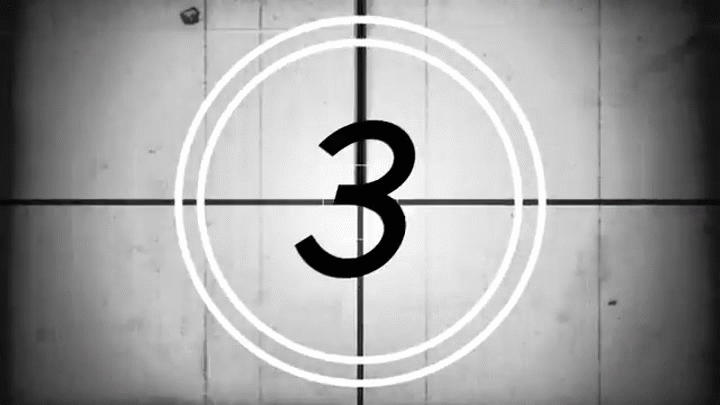 the UI now shows the combined price if your order exceeds the max. token limit of that particular intermediate round & adapts perfectly to the pricing of the new round; besides that we have rounded the digits of the total amount for a better user experience
the @wine.bot now runs on the new script version 1.0 (v1.01 already actually) & we've adapted the @wine.bot message accordingly (watch below!)
-> @theguruasia tested everything to the core, set it up & made sure that it all works fine at the launch
-> apart from that he's busy behind the scenes working on some great community boosting features; more about it in the next week! ;)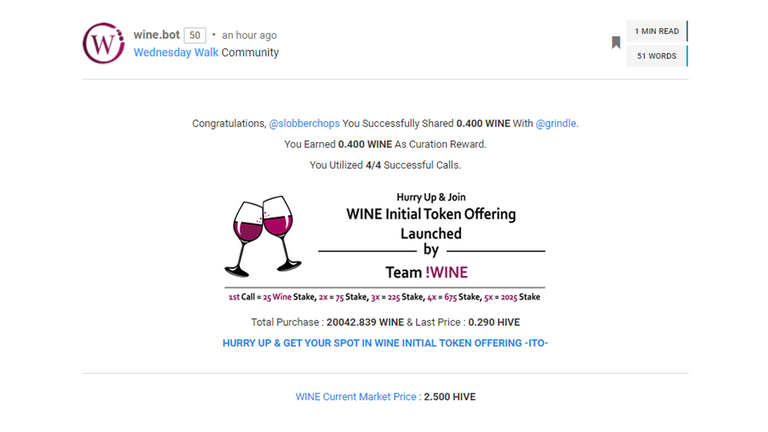 | Bot calls per day / Staking Level | WINE Stake | author reward | curator reward | total reward per call |
| --- | --- | --- | --- | --- |
| #1) 1 call per 24h / Redfish | 25 WINE | 0.1 WINE | 0.1 WINE | 0.2 WINE |
| #2) 2 calls per 24h / Minnow | 75 WINE | 0.2 WINE | 0.2 WINE | 0.4 WINE |
| #3) 3 calls per 24h / Dolphin | 225 WINE | 0.3 WINE | 0.3 WINE | 0.6 WINE |
| #4) 4 calls per 24h / Orca | 675 WINE | 0.4 WINE | 0.4 WINE | 0.8 WINE |
| #5) 5 calls per 24h / Whale | 2025 WINE | 0.5 WINE | 0.5 WINE | 1.0 WINE |
.. and the @wine.bot now leaves a message in case you haven't noticed the change from v0.3 to version v1.0 & you don't have a minimum of 25 WINE staked to call the bot 1x per 24h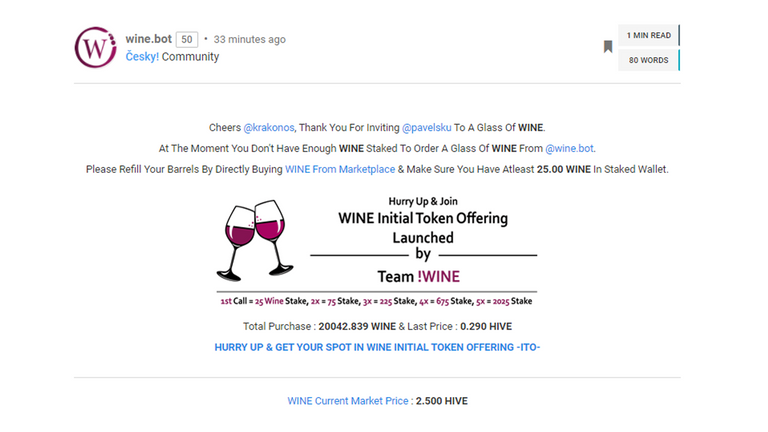 (it'll only appear 1x per day to not spam the chain & drain the RC)
with @amr008 we now got some incredible help for the weekly !WINE stats from a real pro in the field, who not only adds more data to the one we already published here, but also helps to standardize the whole process from pulling the data to exporting them in a fashion so that from now on we have it much easier to create some of the nice and meaning graphs like this one for example: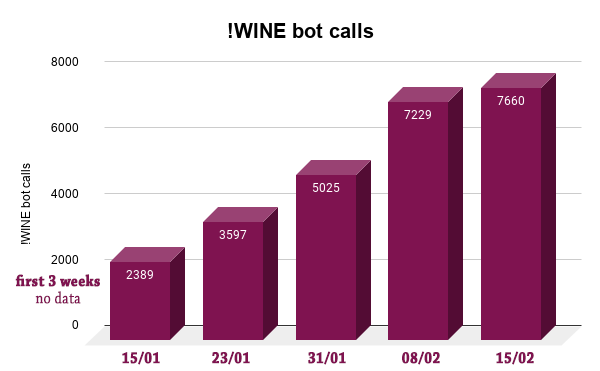 (much more of this is the next post + analysis :)
before @roger.remix had to do it manually & can now focus on other things like preparing the community & tribe collaborations for !WINE
-> he also added an updated blacklist from the @hivewatchers (thanks again!) -
-> which can now be easily changed and moderated by our community leaders through the above mentioned API & UI :)
we can proudly state that @wesphilbin is now our official !WINE Lord and takes care of the community in the CORE Discord & on chain; with him good vibes, manners & posts are assured! Thanks for having you!
the delegation feature will be enabled beginning of next week
-> soon you can delegate some of your $WINE to Hive friends or people you like to support
-> like that you can share the fun and you may earn a little extra author rewards thanks to your generosity :)
-> we are also working on a reward mechanism to boost the WINE delegation initiative for Newbees, Minnows and smaller Hivers
-> two reasons more to fill your cellar with a little extra of WINE as long as it's cheap

there will be more use cases which we'll announce soon!
-> remember: the early bird catches the worm! ;)

HP delegators to @wine-token will soon receive extra WINE rewards +

we'll release a new !WINE community curation project to support our members & implement an automated curation rewards distribution model

all ICO participants will get white-listed to receive extra upvotes by @imagenius, @imagenius.too, the @wine-token & their voting trails + some additional support from other curation projects within our little but growing community & token ecosystem
we'll manually check the accounts to make sure that we're upvoting good content & creators worth supporting
.. more tba soon
.. and last but not least ..
!WINE goes DeFi!
-> find out what we mean by this in one of our next posts; so check out @wine-token's feed!
If you have an idea, share it in the comments below!
The best/closest answers are gonna get extra $WINE rewards in the upcoming airdrop 8)

Before we leave a special thanks to @ph1102 who has written this great sum-up post about WINE & why he likes it. In case you didn't know he's a Hive-Engine Top 15 witness and wants to tackle the Top 10 again. If haven't voted for more decentralization on Hive's 2nd layer, you can do it here.
Also @bucipuci covered us in his Events of the week post. Thank you too!
As mentioned above you're all on the list to receive a little extra WINE reward once the airdrop takes place, same as @jizzyjoe who has written about her !wine experience 2 months ago when the grapes were just picked and WINE wasn't even bottled :D
Thank you all! We hope we haven't forgotten anyone. If so please kindly let us know. Nothing and nobody should be swept under the doormat. Whether your reward dust, nor your !WINE engagement :)
Cheers all!
Till next time,
your TEAM !WINE

powered & envisioned by @imagenius

---