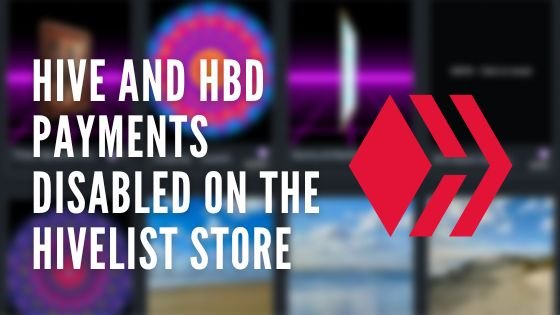 Hello everyone! Well, here we are again as the payment method saga continues. First, our fiat payment processors kick us off because of the fact that we do have an NFT side of the business, we were flagged as a 'Restricted Business', thus resulting in our account begin closed. Now we are having to temporarily disable Hive and HBD payments on the Hivelist Store. The issue is that there are only 2 payment plugins for Hive for a WooCommerce store. The first one came along right after the original fork, which @roomservice took the old STEEM payments plugin and converted it for Hive and Hive Engine tokens.
It worked great for a while, until it didn't. The plugin hasn't been updated in a long time, and I haven't seen roomservice around in a while. So if anyone is interested in playing around and trying to update this plugin to work with the latest versions of WooCommerce, that would be awesome! I have the original plugin download if you want to try and make it work.
The second plugin was from the @hivepay-io team, which they came out with a version 1 plugin, but haven't updated since their version 2 of Hivepay came out and the plugin breaks the entire site.
I, @thelogicaldude, wish I was a better PHP developer so I would be able to know what it is that needs to be updated to work with the later versions of WooCommerce, but unfortunately I am not. Hopefully we can get a Hivepay plugin update for WooCommerce soon! We are just about to start ramping things up here on the Hivelist store and we really need Hive and HBD payment options!
So until now, we only have the Coinbase payments option which allows you to pay with BTC, ETH, LTC, BCH, DOGE, USDC, and DAI.
The search is on for other payment options that is suitable and hopefully will including lightning payments which people can then use the Value for Value app from @brianoflondon to go from Hive to Lightning BTC. That may be an option, or... maybe Brian can think of something cool for us, lol.
Anyway, I just want to shout out @selfhelp4trolls who is one of our newest store vendors that called out the issue! The something was causing payments to happen on the blockchain twice and failing on the WooCommerce side... It was weird. So the payments were refunded and we are now back at the drawing board.
He did just put out an ebook on the store that you should really check out!
https://hivelist.store/product/confessions-of-the-damaged-1-1-novella-pdf/
Again, thanks to him test ordering the book, we were able to figure out that the original Hive payments plugin does not work anymore as well...
So until I can get an updated plugin from somewhere, we are going to have to go with what we have! I am looking for the best Lightning BTC payment option I can find so we can support the Value for Value app project until we can get a hopeful upgrade from the Hivepay team soon!
Do you have designs or products you want to put up for sale and earn crypto?

Come and take a look at becoming a vendor on our store! We pay in HBD for all of your sales and commission! We handle all payments and exchanges so you don't have to worry about all of that! Sell your own products or submit your designs to our print on demand service!
If you are interested in starting your own ecommerce business in the crypto world, then click here to learn more about becoming a Hivelist Store vendor!
Don't forget, we have Hivelist Store gift cards!!!

Need to get a special gift for someone, but don't know what to get them? Have you tried introducing someone to the crypto currency world, but want to make it an easy introduction, then try out one of our in store gift cards! You can purchase them with any number of our accepted cryptocurrencies!
https://hivelist.store/product-category/gift-cards/
Want to make some extra HBD? Become and Affiliate!

Come and sign up to be an affiliate and get paid monthly for any sales you refer to the store! Affiliate commissions are 5% of the profit from any sale! Get started as a Hivelist Store Affiliate Partner today!
Keep calm and Hive on!
https://hivelist.io - main info site
https://hivelist.org - blockchain classifieds/NFTs/DEFI Pool
https://hivelist.store - multi-vendor e-commerce retail store and professional services marketplace
Vote for @hivelist.witness on Tribaldex