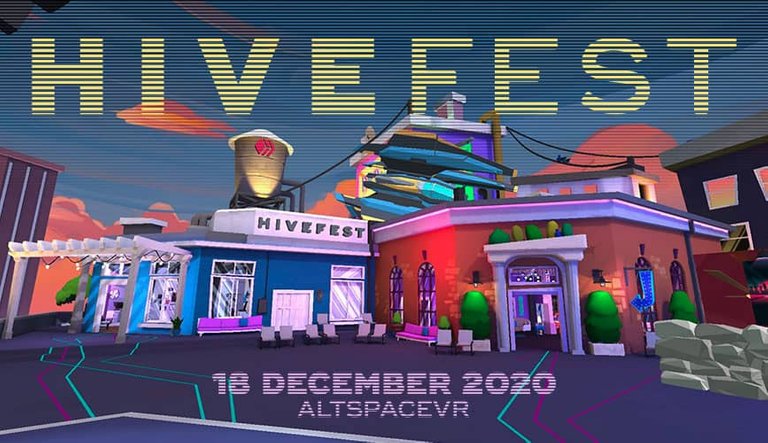 Oh those fond memories... Exactly one year ago SteemFest HiveFest was in full effect in hectic sweaty hot Bangkok. Who could have foreseen where we are nowadays? Unable to travel, a new blockchain... Embrace change is what they say, right?
Preparations for HiveFest⁵ started only days after Bangkok wrapped (video here), on the beautiful island of Koh Chang. The Brady Bunch was still partying on Lonely Beach, and I was negotiating with a hotel for a full rent-out for the upcoming edition. High on the good vibes & community spirit pushed me to start preparing soon for the first 5 year Jubilee edition.
And then... well... you know. Lockdowns. Quarantaines. Hospitality closures. Uncertainty. All plans scratched. I was about to just postpone this year. Experimented with several digital formats and attended various online events. Discussed with good friend Jan who runs an event agency and who more pivoted towards digital events.
But none of them did fit the HiveFest vibe: learning, sharing passions, fun and generally having a good time TOGETHER with friends from all over the world.
Skeptically I obtained a VR Headset. And then, unexpectedly, I was sold! Technology in that area has come along way since 5 years ago. No glitches, binaural sound and great user interfaces makes the whole experience really immersive. I've joined several meetups and game events since then and boy did it surprise me. When you put on the goggles it's really as if you warp into another dimension. The sound quality and instant responses trick you into feeling you a really being together. It's really intimate and you are disoriented for a moment when you take off the headset to land back in "the other world". It really reminded me of Neal Stephensons' novel "Snow Crash". Not sure if that is a good thing :P
Obviously it is not the same as passing along some SangSom bottle between 2 speeding TukTuk's in Bangkok's narrow side alleys, or having a creamy & delicious Pastel de Nata after a nice surf, or having a dinner several hundred meters underground in a salt mine...
... but imho it truly is the second best thing. A great alternative to a real life meetup, perfect to keep the momentum going and reconnect beyond some chat messages. I hope you join HiveFest in virtual reality this year.
HiveFest⁵ - 18 December 2020 - AltspaceVR - Free entrance
Through AltspaceVR's Virtual Reality HiveFest World it will almost like the real thing, especially if you can join in with a VR headset (starting at 199 USD). The program will be more condensed to cater to the digital format. Plenary sessions and a social area should get somewhat close to that good old HiveFest vibe. The program is, as always, open to your suggestions.
HiveFest⁵ takes place in AltspaceVR
It's the premier place to attend live shows, meetups, cool classes, and ... you can learn, laugh, and gather with people on every major VR headset (and 2D desktop apps too).
You only need internet to join. With 360 audio in a 3D environment in which you can walk around, it really feels as if you are part of a communal gathering. Beyond discussions and presentations the AltspaceVR worlds also enable interaction through games, so fun ensues.
Without the need for lots of production, tech, locations, catering, hotel bookings, flights this year's HiveFest is affordable to setup. It is why this version will be free of charge to attend. Maybe you can even use the money you save on a ticket and travel expenses to obtain a VR headset? I have the Oculus Quest 2.
Apps for VR headsets, Windows & Mac. Livestream too.
AltSpaceVR is available on VR headsets and desktop apps for Windows & Mac. See this link to get started. HiveFest⁵ will also be streamed live for consumption on any other device, but joining in the VR world is recommended.
HiveFest⁵ registrations open soon.
Here is what you can do already:
Put on your goggles.
Join the new Telegram group
Setup your AltspaceVR account (read more) - Tip: use your Hive name as username for recognisability
Customise your AltspaceVR avatar for originality and recognition
Swag up in real life with the HiveFest Swagstore (t-shirt, mask, socks, hoodies)


---
Put on your 🥽 and hop in the Virtual Reality
HiveFest⁵ - AltspaceVR - Stay Connected!
18 December 2020
---
Rewards for this post will be used to organise @hivefest