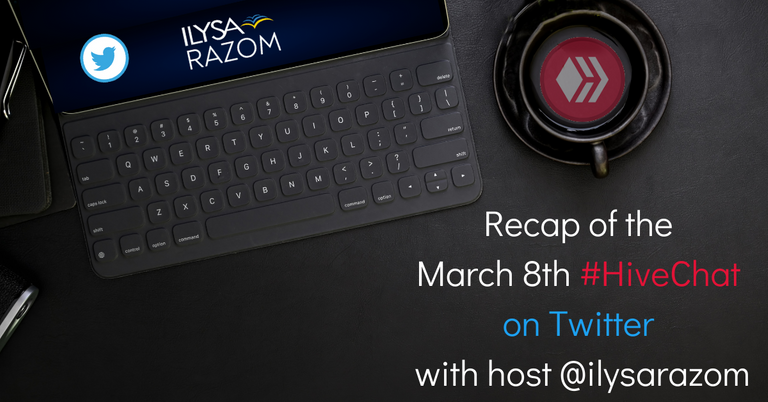 Please note: The post payout for this is set 100% to @ilysarazom, aka ILYSA RAZOM, an "association of people who provide support to victims of the Russian-Ukrainian war all over Ukraine. (non-governmental, non-profit organization)."
Just over a week ago, I was talking to @guiltyparties about not having a Hive Chat host set, and how I'd been considering doing one about the war in Ukraine & how Hive can help give people a voice when traditional social media shuts them down. But I also didn't want to give the appearance of trying to, for lack of a better phrase, take advantage of a horrible situation. As in, I didn't want it to come across as, "Yeah war sucks, but Hive solves that!" 😯
He suggested a recently-onboarded-to-Hive Ukrainian charity, and in short order put me in touch with one of the people in charge. She was awesome to work with, and came up with some excellent questions for the chat much faster than I expected.
Speaking of questions, here they are...
Intro
Hi guys!
Are you ready for the Free Talk on #HiveChat?
Get ready for very interesting conversation! With
We are Ukrainian Volunteers!🇺🇦☀️☺️
Question 1
Have you seen ILYSA RAZOM on Hive?
Do you know other volunteer organisation who support Ukraine?
🇺🇦🌟☮️
#HiveChat #Hive
#IlysaRazom #Volonteers #Ukraine
Question 2
How do you see development & renovation of Ukrainian economy for Artists, Blogger, IT guys with Hive?
Both Now&After the War?
🤔🎨👩‍💻🌟🇺🇦
You guys are very smart & creative with alternative financial strategies!
👽☝️
#HiveChat #Hive #Volonteers #IlysaRazom #Ukraine
Question 3
Which Ukrainian population groups Need more Help?
People in bunkers 👨‍👩‍👧‍👦/ Military & Defenders 🪖/ Refugees 🛤?
#HiveChat #Hive #Volonteers #IlysaRazom #Ukraine
Question 4
So what about Millitary and Soldiers?
Should Volunteers support Ukrainian Defenders?
With just Humanitarian help (meal, meds) or more?
If the main goal of #IlysaRazom is Peace? ☮️☮️☮️
#HiveChat #Ukraine #IlysaRazom #Volonteer
Question 5
#IlysaRazom is working on the great International Project right now.
We are almost ready to run the first NFT collection in the series together with Ukrainian artists.🎨
Does Hive Community want to participate in this project somehow?
#HiveChat #Ukraine #NFTart #Volonteer
Final HiveChat tweet
Thank you all for participating in today #HiveChat
For more information about what we do, check out our Hive profile - https://peakd.com/@ilysarazom"
#IlysaRazom team work very hard to help as many people as we can.
We try to make our world a better place! Let's cooperate)
Coming up for Hive Chat
Tomorrow at 1pm EST/17.00 GMT (assuming I accounted for Daylight Savings Time correctly), our host will be @hiveio (on Twitter as @hiveblocks), in honor of our upcoming blockchain anniversary on March 20th. Then the following week, there's a very good possibility that Ilysa Razom will host again, to talk about their upcoming NFT project.
As always, thank you to the Hive community for your awesome support of Hive Chat, as well as other Hive community members. Even in these dark times, seeing people come together as they have with this effort to assist those displaced by the war gives me hope.

Thanks for stopping by!
My posts may occasionally contain affiliate links. If you click through,
I might get a wicked small commission, with no extra cost to you.
My photographs are taken with my trusty Nikon,
sometimes utilizing my handy dandy tripod.
Blog graphics created on Canva
All words and images are mine (unless otherwise indicated),
and can also be found on my various social media sites.
Speaking of witch which...