I have a student who recently created an account via HiveOnboard.com.
Here is a pic of the error message he got a couple hours ago from PeakD when trying to submit his first post: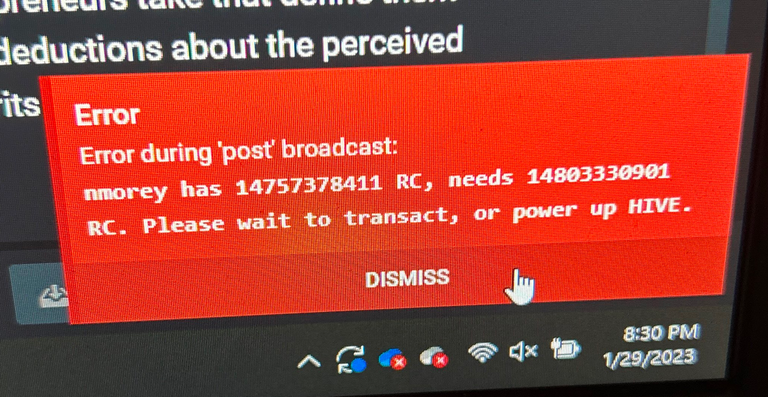 ---
It says he needed 14.803 billion RCs to submit the post and that (at that time) he only had 14.757.
He now has 15.027 billion, so he should be able to submit the post.
However, hiveblocks.com says that his max_mana is 15.379 billion and that his current_mana (15.027 billion) should enable him to submit 7 posts (but it looks like the correct answer is closer to 1, maybe?).
Is hiveblocks.com displaying the wrong capabilities?
When I first started introducing my students to Hive (2 years ago), I pointed them to https://signup.hive.io/ and let them choose which onboarding process to follow. Two semesters ago, I switched to having them send me their desired username, I would create their accounts for them, then email them their Master Password with instructions on how to reset it and retrieve their private keys.
Using that process, I could immediately delegate HP (because I knew their usernames immediately). However, that was a very clunky process and multiple students each semester would end up losing their newly-reset Master Password (despite multiple warnings).
After discussing onboarding options with @arcange several weeks ago, I decided HiveOnboard was by far the cleanest option of those readily available -- especially with its direct integration with Hive Keychain (@keychain). So, I created a couple videos stepping them through the process of installing the Keychain browser extension, claiming an account via HiveOnboard, saving their private keys, and loading their private keys into Keychain.
The problem is, with that process, I typically don't find out their usernames until after they submit their first post/assignment. I did not think that would be a problem when I saw (via hiveblocks.com) that they were receiving enough initial RCs through HiveOnboard to make 7 posts. I felt confident that they would be able to submit their first few assignments without issue, and then they would each end up with enough HP on their own within a week or two.
However, that does not seem to be the case.
I will figure out a way to make things work for my students. My reason for this post is to alert others to the fact that hiveblocks.com does not appear to be providing accurate information.