I got to wondering how many people actually know this small factoid about the Hive EcoSystem....
That in addition to your Curation Returns on voting with your Hive Power, which these days seems to float around 8-10% (which isn't too bad in itself) you also get a 1.5% just for holding Hive Power...
You can see this on the Peakd Front end...

When you've got a fair stack of Hive Power like I have then this 3% ends up being quite a nice little perk...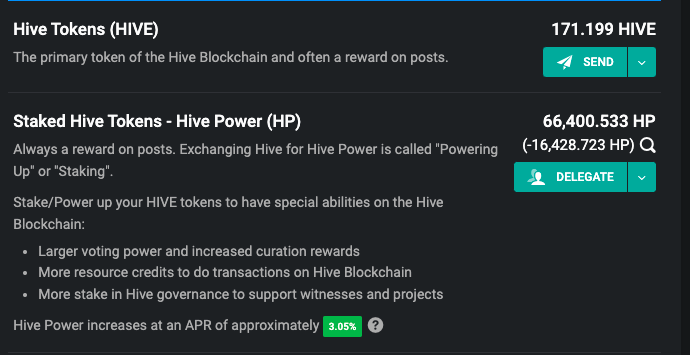 1.5% of 64400 (rounded down!) is 996 Hive (well, HP) per year - Nice!
Paid out how often...?
What I can't seem to find is any information on when this is paid out, but it is paid out... this was my HP at 11.18 today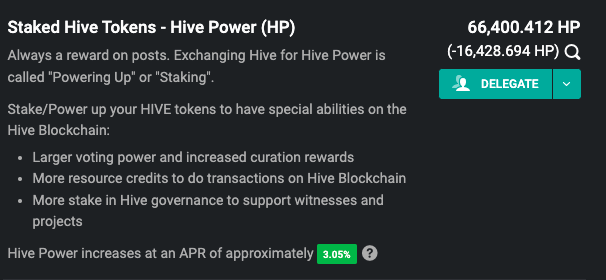 And then at 11.28, without me having claimed any rewards...

Then again about another 15 minutes later... another 0.039 HP up...

The Easy Math in Hive Power Version....
66400 (HP) * 3% = 1992 Hive a year (Nice!)
1992/ 365 (days)/ 24 (hours)/ 60 (minutes) = 0.0038 Hive/ minute.
0.0038/ 20 (3 second blocks on Hive) = 0.00019 per block.
The Vesting Shares Check....
Of course the PeakD interface just reads from the chain, which operates in MVESTs and according to Hive Blocks I had around 121,189,781.180283 VESTS at 11.54 on Sun 19th June...

I'd expect Hive Blocks to be a bit more rapid in reading from the chain so I spent a while refreshing every minute to see how long it would take for my underlying Vests to increase, which would signify having had some interest added...
But after 15 minutes of trying this, it was just the same, so either this is delayed by even more than where PeakD is reading from or PeakD which is just a bit odd IMO, as the rate of increase shown on PeakD is about right!
So I don't really know what's going there!
Final Thoughts...
Even though I'm not sure how often this 1.5% pays out, it's clearly going up on a regular basis without me doing anything, which is just another reason to stack Hive Power!